CBD for Pets: A Beginner's Guide
CBD has a lot of benefits for humans, and you can also use CBD for a variety of your pet's problems. Derived from the Cannabis plant.
Even though CBD is acquired from the Cannabis or marijuana plant, CBD products do not contain the psychoactive component known as THC. This means that your pet will not feel sluggish or lethargic while taking CBD. Many pet owners like to utilize more holistic approaches to veterinary care, and CBD products fall into this category. With almost no side effects to worry about, these products are worth considering.
What is CBD?
Cannabidiol (CBD) is one of eighty chemical compounds known as cannabinoids that are derived from the hemp plant, a strain of the Cannabis plant. The derivation processes for human-grade CBD and animal-grade CBD are very similar.
Since animals have a lot of the same health issues that humans have, cannabinoids can be just as useful for pets. Remember, animals usually should not receive the same amount of product that is recommended for humans. If you want to use a human-marketed product for your pet, then make sure to talk to your veterinarian for more information and further recommendations.
CBD Benefits for Pets
Owners know that pets are important members of the family. It is vital to keep them happy and healthy, and thanks to high-quality CBD supplements, this can be much easier to achieve.
Side Effects of CBD Products for Pets
So far, there are very few side effects associated with the ongoing use of CBD in pets. Sometimes it is best to start with the lowest effective dose to see if your pet will have an adverse reaction. If you don't notice any positive changes after a couple of weeks, then you may need to increase the dosage for better results.
One of the most common changes is that CBD can make some pets drink more than usual. This can be helped by making sure that your pet has a constant supply of clean water available.
It is interesting to note that, in humans, the most common side effect of CBD use is dry mouth.
Other side effects are beneficial in certain situations. For example, CBD can increase appetite for an older or sick pet who isn't eating. CBD can also cause mild sedation, which is helpful for pets.
CBD Dosage Information for Pets
In order to determine the right dose of CBD for your pet, you must weigh your pet first.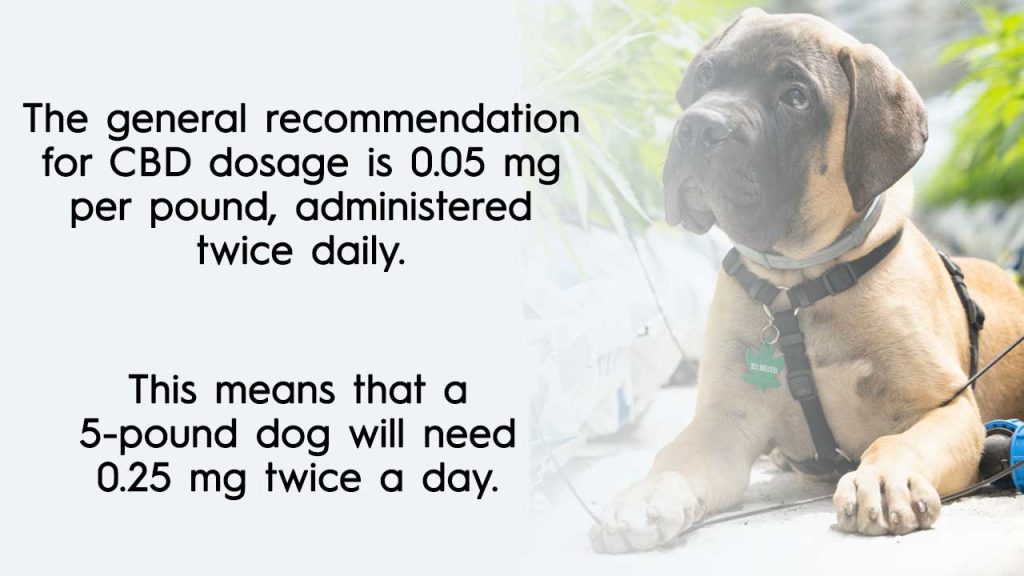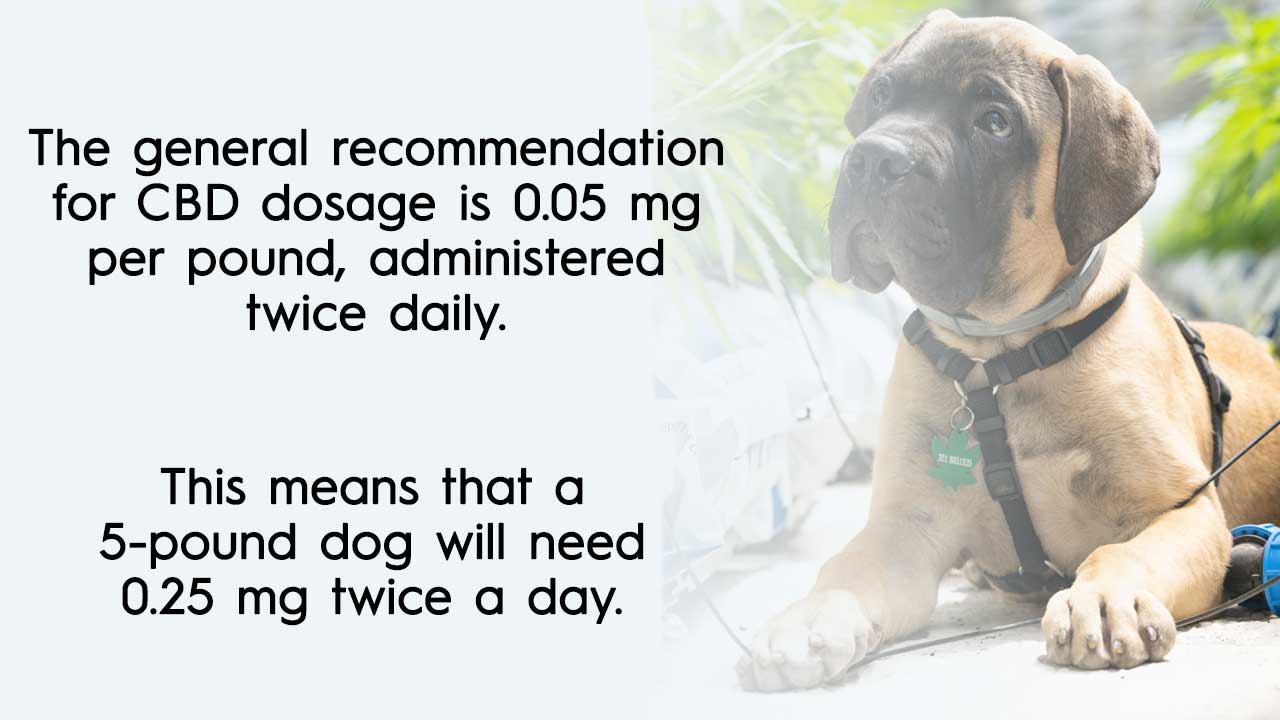 In some cases, animals can metabolize medications and supplements faster than humans, so you might notice the effects of CBD very quickly. This might also explain why pets need more than one dose per day.
Make sure that you administer the treatment with an accurately measured dropper or syringe. Alternatively, you can purchase a CBD product that has pre-measured doses like CBD pet treats. CBD shouldn't make pets too sleepy. If you're using a full-spectrum product, then your pet may become very relaxed. In this case, it may be best to give a dose right before bedtime so that your pet sleeps better and will be more alert during the daytime.
CBD Pet Dosage Chart
We recommend talking to your veterinarian to find out more information on CBD administration.
What CBD Forms Are Available for Dogs and Cats?
There are a variety of CBD forms available for pets.
CBD dog treats – jerky sticks, hard and soft chews, dog biscuits, beef wraps, etc.
CBD biscuits
CBD cookies
CBD Pet Product Reviews
Pet CBD Oil is a product from Lazarus Naturals that provides 2 oz of CBD (2400 mg total) in a tincture form. This product promotes joint health, decreases pain, and calms nerves. Each dose provides 40 mg of CBD. You can mix it into food or water, and it can be given orally as well.
The dosage recommendations include:
Less than 15lbs: 3 drops (1.5 mg CBD)
15-30 lbs: 6 drops (3 mg CBD)
30-60 lbs: 10 drops (5 mg CBD)
Over 60 lbs: 20 drops (10 mg CBD)
Other options from Lazarus Naturals are available in our store:
A full-spectrum CBD oil will provide your pet with CBD and other useful cannabinoid compounds. This product from NuLeaf Naturals provides 5 mL of CBD oil (300 mg total) and has a very mild taste. It can be given orally or mixed in with food or water.
Dosing CBD for pets according to NuLeaf Naturals:
Up to 25 lbs: 2 drops, 1 to 2 times daily (6 mg CBD)
25-50 lbs: 4 drops, 1 to 2 times daily (12 mg CBD)
50-75 lbs: 6 drops, 1 to 2 times daily (18 mg CBD)
Over 75 lbs: 8 drops, 1 to 2 times daily (24 mg CBD)
This pet-friendly tincture product contains 2.5 milligrams of CBD per serving. If you want a more potent CBD tincture, try CBDistillery CBD Pet Tincture 600 mg. It contains 20 milligrams of CBD per serving (1 ml).
CBDistillery uses organic, all-natural cold-pressed hemp seed oil to deliver wellness benefits to pets in an easily digestible form. All of the high-quality, GMO-free hemp used in this formula is sourced in the United States.
The dosage of this product can be tailored for pet weight. Servings are intended to be served up twice daily with your pet's meals. Each 30-milliliter tincture bottle of CBDistillery's liquid pet CBD contains 150 milligrams of CBD in total.
Suggested use serving by weight:
Under 25 lbs: 10 drops = 0.5 mL (10 mg)
25-75 lbs: 10-20 drops = 0.5-1mL (10-20mg)
Over 75 lbs: 20-40 drops = 1-2mL (20-40mg)
Designed for pet wellness, these GMO-free oil drops deliver 2 milligrams of broad-spectrum CBD per serving using hemp seed oil as a carrier. This CBD oil uses American-produced hemp in a formula that is designed specifically for easy digestion in your pet's tummy. Small dogs and cats get an extra wellness boost via the MCT oil blended with the hemp carrier in this ultra-pure blend. Each 30-milliliter bottle of Green Roads cat CBD oil contains 60 milligrams of CBD in total.
Green Roads manufactures CBD oil for dogs as well. CBD drops for medium and large dogs are made with hemp seed oil and hemp-derived cannabinoid extract grown on American farms. Each 1ml serving of this hemp oil for dogs delivers 7mg and 20 mg of CBD.
The dosage recommendations based on the pet weight:
Under 15 lbs: 2 mg CBD (1 ml)
15-50 lbs: 7 mg CBD (1 ml)
Over 50 lbs: 20 mg CBD (1 ml)
Myriam's Hope Pet CBD blend contains 300+ mg CBD per fluid ounce and other beneficial and therapeutic phytocannabinoids, terpenes and flavonoids. Pet CBD oil is made with 100% organic premium hemp and the brand uses only full spectrum oil in all of its products.
Suggested Use: 
5-20 lbs: start with 2 small drops twice a day with food and increase as needed
20+ lbs: dtart with 4 small drops twice a day with food and increase as needed
Joy Organics' CBD tincture for pets is fast-acting and has a natural flavor. Pet tinctures are THC-free and contain other powerful terpenes and cannabinoids naturally found in the hemp plant. You can put it directly into your pet's mouth, or squirt the drops into your pet's dish over some food. There are approximately 30 full droppers in each bottle.
Suggested Use: 1-2 mg of CBD tincture for pets per 10 pounds of body weight.
This product is made from a full spectrum hemp oil and contains a variety of beneficial cannabinoids. This 1 oz bottle (250 mg total) is perfect for pets using CBD for the first time. You can mix it with food or water, and it can be given to your pet orally if they will tolerate it.
Serving Size: 
0.5 mL (approximately 15 drops)
1 to 5 servings up to twice a day or as directed by a veterinarian. Do not exceed 5 ml (10 servings) per day.
Hemp Bombs CBD Dog Biscuits
Expect your dog to go barking mad for these broad-spectrum biscuits containing 15 milligrams of CBD each. These biscuits deliver an irresistible flavor mixed with peanut butter and tree nuts. They can be given to dogs daily as part of a wellness regimen. Each eight-pack container of biscuits contains 120 milligrams of CBD in total. While hearty, each biscuit should be used as a supplemental treat instead of a meal replacement.
Serving Size: 
For dogs 15 lbs or less 1 chew per day
For dogs over 15 lbs, no more than two chews per day.
Designed for dogs of nearly all sizes, these CBD chews are infused with Koi's proprietary full spectrum hemp extract. Each chew contains 5 milligrams of CBD. Pets of different weights can enjoy between one and three chews per day to maintain wellness. Each bag contains 30 chews in total.
Three different flavors are available, each designed to focus on specific needs:
Suggested Use:
10 lbs: 1 treat
20 lbs: 2 treats
30 lbs: 3 treats
Do not give more than one serving per 6 – 8 hour period.
Salmon-flavored CBD treats for cats by Koi CBD are made with full spectrum hemp CBD and other natural ingredients, without gluten, dairy or artificial colors, flavors and preservatives. CBD cat treats contain 2 mg CBD per count, 150 mg CBD per bag.
Made with a blend of broad spectrum CBD, powerful antioxidants, vitamins, nutrients, and the natural flavor of sweet potatoes, these vegan treats by CBDfx are the perfect companion for any furry friend. Each chew contains 15 milligrams of CBD. Each bag contains 30 treats.
Suggested Use:
Each treat has 15mg of broad spectrum CBD in it. So, the manufacturer would advise giving them to your pet sparingly depending on their size and experience with CBD.
Medterra's CBD pet chews combine CBD with healthy ingredients that your pet will love. Each chew contains 10 mg CBD along with Valerian root, L-tryptophan, chacomile working together to promote calming. Each bag contains 30 chews in total.
Directions for Use (per day):
0-25 lbs: 0.5 chew
26-50 lbs: 1 chew
51-75 lbs: 1.5 chews
76+ lbs: 2 chews
Made with quality USA-grown hemp, each chew includes 5 mg of CBD and more than 500 mg of functional ingredients such as turmeric, curcuminoids and Anivestin™ aimed to help support mobility and joint health. Additionally, Elixinol chews are made with broad-spectrum hemp extracts, which means they are THC-free.
Directions for Use:
0-25 lbs: 1 chew
25-50 lbs: 2 chews
50+ lbs: 3 chews
Calm Chicken & Cranberry Flavor Soft Baked CBD chews are designed for your dog with the gourmet flavors of fresh chicken and real cranberries. A perfect recipe combining only the highest-quality CBD from broad-spectrum hemp extract and chamomile to help dogs cope with everyday stress. Recommended for small and medium dogs to help reduce the effects of stress. One soft chew contains 9 mg of CBD from broad-spectrum hemp extract, with 270 mg of CBD per pouch.
Directions for Use:
5 – 10 lbs: 0.5 chew
10 – 20 lbs: 1 chew
20 – 35 lbs: 2 chews
Featuring 15 milligrams of CBD per count, these capsules can be administered to your pet with easy and peace of mind. It is a broad spectrum product that harnesses benefits from various cannabinoids and terpenes. For aging pets, this can help keep them calm, and it can also help them cope with ongoing health issues. Each container offers 450 milligrams of CBD for your pet in total.
Serving size:
1 softgel per day. For use with cats and dogs only.
Social CBD pet paw balm is thoughtfully formulated topical product with moisturizing, lick-safe ingredients to soothe dry, cracked paws and noses while protecting from normal wear and tear. Cocoa and shea butter provide a restorative base that is infused with lavender, oregano and ginger essential oils. The stick contains 200 mg of total CBD.
Suggested Use:
Rub directly onto pet's paw or nose. Lick safe, without any artificial flavors.
How to Use CBD Oil for Pets?
CBD products can be used daily for your pet. There are several different products available. Some tincture products for humans can be used for pets as well (check with the manufacturer). You can also choose to purchase a pet-based product that comes in a form that can be mixed with food or water. There are also dog and cat treats that can help with more precise dosing. CBD products can make a world of difference for your pet!