CBD has a lot of benefits for humans, and you can also use CBD for a variety of your pet's problems. Derived from the Cannabis plant.
Even though CBD is acquired from the Cannabis or marijuana plant, CBD products do not contain the psychoactive component known as THC. This means that your pet will not feel sluggish or lethargic while taking CBD. Many pet owners like to utilize more holistic approaches to veterinary care, and CBD products fall into this category. With almost no side effects to worry about, these products are worth considering.
What is CBD?
Cannabidiol (CBD) is one of eighty chemical compounds known as cannabinoids that are derived from the hemp plant, a strain of the Cannabis plant. The derivation processes for human-grade CBD and animal-grade CBD are very similar.
Since animals have a lot of the same health issues that humans have, cannabinoids can be just as useful for pets. Remember, animals usually should not receive the same amount of product that is recommended for humans. If you want to use a human-marketed product for your pet, then make sure to talk to your veterinarian for more information and further recommendations.
CBD Benefits for Pets.
Owners know that pets are important members of the family. It is vital to keep them happy and healthy, and thanks to high-quality CBD supplements, this can be much easier to achieve.
Side Effects of CBD Products for Pets
So far, there are very few side effects associated with ongoing use of CBD in pets. Sometimes it is best to start with the lowest effective dose to see if your pet will have an adverse reaction. If you don't notice any positive changes after a couple of weeks, then you may need to increase the dosage for better results.
One of the most common changes is that CBD can make some pets drink more than usual. This can be helped by making sure that your pet has a constant supply of clean water available.
It is interesting to note that, in humans, the most common side effect of CBD use is dry mouth.
Other side effects are beneficial in certain situations. For example, CBD can increase appetite for an older or sick pet who isn't eating. CBD can also cause mild sedation, which is helpful for pets.
CBD Dosage Information for Pets
In order to determine the right dose of CBD for your pet, you must weigh your pet first. The general recommendation is 0.05 mg per pound, administered twice daily. This means that a 5-pound dog will need 0.25 mg twice a day. In some cases, animals can metabolize medications and supplements faster than humans, so you might notice the effects of CBD very quickly. This might also explain why pets needs more than once dose per day.
Make sure that you administer the treatment with an accurately measured dropper or syringe. Alternatively, you can purchase a CBD product that has pre-measured doses like CBD pet treats. CBD shouldn't make pets too sleepy. If you're using full-spectrum product, then your pet may become very relaxed. In this case, it may be best to give a dose right before bedtime so that your pet sleeps better and will be more alert during the daytime.
CBD Pet Product Examples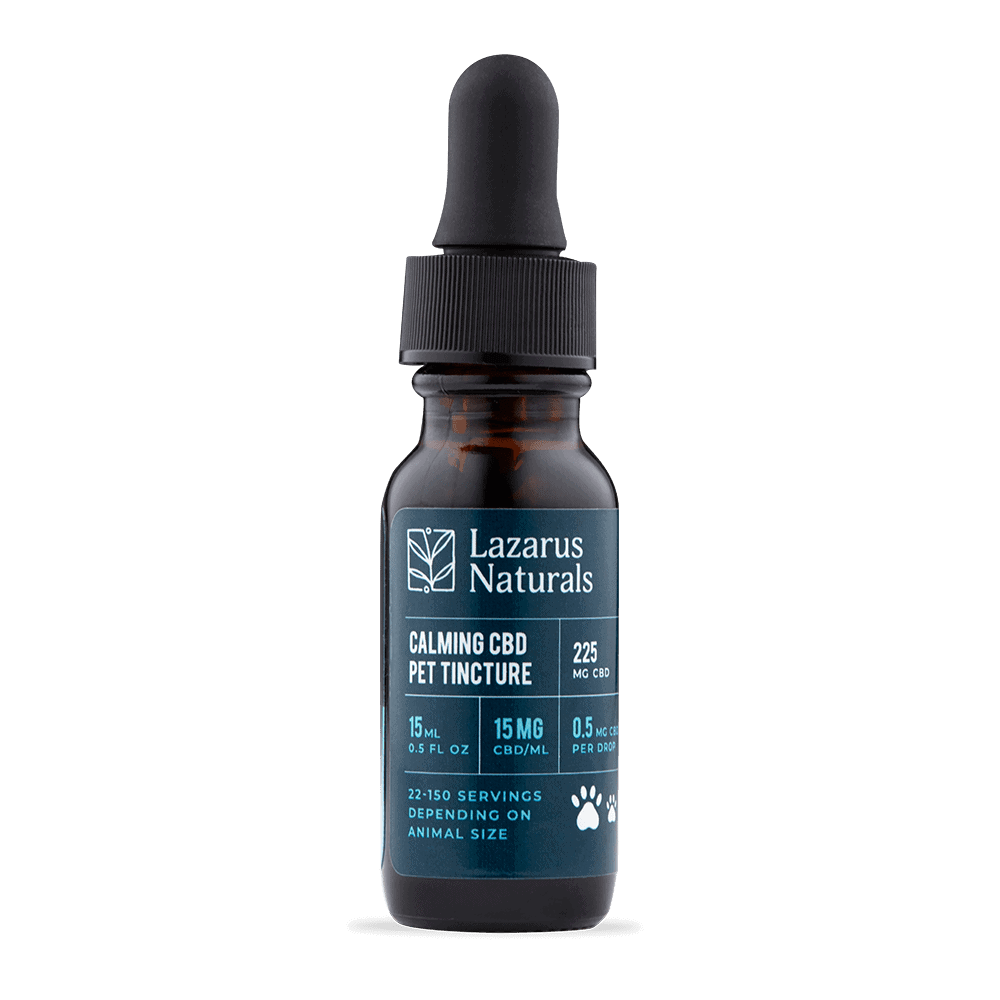 Pet CBD Oil is a product from Lazarus Naturals that provides 0.5 oz of CBD (225 mg total) in a tincture form. This product promotes joint health, decreases pain, and calms nerves. Each dose provides 15 mg of CBD. You can mix it into food or water, and it can be given orally as well.

The dosage recommendations include:
Less than 15lbs: 3 drops (1.5mg)
15-30lbs: 6 drops (3mg)
30-60lbs: 10 drops (5mg)
Over 60lbs: 20 drops (10mg)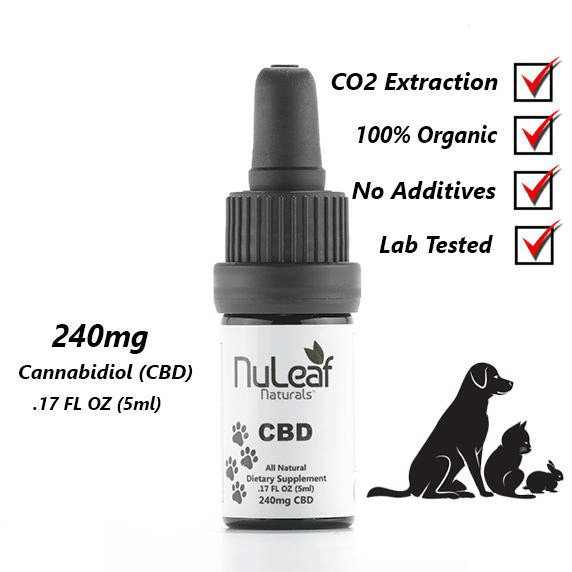 A full-spectrum CBD oil will provide your pet with CBD and other useful cannabinoid compounds. This product from NuLeaf Naturals provides 5 mL of CBD oil (240 mg total) and has a very mild taste. It can be given orally or mixed in with food or water.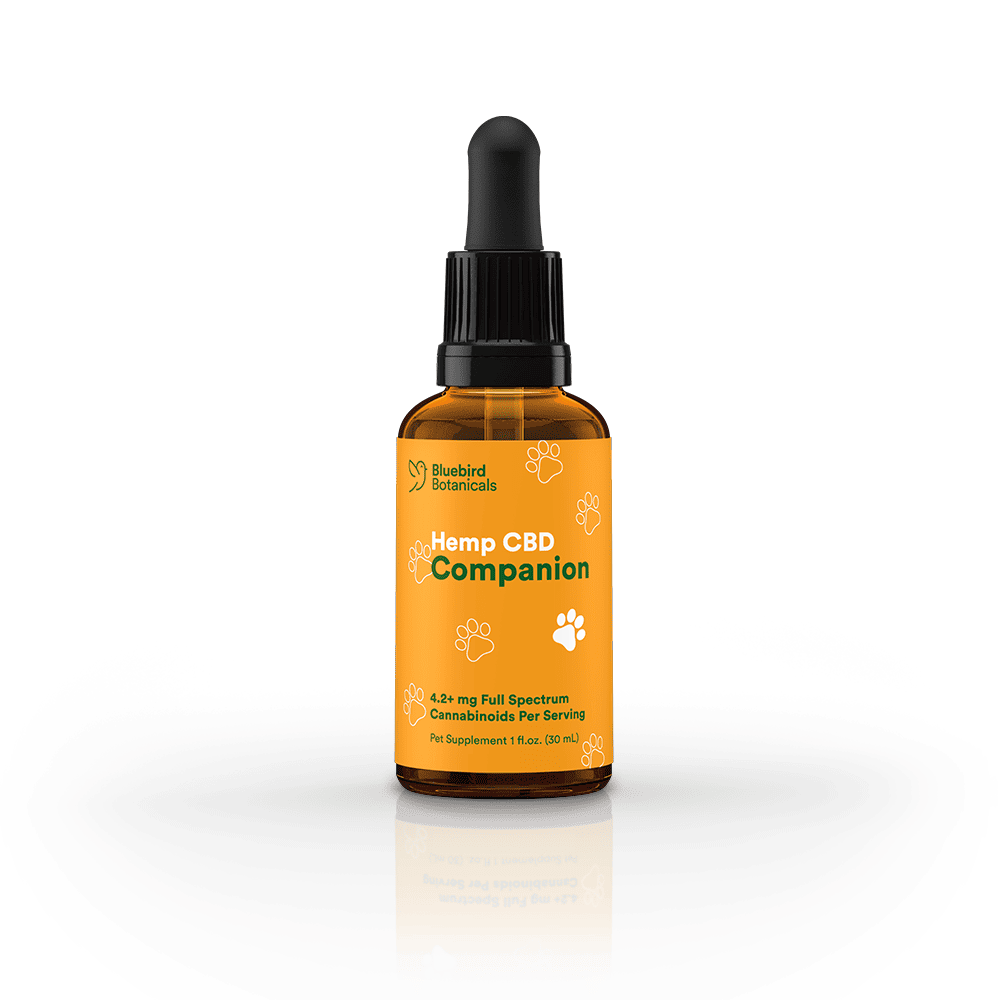 This product is made from a full spectrum hemp oil and contains a variety of beneficial cannabinoids. This 1 oz bottle (250 mg total) is the perfect for pets using CBD for the first time. You can mix it with food or water, and it can be given to your pet orally if they will tolerate it.
Tips for Using CBD Oil for Pets
Here are the tips how to use CBD oil for your pets.
Talk to your vet

Talk to your veterinarian to find out more information on CBD administration.

Obtain an accurate weight

Obtain an accurate weight for your pet to help with correct dose selection.

Shop for a high-quality CBD product specifically made for pets

You can obtain third-party lab results to ensure there are no harmful ingredients in a specific product. You can also confirm there is no THC present. 

Follow dose recommendations

Administer the recommended dose of product to your pet.

Watch any changes in behavior

Watch your pet for any behavior changes, and some of these changes may be for the better.

Stop using CBD products if your pet is lethargic

If your pet becomes lethargic, tired, or confused, then stop using CBD and contact your veterinarian right away.

Make sight dose increases every couple of weeks

If you need to increase the CBD dose for your pet, then only make slight dose increases every couple of weeks. Your pet's body needs time to adjust.

Use Full-spectrum products

Consider using a full-spectrum product for best results. 
CBD products can be used daily for your pet. There are several different products available. Some tincture products for humans can be used for pets as well (check with the manufacturer). You can also choose to purchase a pet-based product that comes in a form that can be mixed with food or water. There are also pet treats that can help with more precise dosing. CBD products can make a world of difference for your pet!