The Best CBD Dosage: How Much CBD To Take?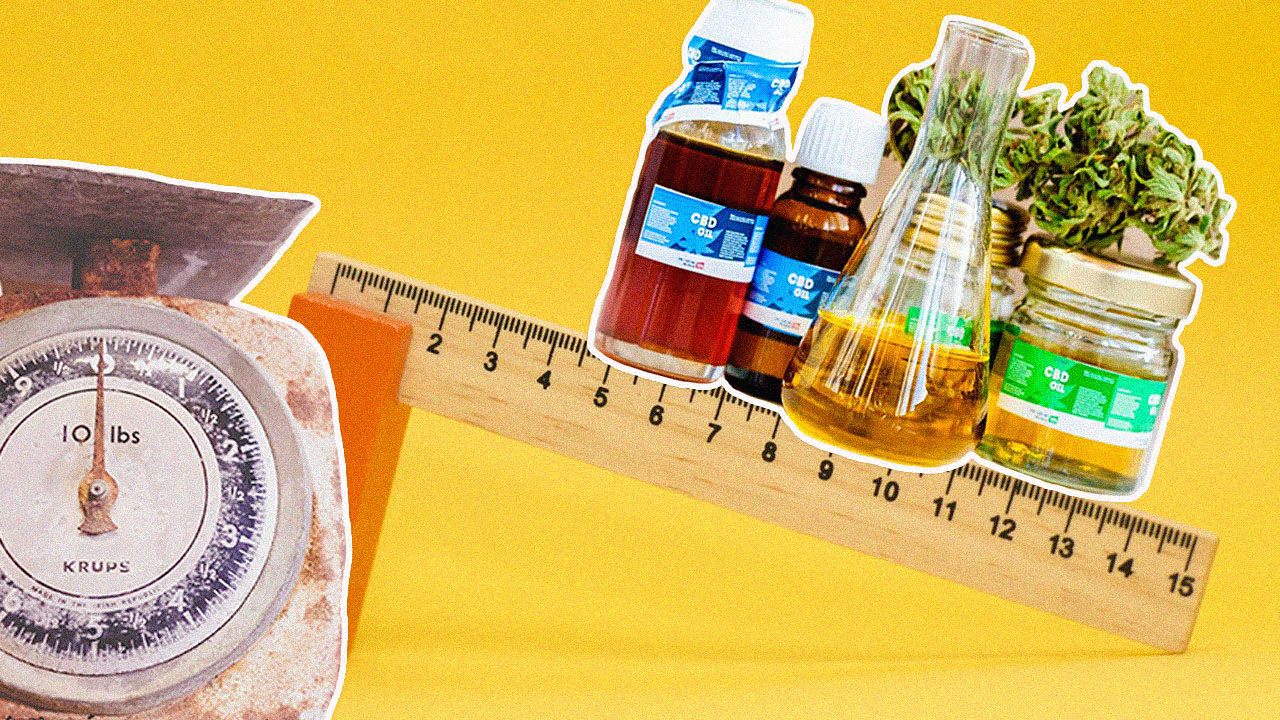 What is CBD?
Cannabidiol is just one of the various cannabinoids that are found within the cannabis plant. It has a number of benefits to the body. It is not the same as marijuana. You won't experience the same psychoactive effects with CBD oil.
Cannabidiol has recently received a lot of praise and acceptance from the medical community and the public. As a healing substance that can be used for a variety of health conditions, CBD still has a long way to go. State legislation is starting to move in the right direction to make CBD and medicinal hemp legal, but doctors even cannot prescribe these products to their patients. They can recommend it, however.
That happened is mainly because of no set daily dose. The Food and Nutrition Board of the National Academy of Sciences has usually determined this information. CBD is not currently part of any pharmacology curriculum. That doesn't mean that the supplementation of CBD can't be utilized. Personal research and a conversation with a trusted medical professional can help you determine what dose would be most beneficial for your situation.
Why Should You Use CBD?
CBD is a product of cannabis that can be used in a variety of different ways. Many people use it in oil form, which can be ingested orally. There are also other products like vapor juice or an aerosol spray. It has a number of benefits to the body.
While many people are aware of CBD health benefits, not many people are clear on what a typical CBD dosage would be. Sold as a supplement in CBD online markets, there isn't one set dose to go by. Suggested dosages are included with most products, but it is up to each individual user to determine what the best CBD dosage would be for them.
How Much CBD You Should Be Taking?
Some factors will contribute to how much CBD you should be taking. It can include:
Whether or not you are currently taking other prescription medications or herbal supplements.
The reason you are thinking about taking CBD.
Any pre-existing medical conditions that could affect your ability to absorb or process CBD.
Calculating CBD Dosages
As more evidence comes out that tout the benefits of CBD oil, more and more companies are entering the CBD arena. Right now, there is no federal regulation or oversight on CBD oil and the dosage of CBD. Every brand that produces CBD products is left to figure out its own dosages. To make matters even worse, these brands can even have different concentrations of CBD per milliliter of liquid, making figuring out the exact dosage more complicated than other supplements and health aids.
Now we need to look at how to figure out how much CBD you need to use. This can be determined according to general dosage requirements, using your weight or by looking at the specific issues you are attempting to address.
General CBD Dosage Requirements
With there being many different methods of taking CBD, the dosage requirements can significantly vary from product to product. Just some of the product options that you have include vaping CBD oil, tinctures, oil, concentrates, and capsules.
If you wish to target a specific area of the body, you can use topical CBD products for it. But if you are trying to reap the benefits of CBD throughout your entire body, topical products might not be the best option as they take some time to become absorbed. The effects of CBD are gradual because the product itself has a relatively standard time release. You'll want to start with a dose that is small in size and work your way up from there.
The average dose of CBD oil for daily consumed daily is around 40 to 160 milligrams. Most people use CBD two to three times per day. That would include a dose first thing in the morning, one in the middle of the afternoon, and one dose at night before bed. Based on the product you choose, you could be taking anywhere from 3 drops of CBD oil to 15 drops for each dose.
CBD Dosage by Weight
The most common way to determine how much CBD you should be taking is by using your weight. This is similar to the way many medications and other supplements determine their suggested dosage amounts.
The general thinking is that it takes about 1 to 5 milligrams of CBD per 10 pounds of weight for it to be effective. So, if you weigh 200 pounds, you simply divide. This varies from a person based on other factors, such as tolerance, the severity of symptoms, and even genetics. You should always start lower and work your way to higher doses until you find the exact dose size for you.
CBD Dosage Chart
The Mayo Clinic suggests finding a CBD dose that will work for you based on scientific research and expert opinion.
| Weight (lbs) | Low Dosage | Medium Dosage | High Dosage |
| --- | --- | --- | --- |
| 100-130 | 10-17 mg | 21-25 mg | 30-35 mg |
| 130-160 | 20-27 mg | 27-33 mg | 36-43 mg |
| 160-190 | 29-34 mg | 34-40 mg | 44-50 mg |
| 190-220 | 35-39 mg | 42-50 mg | 52-58 mg |
| 220-250 | 40-44 mg | 51-59 mg | 60-72 mg |
| 250-280 | 45-50 mg | 60-69 mg | 70-85 mg |
| 280+ | 52 mg+ | 75 mg+ | 90 mg+ |
CBD Dosage by Issue Being Treated
Another way to help find a CBD dosage that works for you is to look at the symptom you are treating. This can be split into three categories: Low/Micro, Standard, and High serving sizes.
1. Low/Micro Serving Size
This is a good test dosage for those just starting out with CBD. This dose is around 15 milligrams and can help you test your body's response to CBD. This is also the dosage suggested for an overall general wellness effect.
2. Standard Serving Size
This standard dose for CBD is around 25 milligrams.
3. High/Macro Serving Size
The high dose for CBD is up to 300 milligrams but should always be used by those who have experience with CBD.
Now let's have a look at how to figure out the dosage of a CBD oil product using the amount of CBD per drop.
Dosage Based on Product
1. CBD Oils and Tinctures Dosage
One of the easiest ways that you can take CBD is by using a tincture. You fill up the dropper provided with the product, place the product under your tongue, and keep it there for 30 to 90 seconds. You may then swallow the product. Some simple math will determine how many drops you should be taking.
Droppers may vary, so you'll want to take a look at the measurements on your dropper and how many milligrams are in the product you're using.
Your average dropper will hold 1 milliliter of liquid. If you have 30 milliliters of CBD tincture and 1500 milligrams of CBD, this will equate to 50 milligrams of CBD per dropper (1500/30=50). If you're looking to take 25 milligrams of CBD, you will fill this dropper to the halfway point.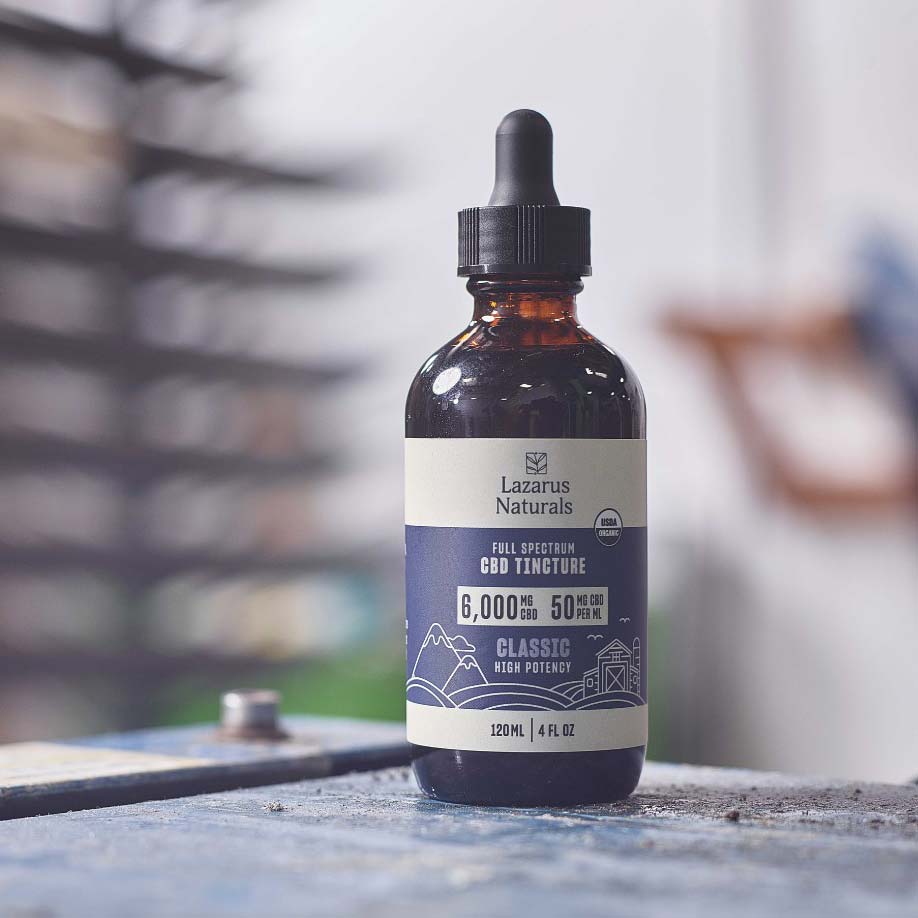 2. CBD Edible Dosage
With CBD edible dosage, you're getting varying CBD potency by serving size across brands. CBD totals per serving are measured in milligrams across all mainstream brands. However, CBD brands don't necessarily stagger their dosages using the same method.
For instance, CBD gummy dosage among brands can be offered in increments of five, 10, or more. It's a misconception that eating a larger edible will provide more CBD because the dosage comes down to milligrams of CBD per serving only. On the high end, you'll find mainstream CBD edibles with 350 milligrams of CBD per serving. On the other end, you'll find low-dosage CBD edibles with 10 to 15 milligrams per serving.
All in all, when shopping from our collection of CBD gummies, candies, and other edibles, you can easily identify the edible doses of each product by looking right at the label. You can measure the CBD per milligram against product volume to do cost comparisons between products.
3. CBD Capsule Dosage
Capsules dosage is measured in milligrams of CBD per capsule. That means that the size or quantity of capsules in a bottle won't tell you much about how much each capsule offers toward your CBD daily dosage.
When choosing between CBD oil or capsules, it's important to do a milligram-to-milligram comparison per serving instead of a milligrams-per-bottle comparison to do a cost analysis. On the high end for CBD capsules dosage, you'll see 200 milligrams of CBD per capsule. Lower potencies range from 15 to 25 milligrams per serving.
As you become familiar with a product, you may find that you're interested in increasing dosage. Knowing how to do a milligram-to-milligram comparison will help you to determine if it's more cost-effective to take more capsules of the same potency or jump to high potency CBD pills.
4. CBD Dosage for Topical Products
With CBD dosage for topical products, you'll need to do a breakdown of total CBD per container divided by how many uses you'll get out of that container. To get a breakdown of CBD per serving, simply divide the ounce value of the container by the total CBD in milligrams.
When you purchase topical CBD products at CBD.market, product volume and CBD per container are always clearly displayed at the Product Data. When using popular topical CBD ointments, balms, creams, and lotions, you often don't have to do much guesswork regarding how to get the best results because application instructions are provided clearly on the label. That means that using the amount suggested with the frequency suggested should be enough to produce your intended results.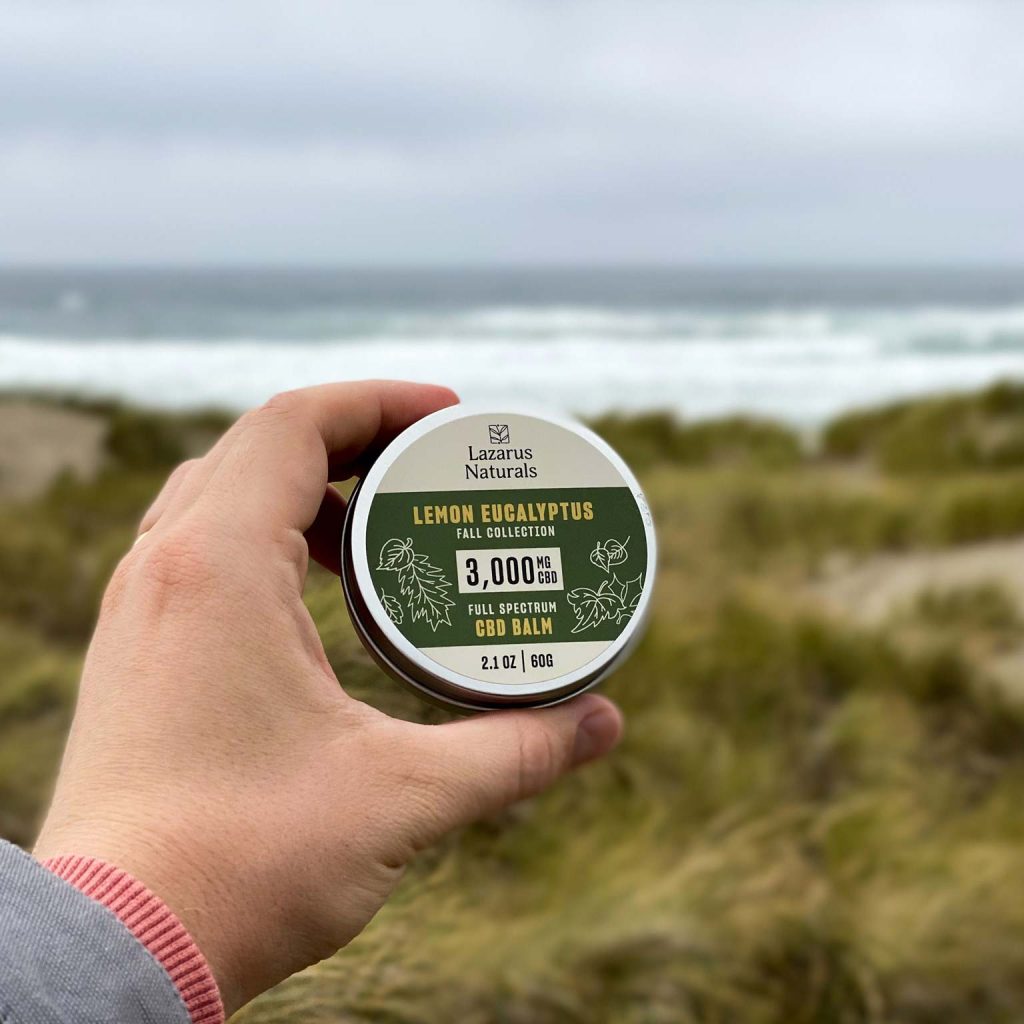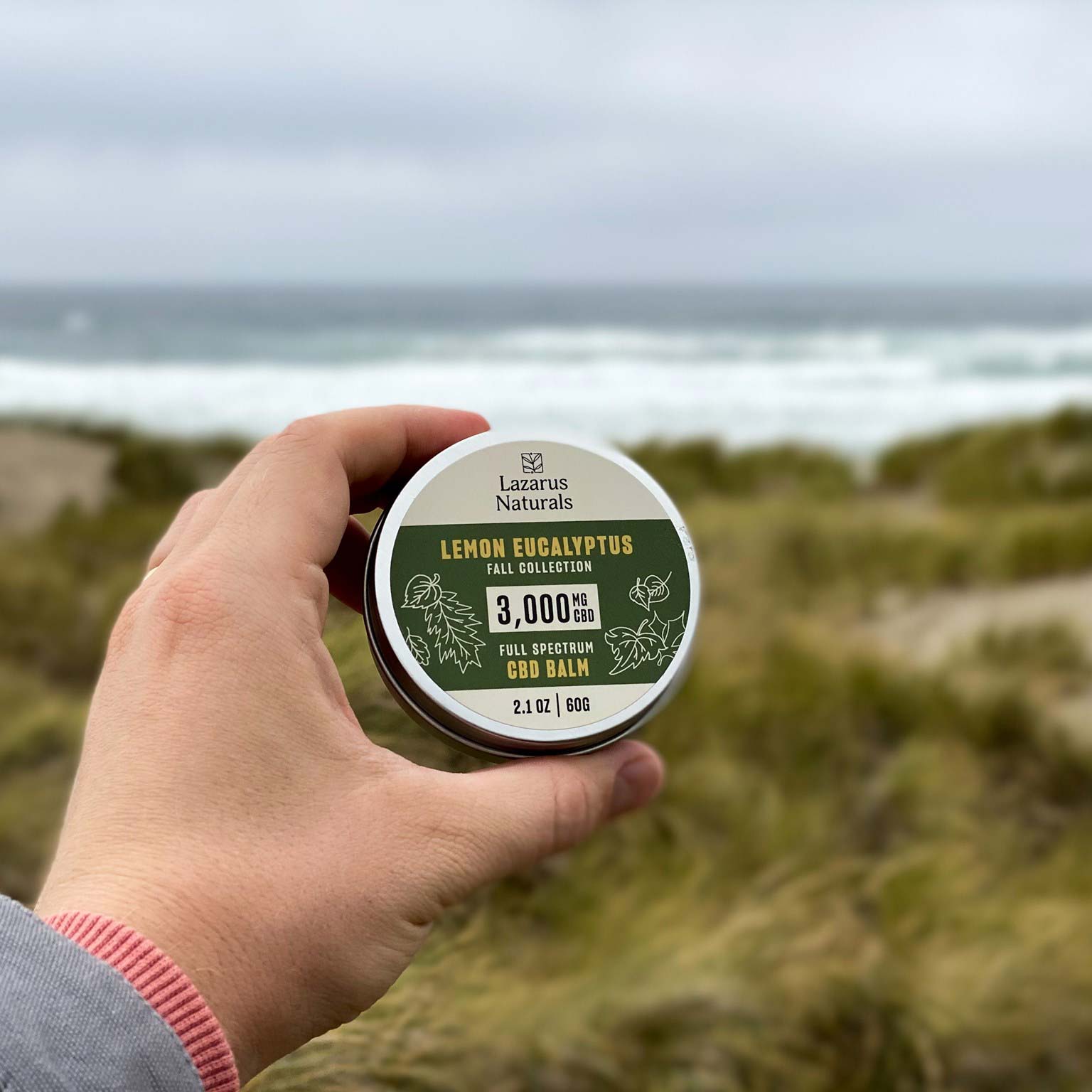 5. Vape Dosage
You can consume CBD by using CBD vaping liquid in your cartridge system. That's an easy way to absorb CBD, and it can provide users with an enjoyable experience. The same process of measuring tincture is what you will use to figure out how much CBD you should be putting into your tank.
If you are looking to consume 25 milligrams of CBD and you have a 1000 milligram bottle of e-liquid, an average tank of CBD would contain about 33 milligrams of CBD. Keep in mind, to administer this dose of 25 milligrams; you would need to consume the full amount of vape liquid all at once. Some people fill their tank for the day and use it periodically.
Now let's have a look at how to figure out the dosage of a CBD oil product using the amount of CBD per serving.
CBD Dosage & Serving Sizes
Since there is no regulation on the way CBD percentage is figured out, you can't always simply go off what is listed on the package. To be safe, you need to first figure out how much actual CBD is in each dropper and each serving. You may think these would be one and the same, but in some cases, one serving can equal multiple droppers of oil.
The first thing you need to do is find the suggested serving size of your chosen CBD oil product. This is usually listed near the ingredients, but it can be placed anywhere on the label or packaging. It will tell you how many drops are in each serving size.
Let's read the label of CBDistillery Full Spectrum CBD Oil with a total of 1000 mg CBD. The serving size is 1 mL (1 full dropper):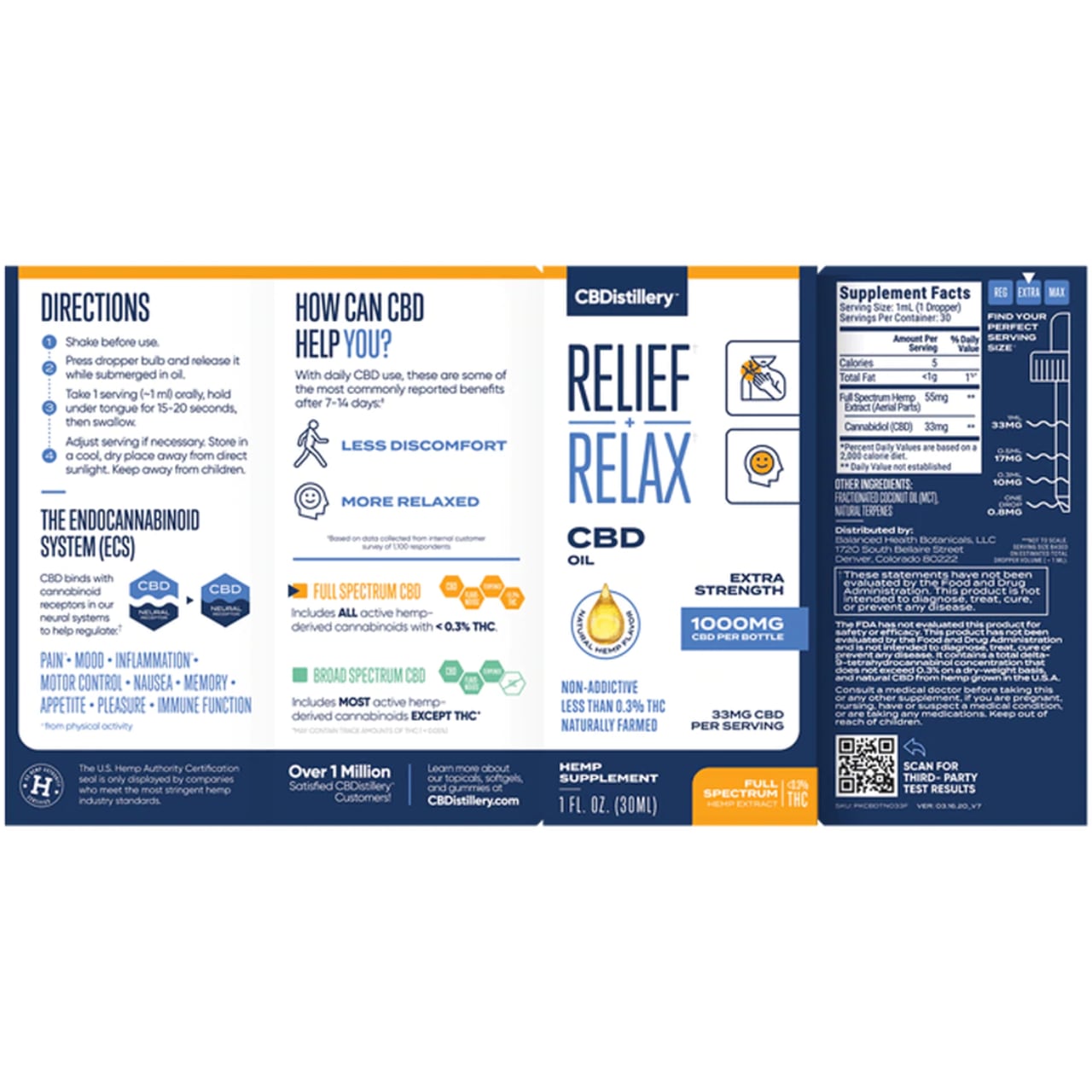 The next step is to find out how much CBD is in each serving. To do this, find out how many milligrams of CBD is in each serving. This will not necessarily be listed by the serving size information, but many times it can be found in the same area.
After having these two pieces of information, you can easily calculate how much CBD is in each serving and in each drop.
In our example, CBD oil says each serving size is 1 ml and the bottle contains 1000 milligrams of CBD, then you would divide the 1000 milligrams by 30 ml to see how much is in one ml. In this case, it is 33 milligrams of CBD in each ml of oil.
Next, we will look at how to calculate the dosage of a CBD product using the listed CBD amount in the bottle.
CBD Dosage in the Bottle
In some cases, companies won't list how much CBD is in a single drop or serving. In these cases, figuring out your correct CBD dosage can seem even tougher. We have streamlined how you would go about figuring out the CBD dosage amount when only the total CBD in the bottle is listed.
A single drop of oil is about 0.05 milliliters. This is the base measurement CBD oil companies use.
If you have purchased a 30-milliliter bottle of Elixinol CBD oil, this means your bottle has 600 drops in it. This is figured by dividing the total amount of oil by the drop size.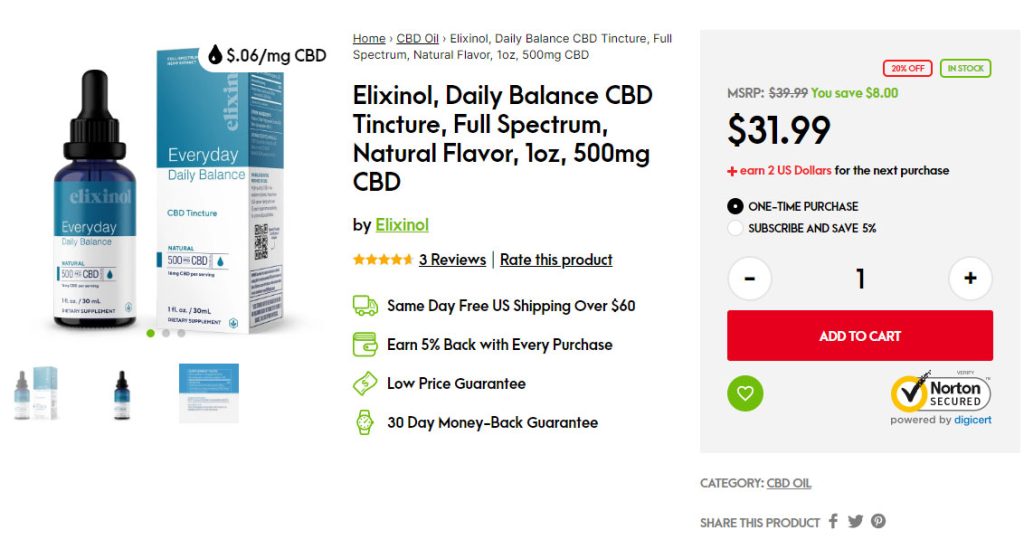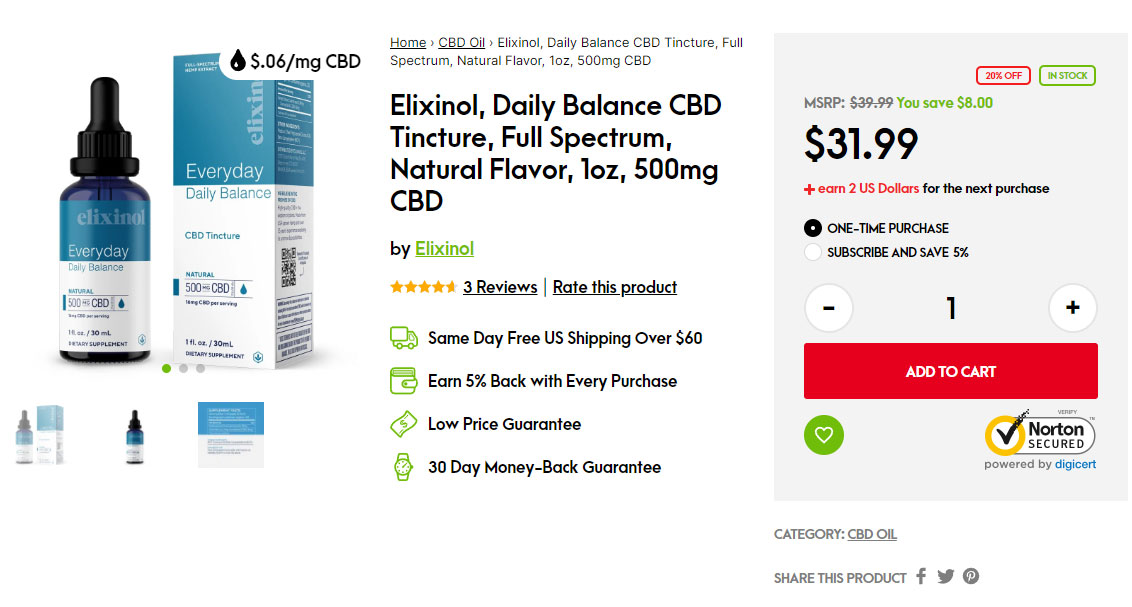 That same packaging tells you that your CBD oil contains 500 milligrams in total CBD. Similarly to before, you simply divide the total number of CBD in the bottle by the number of drops. So, in this case, each drop has about 0.8 milligrams of CBD.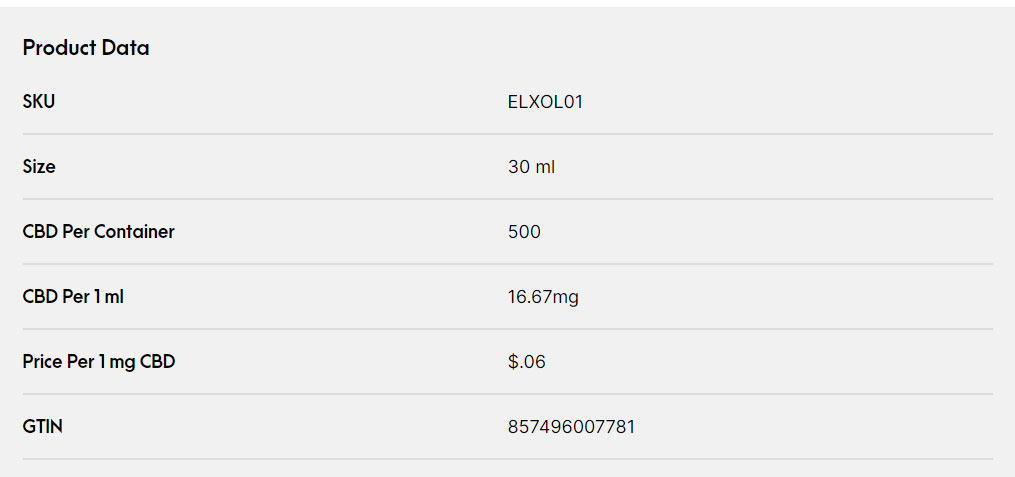 The recommended serving size on the label is ½ dropper which contains 10 drops with 8 mg CBD.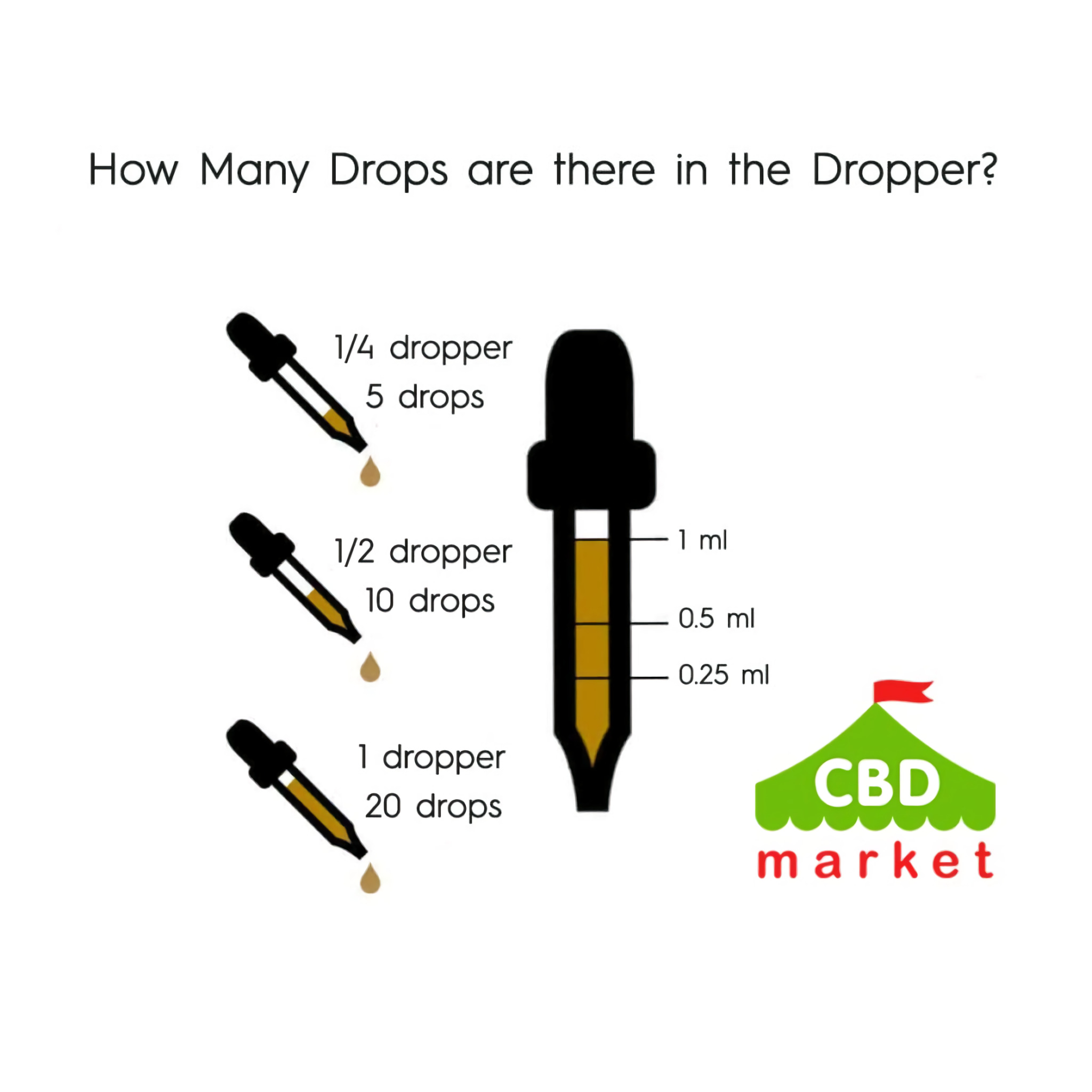 Here is the chart which helps to calculate CBD dosage in one full dropper of the 30-ml bottles with different CBD concentrations: 500 mg, 1000 mg, 1500 mg and 5000 mg of CBD: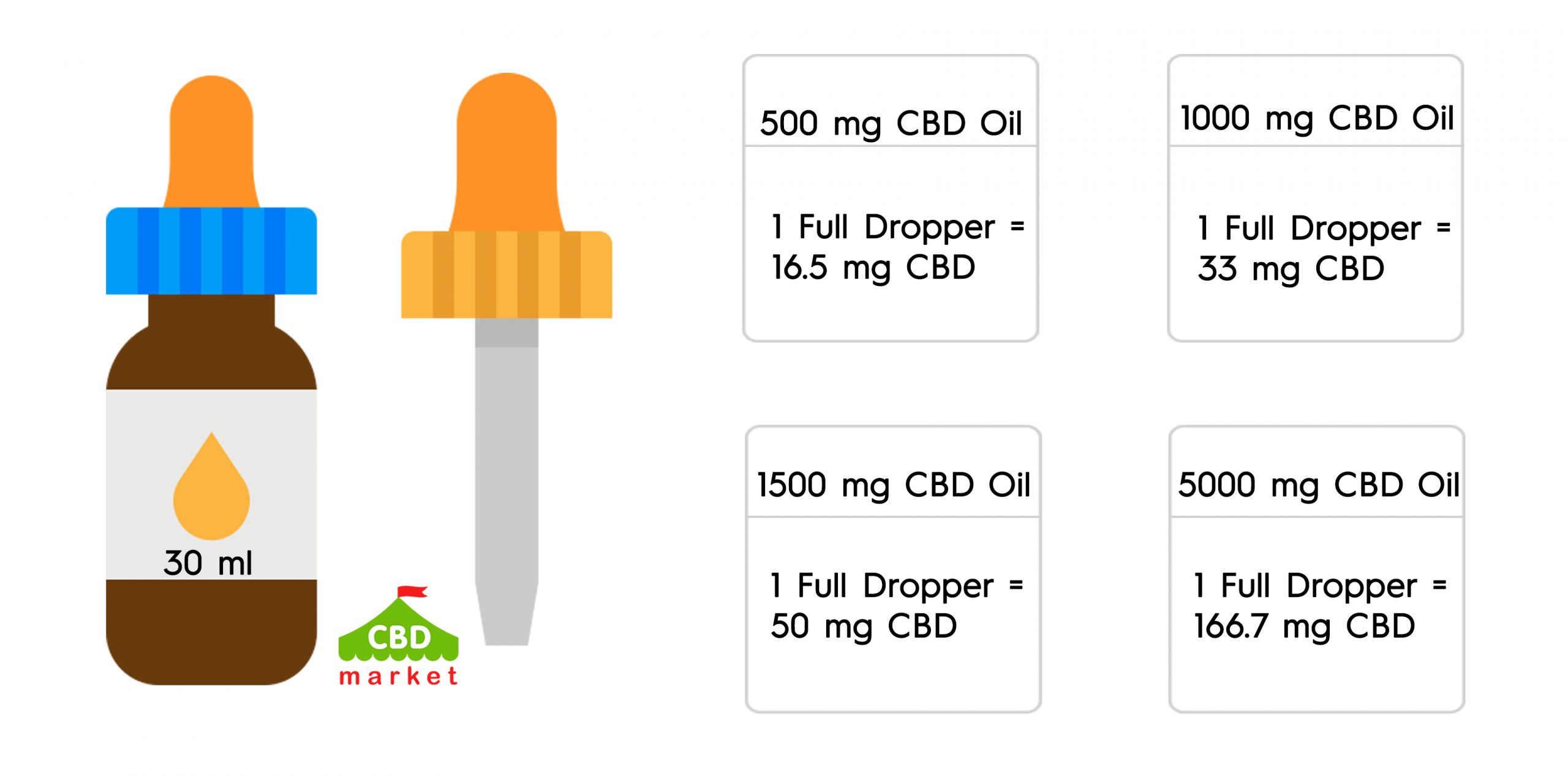 CBD.market Product Data
In our online store, we simplify the choice of CBD products, giving our customers guidance and the ability to compare goods based on general indicators tied to the CBD unit (mg) and providing complete information and data on each CBD product.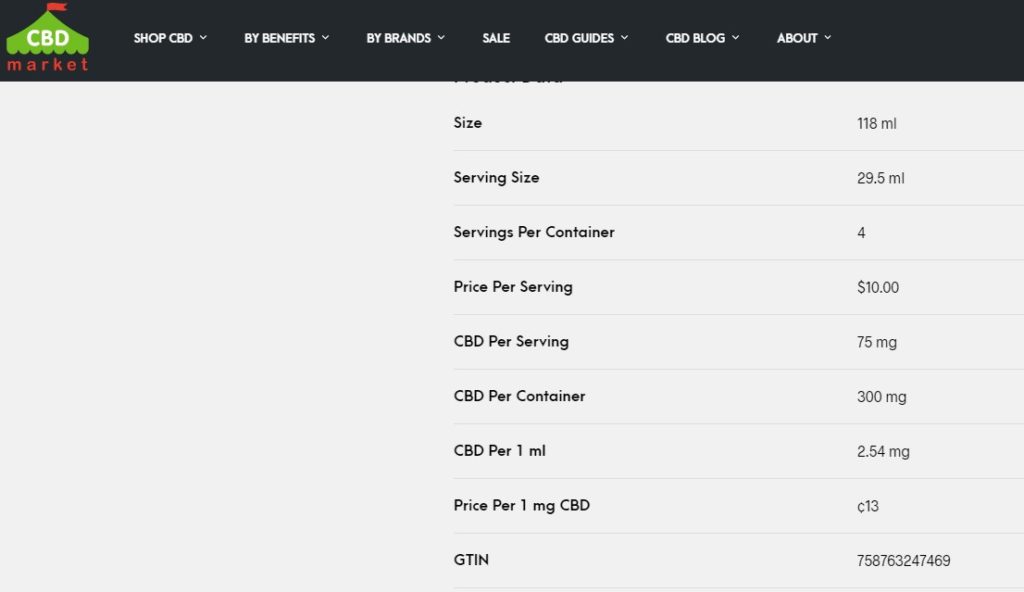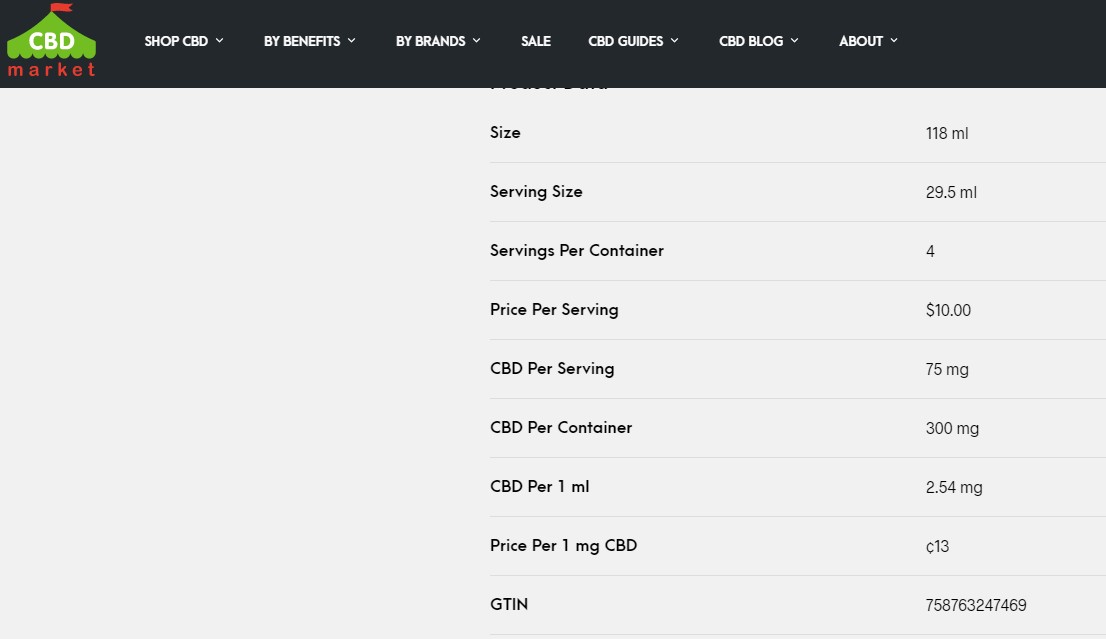 The information that is included will explain the following:
The size is the quantity of the product in the package
A serving size is a single dose
Servings per container are the number of doses per package
Price per serving is the price per one dose of the product
CBD per serving is the amount of CBD per 1 dose
How to Choose Your Best CBD Dosage?
Selection of individual CBD dosage for each different. When choosing, rely on general dosage recommendations, features of your own body, and products that you will use.
Before starting a CBD oil regimen, you must speak with your doctor about your plans. While you may have done extensive research regarding CBD and its benefits, something you are overlooking could put your health in danger.
Your doctor is likely aware of all the medications that you are taking. They will be able to provide you with information regarding your planned CBD dosage and potential interactions that could occur with other medicines that you are seeking. Don't forget; your doctor will not be able to prescribe you CBD products for consumption. They can discuss your plans to take this supplement and what you should watch out for.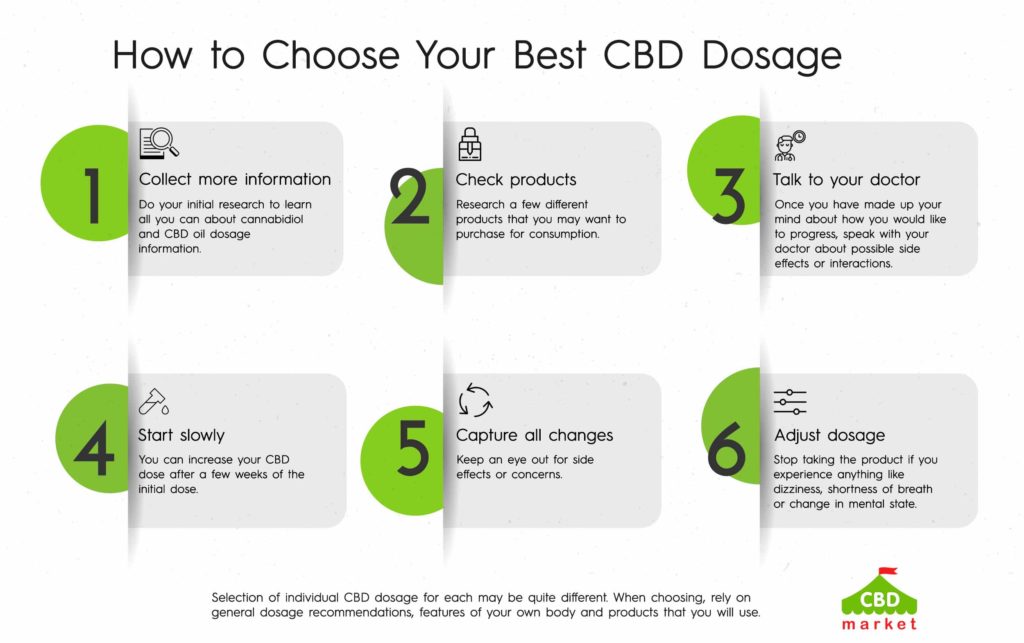 How to Choose Your Best CBD Dosage?
Collect more information.

Do your initial research to learn all you can about cannabidiol and CBD oil dosage information.


Check the different products.

Research a few different products that you may want to purchase for consumption.

Talk to your doctor.

Once you have decided how you would like to progress, speak with your doctor about possible side effects or interactions.

Start with a low CBD dosage.

You can increase your dose after a few weeks of the initial dose.

Keep an eye out for side effects or concerns.

Capture all changes.

Adjust dosage.

Stop taking the product if you experience dizziness, shortness of breath or a change in mental state.

Factors That Determine Your Ideal Dose of CBD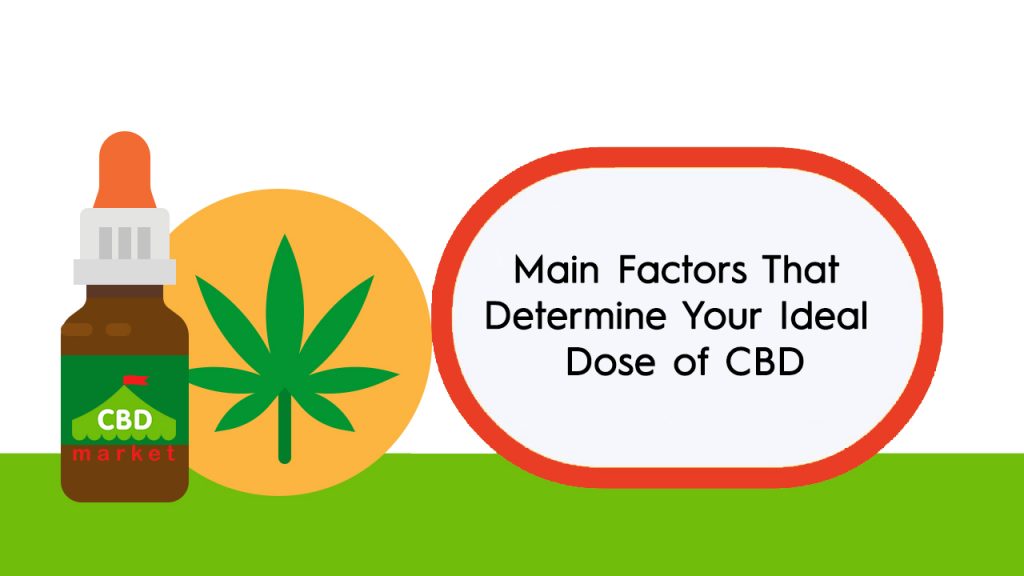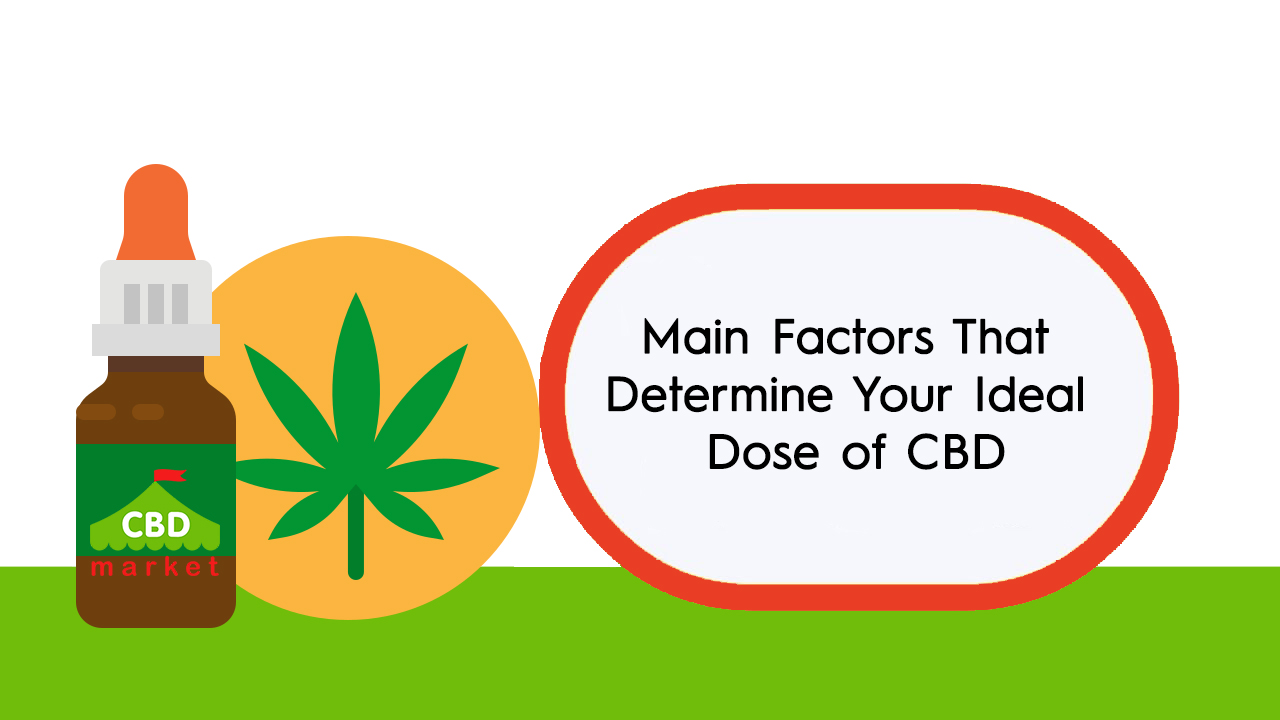 Understanding bioavailability and the general time it takes to experience the effects are important. The next questions concern how much CBD do you need and how much CBD is safe? The ideal dose of CBD varies from person to person. It is based on factors like the following:
Body weight
Metabolism
Reason for using CBD oil
CBD delivery method
The potency of the product ingested or inhaled
Type of CBD product – CBD full spectrum, CBD broad spectrum, CBD isolate
Whether there is THC in the product
Personal tolerance
CBD products from hemp contain 0.3 percent THC or less. THC is the psychoactive cannabinoid found in marijuana. There are products on the market that blend CBD and THC, and the effects and ideal dosage will be different from CBD-only products.
1. Potency
Each product will have a label that includes the recommended dosage in milligrams. A lot depends on the potency of each serving as to how much CBD to take each time. There is a wide range of potencies available today.
For example, you can decide to try a 20 mg CBD capsule or a 50 mg CBD capsule. You could use a tincture with 8 mg of CBD in each serving or one with 17 mg or higher in each serving. Each form of CBD product has a variety of potencies you can choose from.
2. Frequency
Another common question is: How often can I take CBD? Potency and the effects experienced will influence how often you take CBD. The recommendation is to start with a low dose of CBD and see how well it is tolerated and the effects. Start with one capsule or half a dropper of CBD tincture.
You can increase the dosage slowly, assessing the effects each time. Medical research has shown that regular users taking high doses of up to 1500 mg per day is well tolerated by people (PMID: 28861514).
Once you determine the ideal amount, you can decide how often you want to take CBD. For example, you determine 100 mg a day is the best amount, and you bought 50 mg CBD capsules. The quickest calculation is to take one in the morning and once at night. If you bought 20 mg CBD capsules, you could take five capsules throughout the day. This strategy keeps a steady supply of CBD in the system.
This is just a quick estimate of the amount to take though. Remember that each CBD dose has a bioavailability rating. If you take a 50 mg capsule with a bioavailability of 15 percent, the amount of CBD impacting your system is 7.5 mg.
3. Safety
There is no single answer as to how much CBD to take or how often to take CBD. How much CBD is safe? There is very little medical research available right now on CBD. To date though, the research that has been conducted indicates CBD has low toxicity. The best strategy is the one mentioned. Start with a low dose and slowly increase the amount used until the desired effects are experienced.
How Do Consumption Methods Are Related To CBD Dosage?
People indicate they use CBD for many reasons, like reducing feelings of discomfort. Naturally, the goal is to take as much CBD as needed to experience the desired effects. But how many milligrams of CBD to take to feel the effects?
Unlike government-approved medications, there are no official Food and Drug Administration guidelines for CBD dosage. The only way to determine the dose that will work best for you is by following the manufacturer's recommendation and starting with a low dose. You can take a very low dose and increase from there until the desired effects of CBD oil are achieved.
The method of CBD oil administration is a key determinant of the rate of bioavailability. These factors largely determine the time it takes to feel the effects of CBD oil. Bioavailability is the term used to describe how much something is absorbed by the bloodstream and the rate at which it is absorbed.
There are four common methods for consuming or using CBD oil. In this post "Best Ways to Take CBD Oil: Complete Guide" you'll find more detailed information on methods of ingesting CBD oil.
1. Oral Ingestion
There are numerous ways to ingest CBD oil orally. They include CBD capsules, CBD gummies, CBD edibles (i.e., cookies, chocolate, etc.), and CBD oil added to food or liquid. CBD edibles are processed through the digestion system which lowers bioavailability and increases the time it takes to experience the effects.
The bioavailability for oral CBD forms can range from 6-20 percent. The effects can take from 30 minutes to two hours.
2. Sublingual Ingestion
This method refers to CBD oil drops administered under the tongue. The drops are held under the tongue for one minute to increase absorption by the sublingual gland. From there the CBD can directly enter the bloodstream. The bioavailability is 13-19 percent, though some people experience a much higher rate.
The effects are experienced within approximately 20 minutes.
3. Inhalation
Vaping has become a popular method for CBD oil consumption. Consumers use CBD vape oils, CBD vaporizers, and CBD vape pens. The CBD oil is vaporized, and the CBD is inhaled into the lungs. This leads to rapid absorption into the bloodstream. Each time the vapor is inhaled, another dose of CBD is administered.
The bioavailability rate is generally 34-46 percent and can be higher. The effects are experienced in approximately 10 minutes.
4. Topicals
CBD topicals are creams, salves, balms, serums, lotions, and lip balms applied to the skin. The CBD does not reach the bloodstream with these products, only the skin's local receptors. Therefore, the bioavailability is zero to very low.
However, the effects may be felt within minutes with a thorough rubbing of the skin. Transdermal patches are included in this category, and a high-quality product could slowly release CBD into the bloodstream which increases bioavailability.
Can You Overdose CBD?
When taking any medication, it is always a good idea to know if there is a danger of overdose. If you are thinking about taking CBD, you might be wondering if there is a lethal dose that you want to stay far away from it. People used cannabis for many different purposes, for many centuries. There have not been any records of CBD overdose reported. There have not been deadly overdoses of cannabis either.
Daily Dosage Information
Some people benefit from just one dose per day, while other people function more optimally when two to three doses are taken over the course of twenty-four hours. Like most nutritional supplements, the effects can take a few days. You need to build the product up in your system for a few days to truly see the potential benefits.
Eventually, the body starts to function more optimally and efficiently. It may take a bit of time to figure out the right dosage. Everybody is different, and it is important to remember that you should start out small and work your way up from there.
When you start out with a CBD oil routine, make sure that you start out as slow as possible. You can't really determine what dosage you will want to take on a daily basis until you have started taking the product. This will provide you with more information on how it makes you feel, how long the benefits last, what side effects are present for you, and what time of day is best for you to take the product. Give yourself a few days (or even weeks) before you decide to up your dosage.
Final Thoughts
Until the product builds up in your system, you won't know if that dose is enough. Taking one dose of CBD oil might be beneficial, but you won't see the full potential of CBD until you get started with a regiment moving forward.
When you take a dose, your body's endocannabinoid system is triggered. When you use a supplement such as CBD oil, you are supporting this system in the body. The goal is to help re-balance the body and all of its systems moving forward.
Sources
https://www.ncbi.nlm.nih.gov/pmc/articles/PMC4851925/
https://www.ncbi.nlm.nih.gov/pmc/articles/PMC6805701/
https://pubmed.ncbi.nlm.nih.gov/8897084/
https://www.ncbi.nlm.nih.gov/pmc/articles/PMC5569602/
https://pubmed.ncbi.nlm.nih.gov/22129319/
https://www.ncbi.nlm.nih.gov/pmc/articles/PMC6275223/
The statements above have not been evaluated via the Food and Drug Administration. The efficacy of these merchandise has not been tested by using FDA-approved research. These products are not intended to diagnose, treat, therapy or stop any disease.