Table of Contents
Cannabidiol is just one of the various cannabinoids that are found within the cannabis plant. It has a number of benefits to the body. It is not the same as marijuana. You won't experience the same psychoactive effects with CBD oil. 
Why Should You Use CBD?
CBD is a product of cannabis that can be used in a variety of different ways. Many people use it in oil form, which can be ingested orally. There are also other products like vapor juice or an aerosol spray. It has a number of benefits to the body.
While many people are aware of CBD health benefits, not many people are clear on what a typical CBD dosage would be. Sold as a supplement in CBD online markets, there isn't one set dose to go by. Suggested dosages are included with most products, but it is up to each individual user to determine what the best CBD dosage would be for them.
Calculating CBD Dosages
As more evidence comes out that tout the benefits of CBD oil, more and more companies are entering the CBD arena. Right now, there is no federal regulation or oversight on CBD oil and the dosage of CBD. Every brand that produces CBD products is left to figure out their own dosages. To make matters even worse, these brands can even have different concentrations of CBD per milliliter of liquid, making figuring out the exact dosage more complicated than other supplements and health aids.
First, let's have a look at how to figure out the dosage of a CBD oil product using the amount of CBD per drop.
CBD Dosage and Serving Sizes
Since there is no regulation on the way CBD percentage is figured out, you can't always simply go off what is listed on the package. To be safe, you need to first figure out how much actual CBD is in each dropper and each serving. You may think these would be one and the same, but in some cases, one serving can equal multiple droppers of oil.
The first thing you need to do is find the suggested serving size of your chosen CBD oil product. This is usually listed near the ingredients, but it can be placed anywhere on the label or packaging. It will tell you how many drops are in each serving size.
Let's read the label of Hemp Bombs CBD Relaxation Syrup with 300mg of CBD. The serving size of this syrup is 1 fl oz (approximately 29.5 ml):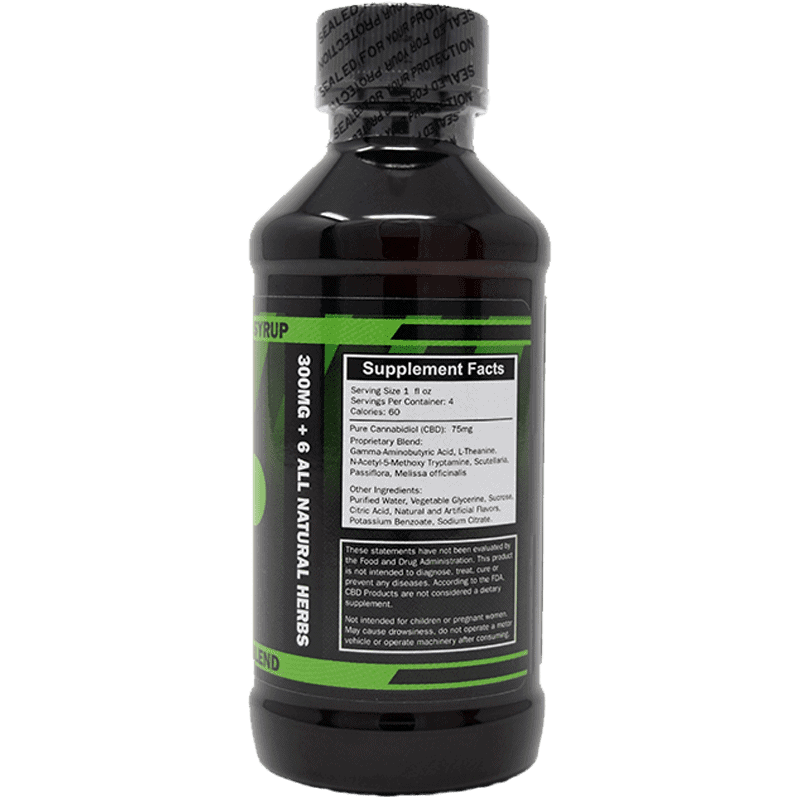 The next step is to find out how much CBD is in each serving. To do this, find out how many milligrams of CBD is in each serving. This will not necessarily be listed by the serving size information, but many times it can be found in the same area.
After having these two pieces of information, you can easily calculate how much CBD is in each serving and in each drop.
In our example, CBD oil says each serving size is 29.5 ml and each serving contains 75 milligrams of CBD, then you would divide the 75 milligrams by 29.5 ml to see how much is in one ml. In this case, it is 2.5 milligrams of CBD in each ml of the drink.
Next, we will look at how to calculate the dosage of a CBD product using the listed CBD amount in the bottle.
CBD Dosage in the Bottle
In some cases, companies won't list how much CBD is in a single drop or serving. In these cases, figuring out your correct CBD dosage can seem even tougher. We have streamlined how you would go about figuring out the CBD dosage amount when only the total CBD in the bottle is listed.
A single drop of oil is about 0.05 milliliters. This is the base measurement CBD oil companies use.
If you have purchased a 30-milliliter bottle of Elixinol CBD oil, this means your bottle has 600 drops in it. This is figured by dividing the total amount of oil by the drop size.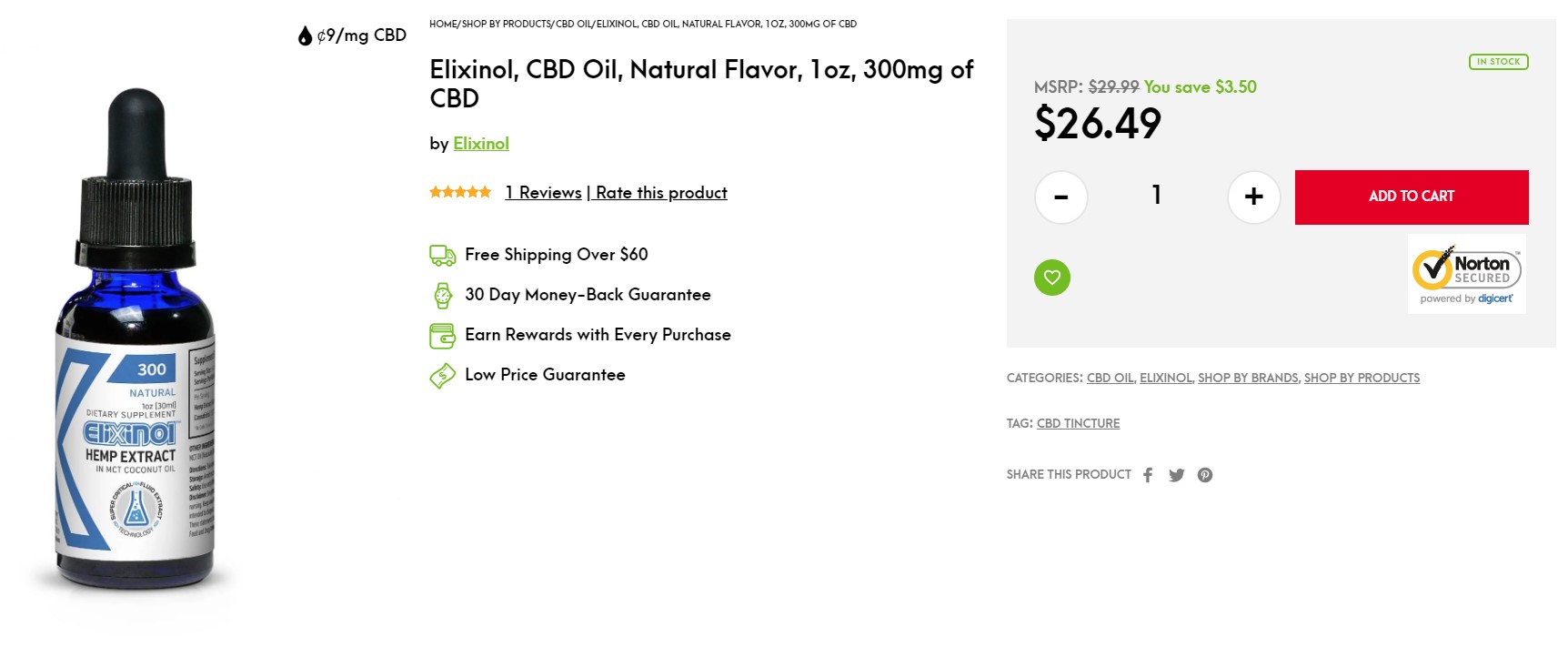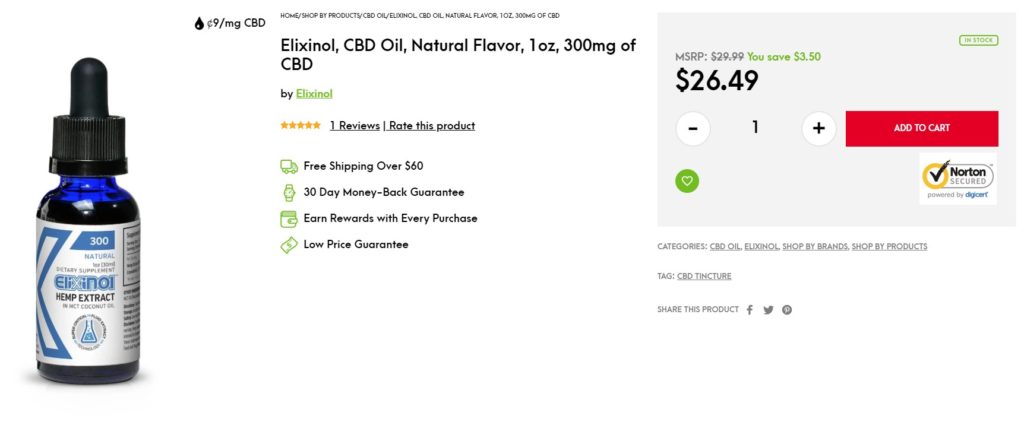 That same packaging tells you that your CBD oil contains 300 milligrams in total CBD. Similarly to before, you simply divide the total number of CBD in the bottle by the number of drops. So, in this case, each drop has about 0.5 milligrams of CBD.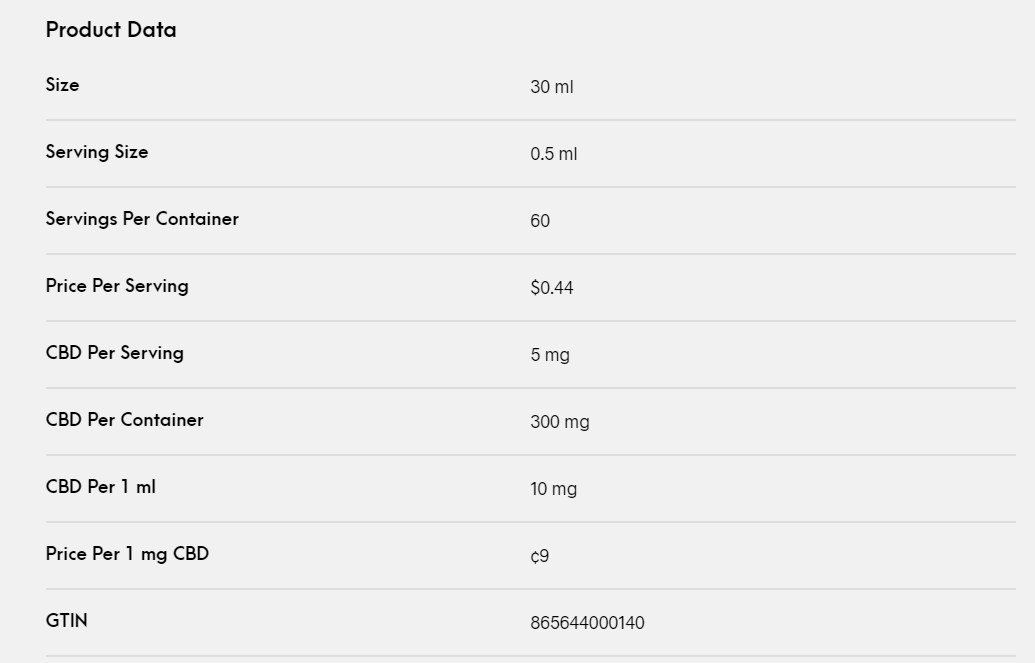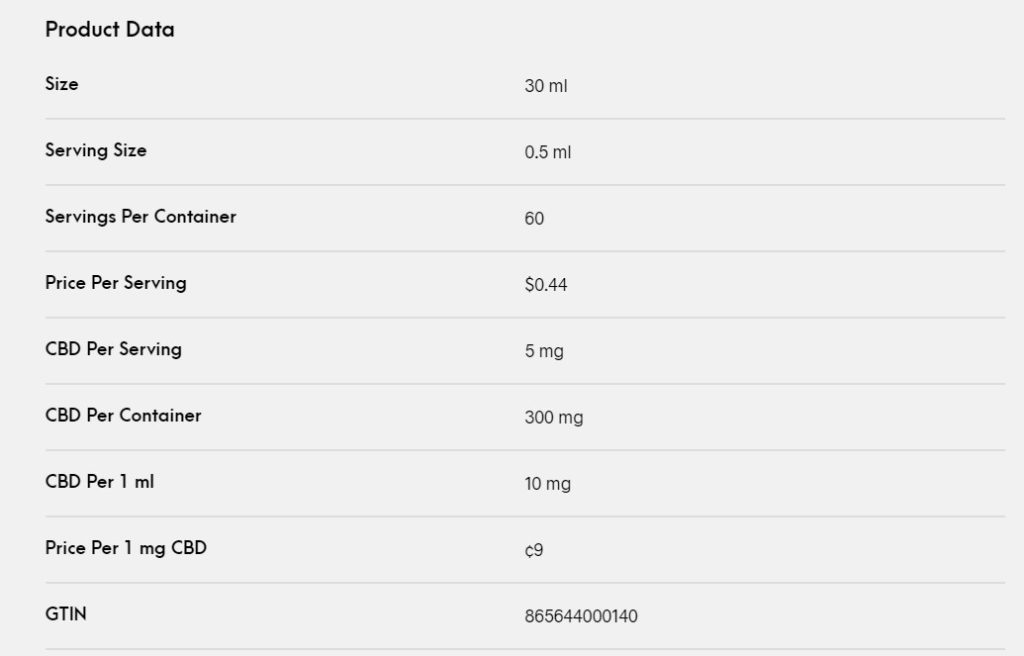 The recommended serving size on the label is ½ dropper which contains 10 drops with 5 mg CBD.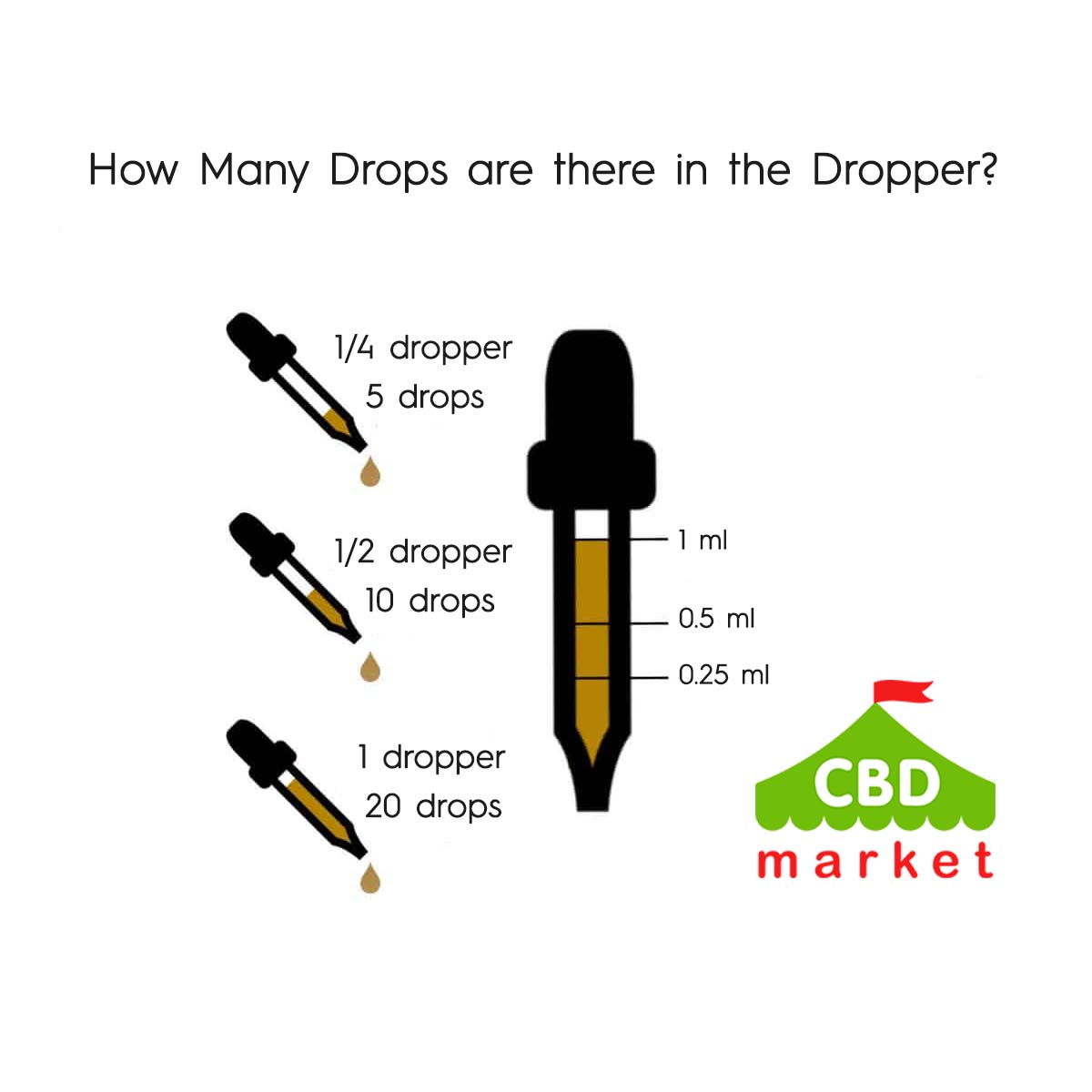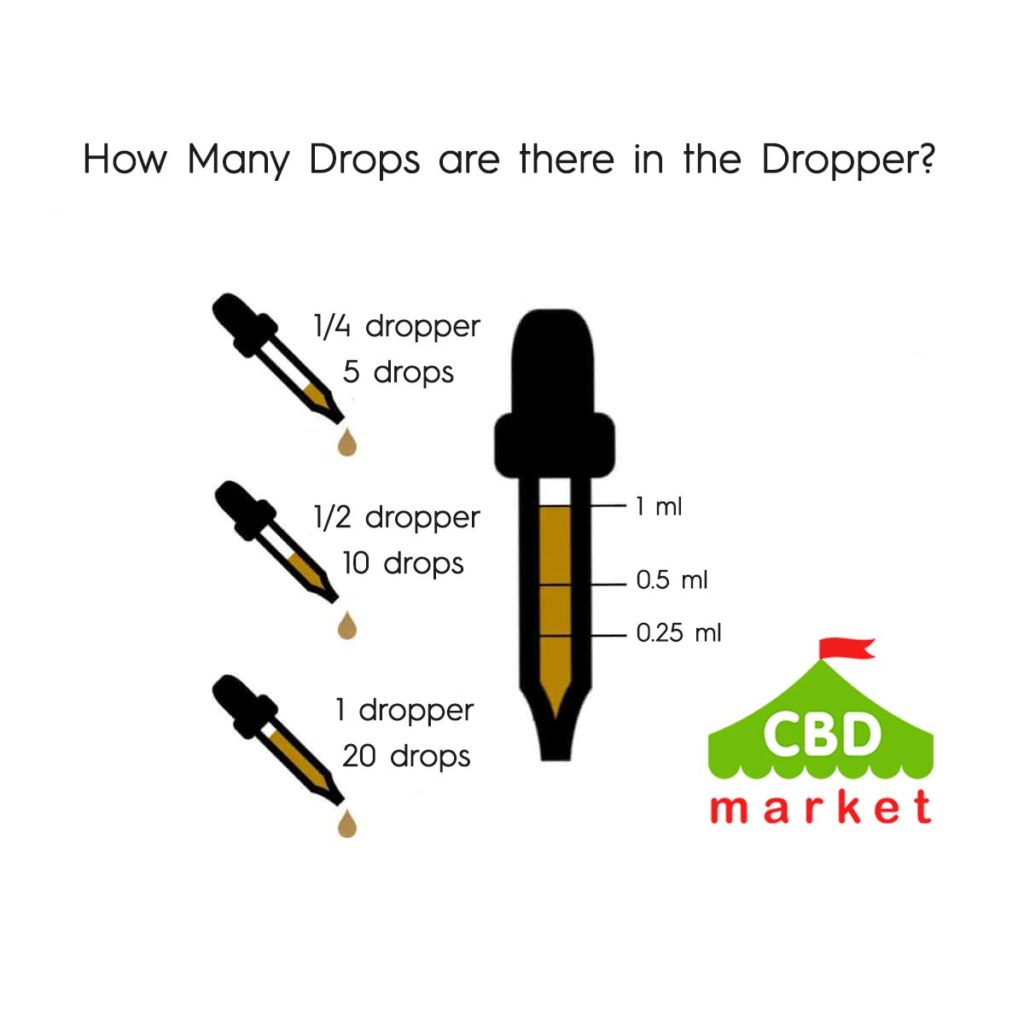 CBD.market Product Data
In our online store we simplify the choice of CBD products, giving our customers guidance and the ability to compare goods based on general indicators tied to the CBD unit (mg), as well as providing complete information and data of each CBD product.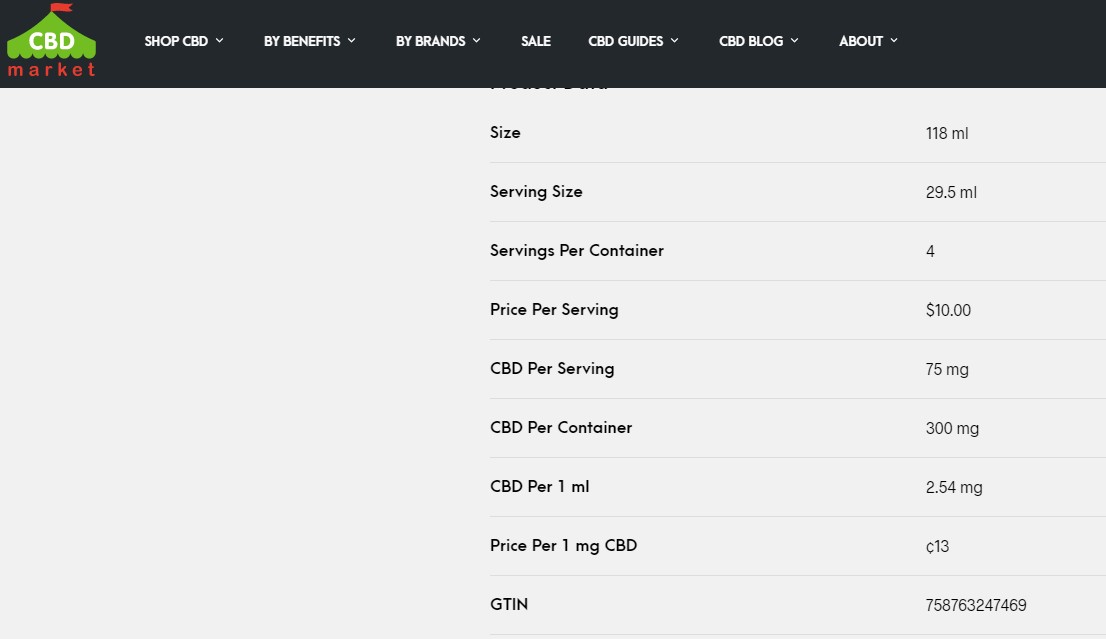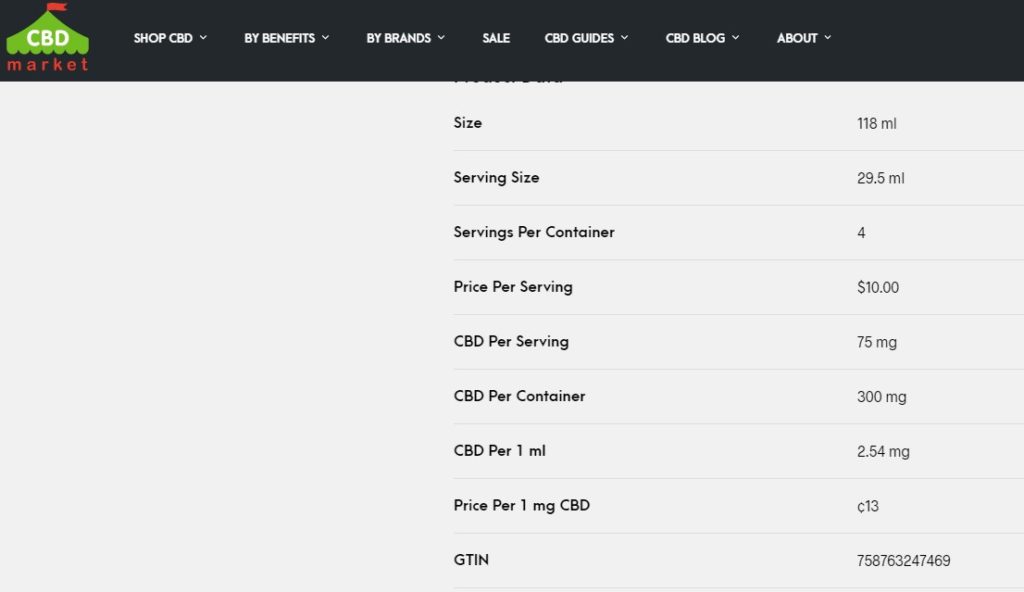 Information that is included will explain:
The size is the quantity of the product in the package
A serving size is a single dose
Servings per container is the number of doses per package
Price per serving is the price per one dose of the product
CBD per serving is the amount of CBD per 1 dose
How to Calculate Your CBD Dosage?
Now that we know how to figure out the dosage of CBD oil in various products, we need to look at how to figure out how much CBD you need to use. This can be determined using your weight or by looking at the specific issues you are attempting to address.
Determining CBD Dose Needed by Weight
The most common way to determine how much CBD you should be taking is by using your weight. This is similar to the way many medications and other supplements determine their suggested dosage amounts.
The general thinking is that it takes about 1 to 5 milligrams of CBD per 10 pounds of weight for it to be effective. So, if you weight 200 pounds, you simply divide. This varies from person based on other factors, such as tolerance, the severity of symptoms, and even genetics. You should always start lower and work your way to higher doses until you find the exact dose size for you.
Determining CBD Dose Needed by Issue Being Treated
Another way to help find a CBD dosage that works for you is to look at the symptom you are treating. This can be split into three categories: Low/Micro, Standard, and High serving sizes.
Low/Micro Serving Size
This is a good test dosage for those just starting out with CBD. This dose is around 15 milligrams and can help you test your body's response to CBD. This is also the dosage suggested for an overall general wellness effect.
Standard Serving Size
This standard dose for CBD is around 25 milligrams.
High/Macro Serving Size
The high dose for CBD is up to 300 milligrams but should always be used by those who have experience with CBD.
Daily Dosage Information
Some people benefit from just one dose per day, while other people function more optimally when two to three doses are taken over the course of twenty-four hours. Like most nutritional supplements, the effects can take a few days. You need to build the product up in your system for a few days to truly see the potential benefits.
Eventually, the body starts to function more optimally and efficiently. It may take a bit of time to figure out the right dosage. Everybody is different, and it is important to remember that you should start out small and work your way up from there.
When you start out with a CBD oil routine, make sure that you start out as slow as possible. You can't really determine what dosage you will want to take on a daily basis until you have started taking the product. This will provide you with more information on how it makes you feel, how long the benefits last, what side effects are present for you and what time of day is best for you to take the product. Give yourself a few days (or even weeks) before you decide to up your dosage.
Final Thoughts
Until the product builds up in your system, you won't know if that dose is enough. Taking one dose of CBD oil might be beneficial, but you won't see the full potential of CBD until you get started with a regiment moving forward.
When you take a dose, your body's endocannabinoid system is triggered. When you use a supplement such as CBD oil, you are supporting this system in the body. The goal is to help re-balance the body and all of its systems moving forward.
The statements above have not been evaluated via the Food and Drug Administration. The efficacy of these merchandise has not been tested by using FDA-approved research. These products are not intended to diagnose, treat, therapy or stop any disease.