How to Spot Real vs Fake CBD Products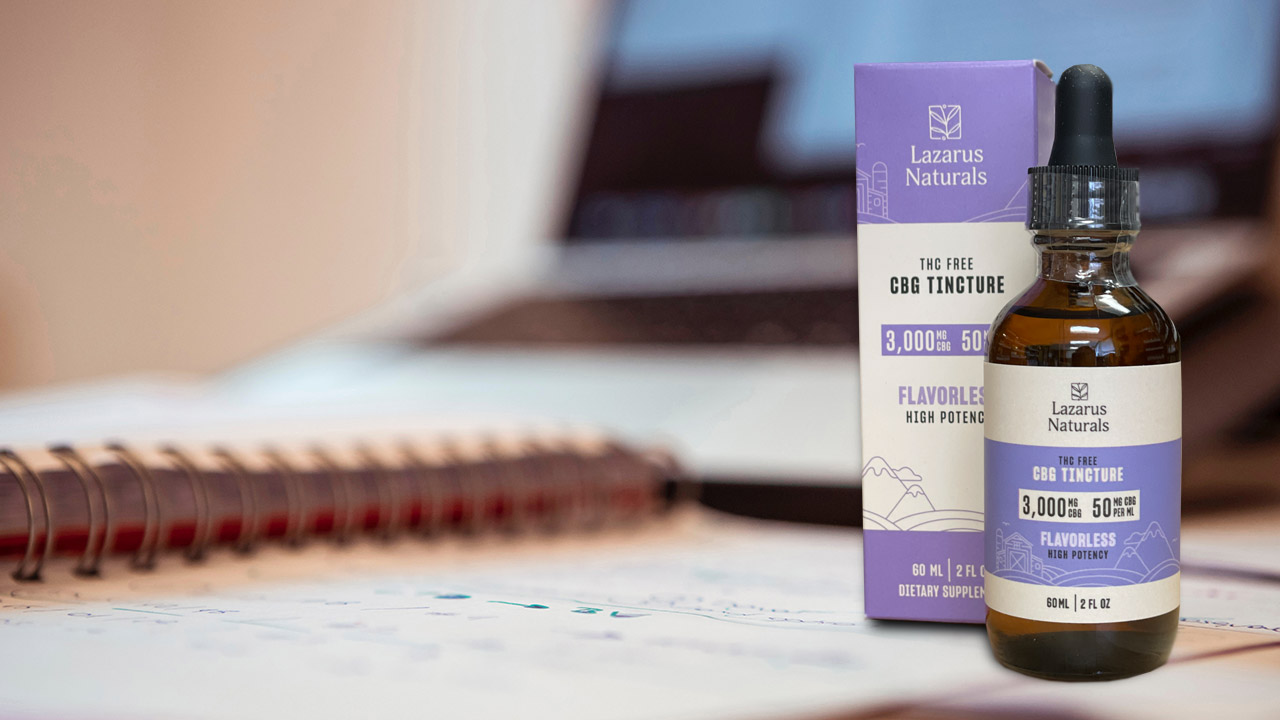 The U.S. Food and Drug Administration (FDA) does not regulate CBD like it does pharmaceuticals, but it does monitor the marketing of products for false claims that CBD prevents or treats medical conditions and diseases, like COVID-19. In fact, over the past few years, the FDA has issued numerous warnings to companies selling products like fake CBD oil, products that do not contain the amount of CBD claimed and CBD products with false labeling.
In this post, you will learn how to spot fake CBD oil and other scams by learning to recognize the warning signs of a CBD scam and the characteristics of good CBD.
Fake CBD Oil Warning Signs
Consumers must be knowledgeable about product scams today, and CBD oil is no exception. There is a growing number of companies selling fake CBD oil. Scammers can be quite clever, but there are warning signs the CBD product is not legitimate.
1. CBD Oil on Amazon
Shopping on Amazon for CBD products is not recommended for the simple reason there are many scams retailers. Amazon does not permit brands to sell products labeled as CBD, but they can sell hemp products. The company's policy on the sale of drugs and drug paraphernalia specifically bans the sale of full spectrum hemp oil, rich hemp oil and products containing CBD.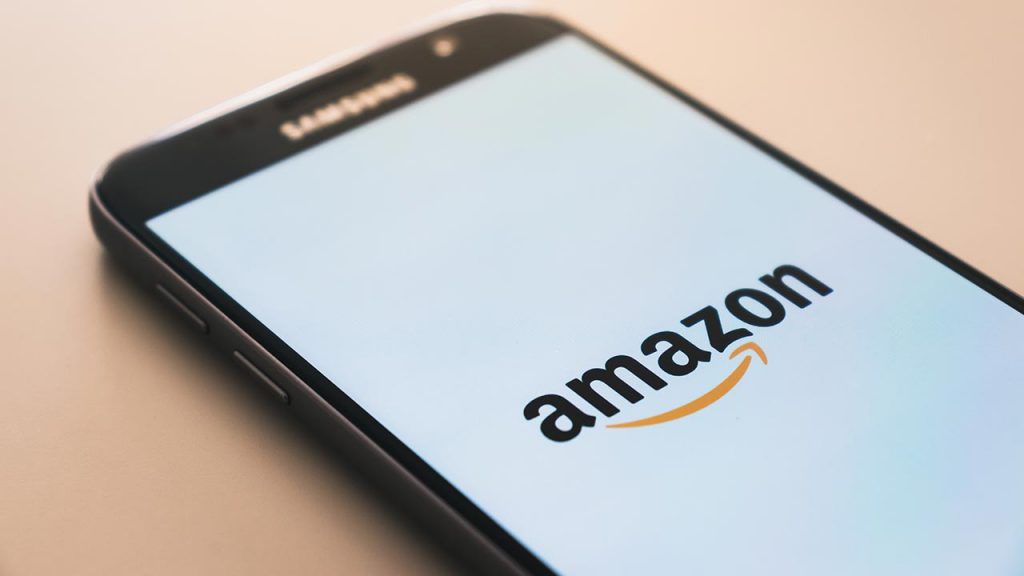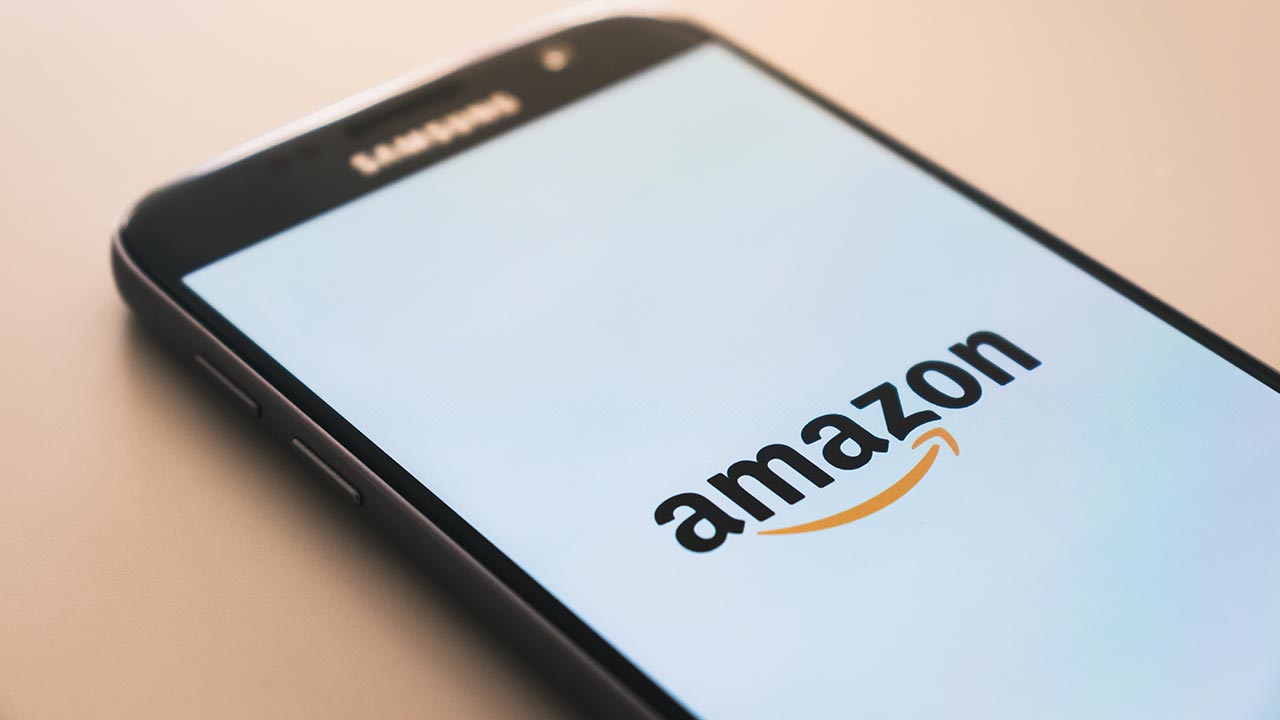 Amazon does its best to prevent scammers. Anyone selling fake CBD or mislabeled hemp products has slipped through the cracks of Amazon's monitoring system or found a basically unethical and roundabout way to stay within the policy.
This is a reminder to always be familiar with CBD terminology. For example, CBD-rich hemp oil does not exist. The "rich" term refers to hemp oil that is phytocannabinoid-rich. Most hemp oil is extracted by cold pressing hemp plant seeds, and the seeds contain no or very little CBD. There are hemp oil products now made from hemp plant flowers, but most likely the products on Amazon labeled as hemp oil are really hemp seed oil.
It is very difficult to identify what you are actually buying based only on the product name on the label.
Just remember that CBD hemp oil or CBD hemp seed oil does not exist.
2. Clear Bottles
Legitimate CBD oil is bottled in dark amber bottles and not cheaper clear bottles. Research has found that cannabinoids steadily decay over time, and the decay is more rapid when the CBD oil is exposed to light and heat. Heat in one study was approximately 71 degrees. Coupled with proper storage in a cool dark location, the dark amber bottles help to slow down the rapid decay of CBD oil cannabinoids.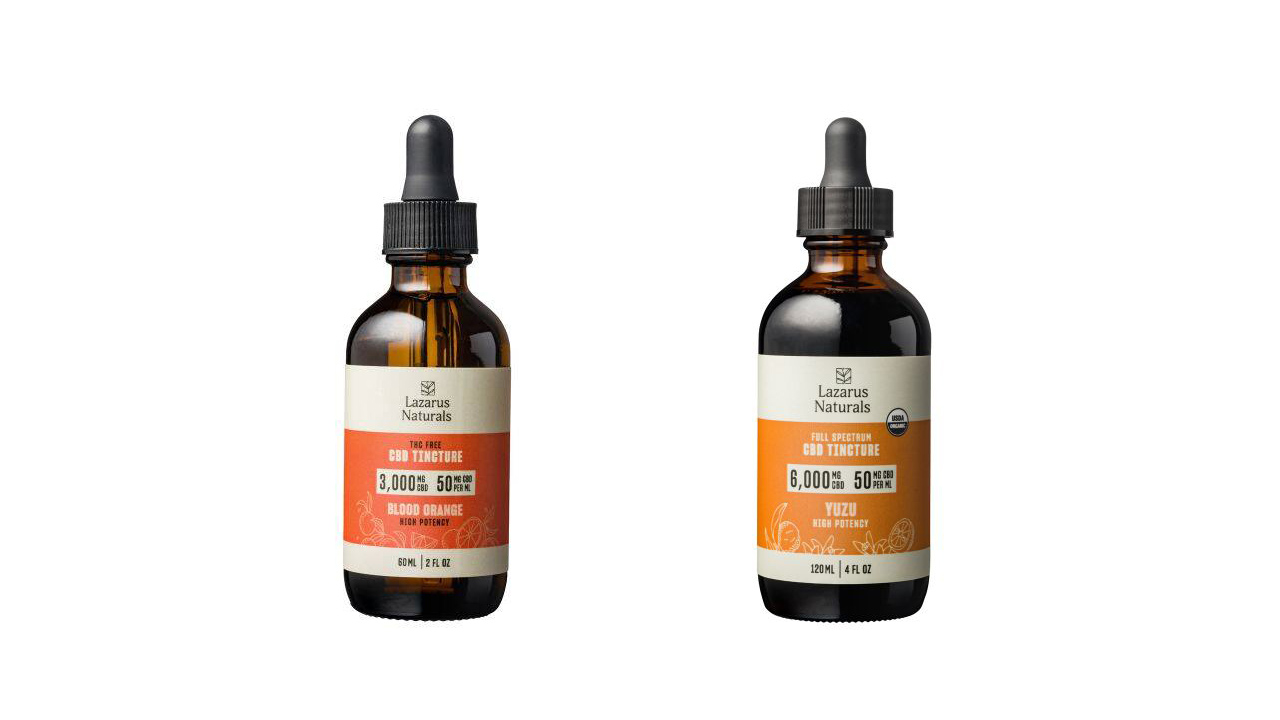 3. Low Prices
Companies selling CBD do offer discounts and hold sales, but prices that are too good to be true usually indicate the product is fake. Legitimate CBD brands invest a lot of money in hemp plant farms or hemp sourcing, extraction equipment, testing and packaging.
Low prices that undercut standard brand pricing of other CBD products indicate the retailer is not selling a legitimate product. It pays to compare prices across several brands.

4. High CBD Dosages
CBD product packages indicate the total amount of CBD. It very seldom is more than 6,000 mg per package. A few legitimate products do have higher amounts, like 10,000 mg, but the bottle should contain more products too. For example, instead of a 2-ounce bottle of 3,000 mg, it would be a 4-ounce bottle of 6,000 mg.
Common amounts for CBD oils are more like 300 mg, 1000 mg, 1200 mg and 3,000 mg. If the package label claims the product contains 7,000 mg or 12,000 mg or more, we advise checking the product's quantity.
For example, at CBD.market you may find legitimate Cycling Frog CBD capsules with the potency of 16,000 mg CBD per 80 capsules (200 mg CBD per one count) which are considered to be one of the highest softgels on the market.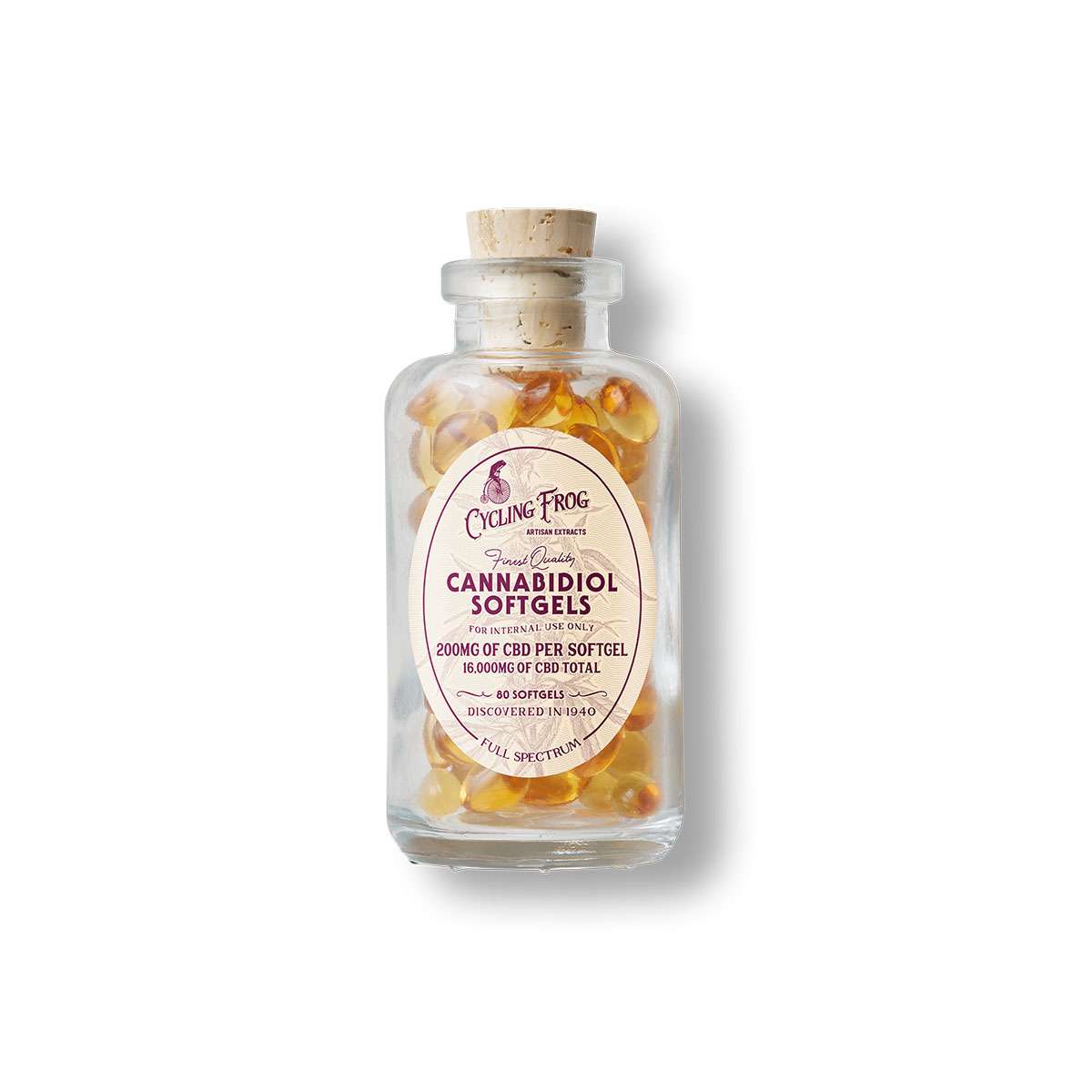 5. Health Claims
In the U.S., it is illegal to claim CBD can treat, cure or aid health conditions, disorders or diseases. Any CBD oil product that claims it can help with conditions and disorders is not allowed.
Retailers do sell CBD products that say they help with sleep and stress, but there should be other ingredients in the product that have scientific research backing the claim, like melatonin and various botanicals.
6. Calling the CBD Product a Nonprescription "drug"
This warning is closely related to the health claims warning. The FDA has sent warning letters to CBD brands who use the word "drug" or imply or claim the product is a nonprescription "drug." There are no drugs containing CBD that have been FDA approved for nonprescription use.
How to Tell Good CBD from Fake CBD
Now that you know the warning signs of fake CBD, the next step is knowing how to tell good CBD from fake CBD. You want to buy high-quality CBD oil and CBD oil products, and there are certain things to look for that can help you ascertain product quality and legitimacy and ensure you are buying the type of CBD desired.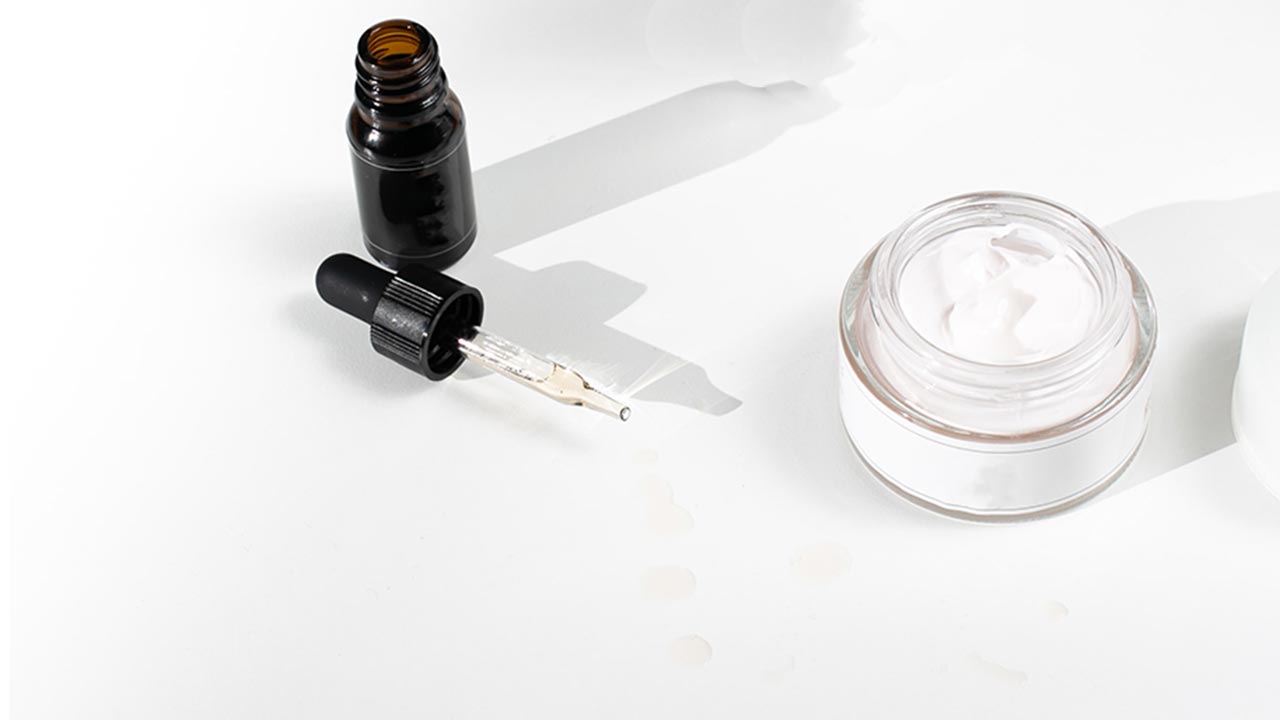 What to Look For When Choosing Real CBD Products?
Hemp Source
Legal CBD is sourced from industrial hemp, and there are three types of sources.
Company operates its own farm in the U.S. to cultivate industrial hemp
Company buys industrial hemp from a U.S.-based supplier
Company buys hemp from international suppliers
Historically, most industrial hemp has been sourced from China and Canada. That is because growing hemp was illegal in the U.S. until the 2018 Farm Bill was passed. The risk is that these international hemp sources are not subjected to high-level quality control compared to industrial hemp grown in the U.S.
In the U.S., the farmer must be state-licensed or obtain a USDA hemp program license. There are testing requirements too. A laboratory registered with the Drug Enforcement Administration tests harvested crops to ensure the concentration of THC is less than .3 percent. This is a federal requirement for legal hemp which is called industrial hemp. The testing catches the hemp oil scam in which CBD oil is produced from the marijuana plant instead of industrial hemp.
One more thing to note about the hemp source. Synthetic CBD is made from chemicals and is often sprayed onto a plant. Some of the plants may even look very similar to the cannabis plant. A fake hemp plant has been known to be used to produce fake CBD to sell to the unaware consumer.
Third-Party Lab Tests
Legitimate CBD retailers selling high-quality products have their products tested by an independent third-party lab and make the test results available to consumers. Legitimate companies now post their lab reports online. The lab tests check for many critical characteristics.
CBD content per serving (potency)
THC content per serving (potency)
Heavy metals (arsenic, lead, cadmium, mercury)
Pesticides (tests for 50+ pesticides)
Residual solvents (tests for 35+ residual solvents)
Microbial content (yeast, mold, coliform, water activity)
The lab report is called a Certificate of Analysis (COA) and is posted on the company's website for easy access.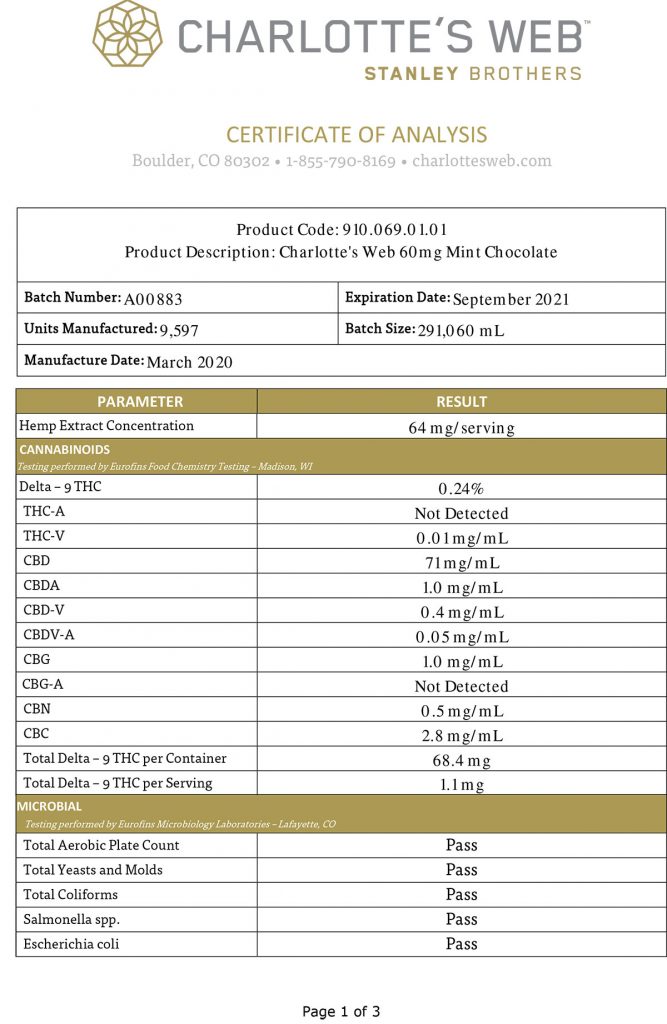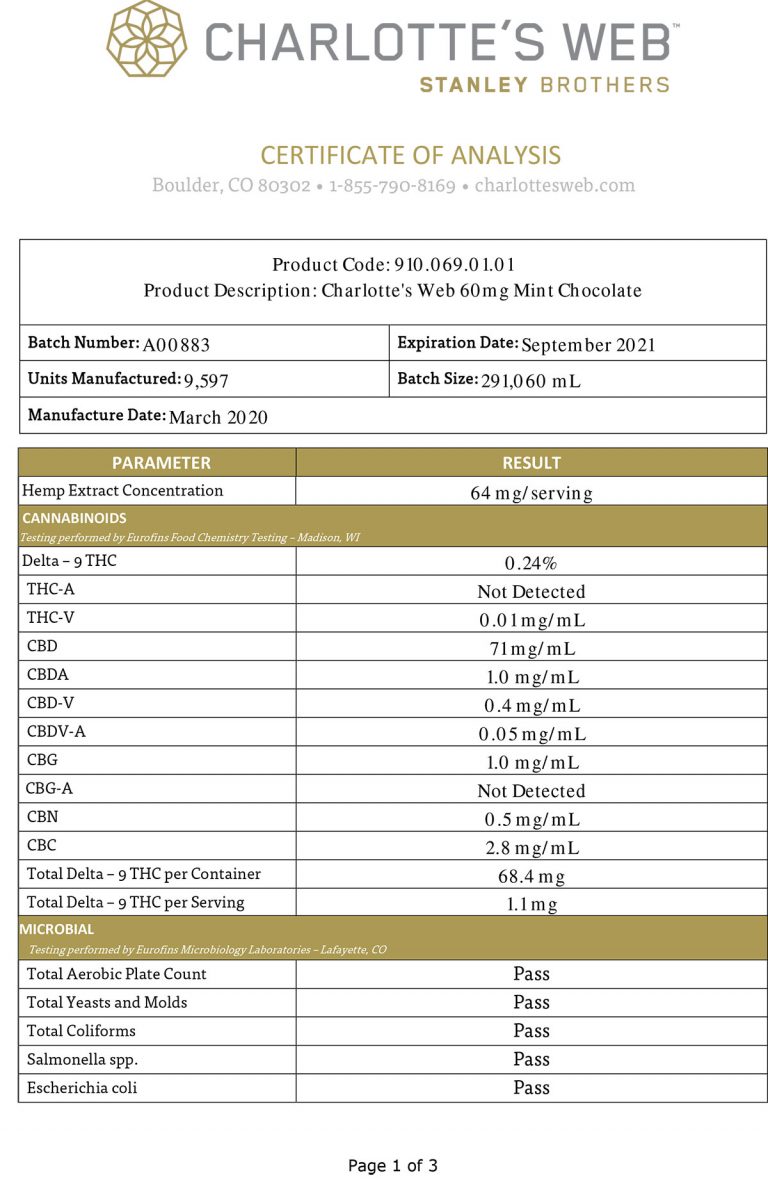 QR Codes
Another important item on most quality products is a QR code. This is a UPC code on the label (usually the back label) that a smartphone can read. When you scan the QR code, a webpage with the right lab report loads.
Take advantage of the QR code because a webpage that loads a cursory or incomplete lab report indicates the company is not to be trusted. The QR code will take you to the correct batch number lab report, so you do not have to search for batch numbers.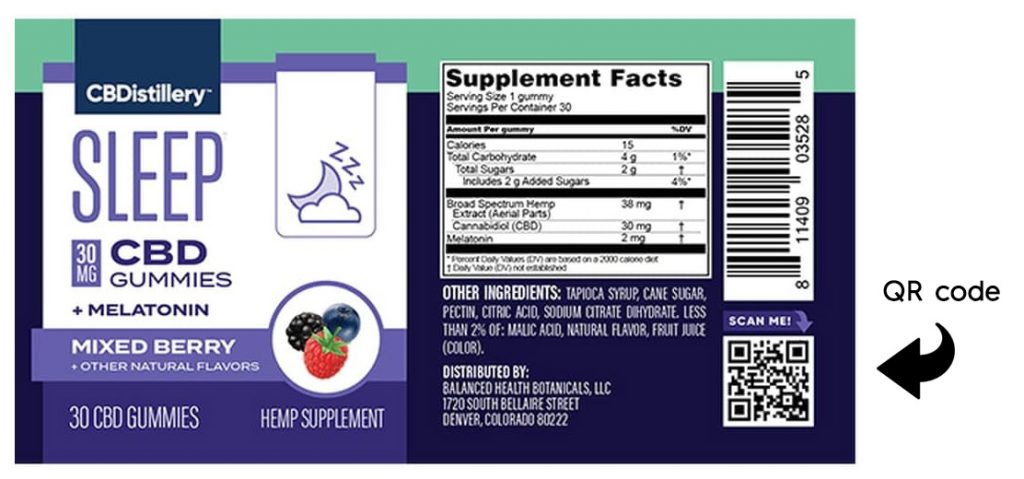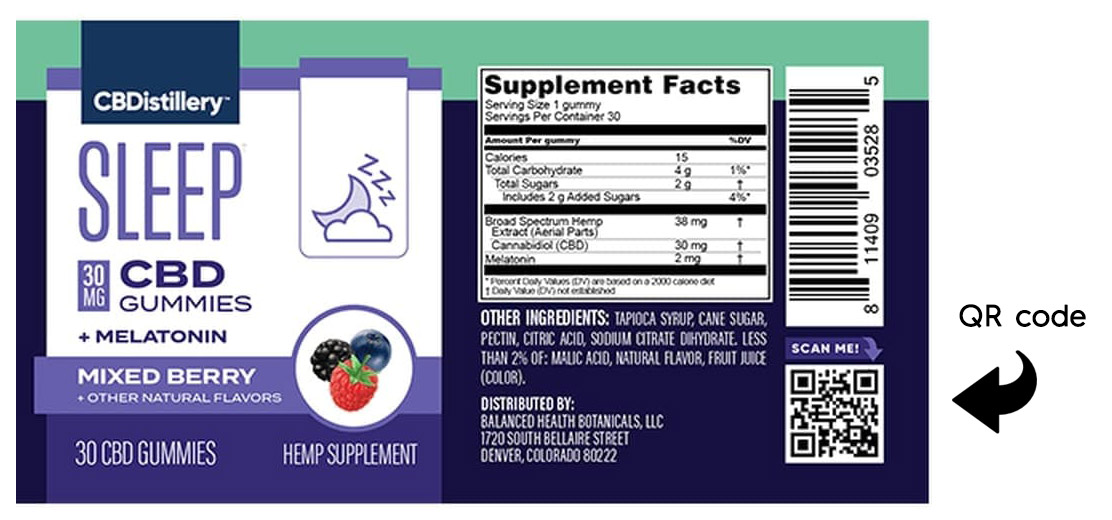 CBD Spectrum
There are three types of CBD spectrum: full spectrum, broad spectrum and CBD isolate. CBD full spectrum has some THC in it due to the simple fact the production process does not remove it. All the cannabinoids (the full spectrum) and other compounds are extracted from the hemp plant and retained for use in products. Since industrial hemp has some THC, CBD full spectrum has some THC.
A product that says it is THC-free CBD full spectrum is not telling the truth and should not be purchased. The CBD broad spectrum goes through a process to remove the THC cannabinoid, but honest manufacturers will indicate whether there might be a trace amount of THC. The only true THC-free CBD oil is that made from CBD isolate crystals.
Best Extraction Methods
The most common CBD extraction method is CO2 extraction because it is safe, effective and environmentally friendly. It produces some of the purest CBD.
It is safe because it does not use hydrocarbon solvents like propane or acetone that can leave behind residues. CO2 extraction is effective because it does not damage the plant matter and compounds during the extraction process and pulls out all the cannabinoids and compounds for further processing.
Supercritical CO2 extraction is the most widely used process and is environmentally friendly. The process produces little waste, and the CO2 can be reused.
Check the extraction process the CBD producer uses, along with the independent lab report. You can determine if it is good CBD with no dangerous chemicals that can harm human health.
USDA Certified Organic
A CBD product may claim it is organic but is it? Some fake CBD products say the products are organic when they are not.
A true organic CBD product has a USDA-certified organic seal. The seal means the hemp was grown and processed in compliance with federal guidelines concerning soil substances and the use of synthetic fertilizers and pesticides and the addition of artificial ingredients during processing (not allowed).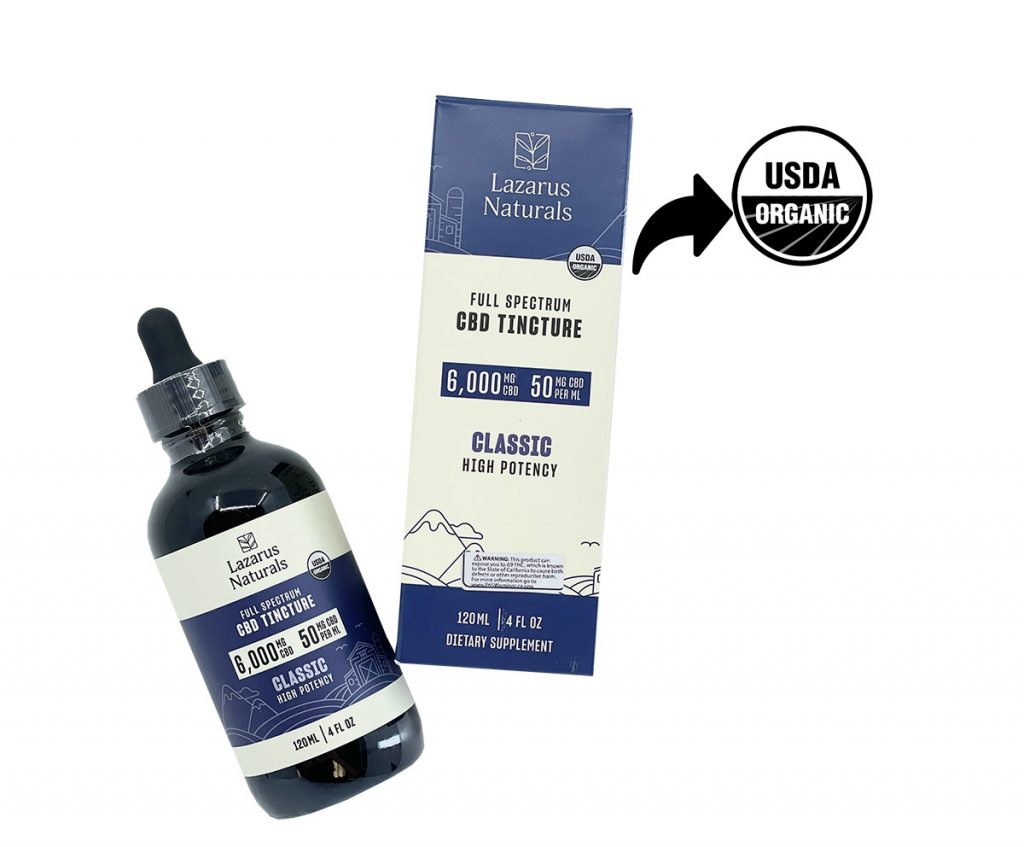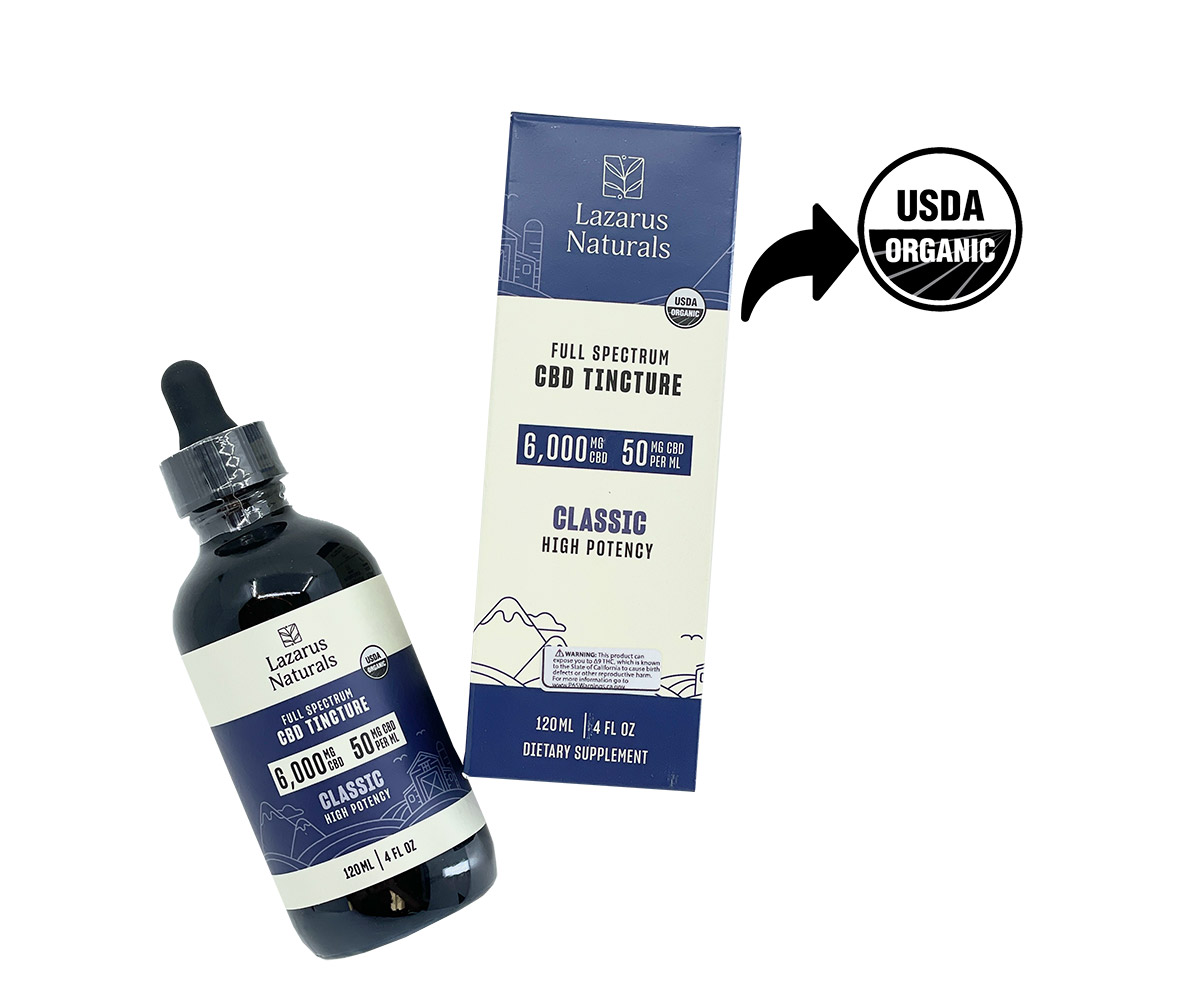 Certifications
Another excellent way to determine if CBD is a good product is to look for the producer's certifications and proof of best practices. Companies that go the extra mile and earn certifications – like B Corp Certified, US Hemp Authority Certified and Good Manufacturing Practice recognition – are ensuring they do everything possible to produce high-quality CBD oil products.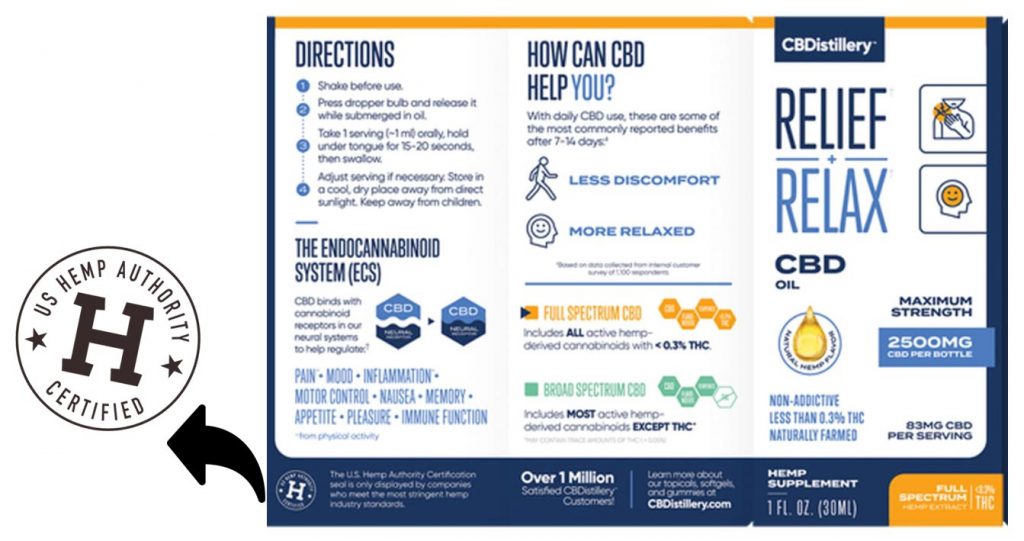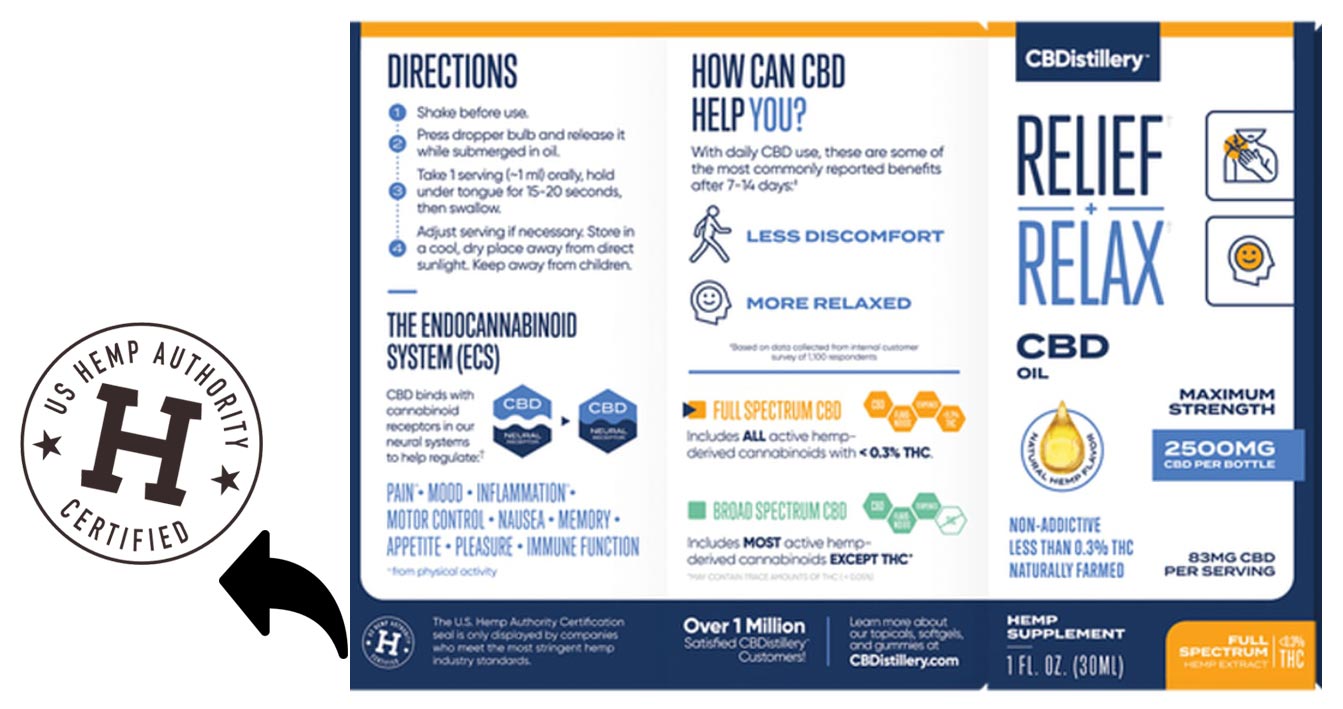 How to Make Sure You Get Quality Product?
Making sure you buy high-quality real CBD oil sounds complicated, but it really is not. Much of the advice is common sense. For example, a product price that sounds too good to be true probably is a scam. A company that does not provide some kind of proof of certification is probably not certified.
Following are some general guidelines.
Stay Away From Scam Companies

Stay away from known CBD scam companies, like those getting FDA warning letters.

Check Laboratory Reports

Do your research, taking the time to check lab reports

Read the Product Labels

Read the product labels carefully, looking for information that does not make sense, misprints or other oddities, like the amount per serving is missing

Check For the Warning Signs

Check for each of the warning signs discussed

Read Customer Reviews

Read customer reviews placed not only on the official website companies

Check the Company's Reputation

Check the company's reputation online because consumers will post on social media and business review websites when they believe they were scammed
Stay away from known CBD scam companies, like those getting FDA warning letters
Do your research, taking the time to check lab reports
Read the product labels carefully, looking for information that does not make sense, misprints or other oddities, like the amount per serving is missing
Check for each of the warning signs discussed
Read customer reviews
Check the company's reputation online because consumers will post on social media and business review websites when they believe they were scammed
Summary
One more guideline to follow is to know where to buy real CBD oil, which is from a reputable retailer, at either a brick-and-mortar store or online. You should not buy CBD products at a gas station or convenience store. Millions of people buy online and have CBD products delivered to their front door.
The most important point to keep in mind is that there are many fake CBD products sold today, so you should always stay well-informed, recognize the warning signs and be knowledgeable of the factors indicating a good CBD oil.
Sources
https://www.fda.gov/consumers/health-fraud-scams/fraudulent-coronavirus-disease-2019-covid-19-products
https://www.fda.gov/news-events/public-health-focus/warning-letters-and-test-results-cannabidiol-related-products
https://sellercentral.amazon.com/gp/help/external/200164490
https://www.researchgate.net/publication/236170001_Long_-_term_Storage_and_Cannabis_Oil_Stability
https://extension.psu.edu/industrial-hemp-production
https://www.ams.usda.gov/rules-regulations/hemp
https://www.usda.gov/media/blog/2012/03/22/organic-101-what-usda-organic-label-means