CBD Oils Recipes for Pets: How to Make CBD Dog Treats and Salve?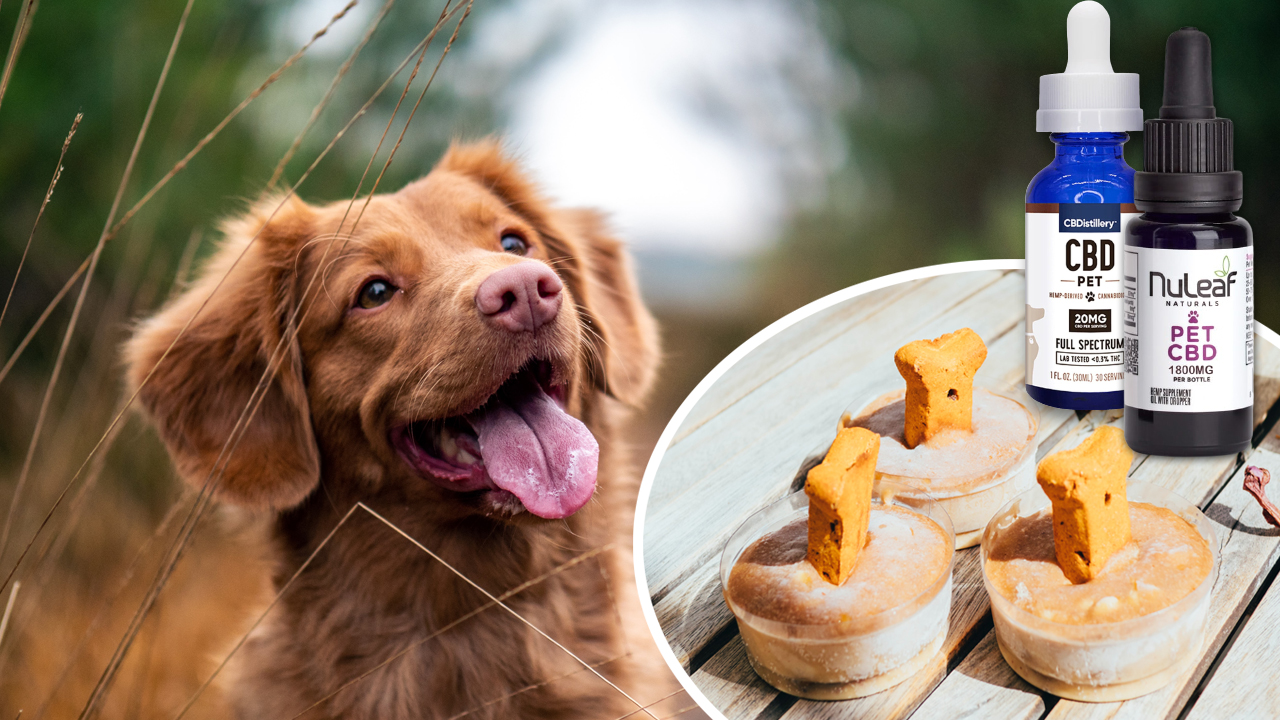 Dogs and other pets have an endocannabinoid system in their brain, skin, and other parts of the body. It is very similar to the human endocannabinoid system, meaning CBD oils, edibles and topicals can provide many benefits. The main difference between pets and humans using CBD is that pets weigh less, so the dosage of CBD oil and CBD oil treats needs adjusting to reflect that fact. You can buy premade CBD treats or make your own so your pet treats contain the exact flavors and nutritional content desired.
Is CBD Oil Safe for My Dog?
Research on the use of CBD oil products for pets is limited. However, there are some studies that have demonstrated CBD oil's benefits for animals.
In one study, dogs were given doses of CBD oil with no side effects. The dogs were given 2 mg of CBD oil twice daily in this study. (PMID: 30083539). CBD oil is generally safe for your dog but with the following conditions.
Administer in an appropriate dosage for your pet's weight
Use a high-quality CBD oil
Use CBD oil derived from the hemp plant and not just hemp seeds to get CBD benefits
Be aware of the potential of THC being present in products in states where marijuana is legal
Buying from companies that provide a clear ingredient list for your review is very important. Most of the information available today is based on pet owners' experiences. Many owners decide to try CBD oil to see if it helps calm their pet that experiences separation discomfort or has a fear of fireworks or if it benefits a health issue.
How Much CBD Should I Give to My Dog?
There is no standard CBD dosing recommendation for pets at this time. One recommendation is to allow one milligram per 10 pounds of your pet's weight. This means you need to know how many milligrams of CBD are in a milliliter of CBD oil in the bottle. A standard bottle dropper normally holds one milliliter of CBD oil.
To obtain the dosage amount, divide the CBD milligrams by the total amount of oil in the bottle. For example, one 30-milliliter bottle of CBD has 500 milligrams of CBD. One dropper of CBD oil is 16.6 milligrams of CBD:
500 mg CBD/30 ml = 16.6 mg / 1 ml.
If your dog weighs 20 pounds, you will only need to administer two milligrams (20 pounds/10 pounds), a small amount in the dropper.
How to Make CBD Dog Treats, Oils, and Salve?
CBD pet care products come in several forms.
CBD edibles – chewable capsules and treats
CBD oils – add to food or place under the pet's tongue
CBD topicals – balms, salves, and creams rubbed on the skin
You can buy pet treats and salves or make your own. Following are a few recipes to give you an idea of what is involved in making CBD oil treats or salves for dogs.
Recipe #1. Baked CBD Dog Treats
CBD isolate powder is at least 99 percent pure CBD in crystalline form. It is easy to measure and use in recipes for dogs. Following is one baked dog treat recipe that contains CBD isolate powder and other ingredients that provide nutritional value.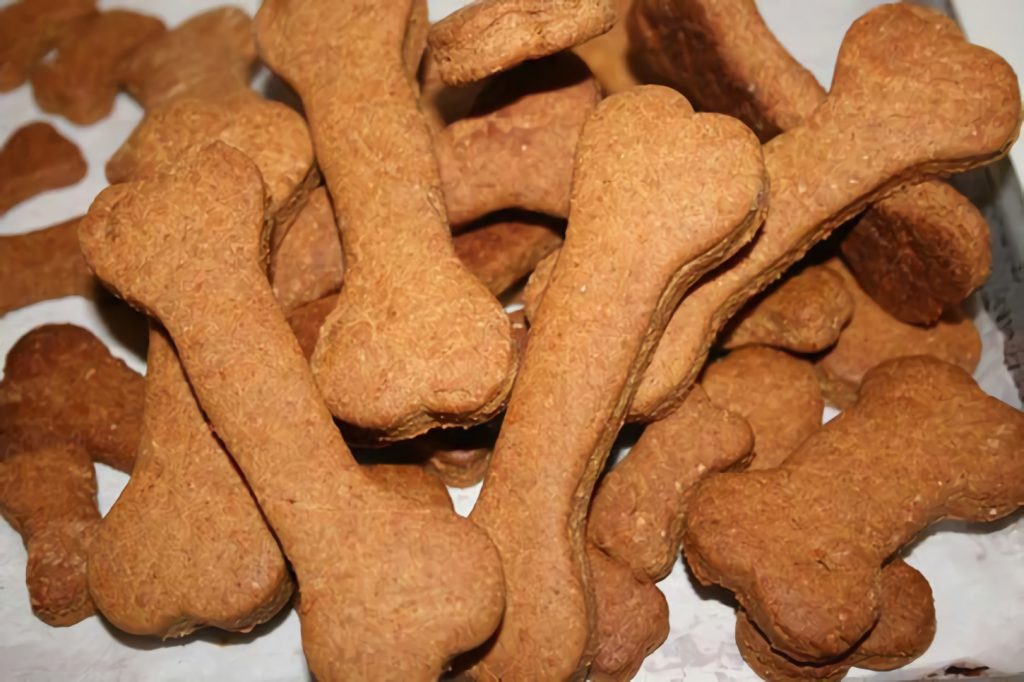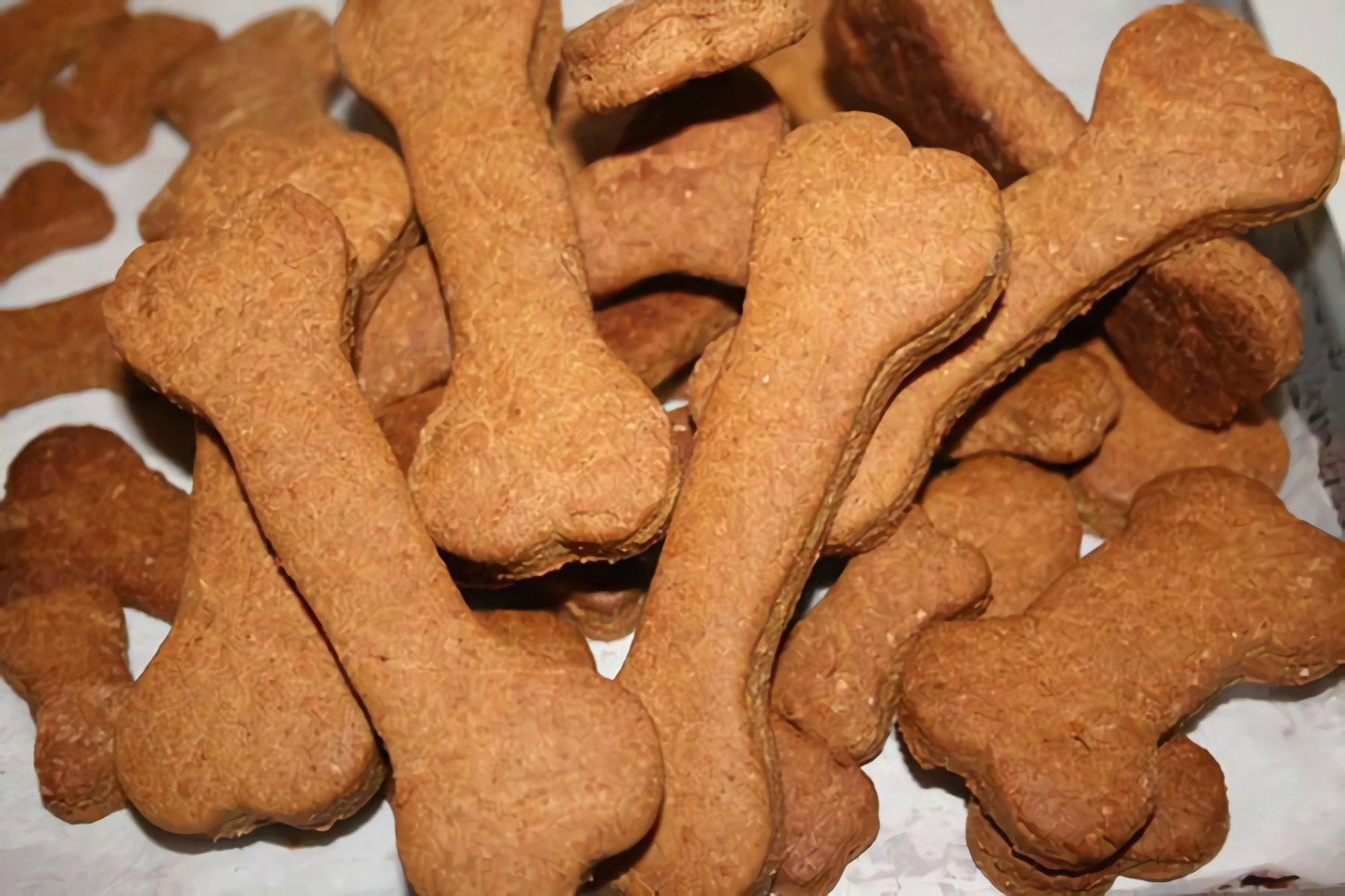 Materials
A blender
A bowl
A cookie cutter
Parchment paper
Ingredients
CBD isolate powder
8 tablespoons of coconut oil (or other types of oil)
2 cups of dry oatmeal flour
One ripe banana
1/4 cup peanut butter
Instructions
Preheat the oven to 325 degrees.
Mix CBD isolate powder with 8 tablespoons of coconut oil.
Add 2 cups of dry oatmeal to a blender and blend until like flour.
In a bowl, mash a ripe banana.
Add 1/4 cup peanut butter and infused CBD oil to the banana and mix well.
Stir in the oatmeal flour to the banana-peanut butter-oil mixture.
Place the dough on a flat surface and knead.
Shape the dough into a circle that is approximately 1/4 inch thick.
Use a cookie cutter and cut-out treats, making approximately 30 one-inch treats.
Cook on a cookie sheet lined with parchment paper for 25-30 minutes.
When dosing CBD isolate powder, be very careful and remember that 1 gram of CBD isolate contains approximately 1000 mg of CBD.
When making these CBD pet treats, you may find the most appropriate CBD isolates at our store:
Recipe #2. CBD Soft Chews for Dogs
Materials
A blender
Parchment paper
Fridge
Ingredients
1/3 cup coconut oil
2-3 tablespoons peanut butter
2 cups rolled oats
1/3 cup finely shredded coconut
Instructions
No-bake recipes make softer dog treats and are very easy to produce. Following is a simple recipe.
Add one tablespoon of your favorite pet CBD oil to one-third cup of coconut oil.
Add the infused CBD oil, 2-3 tablespoons peanut butter, and 2 cups rolled oats to a blender or food processor.
Blend or process the ingredients until thoroughly mixed.
Use a spoon to measure out bite-sized amounts of dough.
Roll the pieces into approximately 20 small balls.
Coat each ball in a bowl containing a one-third cup of finely shredded coconut.
Place the coconut balls on a cookie sheet lined with parchment paper.
Refrigerate the treats for 30 minutes.
You can adapt this as a recipe for dog-calming bites made with CBD by adding other ingredients known to have a calming influence on pets, like chamomile.
Recipe #3. CBD Salve Recipe for Dogs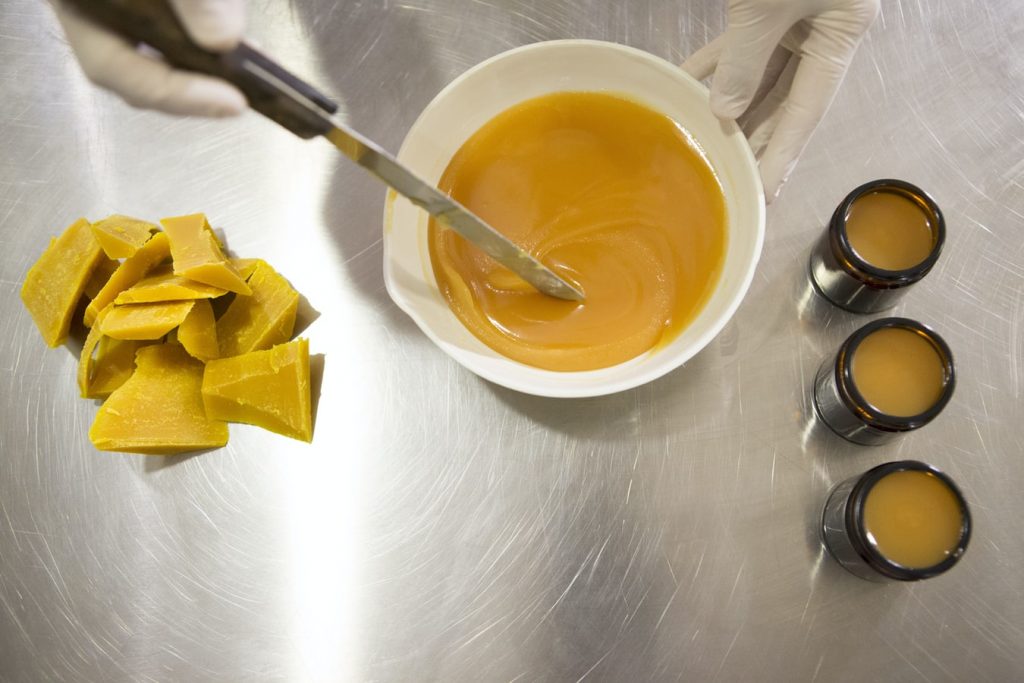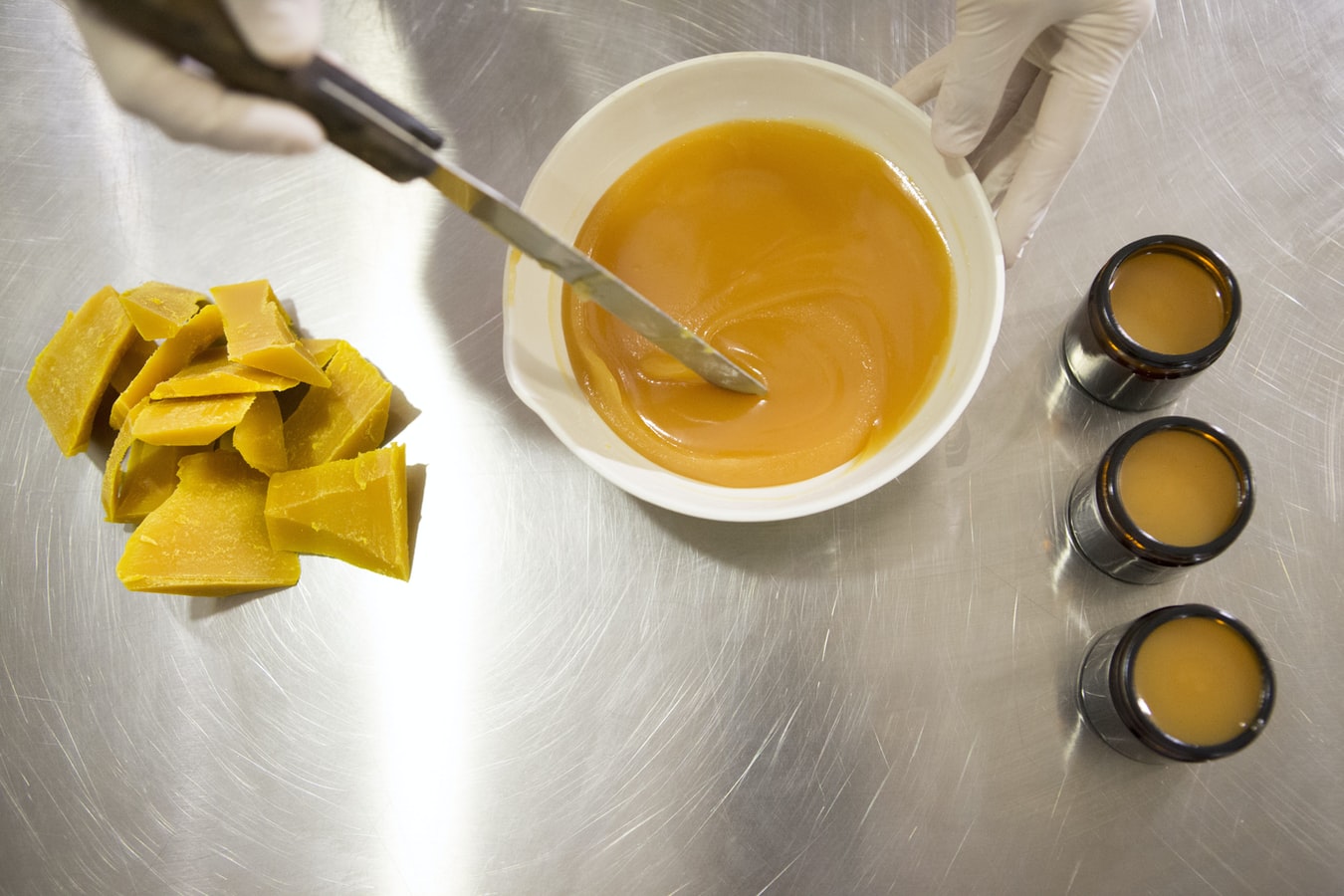 CBD topicals for pets are CBD-infused balms, salves, creams, lotions, and oils. The topicals can provide soothing relief to a pet's irritated skin. The topicals are made with CBD in carrier oil to enhance the skin's absorption. Following is a recipe for a CBD salve for dogs. Note a salve is a thicker topical than a cream or lotion, so it contains wax.
Materials
A double boiler
A storage container
Ingredients
5 grams of beeswax
20 grams of fractionated coconut oil
CBD oil
0.5 grams of essential oil
1/3 cup finely shredded coconut
Instructions
Place 5 grams of beeswax in a double boiler and melt it over low heat, stirring constantly.
Add 20 grams of fractionated coconut oil to the melted beeswax, continuing to stir.
Add CBD oil, and continue stirring over low heat until fully blended.
Remove from heat and cool.
Once the mixture is cooled into a semisolid state, add 0.5 grams of essential oil to the mixture in the double boiler.
Place the mixture in a storage container while still pourable.
The CBD salve will be good for 6-12 months. You can also make lotions and creams which use water instead of beeswax in their varying recipes.
Where to buy CBD pet treats?
Many people make CBD recipes for pets, and it is easy to buy CBD oil online to include in recipes. Making your recipes does take time.
If you are short on time, an alternative is to buy CBD for pets online at a website like CBD.market, which offers a full range of pet products, including CBD oils and tinctures for dogs. There are also other carefully balanced items like CBD full spectrum calming bites for pets with various ingredients like organic pumpkin powder and organic peanut butter.
Conclusion
There are two points to keep in mind. You can use CBD full spectrum and broad spectrum in recipes, but these spectrums contain some THC. Also, it is not just dogs that benefit from CBD products. There are also many CBD products for cats.
The advantage of buying CBD oil, edibles and topicals for pets is that you know the exact amount of ingredients in the products and are supplied with a recommended dosage. The formulations are specific to pets.
Sources
https://www.ncbi.nlm.nih.gov/pmc/articles/PMC6770351/
https://www.ncbi.nlm.nih.gov/pmc/articles/PMC6065210/