Where Can You Buy CBD Capsules?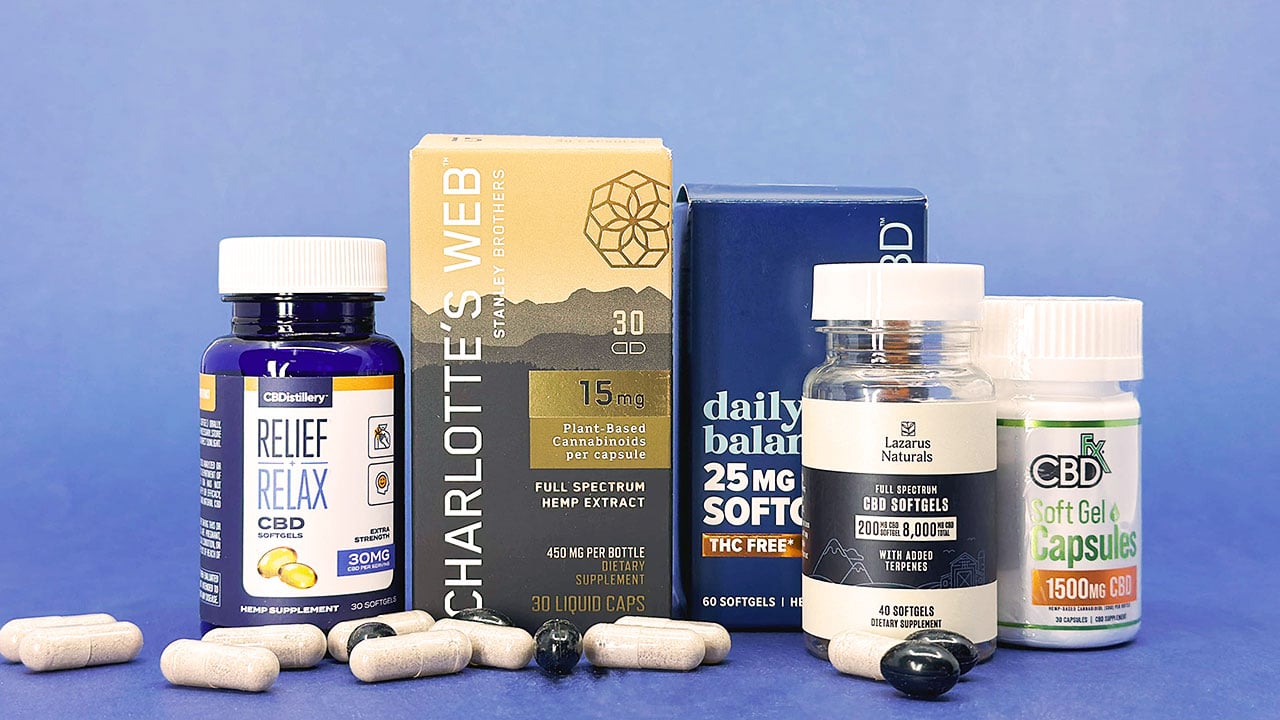 You must want to know where you can buy good quality CBD products at a reasonable price from a trustworthy brand. It takes a good understanding of CBD brand reputation, spectrum and potency to ensure you buy the products that best meet your needs. The following sections review where to buy CBD capsules and softgels and offer a strategy for selecting high-quality products.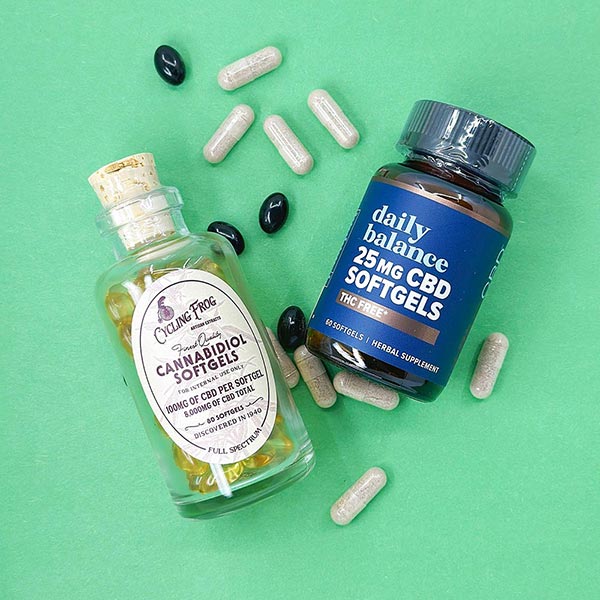 TLDR:
CBD is sold in various stores today, but shopping online is one of the most efficient ways to find high-quality products from reputable brands. To choose the CBD product that meets your needs, look at the potency, spectrum, additional ingredients, whether it is vegan or organic and the benefits of taking the CBD product, i.e., sleep quality, wellness, relaxation, etc. You should also review the Certificate of Analysis (COA) and customer reviews.
Where to Buy CBD Capsules Near Me?
The answer today is usually at the nearest store of any type. You can buy CBD softgels, capsules and pills at places that include the following.
Online CBD stores
CBD dispensaries
Convenience stores
Grocery stores
Department stores
Pharmacies
Specialty stores
Health stores
If you look for CBD in almost any store today, you will likely find various products. However, do you know what you are buying?
How to Choose the Best CBD Capsules?
Following are some guidelines for choosing the CBD capsules that are right for you.
1. Reputable Places
You should avoid buying CBD products at places that cannot answer questions about the products. They are stocking CBD capsules and softgels to make money on sales and can offer no assurances about quality or brand information.
2. CBD Brands
A reputable brand has the following characteristics.
The CBD company states where it sources the hemp, the CBD extraction method used and the ingredients in the product.
Access to batch information
CBD products have batch numbers for tracking lab testing. You can look up the batch number on the brand's website and read the Certificate of Analysis (COA) for that specific batch.
Quality CBD brands provide clear guidance on using their products.
High-quality brands have honest customer reviews and positive reviews by independent reviewing companies.
Specific Market Segments
Each brand has a unique product line and caters to a specific market segment. For example, you may want CBD capsules made with industrial hemp grown or sourced in the USA, products that only contain organic ingredients or products with only natural ingredients. Some brands offer all three CBD spectrums and a range of potencies.
Price is a consideration for many people when determining where to buy CBD capsules. Each brand will state the price of 1 mg of CBD, making it easier to compare prices between brands. There is a wide price range from .01-.05 cents or higher per 1 mg of CBD. Naturally, the ingredients in the capsule impact the price. It may contain a variety of cannabinoids, terpenes, minerals, vitamins and/or botanicals to provide specific benefits.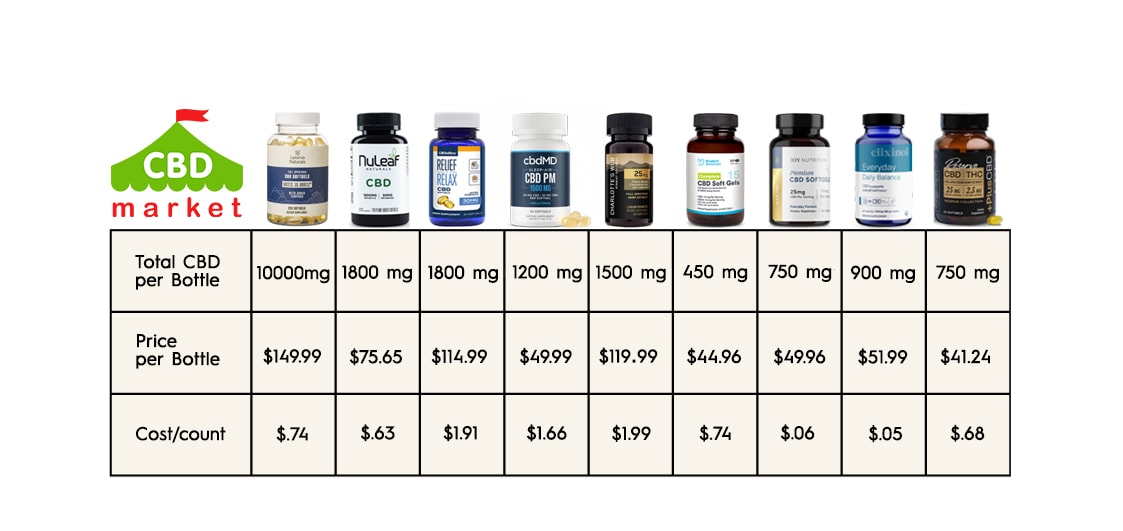 Usually, the best deals are online because the company's overhead is low. You can also find sales and other opportunities to save money.
3. CBD Potencies and Strength
Most brands sell products with different potencies. A potency is the amount of CBD in each capsule. Potencies per CBD capsule range from 25-350 milligrams. You can also shop based on the CBD per container, which is a total amount of CBD in the product.
4. USDA Organic Product
CBD products labeled as USDA organic products are made according to strict government-established standards for growing hemp and manufacturing CBD capsules. The company does not use synthetic fertilizers on crops or GMO ingredients in products. The organic crop production practices include crop rotation and management of pests and weeds. Certification requires regular government inspections and testing to ensure the company maintains the standards.
5. Vegan CBD Capsules
You may have special dietary requirements. There are vegan CBD capsules for sale. The capsule shell is not made from animal by-products. The shell is made from 100% plant cellulose. A vegan CBD capsule also contains only plant-based contents.
6. CBD Spectrum
There are three CBD spectrums.
Full spectrum CBD capsules contain all the cannabinoids, terpenes and other compounds in the industrial hemp plant. It is a holistic extract, so the capsules have some THC. Usually, it is a minimal amount since the law allows only 0.3% THC in legal hemp plants, and some THC is usually lost during the extraction and processing.
However, some brands sell CBD pills with a specific CBD-to-THC ratio. CBD + THC capsules will be expressed as a ratio, like 10:1.
Broad spectrum CBD capsules and softgels refers to products in which the THC has been removed during the extraction process. All the other cannabinoids and compounds are retained. If a product is THC-free, the label will state so. If it does not say the product is THC-free, there may be a trace amount of THC.
Isolate CBD is pure CBD so it's THC-free. Isolate CBD capsules may contain pure CBD plus a carrier oil or CBD powder blended with other ingredients like vitamin B12. There is no THC by definition.
7. COA
Many CBD products are mislabeled or made with poor-quality ingredients. A study published in a scientific journal analyzed 516 CBD topicals and edibles. Only 42% of the CBD products contained the amount stated on the label, and 58% were mislabeled.
Reputable brands that practice transparency always make a Certificate of Analysis (COA) available for review. The COA offers vital information about product content, including the amount of CBD and other phytocannabinoids, contaminants, bacteria molds, and heavy metals. It is essential also to verify that an independent third-party lab conducted the analysis and published the report.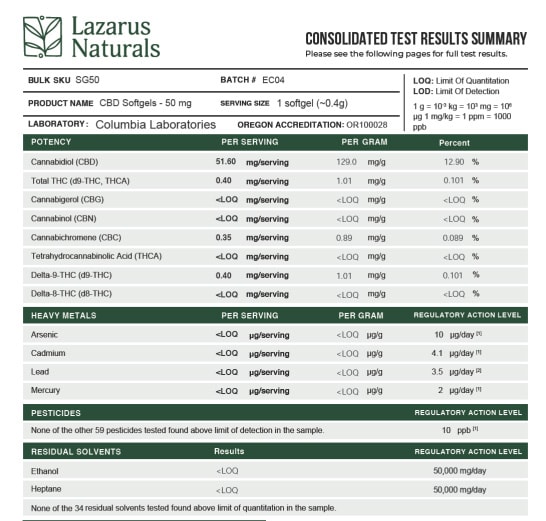 You can use the COA to verify the product label accurately states the amount of CBD in the capsules (potency or amount per serving), which can be used to verify the amount of CBD per container. For example, the product may have 50 mg of CBD per capsule and 200 capsules. The label should state there is 10,000 mg of CBD in the package.
8. Possible Benefits
There are many CBD capsule formulations, too. You may want to buy from CBD brands with formulations designed to provide specific benefits, like improving sleep quality or supporting balanced energy. That's why you may check the ingredients to verify they do not contain anything you may be allergic to, like coconut oil. You may want to avoid caffeine or artificial additives.
Wellness embraces physical and mental health. The research company Brightfield Group's consumer data found that CBD consumers use CBD primarily for physical relief, relaxation and sleep. Physical relief and sleep promote physical health and relaxation promotes mental health. Everything contributes to general wellness.
A review of various medical studies investigating the impact of CBD on relief found it may be an excellent alternative to opioids for chronic discomfort. It is non-psychoactive and non-addictive, unlike opioids and THC.
Researchers have found that CBD may have a calming effect on the nervous system and may alter mood by affecting serotonin production.
CBD may improve sleep in two ways. One is that it may promote calm and relaxation, making falling and staying asleep easier. The other way is that studies have found CBD may positively impact some sleep disorders.
There is growing evidence that CBD supports healthy immune functioning.
CBD may be a wake-promoting compound, increasing awareness and focus by modulating the sleep-wake cycle. Improved sleep quality and the increased dopamine production in the brain promote increased energy.
This is just a sample of extensive ongoing research on CBD effects. Much research is still needed to fully understand how CBD interacts with the endocannabinoid system (ECS) and the resulting impacts.
9. Additional Ingredients
Brands sell CBD capsules that are fortified with additional ingredients. The specific ingredients depend on the benefits the product may deliver. Following are some examples.
CBD capsules for sleep may contain melatonin and relaxing herbs like lemon balm and chamomile.
CBD capsules for energy and focus may have ingredients that include caffeine, Rhodiola and vitamin B12, to name a few options.
CBD capsules for relaxation may contain ingredients like ashwagandha, L-theanine, green tea and lemon balm.
CBD capsules for immune support may include ingredients like turmeric extract, vitamin E, omega-3 and omega-6 and additional terpenes.
CBD for sore muscle or joint relief may have ingredients like Boswellia, curcumin and Univestin, a blend of Scutellaria baicalensis (Chinese Skullcap) and Acacia catechu (heartwood).
You can also buy CBD capsules that contain only CBD extract and one or more carrier oils to help absorption.
10. Labeling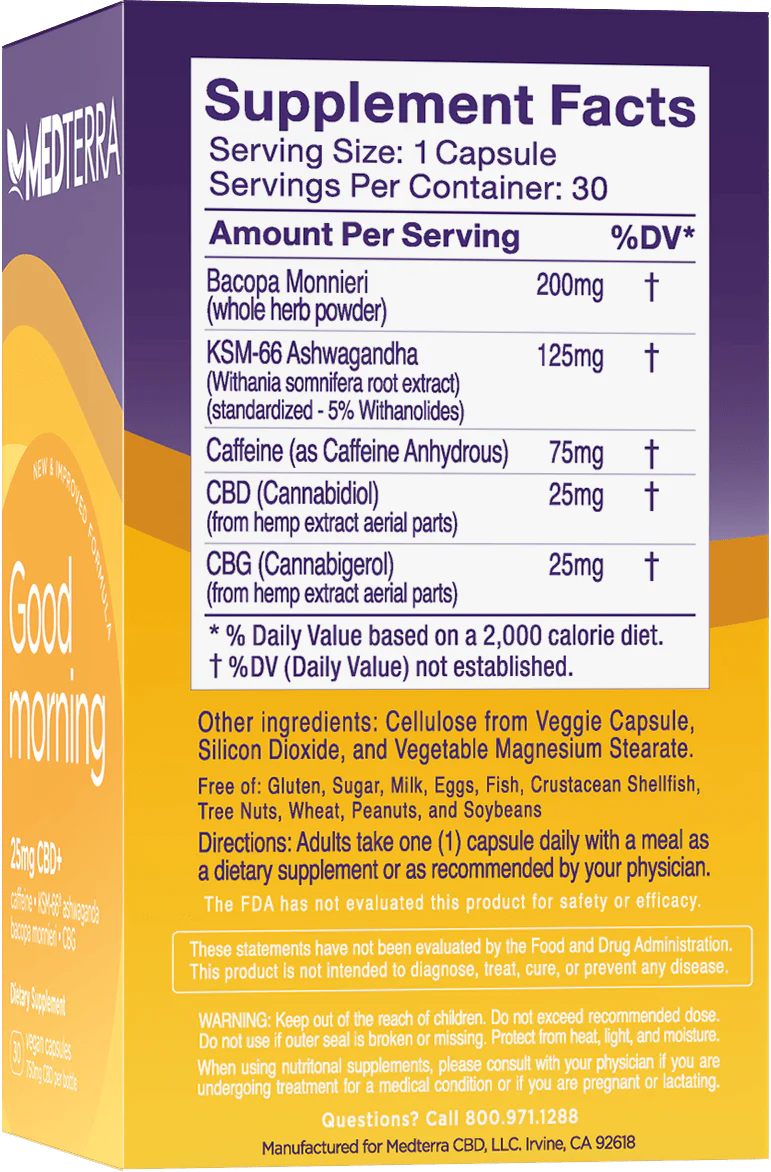 CBD products are subject to Food and Drug Administration labeling requirements. There are 5-6 things a product label should contain:
FDA general labeling requirements – includes all ingredients, net weight, name of the manufacturer, etc.
FDA warning statement – some states require a warning that the FDA has not evaluated the product.
No medical or health claims – FDA forbids CBD products stating or implying the product is a cure or treatment for any health issue.
Scannable bar code or QR code – the bar code or QR code should direct you to an online document with information like the batch ID and date, expiration date, ingredients, COA, etc.
Cannabinoid content – some states require the CBD concentration per package or serving to be stated on the label.
State general labeling requirements – each state can make or has passed CBD labeling laws.
Due Diligence is Important When Buying CBD Capsules
Due diligence is a term that means taking care to avoid harm by investigating and verifying information. Used in business, it can apply to buying CBD capsules. One of the best places to buy CBD is online at a marketplace where many CBD brands sell products. Buying CBD online is the best approach because you can compare brands and their prices, review product qualities like potency and ingredients, and read the COA and customer reviews. It is always important to be an informed consumer.
Sources
https://www.sciencedirect.com/science/article/abs/pii/S0048969722052093
https://www.ams.usda.gov/services/organic-certification/organic-basics
https://blog.brightfieldgroup.com/cannabis-and-cbd-for-wellness
https://www.ncbi.nlm.nih.gov/pmc/articles/PMC9288157/
https://pubmed.ncbi.nlm.nih.gov/30624194/
https://pubmed.ncbi.nlm.nih.gov/35221321/
https://pubmed.ncbi.nlm.nih.gov/24845114/ and https://pubmed.ncbi.nlm.nih.gov/28349316/
https://www.ncbi.nlm.nih.gov/pmc/articles/PMC7173676/
https://www.ncbi.nlm.nih.gov/pmc/articles/PMC4023456/
https://pubmed.ncbi.nlm.nih.gov/16844117/
https://pubmed.ncbi.nlm.nih.gov/10863546/
https://harris-sliwoski.com/cannalawblog/six-requirements-for-cbd-product-labels/