Defining the Differences: CBD Capsules, Softgels, Tablets and Pills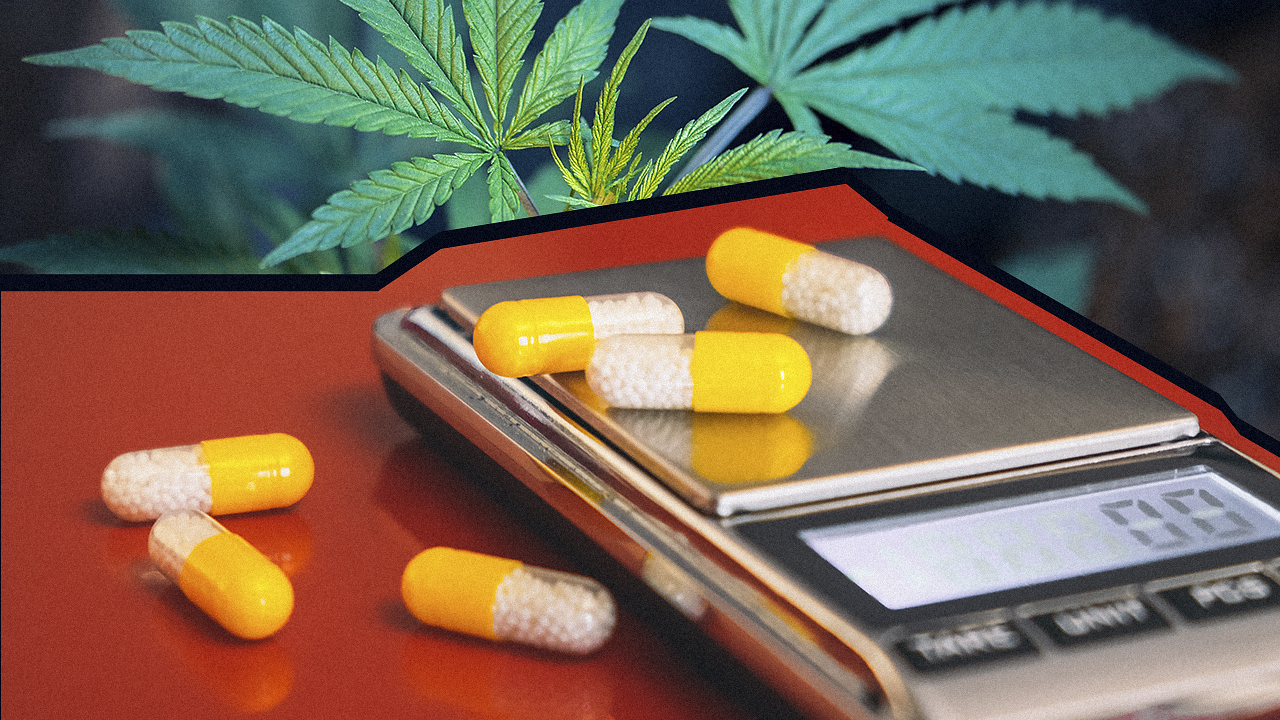 CBD or cannabidiol has been a primary subject in the news lately. This substance has become a real-life trend. Whether you purchase a tincture or edible, CBD comes in many different forms.
CBD capsules are slowly growing in popularity too. If you are curious about CBD oil capsules, taking the time to understand exactly what they are can help you make informed choices about your health.
What are CBD Pills and Capsules?
CBD is the acronym for cannabidiol which is derived from the hemp plant. Since it comes from hemp, a cousin of the marijuana plant, it has 0.3-percent or less of THC, the psychoactive element of marijuana. There are hundreds of compounds in these fascinating plants, reports UCLA. CBD happens to be a cannabinoid that works harmoniously with the human body.
Although the molecular structure of CBD is similar to THC, it does not produce any high or psychoactive effects. In fact, one of its main functions is in calming the central nervous system. This is an important distinction, as many people avoid CBD because of the stigma surrounding marijuana.
CBD is now found in a wide variety of products, ranging from pills, softgels or capsules to CBD tinctures to topicals. The pills, softgels, and capsules are popular forms because they make it so convenient to consume CBD whenever desired.
When you begin your search for CBD oil capsules for sale, it's a good idea to do a little homework first. You've likely heard about the purported effects of CBD, but this naturally-occurring chemical remains somewhat of a mystery to many.
What are the Differences Between CBD Capsules, Softgels, Tablets and Pills?
CBD capsules, softgels and pills are very similar. The main differences are the following:
Capsules contain raw CBD powder encased in a two-piece hard dissoluble container
Softgels contain CBD oil encased in a one-piece dissoluble soft gelatin container
CBD pills are solid tablets made with tightly compressed CBD extract in crystal form
Some people find softgels are easier to swallow
Softgels normally have a higher potency than capsules or pills because they contain CBD oil
There are chewable CBD pills available, but capsules and softgels must be swallowed
Softgels and solid pills have a longer shelf life compared to capsules because they are sealed
CBD capsules and softgels have a faster absorption rate than CBD pills
People often use the terms capsules and pills or capsules and softgels interchangeably.
Often, the choice of which CBD product to consume depends on personal preferences more than anything else. The three types of products are very similar.
How Do CBD Capsules Work?
There are still many things that we don't know about CBD, reports Harvard University. Researching any new product for your health is always the best advice.
Currently, CBD capsules are thought to influence your endocannabinoid system. This set of neural receptors is in charge of balancing out the body and bringing it to homeostasis. As you take CBD capsules, the compound encourages the body to make its own cannabinoids within the endocannabinoid system.
Studies regarding CBD are turning up every week now that the federal government has reclassified the compound as an agricultural commodity. Researchers are learning more all the time about how this remarkable cannabinoid interacts with the human body at the subcellular level.
What Are Broad Spectrum, Full Spectrum, and Isolate Capsules?
You might come upon a CBD capsules review that details whether or not a product is an isolate, broad spectrum, or full spectrum. These terms are relatively simple to understand if you read our article Full Spectrum vs Broad Spectrum vs CBD Isolate.
Isolate Capsules
Isolate capsules contain pure CBD.
Broad Spectrum Capsules
The best CBD capsules for people who do not want to consume the psychoactive THC element is the broad spectrum CBD. Broad spectrum CBD contains all the compounds found in the cannabis plant except for THC. You can get the benefits of CBD without worrying about experiencing a "high."
Full spectrum Pills
Full spectrum includes CBD with other cannabis compounds.
Although the idea of pure CBD sounds better than a mixture, don't be so quick to judge this difference. Full-spectrum products contain other beneficial ingredients that often complement the best CBD capsules. These include additional cannabinoids like cannabichromene and cannabigerol as well as terpenes which are thought to help with bioavailability and have healing effects of their own.
Many people prefer full spectrum products because the plant compounds included in full spectrum CBD oil and CBD soft gel capsules provide a boost to their health benefits. Keep in mind, however, that these perceptions are subjective. You'd have to try several products to see a difference.
CBD Capsules Vs. CBD Oil Tinctures
People who research CBD will come upon information regarding oils or tinctures. They're commonplace in the industry. However, consumers are quickly turning to CBD capsules because of their convenience.
Oils and tinctures require measurements. Each product might have a different dosage amount.
You don't have to think about CBD capsules. You take a single dose and enjoy the effects, states Express. Taking too much or too little isn't a concern.
Another factor that makes capsules more attractive than tinctures is the taste. CBD manufacturers are always improving their products with enhanced flavors, but the core extract must still be in the mixture. If you don't like the strong, earthy taste of CBD oil, taking capsules is a smart alternative that may be easier on the palate.

CBD Capsule Benefits
There are quite a few benefits associated with CBD hemp oil capsules. Main benefits include:
Mood enhancement
Stress relief
Blemish control
CBD's calming effect is a way for the body to remain in homeostasis. Feeling balanced and free from pain is the hallmark of this plant-based substance.
CBD Capsule Side Effects
Side effects of CBD capsules are generally mild and will vary among individuals. Some consumers have reported symptoms that include:
If you notice that you don't feel better after taking CBD, discontinue its use. Take a look at the product that you tried. The dosage or concentration may be too much to handle.
Most people see the side effects as minimal sacrifices for the major benefits that CBD brings to their bodies. A sense of calmness overshadows a minor upset stomach.
Serious side effects haven't been the norm, reports Healthline. In fact, most people appreciate the natural aspect of this substance.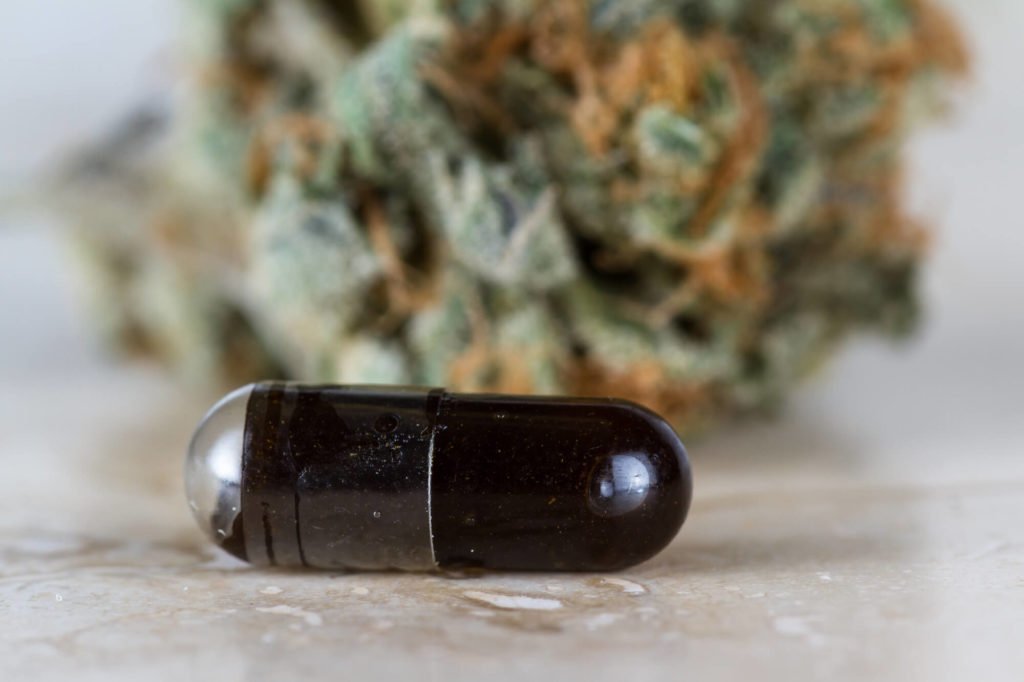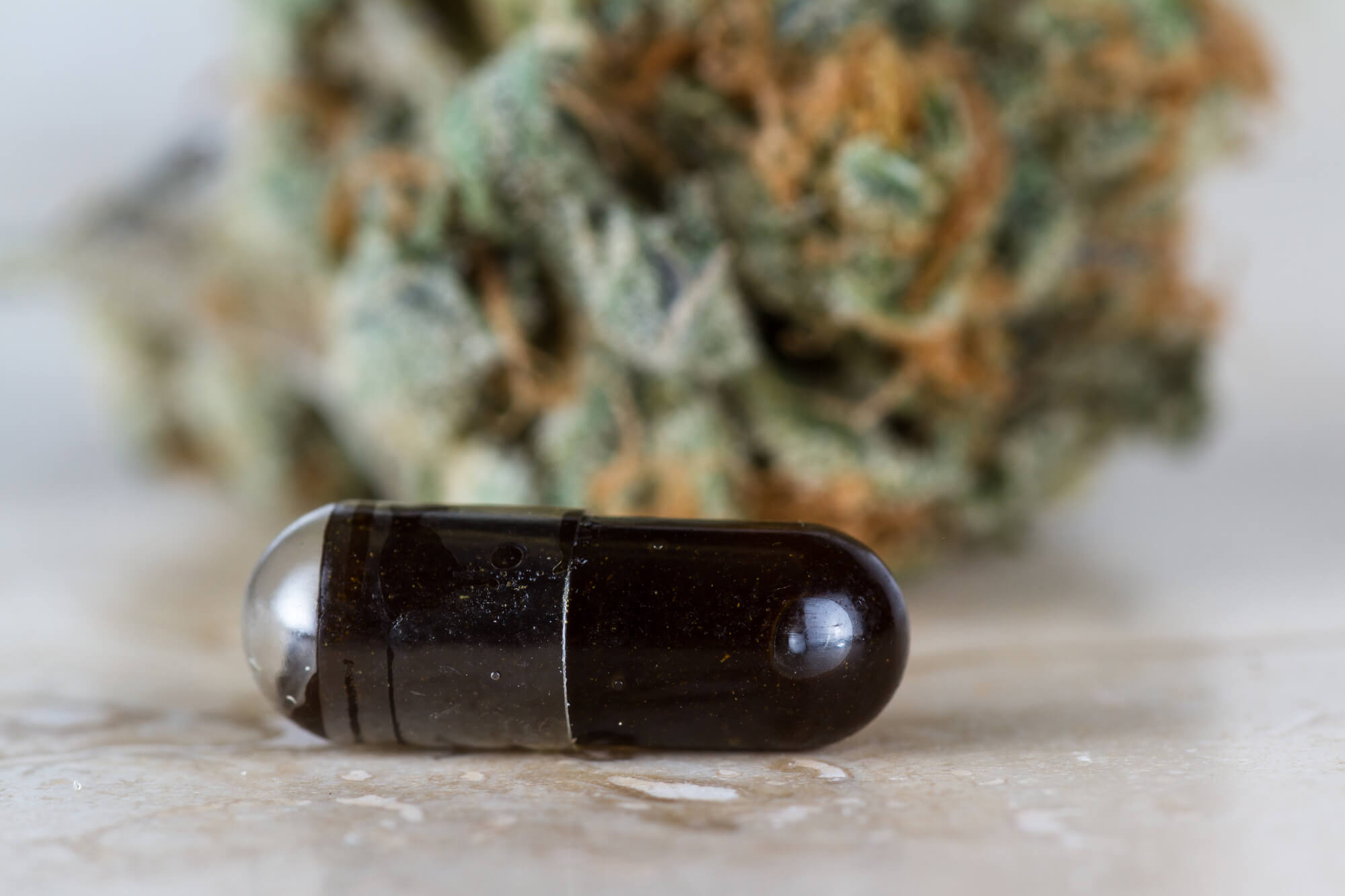 Choosing Among Many Products
Pages and pages of CBD capsules for sale can greet you online. Choosing the best product for you can be a challenge. It's essential to simplify the process.
Look at these features on each bottle, such as:
THC content
Third-party laboratory testing reports
Source and quality of the hemp
Most people who're looking into CBD aren't in the market for a THC high. Narrow down your search to "THC free" products. On the retail packaging, you should see this designation along with any testing parameters. Third parties involved in testing are the best types. They offer unbiased reviews.
Look for non-GMO and vegan-friendly products too. It's possible to find CBD hemp oil capsules made from vegetable cellulose for vegan needs.
The Best CBD Capsule Reviews
When you start shopping for CBD capsules, the first thing discovered is that there are many choices of vendors and products. The wide range of products reflects the popularity of CBD capsules. The best CBD capsules, pills, or softgels for an individual depends on factors like the desired CBD potency, whether the product is third-party tested, and special characteristics like being gluten-free. The following are some of the best CBD capsules sold by reliable vendors in our online store.
Lazarus Naturals offers one of the largest selections of CBD capsules in various counts. This gives you the option of buying what you need while staying within your budget. Some of the features of the CBD capsules include:
• Made with CBD isolate or full spectrum CBD oil
• 200 mg of CBD to 10,000 mg of CBD per container
• Potencies of 10 mg to 200 mg per capsule
• Capsules are gluten-free
• Capsules are suitable for a vegan diet
• No artificial flavors, sweeteners, or preservatives
• Made with hemp grown on Lazarus Farms
• Products are third-party tested for pesticides, heavy metals, and pesticides
The wide range of potencies means there is a product to suit almost every need.
Hemp Bombs is another company with a good reputation among consumers. Product users say the company sells some of the best CBD capsules for pain or for relaxing. The features of this company's products include:
Can purchase as few as five capsules if interested in testing their effects before purchasing a bottle of CBD capsules
All capsules are made with full spectrum CBD, so each capsule has less than 0.3-percent THC
Tested by independent labs
150 mg of CBD to 2,100 mg of CBD per container
Potencies of 15 mg and 30 mg per capsule
Sourced from industrial hemp from Europe
Take 1-2 capsules per day
Customers of Hemp Bombs say its products are good CBD pills for pain. This is strictly anecdotal information because no CBD products are government regulated.
CBDistillery sells CBD softgels under the capsule category.
Offers full spectrum and broad spectrum CBD softgels
900 mg of CBD to 1,800 mg of CBD per container
Extra strength potency – 30 mg of CBD per one softgel
Derived from industrial hemp in the U.S.A.
Pesticide-free and GMO-free
Third-party tested
Take 1-2 softgels daily
Tested by ACS Laboratory for potency and other substances
CBDistillery offers gummies with melatonin, among other products.
NuLeaf Naturals has been offering high-grade cannabis oil products since 2014. This company also sells softgels under the capsule category. The product features include:
Full spectrum softgels
300 mg or 900 mg of CBD per container
15 mg of CBD per softgel
Made with organic hemp
Hemp seed oil carrier
Colorado-grown hemp
Free of artificial ingredients and GMO-free
All-natural flavoring
Lab verified to confirm products are free of pesticides, herbicides, mold, fungi, heavy metals, and mycotoxins
The full spectrum CBD oil is made with organic hemp seed oil and organic extract.
Green Roads CBD capsules are pharmacist-formulated, according to the company. The CEO and co-founder has 25 years of experience as a compounding pharmacist.
Made with CBD isolate so THC free
Available in 750 mg of CBD per container
25 mg of CBD per capsule
Hemp sourced in the U.S.A.
Gluten-free, soy-free, and suitable for vegan diets
Vegetable cellulose capsule
Take one capsule per day
Tested by an independent laboratory and can see lab results by using the QR code on the package
Green Roads offers sleep and relax capsules to support overall well-being. You can view each product's Certificate of Analysis (COA) online which provides a detailed description of the elements and compounds tested and the results.
cbdMD is another company offering softgels in the capsule category. The company guarantees non-detectable THC in each product.
All products contain broad spectrum CBD
Potencies are 16.67 and 33 mg per capsule for softgel products
500 mg or 1,000 mg of CBD per container
Two products contain 3 mg of melatonin
Third party, ISO-certified lab tested
Made with U.S.A. grown hemp
Take one nighttime softgel 30 minutes before bedtime or one daytime softgel
Gluten-free
cbdMD says it uses a standardized formula engineered by the company which helps to ensure every product has constant levels of cannabinoids and terpenes.
How To Dose CBD Capsules?
Every capsule has an advertised concentration. You might find values of 15 to 200 milligrams, for example as found in Lazarus Naturals. The capsules with a higher level of CBD will be more expensive with a more significant impact on the body's systems.
Pay attention to the concentration that helps you the most. This dosage is the sweet spot for your health and will be unique for every person.
You want a balanced effect on the body, so experiment with different concentrations.
One convenient benefit of CBD capsules is easy dosing. There are no measuring mistakes for this product. You simply take one capsule at first.
Always choose a low dose at first, such as 15 or 25 milligrams. There's no need to rush the capsule's influence. You'll notice the effects in little time.
Remember that these capsules are considered supplements. They have loose instructions on daily use. Don't take too many to gain some extra relaxation. More doesn't necessarily mean that the results will be better.
Discontinue your CBD use if you notice any negative issues. Certain medications, for example, may influence how CBD reacts in your body, advises Huffington Post.
Dosing Suggestions
You have a new bottle of CBD capsules. It's time to put them to work with a little test.  You'll find that taking these pills is much easier than any other form of CBD.
Follow the Directions

Each bottle has different suggestions for use. Always use the retail label as a primary guide.

Take One Pill

Always start with one pill. You can increase the dose as necessary to feel the effects.

Give it Some Time

Remember that capsules must work their way through the digestive system before they can take effect. Consumer Reports advises that the effects are felt after 30 minutes at the very minimum. Many CBD manufacturers suggest waiting a full hour before all of the effects are in play.

Take Another Dose

Most supplements can be taken on a daily basis. Take another pill after an hour if necessary. You're seeking a balance with the mind and body.
Buying From a Reputable Source
CBD oil capsules are sold as supplements so that you can buy them in almost any state. There are countless online options too. However, you always want to work with a reputable seller. These products aren't regulated like pharmaceuticals. Quality can vary on a colossal scale.
Consider these features that define a reputable seller, such as:
Available certificates of analysis
Partnerships with well-known CBD manufacturers
Easy-to-find reviews on product advantages and drawbacks
Try an online order to buy CBD capsules. Be critical of the customer service that you receive. Ask as many questions as you need through an online chat, email, or phone call. Every answer from the seller should be transparent and honest, reports Consumer Reports.
In the end, follow your gut instinct. If you feel uncomfortable about a purchase, the seller isn't for you.
Always select pure CBD capsules from a reputable source, such as CBD.market. The quality shows through the manufacturers, certificate of analysis, and customer service. Your mind and body deserve balanced wellness each day.
Most companies offer products available in different counts per capsule, softgel or pill container, i.e. 10, 30, 40, 60, 200, etc. CBD products are not FDA regulated, so third-party, independent lab testing ensures customers know exactly what they are consuming. There is a product to fit every need, whether looking for the best CBD capsules, softgels, or CBD pills.