Many dogs may suffer from severe conditions as they age. Some are even born with issues that require medical intervention. One pervasive problem is seizure activity. Some dogs have seizures that are idiopathic (have an unknown cause) while others have an ongoing seizure disorder that is caused by environmental stimuli. When your dog has a seizure, it can be very frightening. After the actual seizure has ended, your dog may appear confused or upset for a few hours.
CBD oil is a product that is starting to gain popularity due to its many potential uses, including decreasing the incidence and severity of seizures. Another big benefit is that CBD is not known to have as many side effects as the prescription anti-seizure medications available today.
Seizures in Dogs
There are a number of dog breeds that are more susceptible to developing seizure disorders. This includes:
English Springer Spaniels
Hungarian Vizslas
Shepherds
Сollies
Wolfhounds
Keeshonds
Dachshunds
Beagles
Approximately one to five percent of canines will deal with a seizure at some point in their lives. Some dogs will continue to have them regularly, and you might not even know that your dog is having seizures if it happens while you are away from home. Head injuries, encephalitis, toxin ingestion, and liver disease can also cause seizures.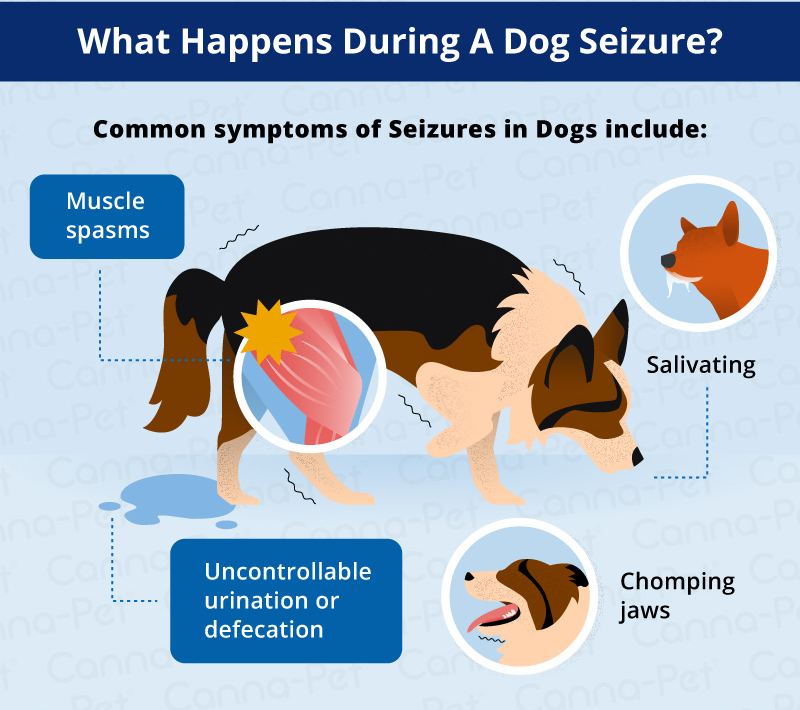 Current Anti-Seizure Therapies
If your dog suffers from recurring seizures, then your veterinarian may prescribe an anti-seizure medication like phenobarbital. Possible side effects of phenobarbital include change in mood, lethargy, weakness, increased appetite, anemia, and liver injury with chronic use.
Many CBD brands are starting to come out with specific products designed for dogs and other small animals. The abundant anecdotal evidence available suggests that CBD can lead to a significant decrease in seizures.
Seeing your pet experience a seizure can be terrifying, even if it's not your first time witnessing one. The best thing that you can do for your dog during a seizure is to comfort them, but it is also important to keep track of seizure details. This includes information like seizure duration, date, time, how long the seizure lasted, etc. With these details, you can work with your veterinarian to help rule out causes of seizures and create an effective treatment plan for your furry companion.
Important Information on CBD Oil for Dogs
It is essential that you speak with your veterinarian before starting to give your dog CBD oil for seizures. This is primarily to ensure that CBD won't have any negative interactions with other medications that your dog is taking. You also want to make sure that your dog receives an appropriate dosage of a high-quality CBD product.
There are several reputable online resources that allow you to purchase CBD oil for epilepsy in dogs. Some products are intended for use in humans and pets while others are produced as a dog treat or supplement.
Make sure to carefully research product sources before purchasing and avoid products that contain artificial ingredients and harmful additives. The best CBD products have been grown organically from a commercial standpoint. The manufacturer should emphasize good quality control and the final product should be very potent. Try to choose a company that publishes lab result reports from a third-party. It will give you better insight into the product and is the best way to ensure that the product is devoid of THC, which is toxic to dogs.
For Your Consideration
Homeopathic approaches to medicine are becoming more and more favorable because they focus on the well-being of a person's body instead of focusing on treating an ailment. Most people want the same for their dog because these approaches contribute to their health and happiness as well as ours. As a member of our family, our dogs should feel their best. Good health allows them to play, run, and enjoy their time with us. This will be easier to achieve thanks to products like CBD oil.
If your dog has seizures, then CBD oil may be exactly what the doctor ordered! Ask your veterinarian about how you can incorporate CBD oil into your dog's treatment plan.