cbdMD CBD Oil Reviews 2023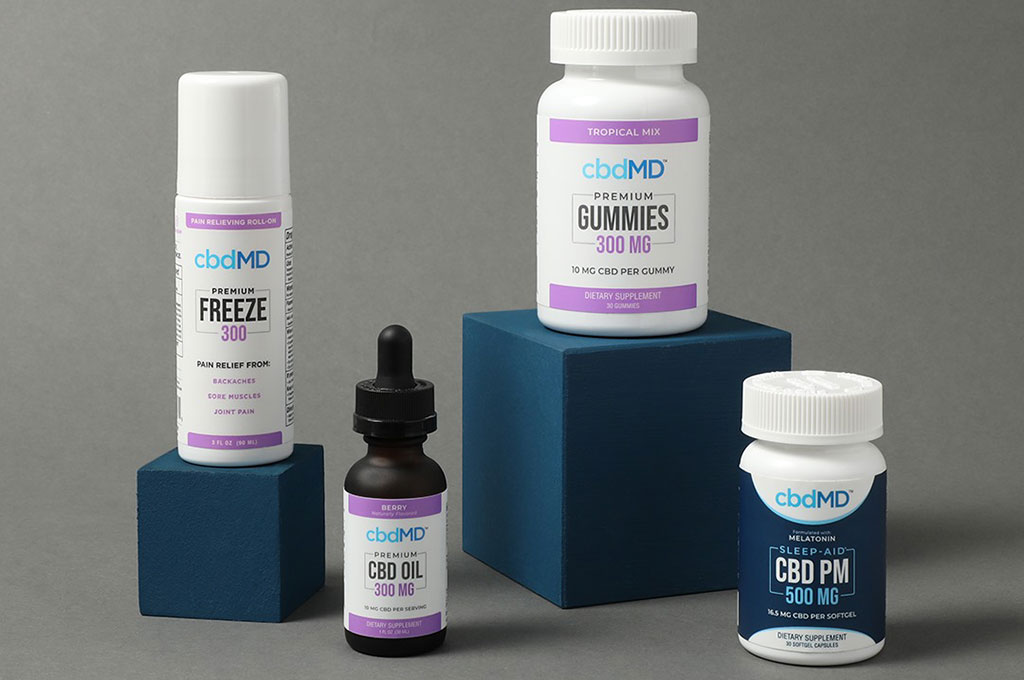 Company Reputation
CbdMD is undoubtedly one of the most well-known CBD manufacturing companies in the U.S., with thousands of customers. It manufactures and offers many CBD-based products that include CBD tinctures, CBD oils, CBD gummies, and unique hemp extracts.
This company started its operation in 2017 in Charlotte, North Carolina. Better Business Bureau (BBB) ranks it among the list of the organizations that are rated A+. However, it is not one of the BBB-accredited businesses. To be listed among the BBB-accredited businesses, one needs to meet some customer service standards and pay a fee. CbdMD hasn't fulfilled those conditions yet.
If you want to determine the reputation of a CBD company, look for FDA-issued warning letters against the company. When it comes to cbdMD, its position isn't powerful since it's currently confronting two lawsuits against it.
Company Background
Scott Coffman founded cbdMD in Charlotte, North Carolina. The company started generating revenue in 2018, and it reported $3.2 million revenue by August 2018. The monthly sales started exceeding $1 million in October 2018.
It became the first CBD-based products manufacturing company to become a part of the U.S. Stock Exchange in a brief period.
If we look at the consumer satisfaction background of the company, we can easily find a list of statistics that will help us understand it better:
55K+ likes on Facebook.
5-star reviews on our website.
Moreover, the lists of awards add more to all the good things people have to say about cbdMD. CbdMD has won the following awards that make it even more credible:
Best Flavor 2016 award.
2016 Highest Quality CBD oil award.
2016 reviewers' choice winner award.
Awards tell a lot about the company's manufacturing, but even though the company has won a lot of awards, don't overlook the other important aspects.
Adding more to it, they have strengthened their positive reputation by enhancing the quality of their packaging. Their professional packaging instantly attracts consumers.
cbdMD products have COA (Certificate of Authority) for its products on their website. It ensures the better quality of the cbdMD products.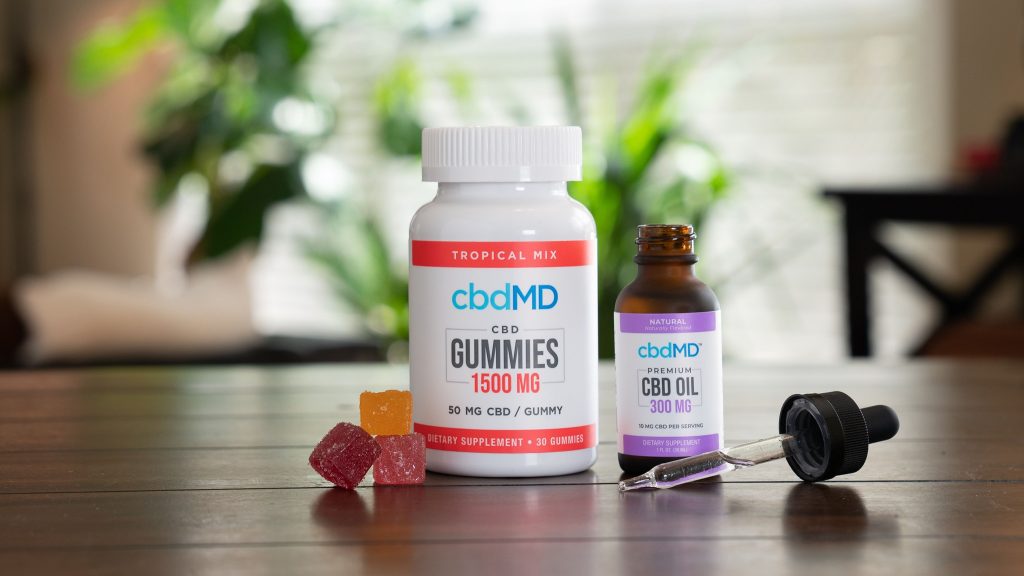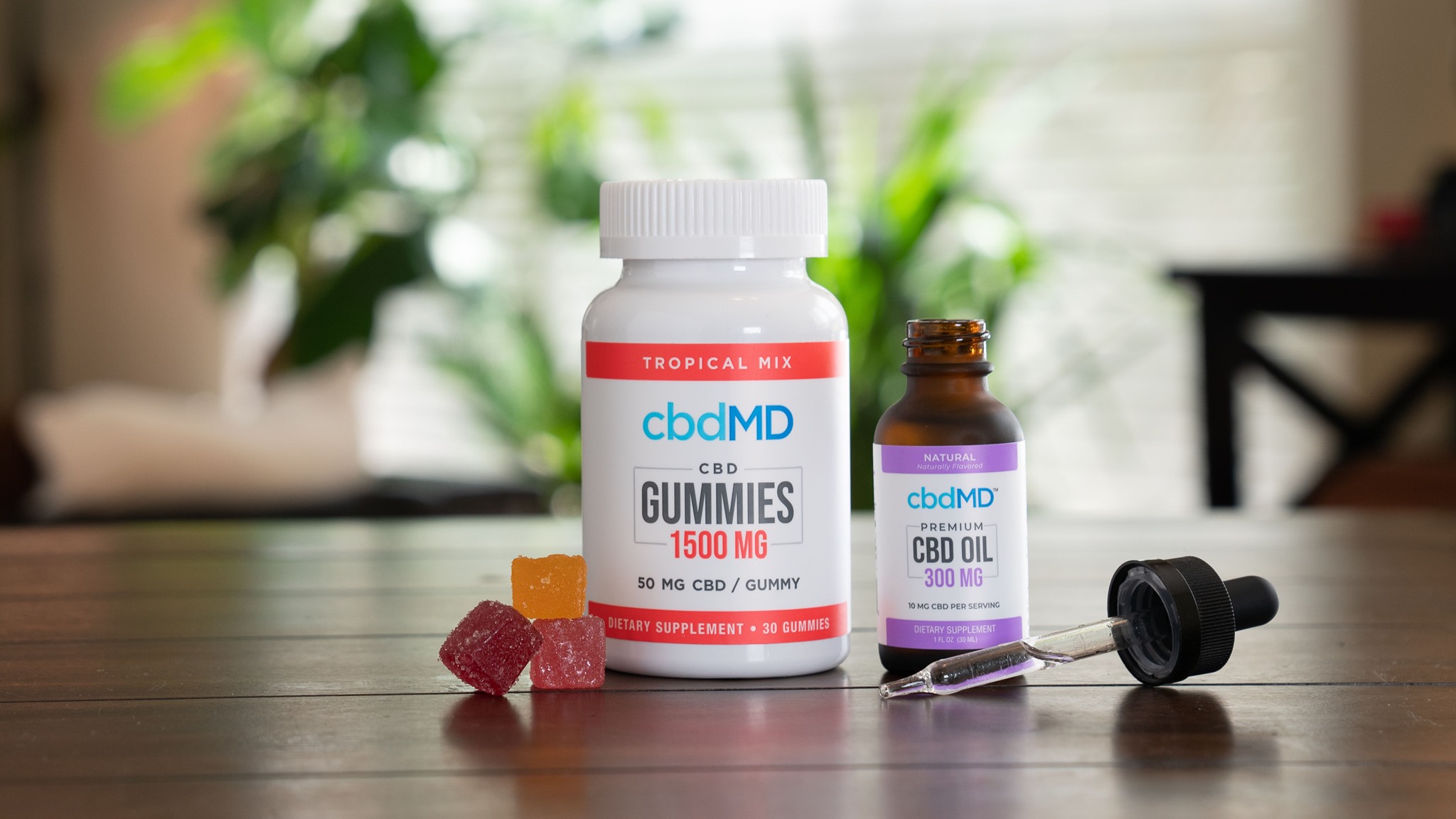 CBD Product Quality
Manufacturing Process
cbdMD gathers home-grown hemp from farms all around the U.S.; U.S. grown hemp is the best-quality hemp. It provides better peace of mind, and that's why cbdMD offers a money-back guarantee policy.
The company keeps a watchful eye over each step of the process to make it one of the best CBD oils out there.
After getting the perfect quality hemp, cbdMD extracts its CBD through the CO2 extraction method. It is one of the best extraction methods since it makes sure that essential terpenes, amino acids, and other valuable nutrients are still part of CBD.
After that, the products are diluted or concentrated according to the protocols of the targeted end product. It leads to the packaging process that goes through screening, and eventually, the products get packed in the boxes to reach retailers, stores, and ultimately consumers.
The public health and safety organization, NSF, certified cbdMD with Good Manufacturing Practices (GMPs) certificate. Good manufacturing practices are in accordance with the FDA's guidelines of how products should be manufactured, packed, labeled, and tested.
If you choose a GMPs certified brand, you don't need to worry about the quality of the products.
Sourcing
Kentucky Department of Agriculture's Industrial Hemp Program is a program that grows hemp while taking care of it. It fully understands the hemp production protocols and implements superior cultivation techniques to yield the best quality yield.
This program allows minimal but skilled people to take care of the crops to produce the best crops. Kentucky pilot program, with the help of the best farmers, aims at growing premium-quality hemp.
cbdMD sources its hemp from Kentucky's pilot program to ensure that they are using best-quality hemp to obtain their products. Doing this, the best quality plays its role before extraction to open doors for the production of the best CBD-based products.
Products Range and Pricing
Once you are on a mission to find the reviews of the best cbdMD brand, you'll find people searching for the name of cbdMD for sleep reviews. You'll also find cbdMD cream reviews, CBD oil cbdMD reviews, and whatnot. It indicates the vast plethora of CBD-based products that cbdMD manufactures. cbdMD manufactures all these products from the broad-spectrum CBD.
The products manufactured under the supervision of cbdMD include:
When it comes to the pricing of its products, it ranges from $9.99 to $279.99. However, it depends on the type of product, the concentration of CBD, and its size.
Details
cbdMD
Pros

✔️ A wide range of CBD products

✔️ Various CBD concentration levels

✔️ USA grown hemp

✔️ Vegan and gluten-free, Non-GMO

✔️ Co2 extraction method

✔️ Free of synthetic additives

Cons
❌ The pricing options for some products may be high

❌ The company offers only broad spectrum CBD products


Latest Coupons
30% Off
THC %

0.0% THC



CBD Potency
per 1 ml
10 mg, 25 mg, 50 mg, 100 mg, 166 mg, 250 mg
Pricing

300 mg CBD oil: $29.99
500 mg CBD oil: $44.99
750 mg CBD oil: $59.99
1500 mg CBD oil: $89.99
5000 mg CBD oil: $179.99

CBD Products

CBD oils
CBD capsules
CBD gummies
CBD creams
CBD gels
CBD lip balms
CBD roll-ons and spays


Ingredients

Cannabidiol (CBD)
MCT Oil
Natural Flavoring


Flavors


Berry, Fruit Mix, Mint, Orange, Natural Flavor

Hemp Source
Hemp plants are grown on farms in Kentucky

Extraction Method

CO2 extraction method
cbdMD Top Selling CBD Products
Best cbdMD CBD products
⭐⭐⭐⭐⭐Rating: 4.8 out of 5

• Total CBD sizes: 750 mg
• Potency: 25 mg/mL
• Cost per mg CBD: $.08
• Extract Type: Full Spectrum
• THC Content: 0.3%
Product Highlights
cbdMD offers CBD oil tinctures in two-volume options: 30-ml and 60-ml options. 30-ml bottles will contain CBD potency ranging from 300 mg to 7500 mg of CBD per bottle.
Superior Broad Spectrum CBD in every product batch
THC-free* products sourced from USA hemp
Third-party, ISO-certified lab tested to ensure safety and effectiveness
25 mg of CBD per mL
Vegan and gluten-free
Available Options
Flavors
Natural
Mint
Orange
Berry
Sizes
CBD Potencies
300 mg
750 mg
1500 mg
3000 mg
5000 mg
7500 mg
⭐⭐⭐⭐⭐Rating: 4.0 out of 5

• Total CBD size: 3000 mg
• Potency: 50 mg/count
• Cost per count: $2
• Extract Type: Broad Spectrum
• THC Content: 0.0%
Product Highlights
Higher CBD potency at 50 mg per serving
THC Free
Contains vitamins
Average price per serving compared to other services
Made with MCT oil
Suitable for vegan and gluten-free diets
GMO-free
Available Options
30 capsules, 500 mg CBD
60 capsules, 1000 mg CBD
60 capsules, 1500 mg CBD
60 capsules, 3000 mg CBD
⭐⭐⭐⭐⭐Rating: 5 out of 5

• Total CBD size: 1500 mg
• Potency: 50 mg/count
• Cost per count: $2.9
• Extract Type: Broad Spectrum
• THC Content: 0.0%
Product Highlights
These THC-free, broad-spectrum gummies deliver 50 milligrams of CBD each. It adds up to a total of 1500 milligrams of CBD for a 30-count bottle. These very tasty gummies are sweetened and colored using a list of natural ingredients that include organic sugar cane, organic tapioca syrup, organic fruit juice, organic vegetable juice, organic carnauba wax, and organic sunflower oil.
50 mg of CBD per gummy
Mix of sour orange, strawberry, raspberry, and tropical flavors
Vegan and gluten-free
The blend of cannabinoids (CBD, CBG, CBN) and terpenes without THC
Available Options
30 count, 300 mg CBD
30 count, 750 mg CBD
30 count, 1500 mg CBD
⭐⭐⭐⭐⭐Rating: 4.9 out of 5

• Total CBD: 1500 mg
• Potency: 12.5 mg/ml
• Cost per mg CBD: $.06
• Extract Type: Broad Spectrum
• THC Content: 0.0%
Product Highlights
CBD recover cream is availble in two potencies, 750 mg and 1500 mg CBD
Enriched with CBD, Arnica, Vitamin B6, and MSM
Designed for recovery
Relieving formula with Organic Aloe Leaf Juice, Organic Coconut Oil, Organic Arnica Flower Extract
Available Options
cbdMD CBD recover squeeze 750 mg and 1500 mg CBD
cbdMD CBD recover tub, 750 mg and 1500 mg
⭐⭐⭐⭐⭐Rating: 4.8 out of 5

• Total CBD: 1500 mg
• Potency: 16.6 mg/mL
• Cost per mg CBD: $.06
• Extract Type: Broad Spectrum
• THC Content: 0.0%
Product Highlights
Hemp extracts (CBD, CBN and CBG)
Available in roll-on and squeeze-tube applicators
Contains menthol for a distinct cooling sensation
Other ingredients include Arnica montana, Aloe vera
Available Options
CBD Freeze Roller gels are available in three potencies, 750 mg, 1500 mg and 3000 mg CBD
cbdMD CBD Lip Balms
⭐⭐⭐⭐⭐Rating: 4.9 out of 5

• Total CBD size: 50 mg
• Potency: 11 mg/g
• Cost per mg CBD: $.16
• Extract Type: Broad Spectrum
• THC Content: 0.0%
Product Highlights
Created with quality made hemp extracts, including CBD, CBG, CBN, and terpenes
Ensured THC free by third party, ISO certified labs
Contains cocoa butter, shea butter, and other essential oils
Comes in the sweet scents of Sweet Vanilla, Black Berry Acai, and Mint Hibiscus
⭐⭐⭐⭐⭐Rating: 5 out of 5

• Total CBD size: 1500 mg
• Potency: 20 mg/mL
• Cost per mg CBD: $.06
• Extract Type: Broad Spectrum
• THC Content: 0.0%
Product Highlights
Made with lidocaine for temporary relief
Availbale in the form of roll-on or spray applicators
Temporary relief from aches
Manage calm and relaxation
Assists with exercise recovery
Support daily wellness routine
All products are tested to be THC-free*
cbdMD Reviews by Real Customers
cbdMD reviews left by CBD.market's customers are shown below.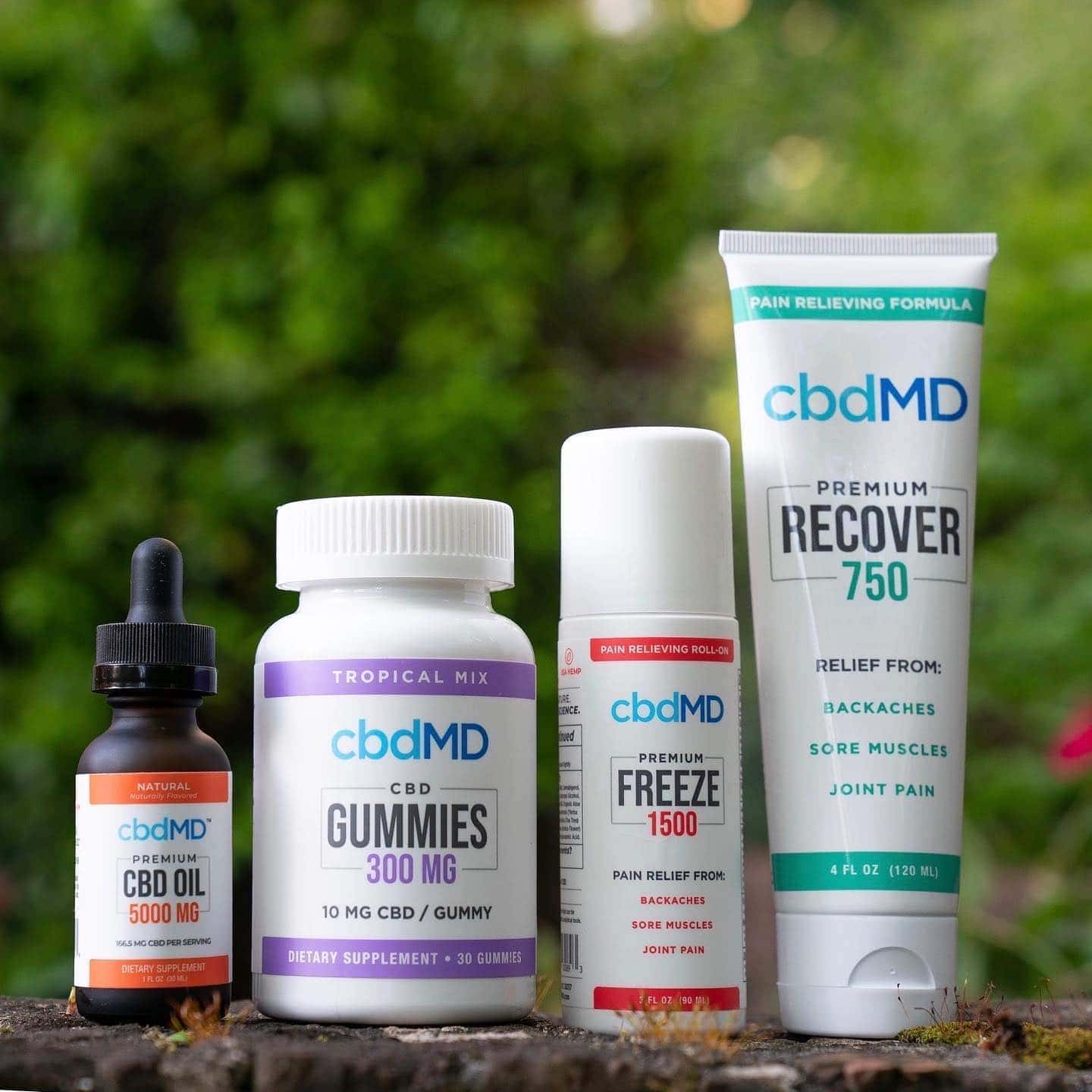 If you have tried cbdMD products, please take a few minutes to write your cbdMD reviews on the product page. They will help other users to be informed and find the best CBD oil products. Thank you!
Final Thoughts
Despite the lawsuits against the brand, cbdMD ratings and reviews tell a lot about people's trust in their products.
These reviews have such an impact that anyone who goes through the cbdMD oil reviews instantly thinks that it's the right product for him. The same goes for its other products, and that's how it has been very successful in winning people's trust.
The transparent manufacturing practices, all the awards, positive cbdMD reviews, lab test results, and certificates are the things that a company needs to prove its credibility, and cbdMD has it all!