Hemp Bombs CBD Oil Reviews 2023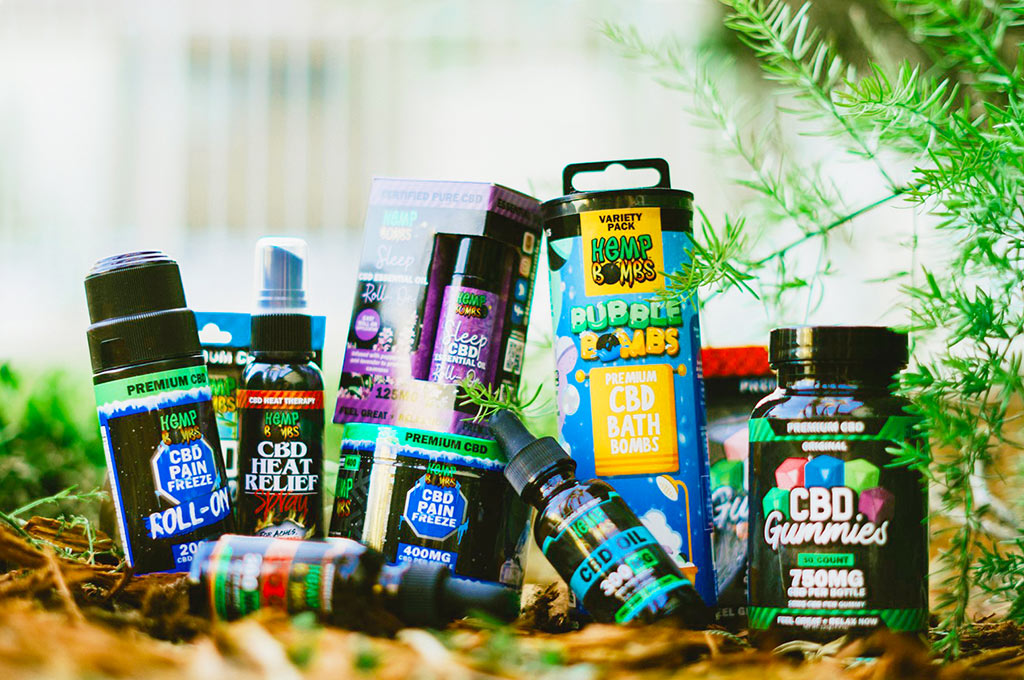 As a trusted international brand with a large selection of products, Hemp Bombs understands just how important a CBD regimen can be. Their products contain non-genetically modified industrial hemp that comes from Europe to be processed in the United States. They follow a very strict production process to ensure that their final products are pure and safe. None of their products is full spectrum. Rather, they utilize CBD isolate in their environmentally friendly and sustainable products. Nutritionists are on the staff to calculate what the best botanical combinations are for CBD infusions.
Company Reputation
It has not been a long time since the Hemp Bombs CBD emerged on the map as an independent working company, but it has successfully gained consumers' trust on very short notice.
The main reasons behind the hype and excellent Hemp Bombs CBD product review are:
Unlike many other brands, their products come purely from the CBD isolates rather than full-spectrum or broad-spectrum CBD. It refers to the absence of other Cannabinoids in the product.
The whole processing of the Hemp Bombs CBD products is in-house. From extracting CBD to manufacturing and packaging, the products come under vertical operations.
The customers feel a significant difference as the effects account solely for pure CBD, unlike in full-spectrum and broad-spectrum CBD products.
Company Background
Hemp Bombs CBD is a CBD-manufacturing company that is based in Tampa, Florida. It appeared on the list of CBD-based products manufacturing companies in 2016. Hemp Bombs hasn't released much of its history and background information online.
However, the trust that it has won from the people speaks a lot about it. It led to a strong partnership with retailers, distributors, and dealers all around the U.S.
The blind trust of people in Hemp Bombs CBD shows through the hundreds of five-star reviews of Hemp Bombs on different websites. In addition, it has proved its transparency by providing third-party lab tests of its products in detail. Each product displays a list of all ingredients, which is another bonus point for the company.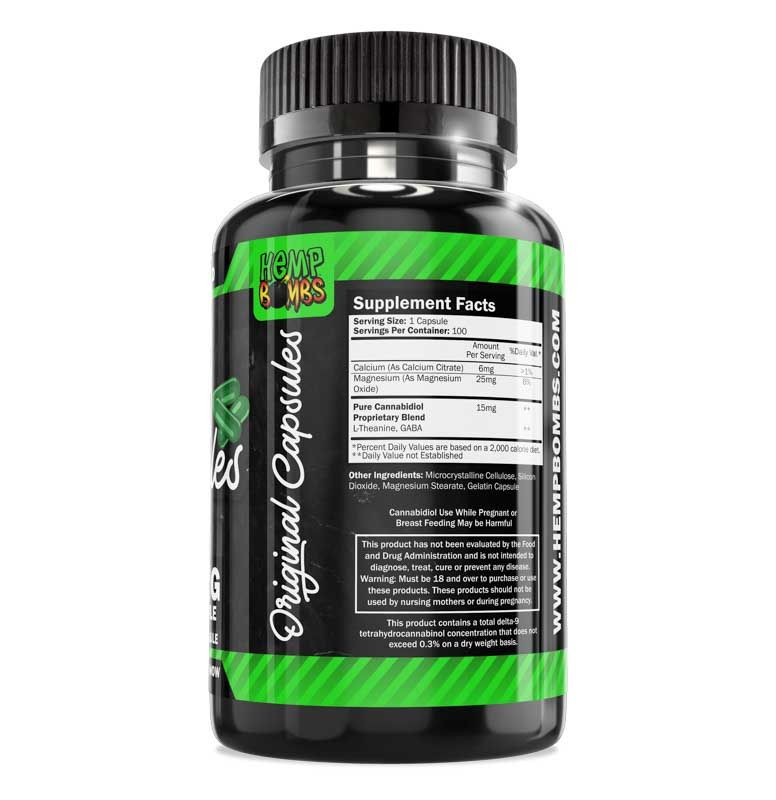 Finding the Hemp Bombs CBD hemp products is not difficult. Just go to the Hemp Bombs page and you'll find a wide range of Hemp Bombs CBD products right there.
They have thoroughly explained their extraction method for the public to guess the protocols of their manufacturing process as well. All these factors suggest the strong background of the company and its dedication to the quality of its CBD products.
CBD Product Quality
Manufacturing Process
Hemp Bombs CBD manufacturing process is transparent, and they have never been secretive about it. The manufacturing process involves the extraction, processing, and packaging of the products.
Society is well aware that the safest and most efficient method of CBD extraction is the CO2 extraction method. It ends up making the products highly concentrated with CBD and free of heavy metals, residual solvents, and toxins. This process gets completed after going through the following few steps:
Carbon dioxide is compressed until it gets converted to liquid.
The compression and heat of CO2 are elevated, which makes it supercritical.
This CO2 passes through the hemp, extracting all its terpenes, cannabinoids, and phytochemicals.
These products have a great significance for the people who are about to go for drug testing. It is also appealing for people who aren't willing to intake THC because it's totally THC-free, being an isolate.
The only process of their CBD product manufacturing that they don't do in-house is hemp cultivation. However, they keep a keen check and balance on the measures that the farmers take to ensure the growth of the best-quality hemp. They do it because the quality of the products highly depends on the cultivation of hemp.
To ensure the quality of hemp more efficiently, they go only for the hemp that is certified to be organic. It suggests that hemp is free of pesticides, fertilizers, herbicides, fungicides, and heavy metals. To achieve this level of certainty, Hemp Bombs CBD collaborates with the farmers who are the masters of hemp cultivation.
Sourcing
The hemp sourcing of Hemp Bombs assures more about the high concerns of the brand when it comes to the quality.
Initially, the brand used to source hemp from Europe, where hemp cultivation had very high standards. It didn't rely on the local low-quality hemp like most of the other brands. However, when the laws of the U.S. became friendlier towards hemp and the cultivation standards got improved, they started sourcing their hemp from the United States. It tells how Hemp Bombs CBD is never ready to compromise on the quality even if they have to outsource their ingredients.
Products Range and Pricing
If a brand offers a vast range of products and all of them are equally fantastic, then one thing is definite; the brand is burning the midnight oil to keep the consumers happy. The same is the matter with Hemp Bombs as they offer a wide variety of products that include:
And to their fortune, none of their product ever disappointed the community. You can check Hemp Bombs CBD oil review here:
When it comes to the pricing of the products, it's pretty reasonable if we consider the quality of their products. It ranges from $15 to $105, depending on the product and its potency. CBD.market club members automatically receive the lowest prices on all Hemp Bombs products.
Hemp bombs CBD oils are available in potencies from 125 mg to 4000 mg. You can find hemp bombs CBD gummies for $60 per bottle of 30 and vape liquids can sell for as low as $15.
Sample packs are also available if you are looking to try something out before buying a larger quantity. However, If you know that you will be consuming a large quantity of a product, it may be more affordable over time to stock up and buy in bulk.
Details
Hemp Bombs
Pros
✔️ Organic hemp is grown in the U.S.

✔️ High-quality ingredients

✔️ Multistage product lab testing

✔️ Non-GMO, gluten-free and vegan

✔️ Different levels of potency available


Cons
❌ The vast majority of Hemp Bombs' products are broad-spectrum

❌ Some products have a strong smell an herbal/medicinal taste


Latest Coupons
25% Coupon Code
THC %

Less than 0.3% THC
THC-free products



CBD Potency
per 1 ml
10 mg
25 mg
50 mg
100 mg
166 mg
Pricing

300 mg CBD oil: $20.00
750 mg CBD oil: $44.00
1500 mg CBD: $84.00
3000 mg CBD: $124.00
5000 mg CBD: $204.00


CBD Products

CBD gummies
CBD lollipops
CBD capsules
CBD oils
CBD gels
CBD patches
CBD lip balms
CBD pet products



Ingredients

Pure CBD Extract
MCT Oil, Natural Flavors
Flavors

Apple, Cherry, Fruit Mix, Orange, Pink Lemonade, Watermelon, Peppermint
Hemp Source
Hemp plants are grown on farms in the USA

Extraction Method

CO2 extraction method
Hemp Bombs Top Selling CBD Products
Best Hemp Bombs CBD products
⭐⭐⭐⭐⭐Rating: 4.9 out of 5

• Total CBD size: 600 mg
• Potency: 30 mg/count
• Cost per count: $1.4
• Extract Type: Full Spectrum
• THC Content: Less than 0.3%
Product Highlights
Hemp Bomb's CBD gummies are one of the bestsellers among all Hemp Bombs CBD products at CBD.market store.
These fruit-flavored gummies provide 30 milligrams of CBD per single-gummy serving. This is a full-spectrum CBD product featuring a proprietary blend with L-theanine, Scutellaria, passiflora, and melatonin. It contains no more than 0.3 percent THC. It doesn't really get much easier or sweeter to get high CBD potency in a single bite.
Available Options
8 count, 240 mg CBD
20 count, 300 mg CBD
50 count, 1500 mg CBD
100 count, 3000mg CBD
CBD Potency
15 mg per gummy
30 mg per gummy
CBD Gummies Type
Original CBD gummies
High-potency CBD gummies
Sleep CBD gummies with melatonin
Immunity CBD gummies
⭐⭐⭐⭐⭐Rating: 4.8 out of 5

• Total CBD size: 100 mg
• Potency: 25 mg/count
• Cost per count: $3
• Extract Type: Full Spectrum
• THC Content: Less than 0.3%
Product Highlights
4 CBD Lollipops per pack
25 mg of CBD per lollipop (100mg per package)
Tested by Independent Labs
Flavors in one package: Watermelon, Green Apple, Cherry, Pink Lemonade
Each batch contains less than 0.3% THC
CBD lollipops are not intended for children younger than 18 years old
Available Options
a 4-count bag
a 24-count box (with 6 bags inside)
⭐⭐⭐⭐⭐Rating: 5 out of 5

• Total CBD size: 1500 mg
• Potency: 50 mg/mL
• Cost per bottle: $.07
• Extract Type: Full Spectrum
• THC Content: Less than 0.3%
Product Highlights
Moderate potency 25 mg CBD per serving size ½ Dropper (0.5ml)
Oil can be taken sublingually or added to your favorite drinks and recipes
One 30-ml bottle of CBD Oil
1500 mg of CBD per bottle
Ingredients include pure CBD extract, grape seed oil, MCT oil, natural flavors
Available Options
1 oz, 300 mg CBD
1 oz, 750 mg CBD
1 oz, 1500 mg CBD
1 oz, 3000 mg CBD
1 oz, 5000 mg CBD
CBD Potency
10 mg CBD
25 mg CBD
50 mg CBD
100 mg CBD
166 mg CBD
Flavors
Watermelon
Peppermint
Orange Creamsicle
Acai Berry
Chocolate Mint
Natural Hemp
⭐⭐⭐⭐⭐Rating: 4.9 out of 5

• Total CBD size: 3000 mg
• Potency: 30 mg/count
• Cost per count: $1.24
• Extract Type: Full Spectrum
• THC Content: Less than 0.3%
Product Highlights
Can order a five-count package in order to try the product before purchasing a larger bottle
CBD serving without sweetness
Contains premium cannabidiol
Less than .3 percent THC
CBD derived from industrial hemp
Good labeling
The highest potency CBD capsules are available in 5-count, 25-count, 70-count, and 100-count packages
Available Options
Original CBD capsules
High-potency CBD capsules
Sleep CBD capsules with melatonin
⭐⭐⭐⭐⭐Rating: 5 out of 5.

• Total CBD: 1000 mg
• Potency: 8.8 mg/g
• Cost per mg CBD: $.08
• Extract Type: Broad Spectrum
• THC Content: 0.0%
Product Highlights
1000 mg of CBD per container
CBD pain freeze is designed for external use only
Contains a blend of soothing ingredients like menthol to relieve aches and pains
Perfect for post-workout soreness, relaxing tense muscles and easing joint pain
Available Options
CBD Pain Freeze Rub, 400 mg CBD
CBD Roll-On Pain Rub, 200 mg CBD
⭐⭐⭐⭐⭐Rating: 4.9 out of 5

• Total CBD size: 100 mg
• Potency: 50 mg/count
• Cost per count: $10
• Extract Type: Broad Spectrum
• THC Content: 0.0%
Product Highlights
50 mg of CBD per patch (100 mg of CBD per pack)
Up to 8 to 12 hours of wear per patch
0.0% THC
Contains premium CBD, menthol and lidocaine for soothing and cooling relief
CBD and other ingredients absorb through the skin to directly enter the bloodstream
Available Options
CBD pain patches
CBD sleep patches
CBD hangover patches
⭐⭐⭐⭐⭐Rating: 4.9 out of 5

• Total CBD size: 100 mg
• Cost per bottle: $15
• Extract Type: Full Spectrum
• THC Content: 0.3%
Product Highlights
1 bottle of CBD syrup contains 100 mg
Servings per bottle: 1
Raspberry flavored shot contains a blend of CBD, melatonin and stress-relieving amino acids (L-Theanine and GABA) to help you unwind and feel maximum comfort.
CBD drink can be mixed with a beverage or taken on its own
⭐⭐⭐⭐⭐Rating: 4.9 out of 5

• Total CBD size: 120 mg
• Potency: 15 mg/count
• Cost per count: $1.5
• Extract Type: Broad Spectrum
• THC Content: 0.0%
Product Highlights
8-count of CBD dog chews
15 mg of CBD per chew (120 mg of CBD per package)
Peanut butter flavor
Final Thoughts
Innovative and enjoyable products are what you will find with the Hemp Bombs product line. Made from organic hemp, you can trust that these products are going to be safe and effective. Remember, this is a brand that is very clear about the additives in their products. If you are vegan or prefer to stay away from preservatives or additives, this might not be the brand for you. However, if you want to reap the benefits of CBD in a fun and effective way, Hemp Bombs is highly recommended.
If you are the person who is looking forward to finding a brand that provides the best THC-free CBD products, now you know Hemp Bombs CBD.