How to Read CBD Labels?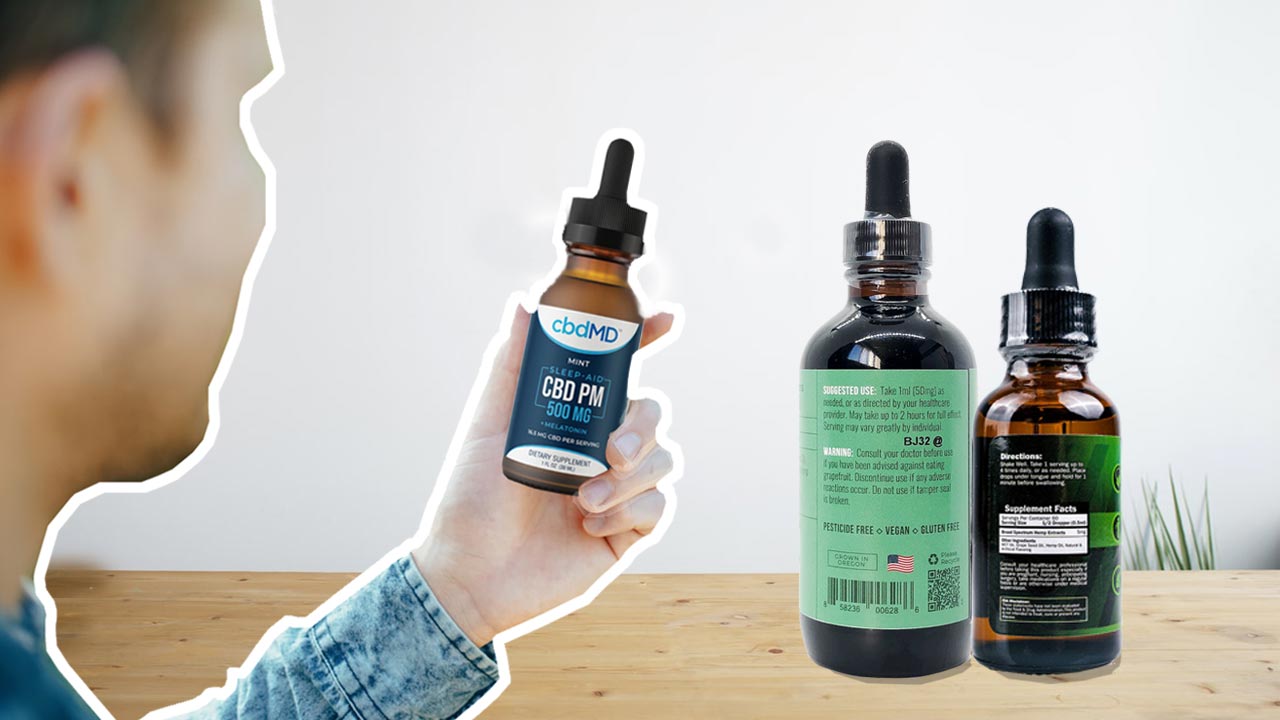 CBD may be a popular product that is taken by 1 in 7 adults, but the industry isn't regulated. That means that the quality of CBD and the ingredients added to it can vary widely. Thus, as a consumer, it's in your best interest to find the best and safest products. That's when reading CBD oil labels works to your advantage.
How to Read a Label?
When it comes to CBD label requirements, every state has different laws and regulations for what should be included. As a savvy consumer, there are certain things you need to look for on tincture labels and other CBD product labels, and these include the following.
1. Manufacturer
The first thing you will probably notice when looking at CBD oil labels is the name of the manufacturer. Taking the time to research the company to determine if they are trustworthy and reputable is in your best interest. Remember, this industry isn't regulated, but it's incredibly popular, so CBD manufacturers are started with the hopes of making a lot of money.
Many of them may put harmful or artificial ingredients in their CBD. To keep yourself safe, only buy from companies that have been around for a while, have good reviews from other customers, and send their products to a third-party independent lab for testing.
Here we can easily define the manufacturer. It's CBDistillery: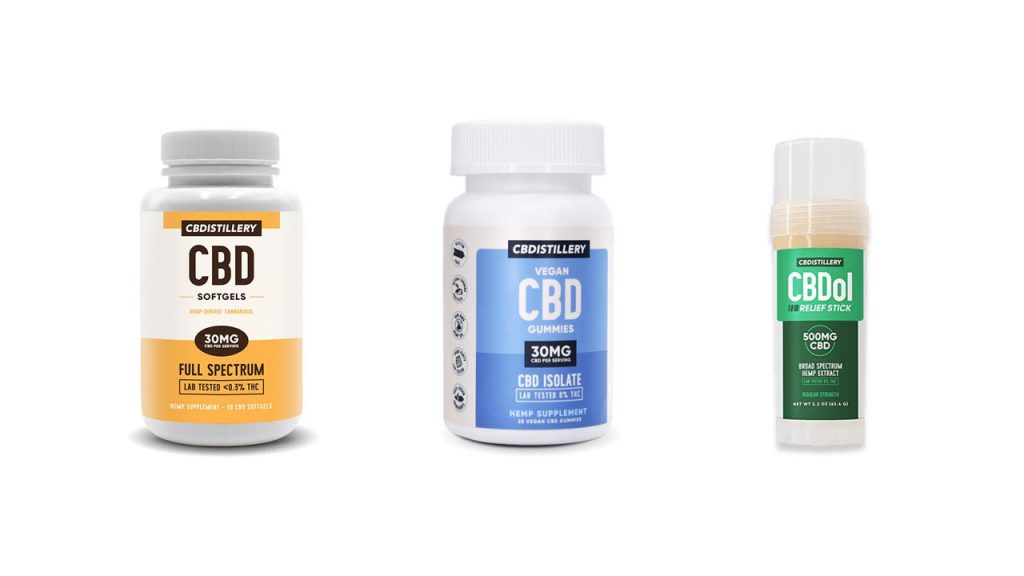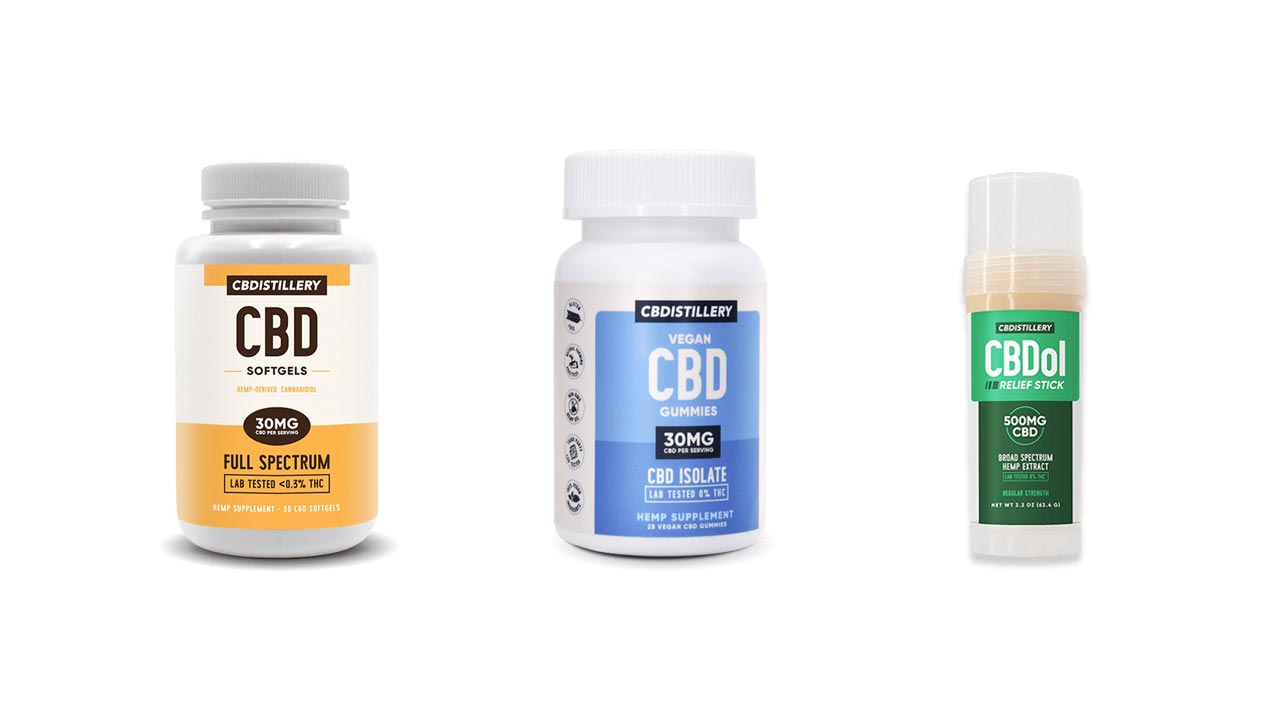 When it comes to how to read CBD lab results, the one thing you'll want to look for is contaminants and toxins. If the CBD contains these, it's best to avoid the product.
2. Recommended CBD Dosage and Serving Size
After determining that you are getting a high-quality CBD oil from a trustworthy manufacturer, you then want to look at the recommended CBD dosage. The label should tell you the total amount of CBD in milligrams (ml) that are found in the package. It should also let you know what a CBD serving size is.
For example, if you are taking cbdMD capsules, one softgel will be one serving. The label should let you know how many servings are in the bottle and how many milligrams of CBD each pill contains. This will help you determine how much you should be taking for your health and wellbeing.


3. CBD Oil Spectrum
CBD comes in three different spectrums: full, broad, and CBD isolate.
Full-spectrum CBD contains all cannabinoids and terpenes that are naturally found in the hemp plant, including THC.
Broad-spectrum CBD contains all cannabinoids and terpenes, but it does not contain THC.
CBD isolate does not contain any additional cannabinoids and terpenes, it is only CBD.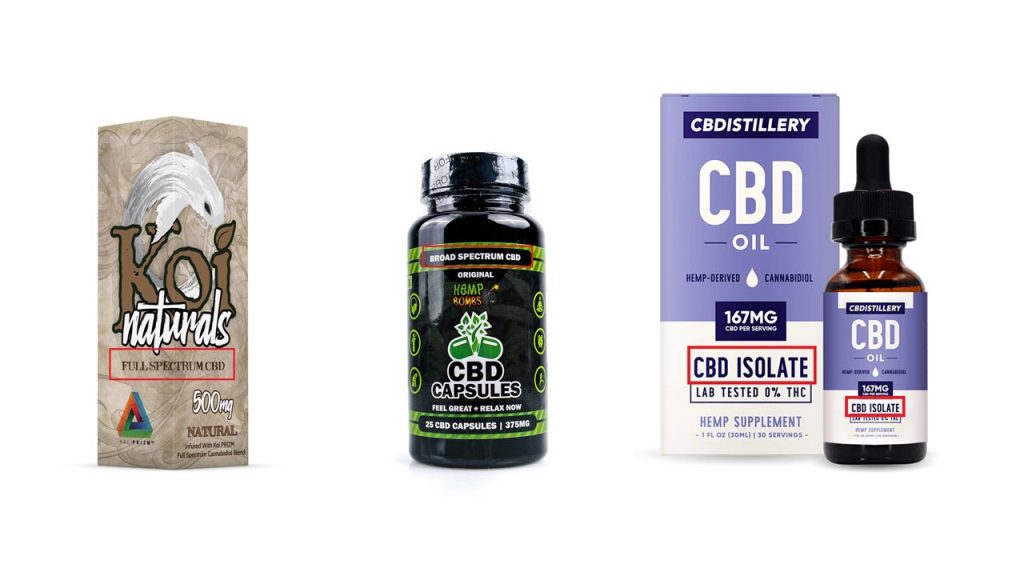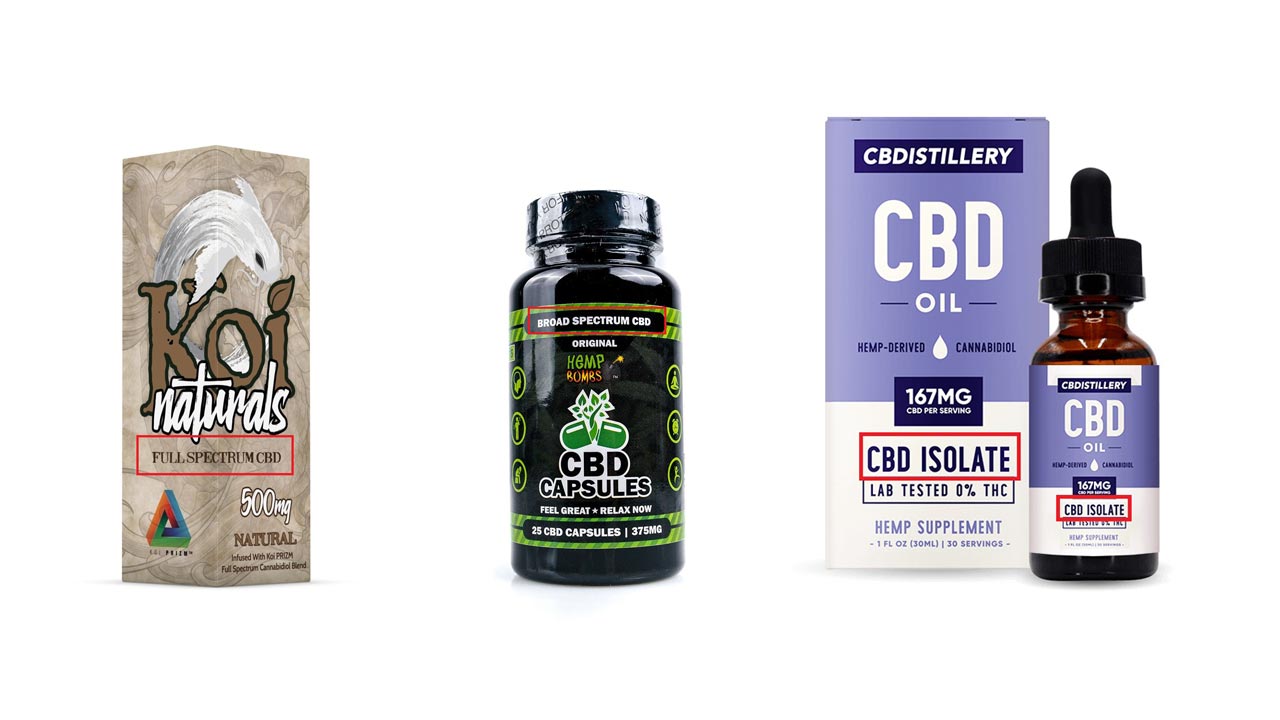 Knowing which option is right for you will depend on what you are trying to treat, how your body processes CBD, and the effects you are looking for.
4. THC Content
THC is the element in marijuana that makes you feel high. It naturally occurs in hemp plants, from which CBD is derived, but in small amounts that don't make you feel high. However, if you have to take a drug test, it's still possible that the low amounts of THC in your CBD will show up in the results, thus causing you to fail.
The CBD oil label should let you know how much THC is in the product. If there is none, the label should say that.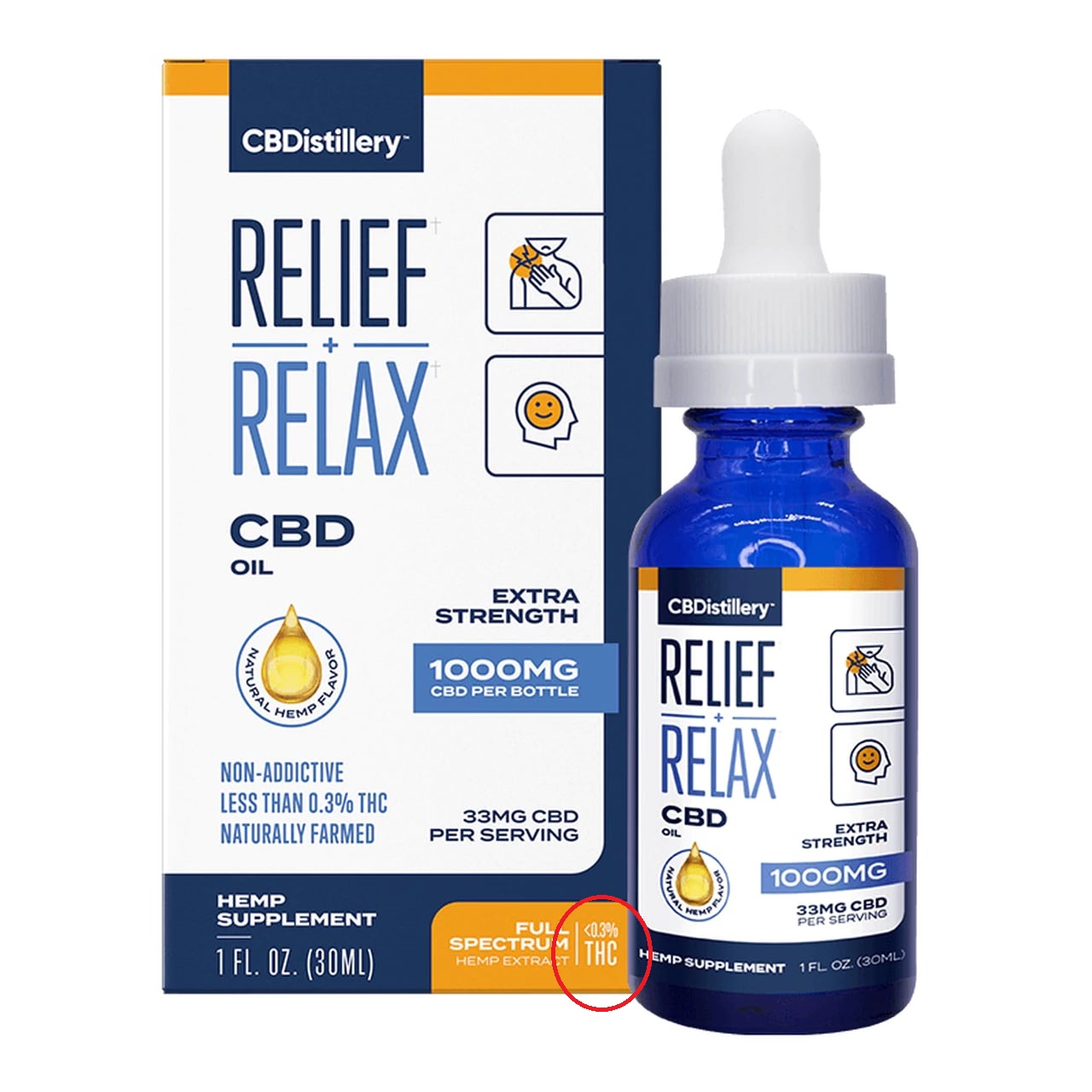 5. Other Ingredients
There are many other CBD ingredients that might be in your CBD product. Should you be taking a tincture, the label should list what carrier oil is used. If you are taking CBDistillery CBD gummies, the label should list all of the other ingredients that went into making the product: organic cane sugar, water, organic tapioca syrup, pectin, organic natural flavors, citric acid, organic lemon oil, terpenes.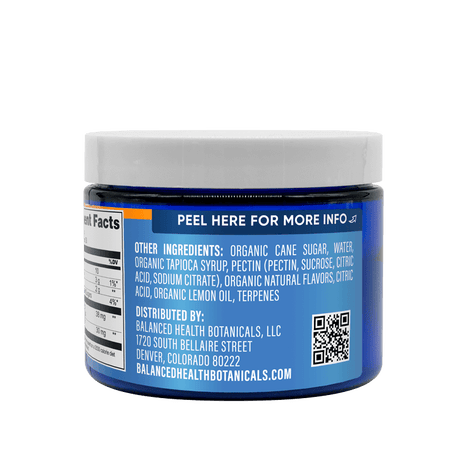 Take the Time to Read the Label
Taking the time to read CBD labels ensures that you are getting an all-natural, high-quality product that could positively impact your health. With so many companies and brands to choose from, buying from reputable, trustworthy manufacturers are recommended — and finding them requires reading the CBD product label.