Along with diet and exercise, CBD oil can help improve gut health. Research shows that the cannabinoids in CBD oil are a promising new chapter in gut health treatment (1). It's essential because your gut, or gastrointestinal system, is the center of the health of your body. 
Research shows that the balance of bacteria in your gut is key to reducing inflammation and maintaining health in your heart, skin, and mind (2). Read below to learn about how your stomach works, about CBD oil, and how CBD oil can help your belly today. 
Fast facts about the gut
The digestive system is a complicated system of various organs that work together to digest and absorb nutrients from food. Bacteria found in the stomach, also known as the gut microbiome, help to digest the food you eat (3).
However, when this gut microbiome is out of balance, it can lead to what is called oxidative stress (4). This oxidative stress is often linked to inflammation that, over time, can increase your risk of chronic inflammatory conditions. Examples of such inflammatory conditions include (5):
In addition to the requirements listed above, inflammation can also contribute to digestive health conditions.
Inflammation and gut health
The oxidative stress mentioned above can cause inflammation all over the body. Research shows that inflammation in the gut can even increase the risk of certain skin conditions like eczema and mental health conditions like anxiety or depression (6,7). 
When it comes to gut health, inflammation can increase the risk of a variety of digestive conditions like Crohn's disease and colitis (8). These conditions are types of inflammatory bowel disease (IBD).
It's thought that by increasing the intake of antioxidants in the diet, you can help reduce inflammation in the body, and turn could reduce inflammatory symptoms. For example, research shows that antioxidants in certain foods, especially colorful produce like leafy greens, berries, and citrus fruits, could reduce inflammation (4).
Treatments correctly used to reduce symptoms of IBD include:
Anti-inflammatory medicines like corticosteroids
Immune system suppressors
Antibiotics
Pain relievers
Supplements like iron, vitamin D, and vitamin C
Besides eating antioxidants in your diet, CBD oil could provide a more natural treatment to gut health symptoms rather than taking a pill each day.
About CBD oil
CBD oil, also known as cannabidiol oil, usually comes from industrial hemp (9). The CBD is extracted from the plant, then added to carrier oil. Cannabidiol comes from a group of compounds called cannabinoids. These compounds do not produce a psychoactive high like other cannabinoids like THC (tetrahydrocannabinol).
How does CBD work in the body?
Research shows that CBD's interaction with a system of compounds called endocannabinoids plays a role in controlling pain and inflammation (10). CBD's activity on CB2 receptors, which play vital roles in immune function and inflammation, provide anti-inflammatory properties.
CBD oil and the digestive system
Because of these anti-inflammatory properties, CB2 receptors show promise to be therapeutic targets for treating certain gastrointestinal conditions. Such conditions CBD may help with include IBD, irritable bowel syndrome (IBS), and certain secretory and motility disorders of the gut (11).
More extensive studies are needed to confirm the role CBD can play in such treatments. However, research shows that for now, it's safe to say that the endocannabinoid system plays a protective role in the gut (12). It means it could help reduce digestive symptoms like:
Nausea
Vomiting
Abdominal pain
Diarrhea
Loss of appetite
CBD oil and colitis
Colitis is a type of IBD that causes inflammation and painful sores in the digestive tract (13). This condition can cause symptoms like:
Abdominal pain
Diarrhea
Cramping
Rectal pain and bleeding
Weight loss
Fatigue
Fever
A 2018 study looked at the impact of CBD-rich botanical extract, like that used to make CBD oil, on ulcerative colitis (UC). Study results show that this type of extract can help reduce symptoms of UC and improve the quality of life in those with this condition (14).
CBD oil and leaky gut
In a healthy gut, the barrier between the inside of the intestines and the bloodstream is tight to prevent the contents of the organs from leaking into the bloodstream (15). These contents at any time may include partially digested food, bacteria, or other toxins that the body is trying to rid of.
However, sometimes, a poor diet, genetics, or inflammatory digestive conditions can put some people at risk for holes in their intestinal lining. This condition is often known as leaky gut since waste products and food particles can leak into the bloodstream. Leaky gut can cause symptoms like:
Chronic constipation or diarrhea
Bloating
Fatigue
Headaches
Cognitive issues like difficulty concentrating or confusion
Skin problems like acne, rashes, or eczema
Nutritional deficiencies likely due to malabsorption
Leaky gut can also lead to inflammation all over the body. It, in turn, could lead to increased risk of inflammatory conditions such as joint pain as well as those discussed earlier.
A 2017 cell study looked at the impact of CBD on intestinal barrier function. The study treated a specific type of cells damaged by the C. difficile with CBD. Study results show that CBD helped stop the cell death process and restore cell barrier integrity through the CB1 receptor (16).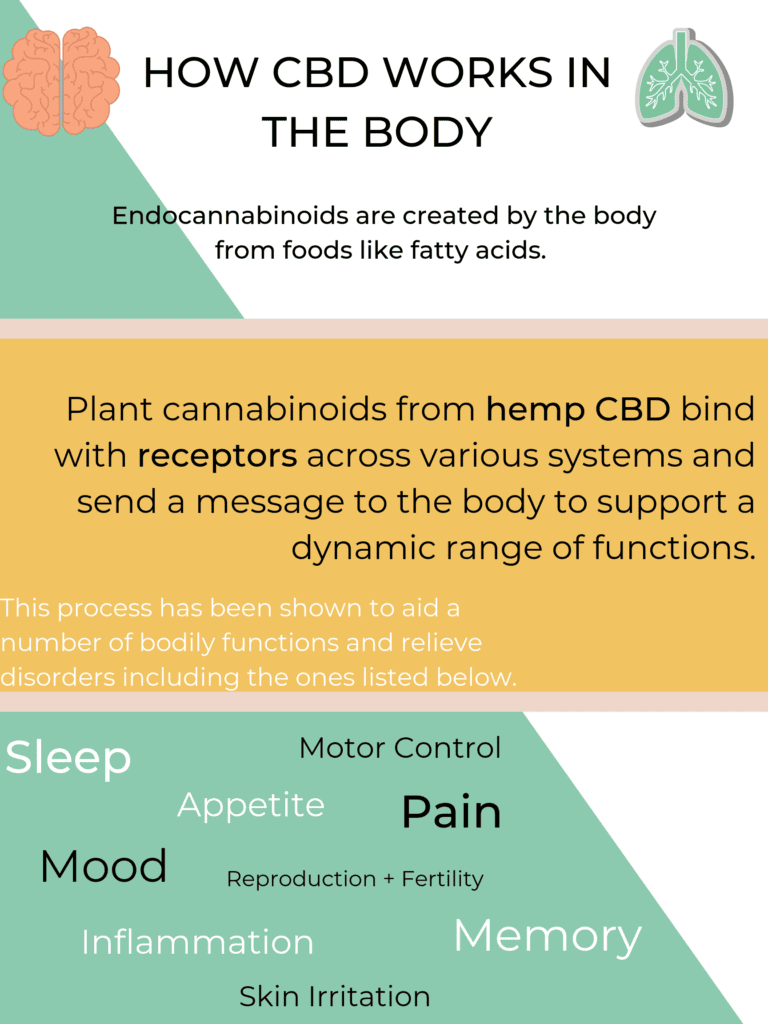 Can CBD oil help with GERD?
You may have had heartburn once or twice in your lifetime. However, not as many people may have a condition known as GERD, gastroesophageal reflux. GERD occurs when stomach acid flows backward from the stomach to your esophagus. It can cause symptoms like (17):
Chest pain
Difficulty swallowing
Regurgitation of sour food or liquid
The feeling of a lump in your throat
Heartburn
Disrupted sleep
A 2017 study looked at how CBD can help those with GERD. Study results show that CBD can help reduce reflux events by reducing actions known as transient lower esophageal sphincter relaxations (TLESRs) (18). CBD does this by binding to CB1 receptors.
Are all CBD products helpful in improving gut health?
CBD oil may not help everyone since they could be some side effects for some. Medical experts report that some side effects of CBD include (19,20):
Nausea
Fatigue
Irritability
dry mouth
diarrhea
reduced appetite
It can increase the level of the blood thinner in your blood.
Also, besides the above side effects, you may not always be getting the purest forms of CBD in some products. This lack of purity or potency can impact the effectiveness of some CBD products in improving gut health symptoms. The uncertainty of some CBD products is due to many CBD products not being regulated by the Food and Drug Administration (FDA).
Summary
CBD oil is taking the wellness arena by storm and for a good reason. By helping reduce inflammation in the gut, it can improve the quality of life in people with a variety of digestive issues. However, the use of CBD oil in such treatments should not replace any prescribed regimens just yet. 
It's because more needs to be learned about its mechanism in the body first. However, since research results so far are promising, the use of CBD oil as a supplement to your current regimen may help if changes in your diet or prescription medicines aren't resolving all your symptoms.
Disclaimer: Be sure to consult with a qualified healthcare provider before adding CBD oil to your daily routine. Also, never stop taking prescription medicines without physician approval.
References
Gyires, K. and Zádori, Z.S. (2016) "Role of Cannabinoids in Gastrointestinal Mucosal Defense and Inflammation." Curr Neuropharmacol., 14(8):935-951.
Bliss, E.S. and Whiteside, E. (July 2018) "The Gut-Brain Axis, the Human Gut Microbiota and Their Integration in the Development of Obesity." Front Physiol., 9:900.
National Institute of Diabetes and Digestive and Kidney Diseases (December 2017) "Your Digestive System & How it Works."
Hussain, T., et al. (2016) "Oxidative Stress and Inflammation: What Polyphenols Can Do for Us?" Oxid Med Cell Longev., 2016:7432797.
Felman, A. (medically reviewed by Justin Choi, M.D. on November 24, 2017) "Everything you need to know about inflammation." Medical News Today
Salem, I., Ramser, A., Isham, N., and Ghannoum, M.A. (July 2018) "The Gut Microbiome as a Major Regulator of the Gut-Skin Axis." Front Microbiol.,, 9:1459.
Clapp, M., et al. (September 2017) "Gut microbiota's effect on mental health: The gut-brain axis." Clin Pract., 7(4):987.
Rohr, M., et al. (February 2018) "Inflammatory Diseases of the Gut." Journal of Medicinal Food, 21(2): 113-126.
Johnson, J. (reviewed by Debra Rose Wilson, PhD, MSN, RN, IBCLC, AHN-BC, CHT July 29, 2018) "Does CBD oil work for chronic pain management?" Medical News Today
Fine, P.G. and Rosenfeld, M.J. (October 2013) "The endocannabinoid system, cannabinoids, and pain." Rambam Maimonides Med J., 4(4): e0022.
Goyal, H., Singla, U., Gupta, U., and May, E. (February 2017) "Role of cannabis in digestive disorders." European Journal of Gastroenterology and Hepatology, 29(2): 135-143.
Hasenoehrl, C., Taschler, U., Storr, M., and Schicho, R. (December 2016) "The gastrointestinal tract – a central organ of cannabinoid signaling in health and disease." Neurogastroenterol Motil., 28(12):1765-1780.
Mayo Clinic (October 4, 2019) "Ulcerative colitis."
Irving, P.M., et al. (March 2018) "A Randomized, Double-blind, Placebo-controlled, Parallel-group, Pilot Study of Cannabidiol-rich Botanical Extract in the Symptomatic Treatment of Ulcerative Colitis." Inflammatory Bowel Diseases, 24(4): 714-724.
Campos, M.D., M. (September 22, 2017) "Leaky gut: What is it, and what does it mean for you?" Harvard Health Publishing Harvard Health Publishing Harvard Medical School
Eske, J. (reviewed by August 21, 2019) "What to know about leaky gut syndrome." Medical News Today
Gigli, S., et al. (December 2017) "Cannabidiol restores intestinal barrier dysfunction and inhibits the apoptotic process induced by Clostridium difficile toxin A in Caco-2 cells." United European Gastroenterol J., 5(8):1108-1115.
Gotfried, J., Kataria, R., and Schey, R. (October 2017) "Review: The Role of Cannabinoids on Esophageal Function-What We Know Thus Far." Cannabis Cannabinoid Res., 2(1):252-258.
Grinspoon, M.D., P. (August 24, 2018) "Cannabidiol (CBD)-what we know and what we don't." Harvard Health Publishing Harvard Medical School
Bauer, M.D., B., A. (December 20, 2018) "What are the benefits of CBD- and is it safe to use?" Mayo Clinic