Chronic Candy CBD Oil Reviews 2023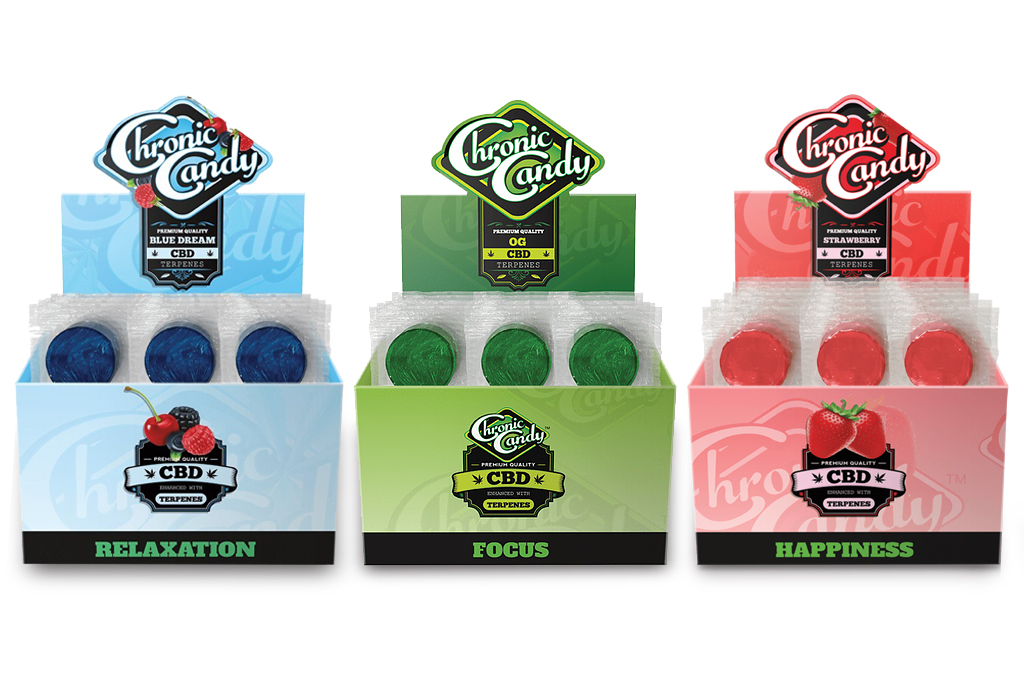 Company Reputation
Chronic CBD is one of the oldest CBD companies out there. Therefore, they are more experienced than any other U.S.-based CBD company. With over a couple of decades' experience, they know all the ways to provide customers with the highest quality CBD products. Chronic Candy CBD reviews portray the satisfaction of consumers with their products. However, they are still very few to rely on.
So the fact that makes people rely on Chronic Candy CBD oil is their long-term experience and practice. They are well-aware of high-quality CBD products' protocols; that's why they come up with Certificate of Analysis (COA) and third-party lab test reports of each of their product's batches.
It hasn't received any warning letter from FDA; moreover, it hasn't faced any lawsuit in all these years despite that many newly based companies have faced these issues several times. These factors add to the credibility of the company.
Company Background
The beginning of Chronic Candy CBD takes us back to 1998 when the legality of CBD was a big issue. Even after that, it has been through massive controversy till 2018, when Congress passed the Farm Bill Law. Hence, we can say that Chronic Candy has been besides CBD through its ups and downs, making them the true advocates of this wonder substance.
Tony Van Pelt, the founder of Chronic Candy CBD, started releasing a hemp-flavored lollipop back in 1998, not knowing that merely a lollipop would establish a full-fledged CBD company.
Now, Chronic Candy CBD holds an identity being an expert of organic CBD products that have launched several products that include:
CBD gummies
CBD chocolate bars
CBD tinctures
Each chronic candy review, whether it's about lollipops, gummies, or suckers, speaks about its quality. Their scientists are still working day and night to enhance the quality of the products.
CBD Product Quality
Manufacturing Process
Hemp oil with high CBD concentration forms the basis of most of the Chronic Candy CBD products. However, they infuse it with many other beneficial products to bring about a final product that helps enhance the quality of human life in various ways. Using hemp oil as the base oil is a challenging task, and Chronic Candy aced this challenge successfully.
They use a steam-distillation process to compose quality, all-natural, and organic components. Moreover, the recent products make use of CBD isolate. These products are free of even small traces of CBD; it's 99% pure CBD. They keep on experimenting with other natural ingredients to create something that'd help human beings in a better way.
The finalized products go for lab tests and then packaging and shipping, on approval.
Sourcing
Chronic Candy claims that they produce their products from industrial hemp. The U.S. industrial hemp is organic, non-GMO and highly regulated. Hence, CBD sourcing from industrial hemp makes it much more reliable ass it assures the product quality.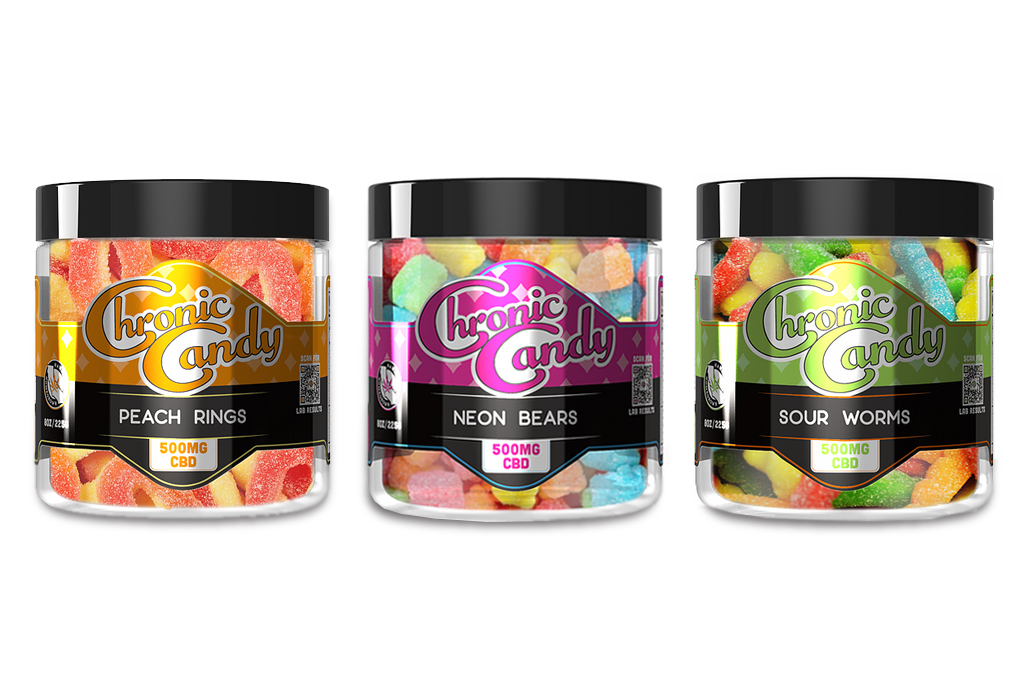 Products Range and Pricing
Chronic Candy has been selling CBD gummies and CBD lollipops for over two decades. The product line continues to grow as it now includes CBD chocolate bars and CBD tinctures. All products are third-party lab tested, and the Certificate of Analysis for each product is available on the product page.
Details
Chronic Candy
Pros

✔️ Lab testing results

✔️ 0.3% THC and THC-free products

✔️

Great choice of edibles products: CBD lollipops, gummies, chocolate bars



✔️ Contain natural terpenes to create an entourage effect

✔️ Tasty gummy and lollipop flavors

✔️

Affordable pricing

Cons

❌ The company offers only two product types: CBD tinctures and edibles

❌ CBD gummies and lollipops contain sugars

❌ CBD treats are not vegan as they obtain gelatin ingredients


Latest Coupons

10% Off (5% now and 5% for your next purchase)


THC %

0.3% THC and THC-free products


CBD Potency per 1 ml

33.3 mg
100 mg


Pricing

50 mg CBD: $9.50
180 mg CBD: $18.99
1000 mg CBD: $37.96


CBD Products

CBD gummies
CBD tinctures
CBD lollipops
CBD chocolate bars


Ingredients

Corn syrup, Sugar from Beets, Gelatin, Sorbitol from fruits and vegetables, Citric Acid, Lactic Acid
Titanium Dioxide, Natural and Artificial Flavors, CBD


Flavors

Blue Dream, Tangie, Gelato, Lemon Haze, OG, and Strawberry Sour Worms,
Peach Rings, Neon Bears, Blue Raspberry Rings


Hemp Source

The U.S. industrial hemp


Extraction Method

A steam-distillation process


Chronic Candy CBD Top Selling Products
Chronic Candy offers a broad line of CBD edibles with varying flavors.
All lollipops are sold with 10 and 30 mg per count
Sells THC-free suckers
Made with terpenes, 99.9% CBD isolate
⭐⭐⭐⭐⭐Rating: 5 out of 5
• Total CBD sizes: 180 mg
• Potency: 30 mg/count
• Cost per bottle: $18.99
• Extract Type: Isolate
• THC Content: 0.0%
Product Highlights
Enjoy classic lollipop treats that will provide you with the natural health benefits of CBD.
Bags come with 6 lollipops
Three tasty flavors to choose: Blue dream, OG watermelon and strawberry
Contain 30 mg of CBD per serving
Hemp is grown and extracted in the USA
Third-party lab tested for safety and potency
Chronic Candy CBD Gummies
Chronic Candy releases CBD gummies with the following diverse flavoring:
Blue Raspberry Rings
Neon Bears
Peach Rings
Sour Worms
⭐⭐⭐⭐⭐Rating: 5 out of 5
• Total CBD sizes: 500 mg
• Potency: 2.2 mg/g
• Cost per bottle: $37.99
• Extract Type: Isolate
• THC Content: 0.0%
Product Highlights
4oz contain 250mg of CBD per container and 8oz contain 500mg of CBD per container.
Serving size is 8 pieces/30 g
Contain 66 mg of CBD per serving
Hemp is grown and extracted in the USA
Third-party lab tested for safety and potency
Made of corn syrup, sugar, water, gelatin, pectin (derived from fruits), vegetable Oil (coconut, canola)
Chronic Candy CBD Reviews by Real Customers
The reviews left by CBD.market's customers for Chronic Candy CBD gummies and lollipops are shown below.
If you tried Chronic Candy, please take a few minutes to write your own reviews on the product pages of this CBD brand. They will help other users to be informed and find the best CBD oil products. Besides, you will get 5 reward points in case you join our reward program. Thank you!
Final Thoughts
Whenever we search for an institute, our top priority is the experienced and expert option. If you're looking for the best CBD-based edibles or tinctures, Chronic Candy CBD is the expert that you've been trying to find.