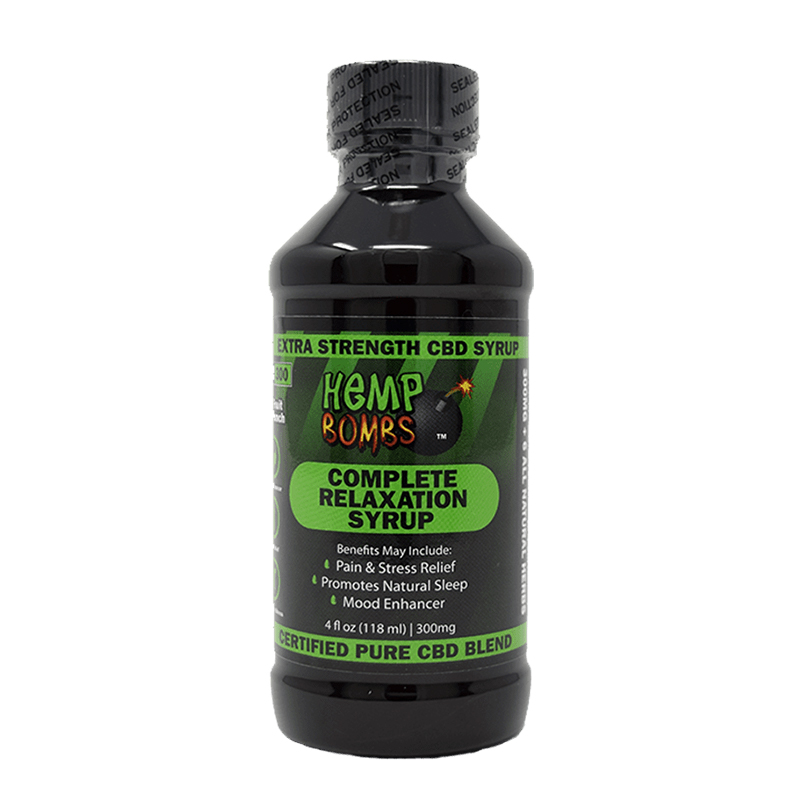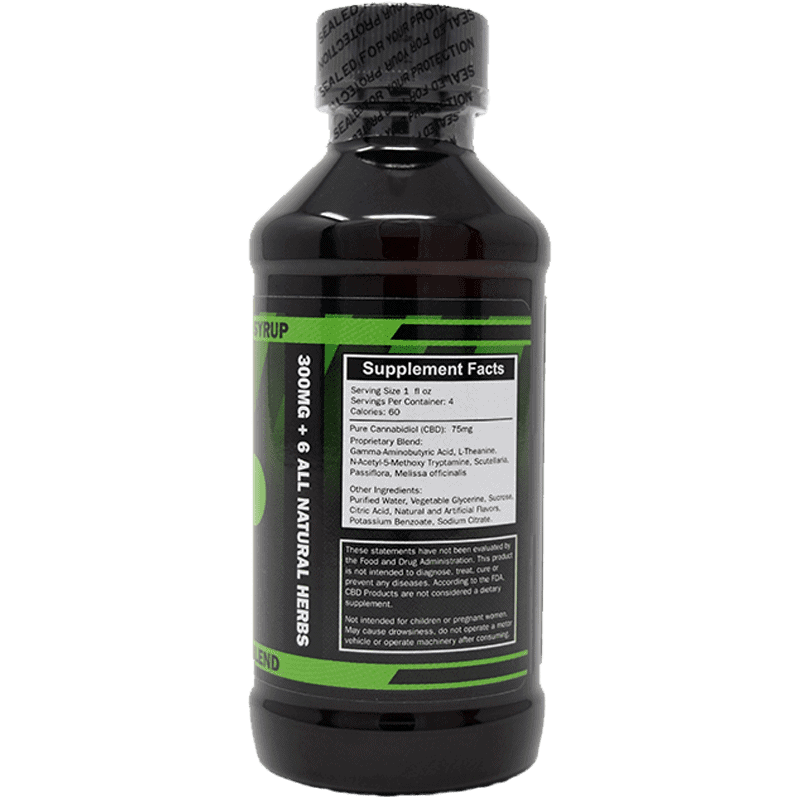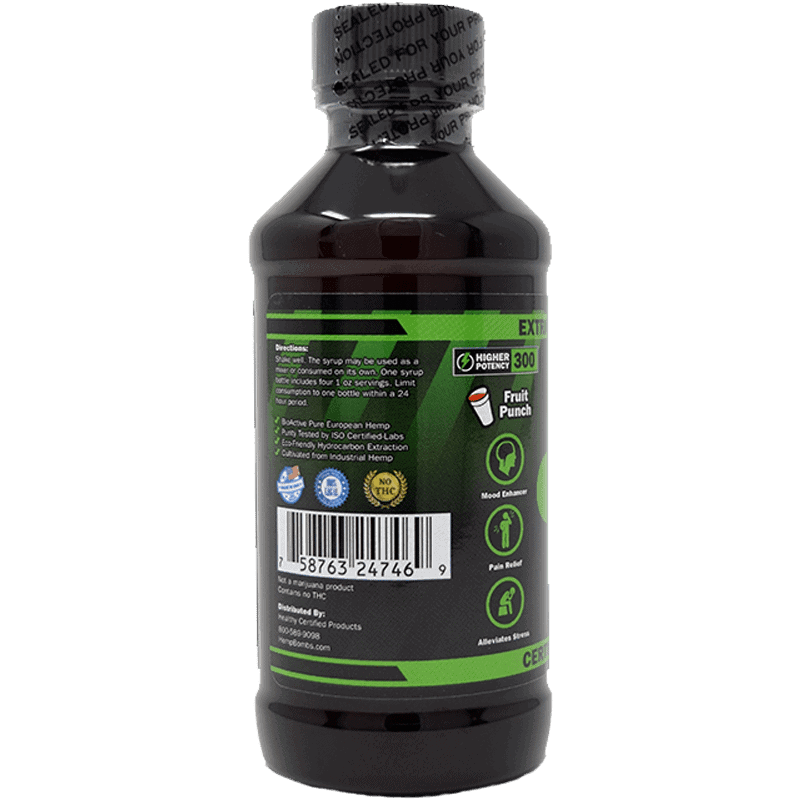 ¢13/mg CBD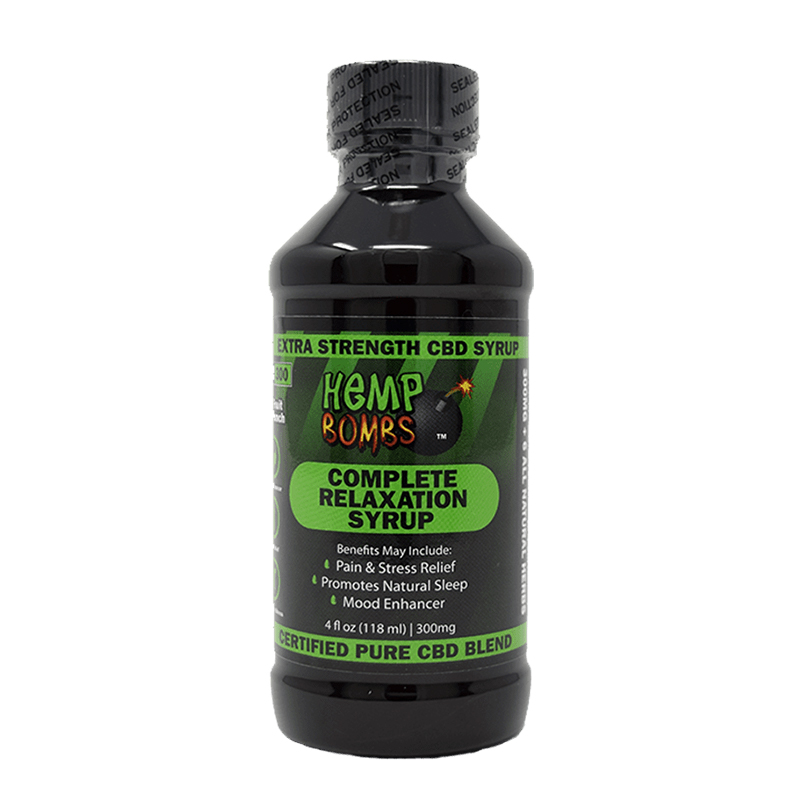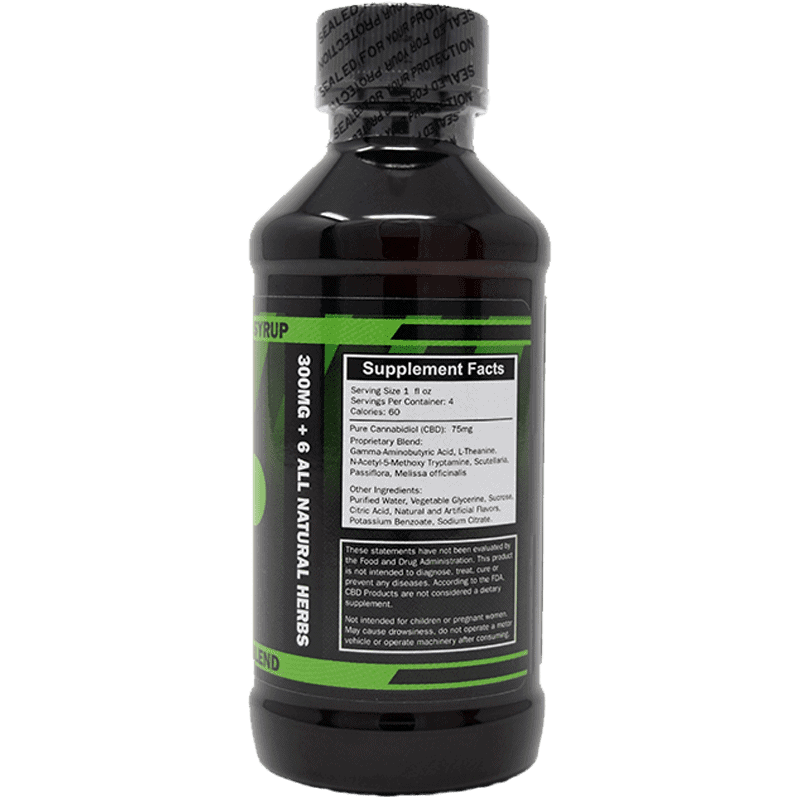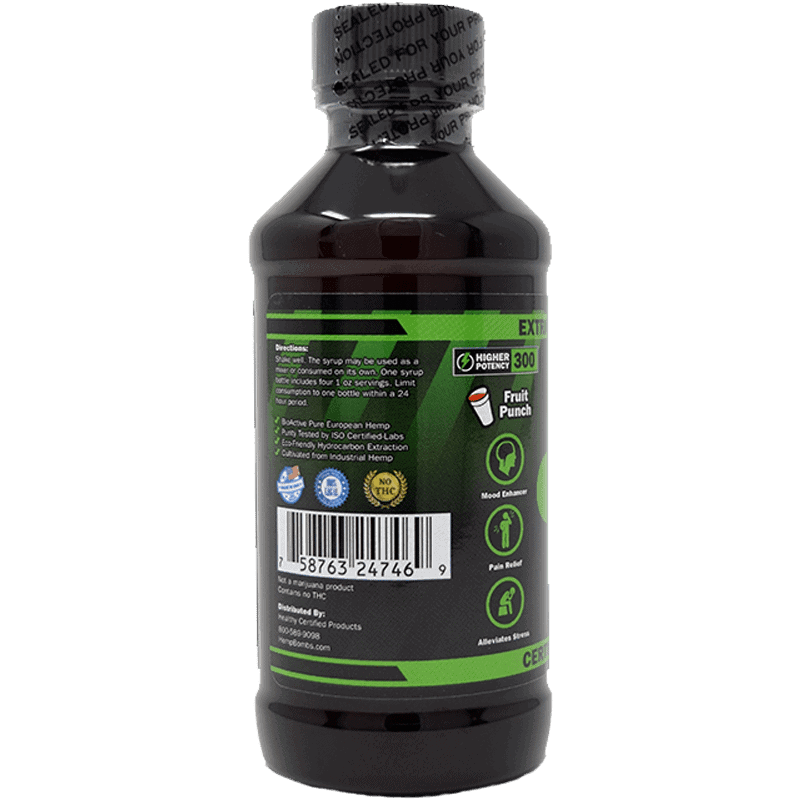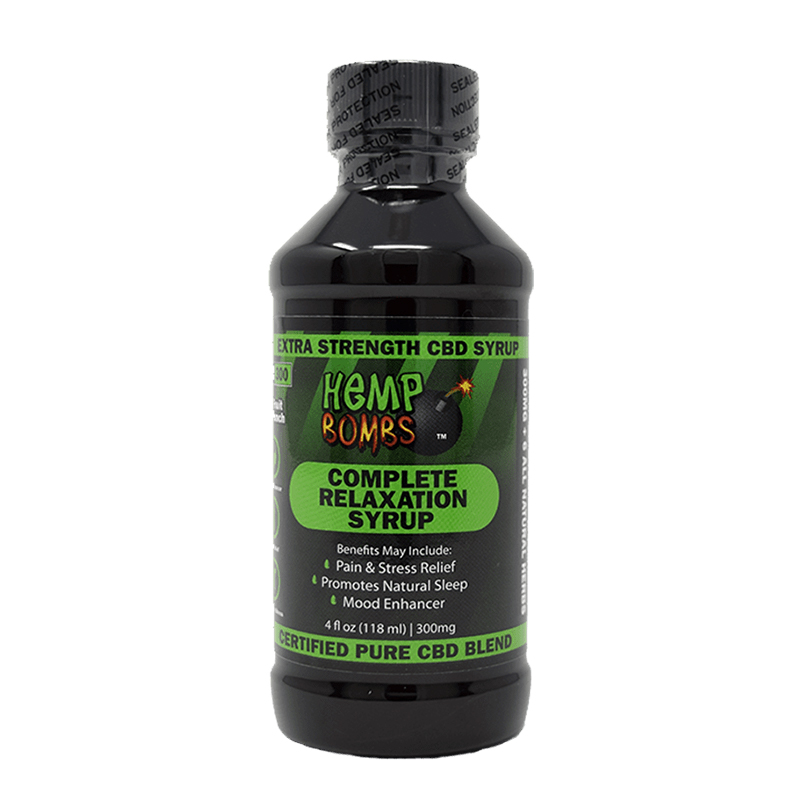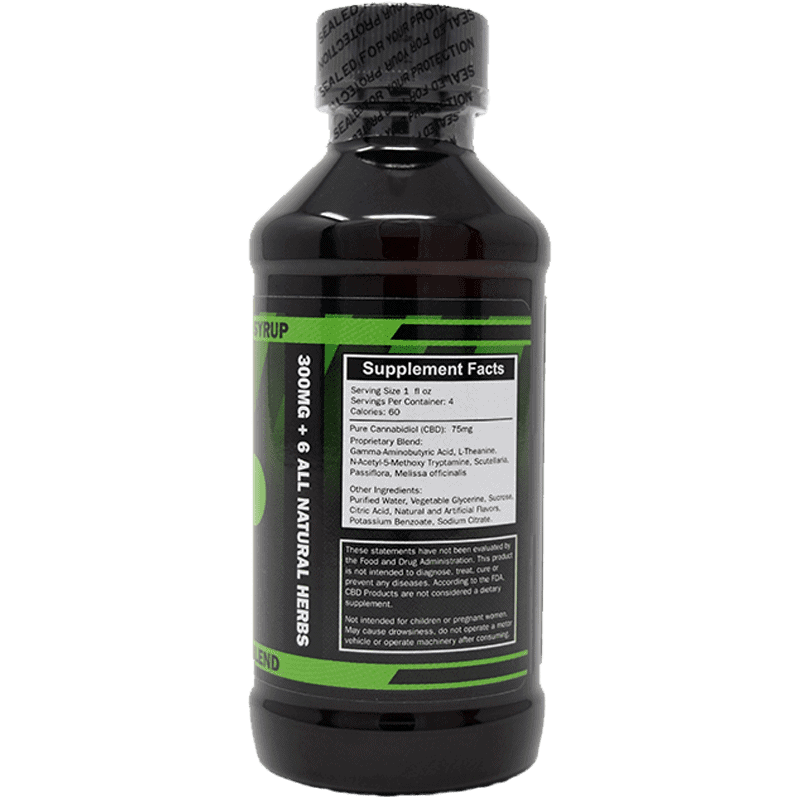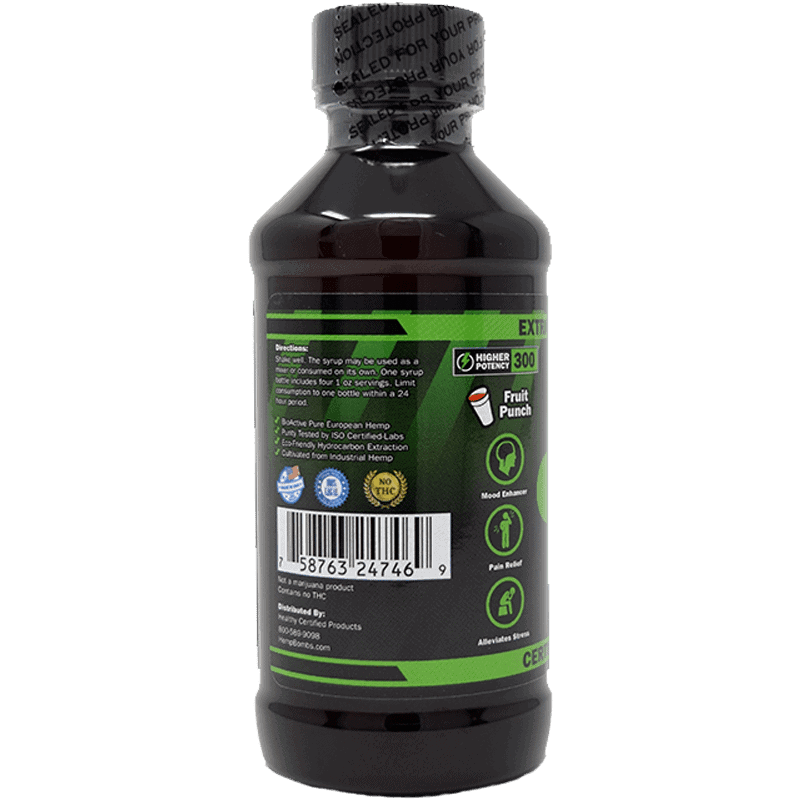 Hemp Bombs, CBD Relaxation Syrup, Broad Spectrum THC-free, 4oz, 300mg of CBD
¢13/mg CBD
Same Day Free Shipping Over $60
Earn 5% Back with Every Purchase
30 Day Money-Back Guarantee
Product Data
| | |
| --- | --- |
| Size | 118 ml |
| Serving Size | 29.5 ml |
| Servings Per Container | 4 |
| Price Per Serving | $10.00 |
| CBD Per Serving | 75 mg |
| CBD Per Container | 300 mg |
| CBD Per 1 ml | 2.54 mg |
| Price Per 1 mg CBD | ¢13 |
| GTIN | 758763247469 |
Hemp Bombs' Complete Relaxation CBD Syrup is a powerful concentrate that packs CBD-derived therapeutic benefits into manageable servings. This product is perfect as a mixer, infusing a CBD blend into any drink to generate a wellspring of complete relaxation. The syrup is sourced from premium-grade, organic Industrial Hemp is grown on environmentally friendly, non-GMO farms. Hemp Bombs' Relaxation Syrup is a natural product that may provide you with a wealth of benefits at an affordable price point.
Product Info
• 1 bottle of CBD Syrup
• 300 mg of CBD per bottle
• Tested by Independent Labs
• Non-THC, No failed drug test
Hemp Bombs' 300mg Complete Relaxation CBD Syrup is a well-balanced blend of CBD and six all-natural botanicals. Formulated for maximum relaxation, our delicious fruit punch flavored CBD Syrup that can be mixed with a beverage or taken on its own. Hemp Bombs' Complete Relaxation CBD Syrup formula encourages mood enrichment and a lasting sense of relaxation. Other potential health benefits may include pain relief, stress relief, and improved natural sleep. Limit four servings within a 24-hour period.
Supplement Facts
Serving Size: 2 tbsp
Servings Per Container: 4
Pure Cannabidiol (CBD) Per Serving: 37.5mg
Proprietary Blend: Gamma-Aminobutyric Acid, L-Theanine, N-Acetyl-5-Methoxy Tryptamine, Scutellaria, Passiflora, Melissa officinalis
Other Ingredients: Purified Water, Vegetable Glycerine, Sucrose, Citric Acid, Natural and Artificial Flavors, Potassium Benzoate, Sodium Citrate
What is CBD?
CBD, or Cannabidiol, is a cannabinoid derived from Hemp or Marijuana plants. Hemp Bombs' extracts CBD from organic, premium-grade Industrial Hemp. CBD has a growing reputation for its full health and wellness benefits. As a cannabinoid, CBD positively interacts with the body's Endocannabinoid System (ECS). The ECS is made up of cannabinoid receptors known as CB1 and CB2.
Is CBD Relaxation Syrup Legal?
Yes, Hemp Bombs Complete Relaxation 300mg CBD Syrup is federally legal throughout the United States. We extract our CBD from Industrial Hemp. We ensure the quality and purity of our CBD through third-party lab tests. Third-party lab tests also confirm that our CBD Relaxation Syrup contains zero traces of THC.
How Much CBD Relaxation Syrup Should I Take?
Hemp Bombs Complete Relaxation 300mg CBD Syrup comes in varying concentrations. If you have not previously tried CBD before, we recommend starting with a small dose, like five to ten milligrams. CBD affects everyone differently, so it is best to start small and gradually increase serving size once you see how CBD makes you feel.
Does CBD Relaxation Syrup Get Me High?
No, Hemp Bombs 300mg CBD Relaxation Syrup will not get you high. At Hemp Bombs, the CBD used in our Relaxation Syrup is sourced from Industrial Hemp and branded CBD. CBD products are purely CBD and do not contain traces of THC, the high-inducing compound that is associated with Cannabis plants. Our CBD Relaxation Syrup promotes a calm and peaceful state of mind.
Can CBD Relaxation Syrup be Used with a Mixer?
Yes, Hemp Bombs' Relaxation Syrup can be used on its own or with a mixer of your choice. Our Complete Relaxation Syrup is fruit punch flavored and may mix well with other juices, smoothies or soft drinks.
| | |
| --- | --- |
| Weight | 5.3 oz |
| Dimensions | 1.7 × 1.7 × 4.4 in |
| Brand | |
| Benefit | |
| CBD for | |
| Derived from | Industrial Hemp |
| Extraction Method | Hydrocarbon Extraction |
| Source of the Hemp | USA |
| Spectrum | |
| THC | 0% THC |