How to Make DIY CBD Creams and Balms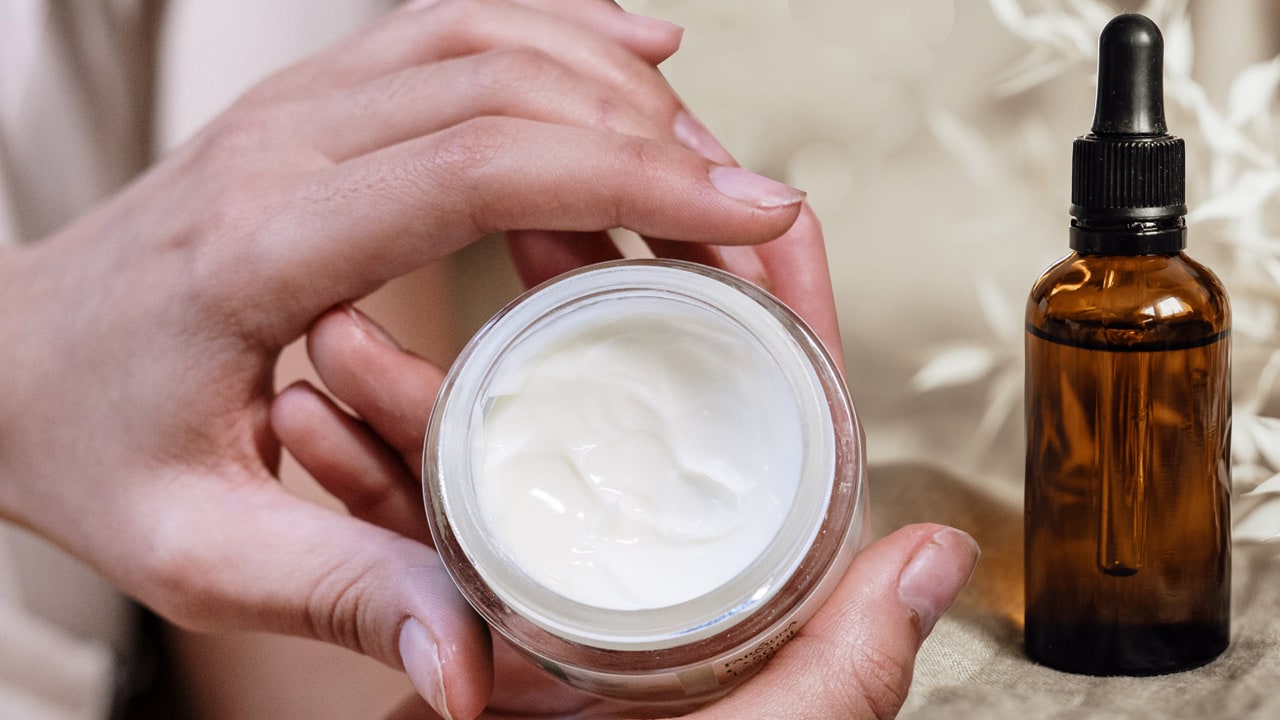 CBD balms and creams make it possible to enjoy the benefits of CBD topically. CBD offers nourishment that can help to soothe skin. Many people consider CBD the best-kept skin secret for enjoying smooth, healthy-looking skin. You'll want to stay tuned if you're looking for a great CBD face cream recipe and CBD-infused lip balm recipe. Keep reading to learn why CBD should be on your radar for better skin.
Why Should You Use CBD Creams and Balms?
CBD creams and balms are great for anyone who values natural skincare options. In addition to helping to soothe and treat skin, CBD creams and balms go deeper to comfort and soothe the tissue below the skin. Here's a rundown of some of the studied benefits of topical CBD use:
According to the American Academy of Dermatology Association (AAD), the properties of CBD may be helpful for people suffering from skin disorders.
The hydrating effect of CBD may help treat dry skin or certain skin disorders.
Research shows that CBD can have a positive effect on skin elasticity. That potentially makes CBD powerful for fighting wrinkles, lines, and other signs of aging.
CBD's role in minimizing free radicals and oxidative stress may help to reduce cellular damage that results in visible skin aging.
According to a 2016 study, topical CBD may help to reduce pain.
CBD has antibacterial properties that may help to protect the skin against everything from breakouts to irritation.
Using CBD topically is nourishing on both the superficial and muscular levels. Topical CBD may have an unexpected benefit that makes you look and feel better than ever. In some cases, the relaxation induced by applying CBD products to the skin can promote better sleep. Good sleep is the closest thing any of us have to a fountain of youth!
Can CBD Be Absorbed Through Your Skin?
Yes, CBD can be absorbed through the skin. However, the "absorption" process looks different from when we consume CBD. CBD receptors are located throughout the body's endocannabinoid system. This system includes the skin. When we apply topical CBD products such as creams, serums, and ointments, they enter the body through our sebaceous glands. Unlike CBD which is ingested, CBD that is absorbed through the skin generally stays concentrated in the area where it's applied. That means that the moisturizing and pain-relieving benefits of CBD can be used in a targeted way.
CBD Cream Recipe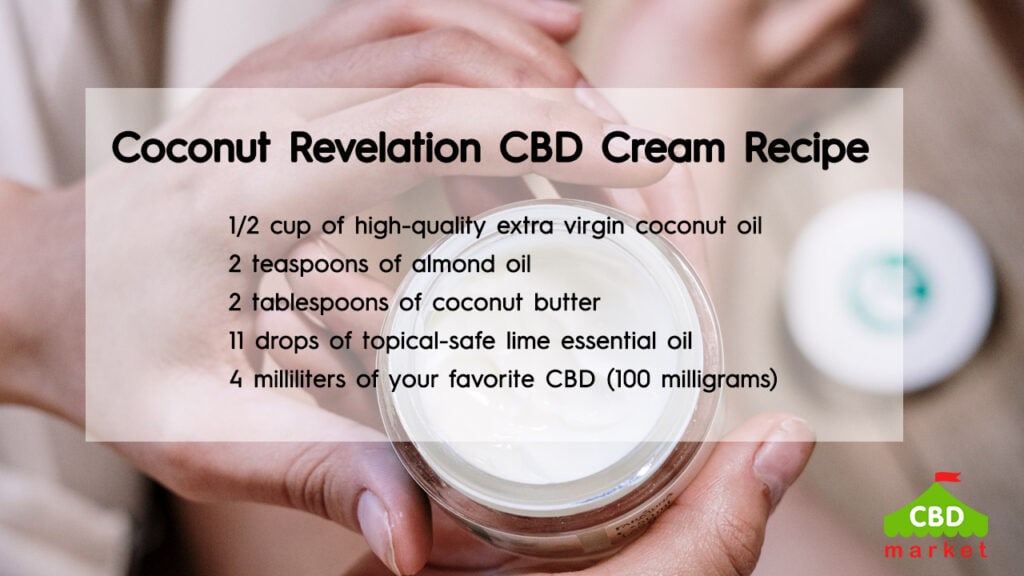 Here's an easy recipe for what we've titled Coconut Revelation CBD Cream. This CBD coconut cream recipe can be used as a CBD face cream or body cream recipe. It provides nourishment for the skin and soft tissue.
Materials
Small mixing bowl
Stick blender
Measuring cups
Large spoon
Jar with lid
Ingredients
1/2 cup of high-quality extra virgin coconut oil
2 teaspoons of almond oil
2 tablespoons of coconut butter
11 drops of topical-safe lime essential oil
4 milliliters of your favorite CBD (100 milligrams)
Instructions
Start by melting down the coconut butter. Unlike coconut oil, coconut butter is thick and pulpy.
Once the coconut butter is melted, add the almond oil, coconut oil, and lime essential oil into a small bowl. Spend a few minutes combining all of these wet ingredients with a stick blender until achieving an even consistency.
Transfer the finished product to your jar.
This luxuriating, soothing cream should generally be applied after washing your face. For best results, apply it to the face and neck using a circular motion to work the ingredients into the skin.
CBD Balm Recipe
This simple CBD balm recipe is designed to soothe and nourish the tender and sensitive skin on the lips. We call this CBD lip balm recipe Easy Lip Balm With a Kiss of Mint because it's infused with the healing powers of vitamin E. This recipe makes a decent-sized batch because it's worth making a lot of balm at once instead of creating one tube at a time.
Materials
Double boiler
Wooden spoon
Heat-safe dripper/pipette
10 to 15 lip balm jars/tubes
A balm holding tray (optional)
Ingredients
2 tablespoons of high-quality, organic beeswax
2 tablespoons of shea butter
1 tablespoon of organic coconut oil
2 tablespoons of vitamin E oil
1 milliliter of your favorite CBD oil (100 milligrams)
5 drops of topical-safe peppermint essential oil
Instructions
Start by adding water to the bottom of your double boiler before turning the heat to medium.
Next, add the shea butter and beeswax to the top of the boiler. Allow the water to reach a boil.
Once the shea butter and beeswax are fully melted, slowly stir in the vitamin E and coconut oil.
Remove the mixture from the heat. Stir in the CBD oil and peppermint essential oil until fully blended.
Next, use the droppers or pipette to fill your balm jars or tubes while the mixture is still hot.
Allow the balm to cool for 30 minutes before covering it with lids.
Final Thoughts on Making Your Own CBD Creams and Balms
Many people who start making topical CBD products at home never go back to store products because it's hard to find something so good for your skin that it also happens to be affordable, natural, and soothing. You never have to worry about the dyes, fragrances, and fillers in today's most popular skincare products. One helpful tip when whipping up a CBD balm or cream recipe is to add labels to your containers showcasing the date when each batch was made. Homemade CBD creams and balms typically stay fresh for six months. They should be discarded after that time to avoid risks of bacterial growth.
Sources
https://www.aad.org/news/topical-cannabis
https://www.ncbi.nlm.nih.gov/pmc/articles/PMC7736837/
https://pubmed.ncbi.nlm.nih.gov/30993303/
https://www.ncbi.nlm.nih.gov/pmc/articles/PMC9099639/