How to Make CBD Cookies at Home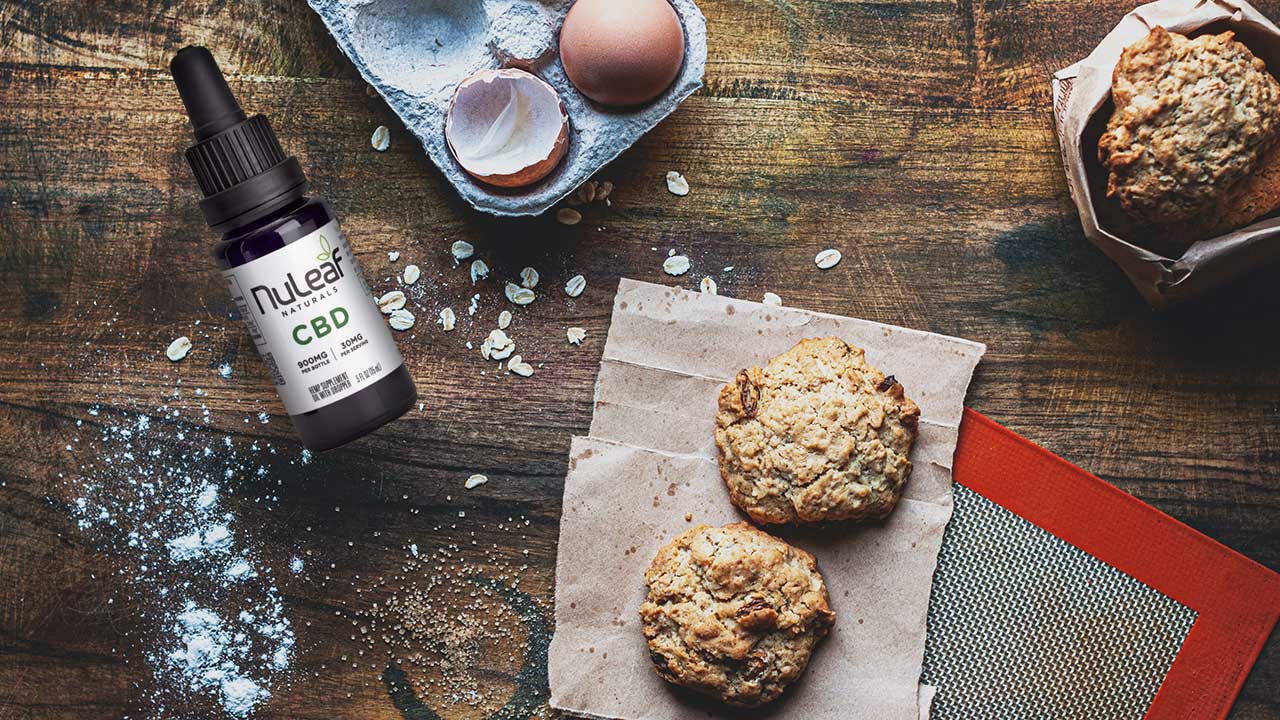 One of the easiest ways to get CBD into your system is to ingest it. There are a variety of different edibles available on the market, but to ensure that you're getting the right amount of CBD into your system, you may want to make your own edibles at home. That's when having a CBD cookie recipe is beneficial.
What Is a CBD Cookie?
CBD cookies are almost exactly the same as any other cookie you would bake at home or buy in the store. They are made from regular baking ingredients, including flour, eggs, sugar, vanilla, etc., but the only difference is that CBD cookies contain cannabidiol.
Choosing CBD Oils for Baking Cookies
When it comes to finding the right CBD oil for baking cookies, it's important that you only buy from a trustworthy, reputable manufacturer. Their products should only contain all-natural ingredients and should be sent to a third-party lab for testing.
There are many different flavors of CBD oil to choose from, and you have to find the one that you enjoy the most, and that might include making mint cookie CBD. You can also add vanilla CBD for a smoother cookie taste, or you may opt for CBD that has no flavor. The choice is yours!
How to Make CBD Cookies
If you are ready to bake some CBD cookies, here are two recipes for you to try. But before you need to decide how potent you want the CBD edibles to be.
The first recipe makes about 20 cookies. If you want 5 mg of CBD per cookie, then you mix all ingredients with 100 mg of CBD in total. To get that CBD concentration, you may choose from these options:
| 100 mg CBD | Image | Product |
| --- | --- | --- |
| 1.6 mL | | NuLeaf Naturals Hemp CBD Oil, 1800 mg CBD |
| 2 mL | | Lazarus Naturals CBD oil, 6000 mg CBD |
| 2 mL | | Myriam's Hope Hemp CBD Oil Daily, 1500mg CBD |
| 3 mL | | CBDistillery CBD oil 1000 mg |
The second recipe makes about 10 brownies. For 5 mg of CBD per count, you need to get 50 mg CBD in total.
CBD Cookie Recipe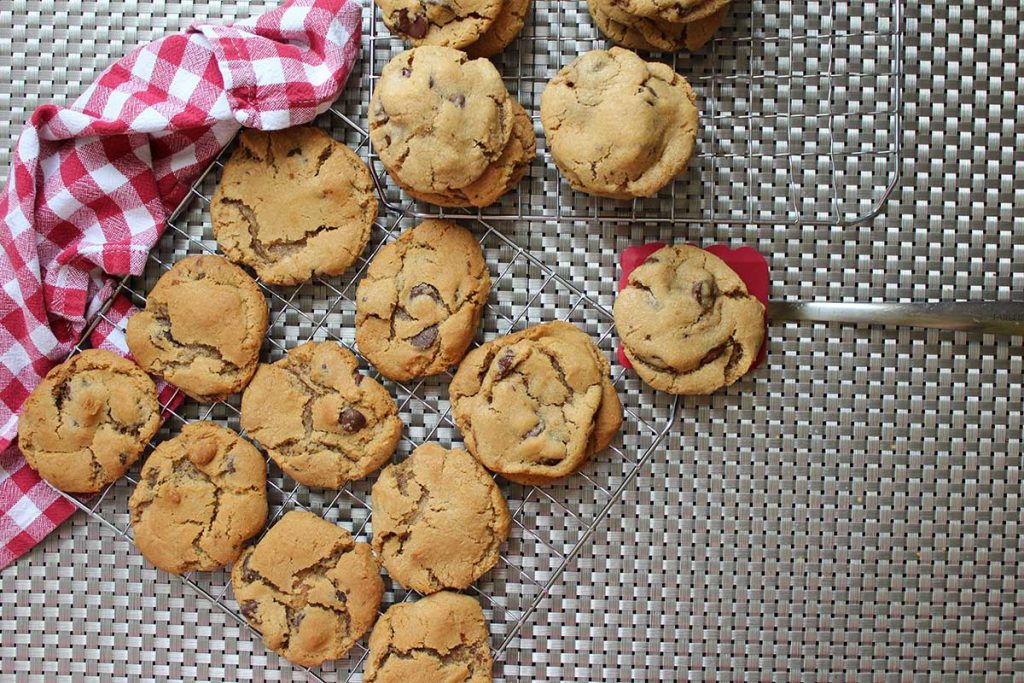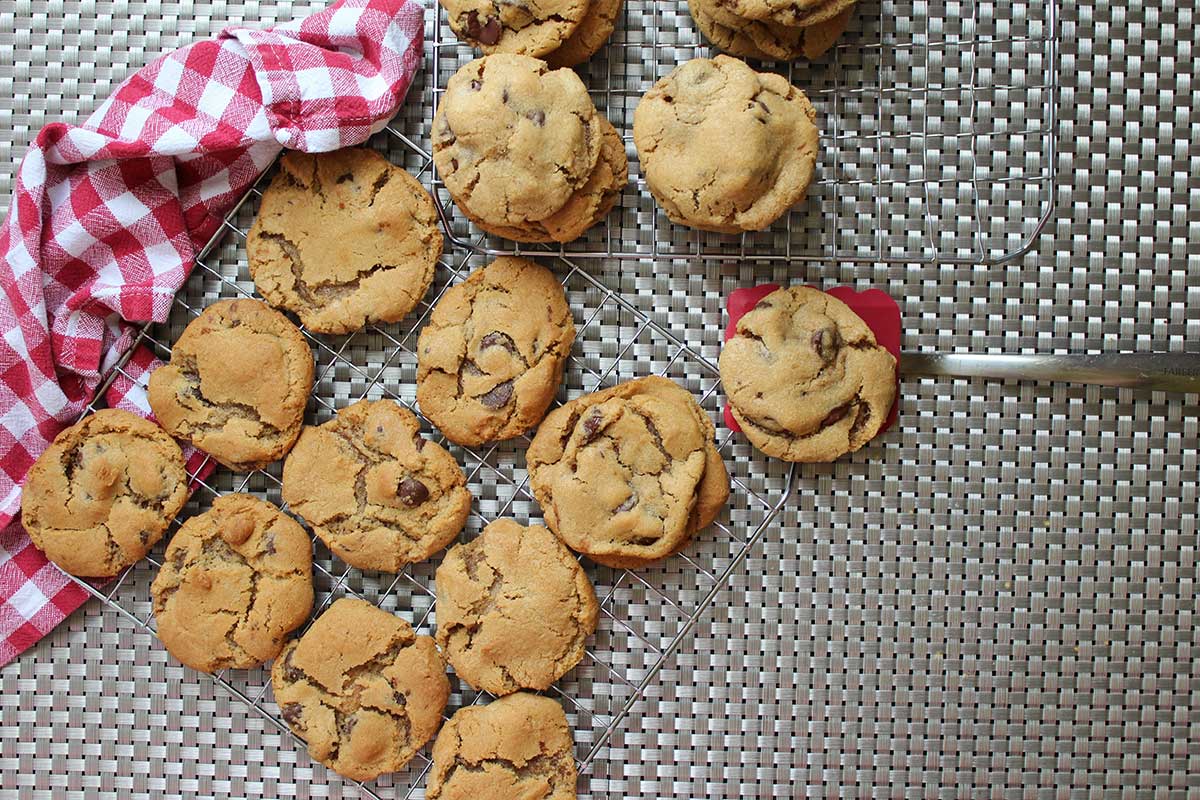 Probably the most popular cookie you can make is chocolate chip, so here's a modified recipe that includes CBD.
Materials
Cookie sheet
Cookie scoop (or a tablespoon)
Cooling racks
Stand or hand mixer
Measuring cups
Rubber spatulas
Mixing bowls
Ingredients
1 cup softened butter
1 cup white sugar
1 cup brown sugar, packed
2 eggs
1 ½ teaspoons vanilla extract
½ teaspoon CBD oil (your choice of what flavor and potency)
1 teaspoon baking soda
½ teaspoon salt
3 cups all-purpose flour
2 cups semi-sweet chocolate chips
1 cup chopped walnuts, if you so desire
Instructions
Preheat the oven to 325 degrees Fahrenheit. You don't want to bake your CBD cookies at temperatures much hotter than this, as it will cause the CBD to evaporate and lose its potency.
Add the butter, brown sugar and white sugar to a mixing bowl and blend until smooth. If you are using a stand or hand mixer, a lower speed will ensure the ingredients are mixed uniformly.
Add the eggs to the bowl one at a time, turning up the speed of the mixer to mix the ingredients well.
Add the vanilla extract and CBD oil.
In a smaller bowl, combine the baking soda and salt, mix well with a spoon.
Add the baking soda and salt to the wet ingredients.
Gradually stir in the flour, chocolate chips and nuts (if you want) and stir until the batter is smooth.
Using a cookie scoop or tablespoon, place balls of cookie dough onto ungreased cookie sheets.
Place the sheets into the preheated oven and bake for approximately 12 minutes or until the edges are golden brown.
Remove cookie sheet from the oven and place cookies on cooling racks to cool.
CBD Brownie Recipe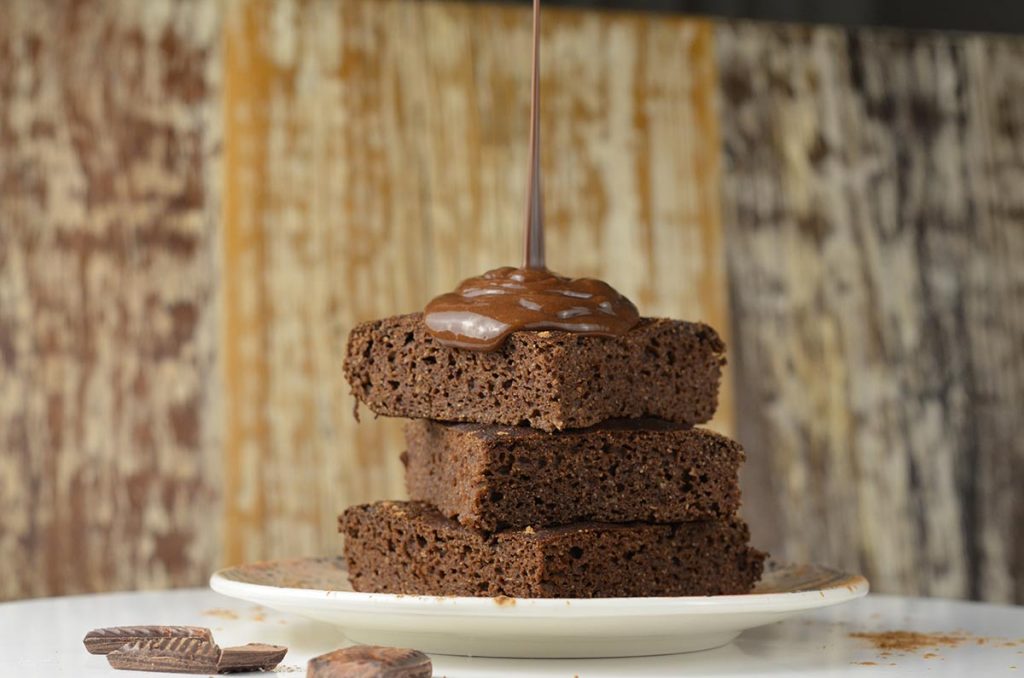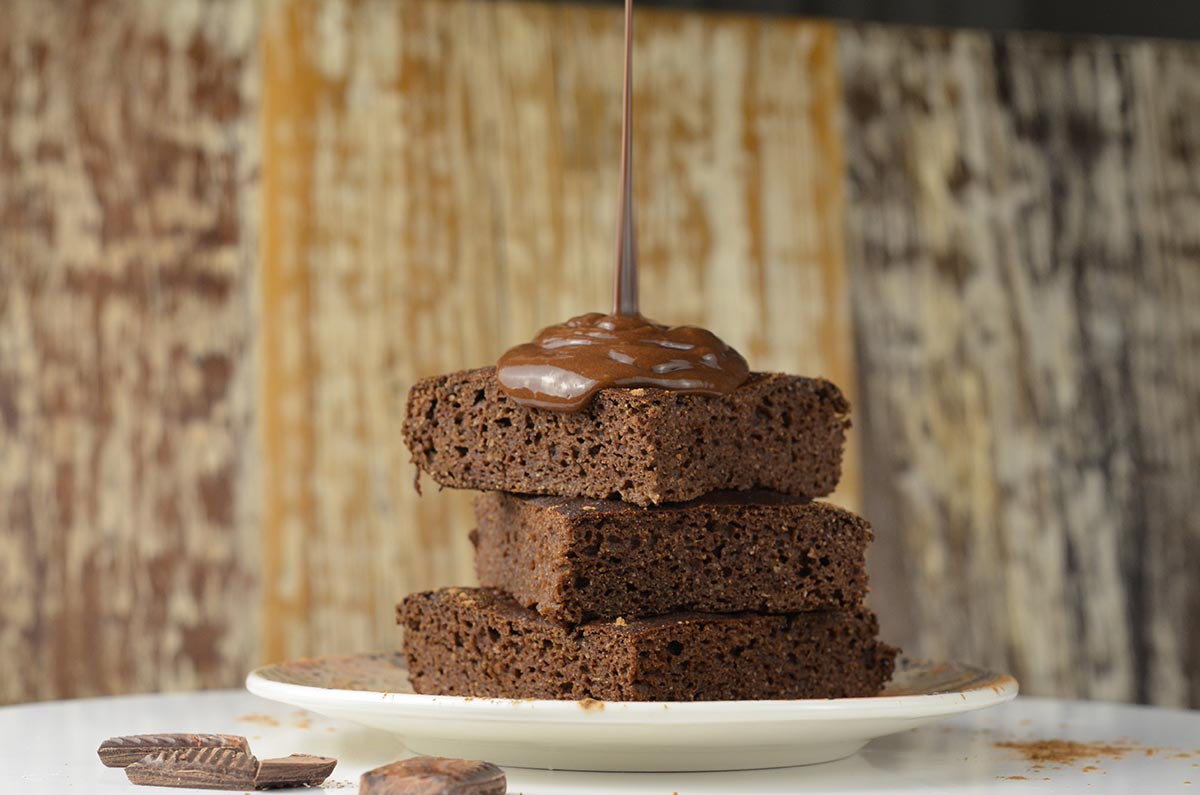 In addition to cookies, another popular baked good you might consider making is chocolate CBD brownies. Here is a CBD brownie recipe you might want to try:
Equipment
Mixing bowls
13 x 9 baking pan
Stand or hand mixer
Spatulas
Ingredients
2 cups all-purpose flour
1 cup sugar
½ cup vegetable oil
¾ cup cocoa powder
½ teaspoon baking powder
¼ teaspoon salt
½ teaspoon vanilla extract
1 cup plant-based milk
CBD oil
Instructions
Preheat oven to 350 degrees Fahrenheit.
Mix oil, mils and sugar into a bowl and blend until smooth.
Add the vanilla extract and CBD oil.
In a separate bowl, combine the salt, flour, baking powder and cocoa powder. Stir them together.
Add the dry mixture to the wet ingredients and blend at medium speed until smooth.
Pour the mixture into the greased pan and place it in the oven.
Bake for approximately 20 minutes or until the sides begin to pull away from the pan.
Remove from oven and allow to cool completely before cutting and consuming.
What CBD Potency Should You Use for Baking?
When it comes to CBD cookie dose, how much you put into your cookies will depend on a variety of different factors, including your personal experience with CBD, the size of your portions, what you are trying to treat and how often you plan on consuming the cookies.
For example, if you add 100 mg of CBD to your cookie recipe, and you make 24 cookies, each one will contain 4 mg of CBD. This may not sound like a lot, but if you are planning on eating more than one cookie during the day, this could get you the desired amount of CBD into your system.
Where to Buy Ready-Made CBD Cookies?
A delicate preparation process can make simply buying ready-made cookies an attractive choice. If you prefer getting the sweet treats of your dreams with a click, go ahead and purchase CBD edibles at CBD.market.
Conclusion
Taking CBD could be beneficial to your health and wellbeing, and the best way to get it into your system is by ingesting it. Adding CBD oil to cookies and brownies is a delicious and effective way to potentially make you feel your best.