How to Make CBD Gummies: Vegan, With CBD Oil, CBD Powder, Jello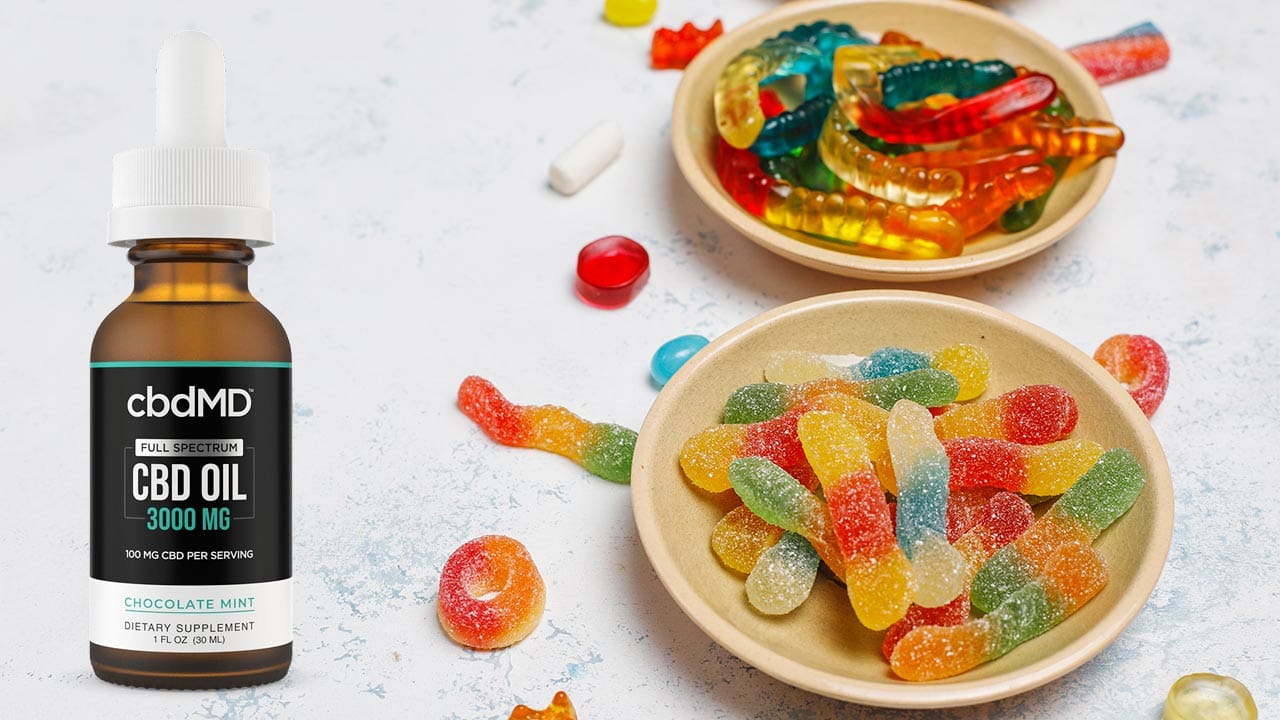 Yes, we all love CBD gummies. In fact, this is often the product that helps people to discover the natural wellness boost that's possible from CBD for the first time. The bottom line is that CBD gummies offer an easy, quick way to practice a little self-care. It's only natural to want to try different flavors and brands of CBD gummies once you're a fan. Look at what you need to know about how to buy or make gummies at home!
Why Buy CBD Gummies?
You don't necessarily have to be a whiz in the kitchen to enjoy yummy CBD isolate gummies. There has been an explosion of brands offering high-quality, natural gummy products you can easily grab online. Why buy instead of trying to figure out how to make CBD gummies at home? Here's a quick rundown of the benefits of being a shopper instead of a chef:
CBD gummies are typically affordable enough to justify the purchase.
CBD gummies come in portable, sturdy packaging.
The quality ingredients and oil carriers needed may be more expensive when purchased on their own.
Gummie sellers offer tons of delicious, fun flavors.
You'll get proper, accurate dosage information.
No cleanup!
No need to rush to make batches when you're running low.
Lastly, CBD brands that offer gummies tend to offer specific formulas geared for specific CBD gummies uses. That means you can scoop up a gummy type that is specially formulated to address your wellness needs. Of course, it can be fun to get an appreciation for all of the work that goes into a batch by learning how to make edible gummies in your own kitchen! Next, discover the secret to getting homemade CBD gummies just right!
H
ow to Make Vegan CBD Gummies?
These vegan CBD gummies are called Pom Perfect gummies because they are made using real pomegranate juice. You'll find that this vegan edibles gummies recipe delivers a tart and tangy flavor that leaves you satisfied with just one bite! The pomegranate juice contains antioxidants and vitamin C that work nicely with CBD for those seeking natural wellness benefits.
This vegan gummies recipe makes about 40 gummies in total. Servings will vary by mold size. Each serving serves up to 75 milligrams of CBD. Dosage can be adjusted based on preference by simply swapping the CBD oil potency. This large-batch recipe is great for a CBD-loving household.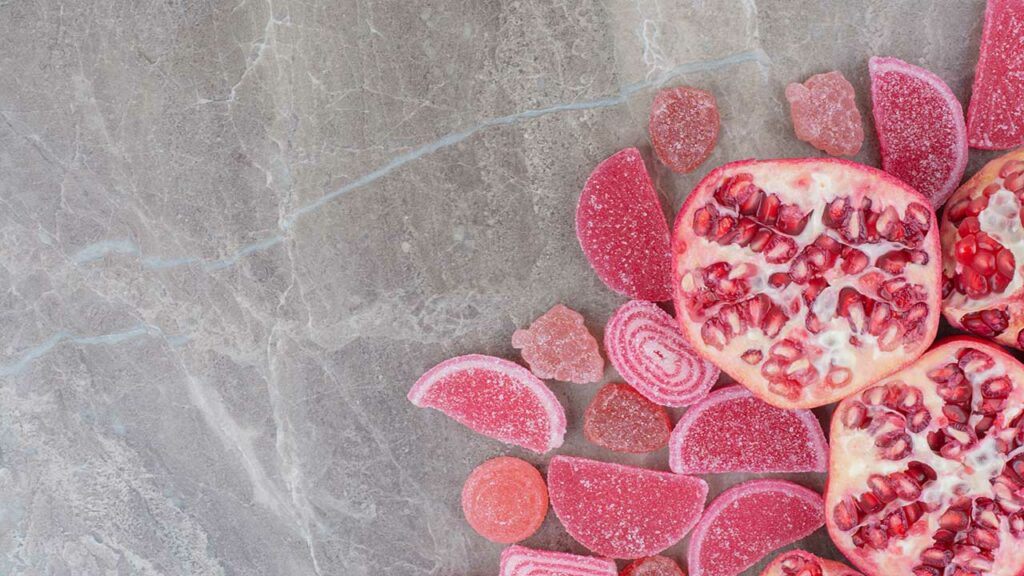 Materials
A gummy mold
Double boiler
Mixing bowl
8-ounce saucepan
Dropper
Ingredients
1 cup high-quality coconut oil
2 cups pomegranate juice
Three tablespoons of raw honey
Four tablespoons of agar powder
3000 milligrams of your favorite full spectrum CBD
Instructions
Here's how to make vegan gummies once your ingredients and materials are assembled. One tip is to put your gummy mold in the freezer for up to 20 minutes while you're making your gummies to allow it to harden. This will make setting your gummies easier.
Start by setting your double boiler to low.
Next, add 1 cup of coconut oil and CBD together before allowing the mix to simmer. Avoid letting it reach higher than 200 degrees Fahrenheit.
In your saucepan, mix your pomegranate juice, agar powder, and honey under low heat. Stir for about 5 minutes before removing the pan from the heat.
Next, pour the mixture consisting of coconut oil and CBD oil into the saucepan. You may need to increase the temperature of the saucepan if the coconut oil is having difficulty mixing with the pomegranate-agar-honey mixture.
You can then let the new mixture sit for a moment to allow for the coconut oil to help everything congeal nicely. This should happen fairly easily because this vegan gummies recipe makes agar gummies with that nice "jiggle."
Finally, carefully use your dropper to fill your molds with the gummy mixture. The gummies need about an hour to cool before they are good to go!
While this recipe is used for making homemade CBD gummy bears, you are free to use any mold shape you please. Gummies can be stored in the fridge for up to 10 days.
How to Make Homemade Gummies Using CBD Oil?
Let's talk do-it-yourself CBD gummies. The first essential is a really good, high-quality CBD oil. Your recipe is really only as good as the CBD oil you use to power the whole batch! Here's what you'll need for the "sweet and simple" CBD gummy recipe:
Materials
Food-grade silicone molds to shape your gummies.
A saucepan.
A whisk.
Oven mitts.
A funnel.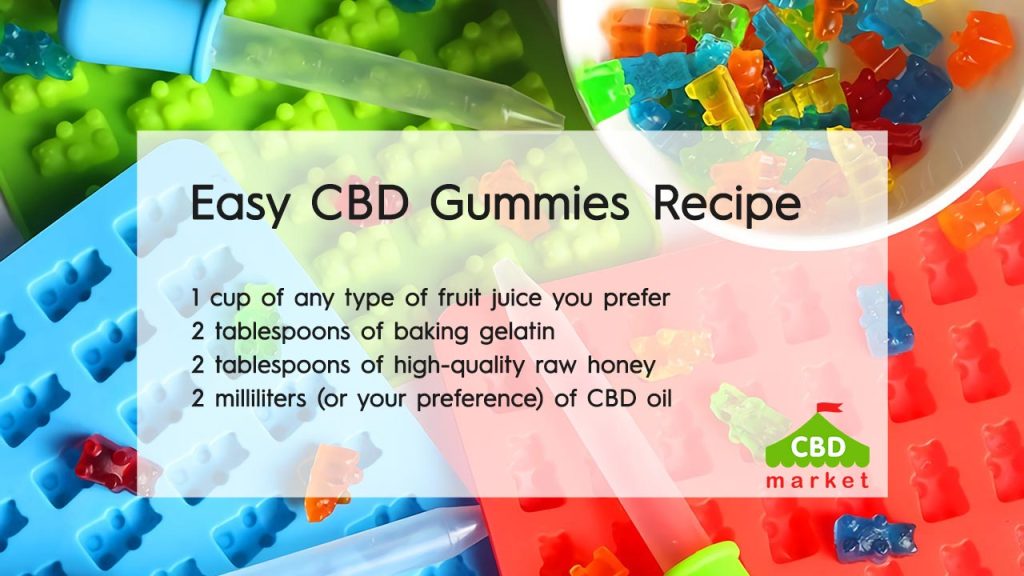 Ingredients
One cup of any type of fruit juice you prefer (pineapple, kiwi and papaya should be avoided because they don't gel as well as other juices).
Two tablespoons of baking gelatin.
Two tablespoons of high-quality raw honey.
Two milliliters (or your preference) of CBD oil.
Instructions
To start, heat your fruit juice in your saucepan. Keep it on low heat until you notice it beginning to simmer. It's important not to allow the juice to come to a boil because this could alter the makeup and flavor of your CBD oil. Next, slowly add the honey and gelatin while whisking gently until all three ingredients combine. The whisking process should last for about a minute. Turn off the heat when this step is done.
You can now add in your CBD oil! Whisk again until you're confident that all ingredients have been mixed evenly. The next step is transferring the liquid to your mold.
The best tip for getting your CBD liquid into the mold is to use your funnel to slowly and gently transfer it. Using a large spoon or scoop can be helpful for getting the liquid from the pan into the funnel. Be sure to wear oven mitts or gloves during the entire process because the liquid will be very hot to the touch.
Once your mold is full, let it sit for up to an hour. You can then peel your newly formed gummies out of the mold before storing them. Generally, gummies can be stored at room temperature for up to 10 days as long as you're placing them in an air-tight container. However, people in hot or humid climates should stick their gummies in the refrigerator. Feel free to use a mold of any size when making your gummies at home.
How to Make Gummies With CBD Isolate Powder?
Tangy Orange-Honey CBD Gummies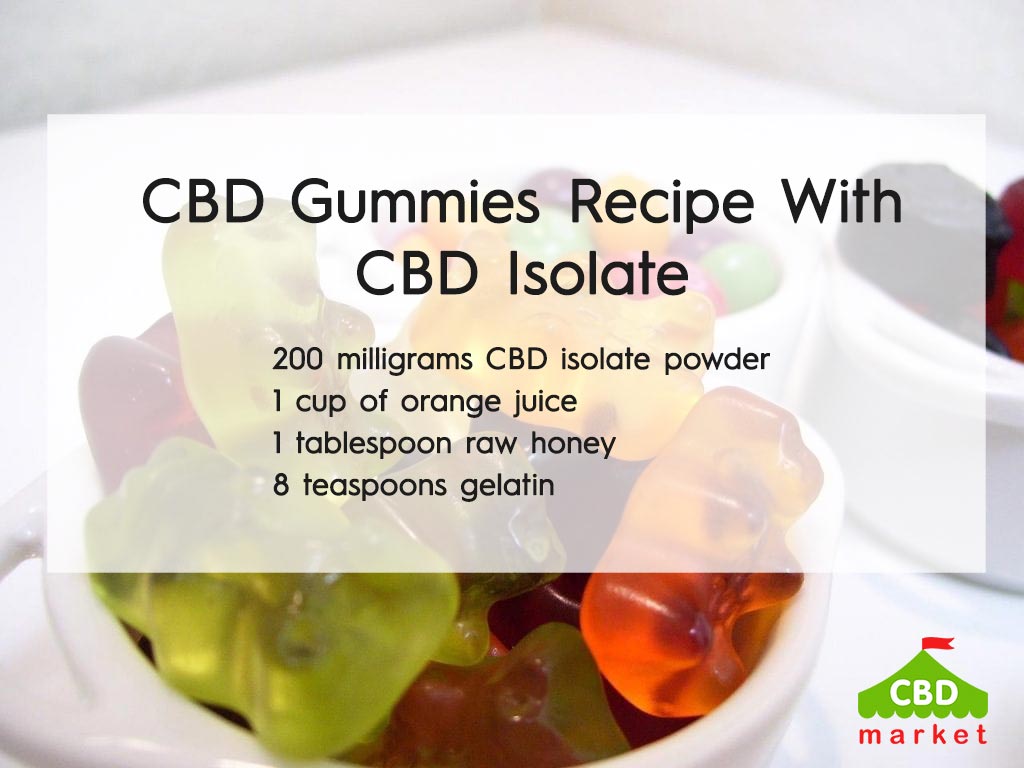 Materials
Measuring cup.
Bowl.
Saucepan.
Silicone gummy molds.
Stirring spoon.
Ingredients
200 milligrams CBD isolate powder (for 10 milligrams of CBD isolate per gummy).
1 cup of orange juice.
1 tablespoon raw honey.
8 teaspoons gelatin.
Instructions
To start this CBD gummies recipe, pour all of your orange juice into a saucepan.
Next, pour in your gelatin. You will now allow the mixture to cook on medium-low heat. Stir as it heats until you notice the mixture becoming liquified.
Next, add your raw honey to the mixture. You'll need to stir as the mixture heats to make sure that it is fully combined. Turn off the heat once you have an even mixture.
As the mixture cools, begin stirring in your CBD isolate. You'll need to mix well to ensure that the CBD is evenly distributed to avoid getting "duds" in your batch. Companies that make CBD gummies actually ensure specific dosages in each gummy. Unfortunately, learning how to make CBD gummies from isolate at home doesn't ensure that you'll truly get an even dose in each gummy.
Once your mixture is cooled with your CBD fully mixed in, it's time to make your gummies. Simply pour the mixture into your individual molds.
Do your best to fill each mold to the same level to ensure even sizes. Refrigerate your mold until the gummies are hardened. This can take up to eight hours (overnight).
Lastly, remove your gummies from the mold!
Using this simple recipe, you will easily make 20 gummies with approximately 10 mg CBD per one count. To ease the choice of CBD powders, check out top-selling CBD isolates:
How to Make CBD Gummies With Jello
Blueberry-Citrus Dream CBD Gummies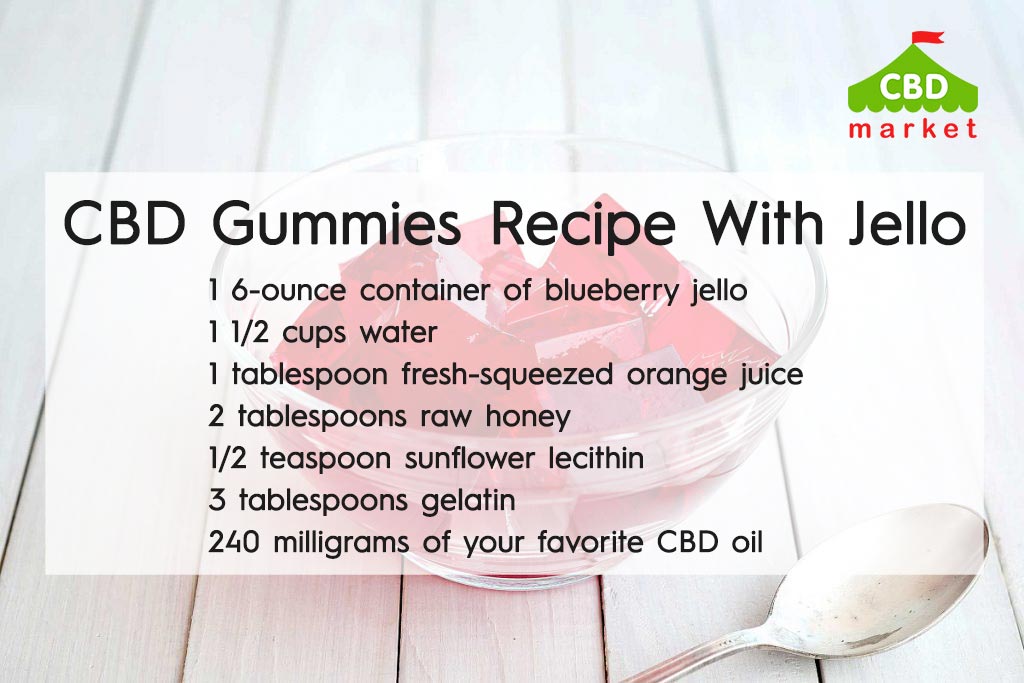 Materials
Silicone gummie molds.
Measuring cup.
Saucepan.
Stirring spoon.
Ingredients
1 6-ounce container of blueberry jello.
1 1/2 cups water.
1 tablespoon fresh-squeezed orange juice.
2 tablespoons raw honey
1/2 teaspoon sunflower lecithin.
3 tablespoons gelatin.
240 milligrams of your favorite CBD oil.
Instructions
Add your Jello, honey, and water into your saucepan without heating the pain. Gently sprinkle in your gelatin before allowing the mixture to sit for five to 10 minutes.
Next, begin heating the pan on medium-low heat. Stir continuously for about five minutes. Once heated, begin whisking in your CBD. You can also add the lecithin to help everything congeal.
Next, pour your mixture into your molds. Try to let the molds sit out for up to 30 minutes to allow your recipe to set before placing it in your refrigerator. Allow the mold to set for up to eight hours (overnight) to make popping the gummies out of your mold easier.
Using this recipe, you will get 24 gummies with 10 mg CBD potency. If you need more potent gummies, then just take stronger CBD oil
Have problems with calculating CBD content? Check out the guide "How to Calculate CBD Content?" Besides, each product in our store has the product data table, where you will find CBD content per bottle, and per 1 ml: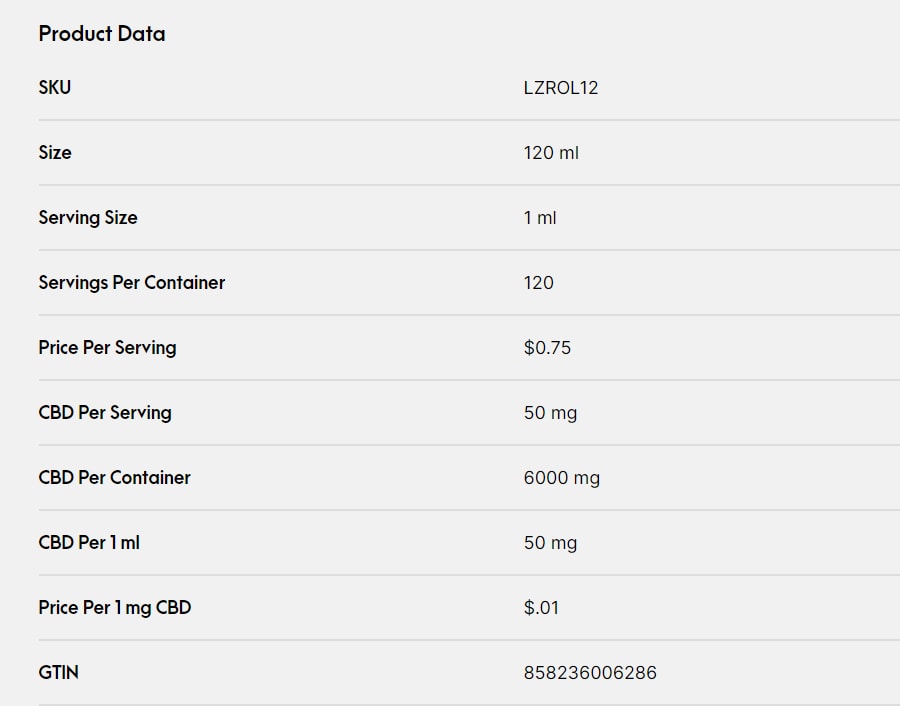 What do you need to make CBD gummies that are custom? When looking for how to make full spectrum CBD gummies, simply substitute your favorite full-spectrum CBD oil of the same potency.
If you're wondering how to make CBD gummies with pectin because you're trying to make vegan CBD gummies without gelatin, you'll need to remove the honey from the recipe to avoid creating overly sweet gummies. When using a package of powdered pectin instead of gelatin, you'll need to add the amount of sugar recommended to the pectin packet in your recipe. This will make a much sweeter gummy than a gelatin recipe.
Conclusion
It never hurts to keep a good CBD gummy bear recipe in your back pocket for those times when you want to create a custom flavor. However, it can be even better to have the name of a good CBD gummy bear vendor if your schedule is a little too hectic to always rely on the do-it-yourself option. Ultimately, CBD wellness tastes and feels good any way you slice it!