Best and Premium CBD Topical Products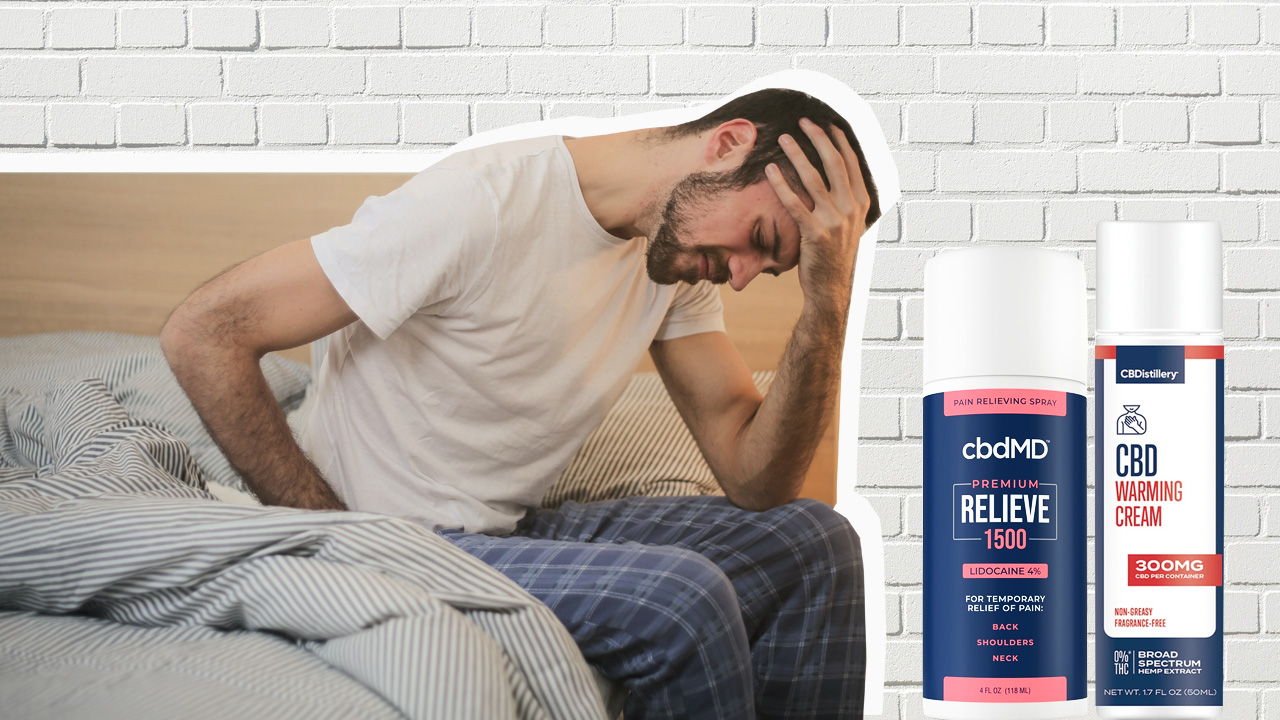 With many reasons for chronic conditions, finding an effective coping method can be challenging. You're probably very frustrated with the situation after you try weeks and weeks of over-the-counter relievers, prescription medications, topical ointments, heat, and wraps.
Even if you seek assistance from a medical professional, there isn't always an effective treatment method. It is true when there is a defined diagnosis, and this is true even when there is not. Side effects of medications can range from fatigue, confusion, stomach issues, and more. CBD oil and other ailments are currently popular for people looking for a more natural remedy for their discomfort.
What is CBD?
Cannabidiol is a non-psychoactive compound that you'll find within the marijuana plant. It may offer many benefits, including emotional support, and more. It is typically infused into an oil tincture, capsule, topical products, or edibles. More and more people turn to CBD oil to help them with chronic comditions.
Now let's turn to top CBD topical products.
CBD Topical Products
How We Chose the Best CBD Topicals?
Many considerations related to quality control have gone into our picks for the top CBD cream. Among the specifics we considered were hemp quality, hemp sourcing, use of non-GMO ingredients, and TCH levels. Organic products that do not contain pesticides, heavy metals and molds were also preferred. We also looked at CBD cream manufacturers' certification and production processes. Additionally, brand reputation and customer reviews were considered. All the products featured in this review list have been vetted for hemp sourced from the United States to ensure standardized quality-control measures. We also focused on high potency-to-price ratios.
CBD Spectrum: Full Spectrum

CBD potency: 3000 mg of CBD per 60-g container

CBD price: $31.50
Lazarus Naturals Relax + Unwind CBD Balm is a fusion of full spectrum hemp extract and functional ingredients like lavender and chamomile. These balm formulations will nourish your skin and support your body and mind. This potent topical pairs well with carving out your time after demanding days.
The 60 g CBD jar contains 3000 mg of CBD.
CBD Spectrum: Full Spectrum

CBD potency: 1000 mg of CBD per 45g container

CBD price: $63.99
With a potency of 22.22 milligrams of CBD per gram, this balm warms on contact for a comfortable and soothing sensation. This formula contains broad-spectrum hemp extract mixed with luxuriating ingredients like aloe vera, Roman chamomile flower, eucalypts leaf oil, lavender flower oil, and nearly a dozen more essential oils.
The scent is both pleasant and unassuming. Comprised of USA-derived industrial hemp, this is an all-natural, pesticide-free, solvent-free balm that pampers the skin in the earthiest way possible.
CBD Spectrum: CBD Isolate

CBD potency: 1000 mg of CBD per a 50-ml container

CBD price: $47.99

Medterra CBD Relief Cream incorporates menthol and arnica for both cooling actions and other nourishing ingredients like jojoba oil and aloe to build a powerful, soothing blend. Perfect for sore backs, stiff necks, and anywhere else it hurts, this formulation includes 4% more menthol for a little extra cooling!
Available in strengths of 500 mg and 1000 mg CBD. Each bottle is 1.7 fl oz and contains 50ml of cream.
CBD Spectrum: Broad Spectrum

CBD potency: 1000 mg of CBD per 113g container

CBD price: $59.99
This rub-on formula is a superstar CBD cream containing 8.85 milligrams of CBD per gram. It does a fantastic job of relieving with support from menthol. In addition to performing beautifully as an everyday cream, this high-potency formula is great for post-workout recovery.
This is a broad-spectrum, THC-free product made with industrial US-made hemp. It is free from formaldehyde, parabens, and sulfates.
CBD Spectrum: CBD Isolate

CBD potency: 1000 mg of CBD per 70 g container

CBD price: $35.99
With CBDistillery's extra-strength CBD relief stick, you can now enjoy targeted relief where your body needs it most. It combines the soothing benefits of 1000 mg isolate CBD with the cooling sensation of menthol to give you a topical perfect for on-the-go recovery. This topical CBD is a customer favorite because it can nourish skin. The no-mess application is convenient, portable, and perfect for everyday use.
CBD Spectrum: Isolate CBD

CBD potency: 750 mg of CBD per 30g container

CBD price: $31.99
This CBD cream is a THC-free isolate product that delivers a mild, pleasant scent with each pump. It is a fully vegan product that has been developed without any animal testing.
A beautiful mix of botanicals and USA-derived hemp helps restore muscle comfort. This product contains no parabens. The potency per pump is 12.5 milligrams of CBD for every 0.5 grams.
CBD Spectrum: Broad Spectrum

CBD potency: 1500 mg of CBD per 120-ml container

CBD price: $44.99
CBD cream is enriched with a wealth of soothing herbal ingredients. It provides the soothing wellness and CBD benefits of topicals, while histamine dihydrochloride creates a pleasant warming sensation from minor aches. This cream packs 12.5 milligrams of CBD per 1 mL of cream.
CBD Spectrum: Full Spectrum

CBD potency: 1000 mg of CBD per a 113-mg container

CBD price: $39.99

This full-spectrum formula combines hemp with the soothing powers of menthol and arnica, offering a refreshing spin on lotion for muscle recovery. In addition to being gluten-free, GMO-free, sulfate-free and fully vegan, this formula is free of all animal testing. In addition, it is free of artificial dyes, synthetic fragrances, parabens and shark-derived squalene that are commonly found in inferior products. Charlotte's Web products are US Hemp Authority Certified.
Each ounce contains 300 milligrams of CBD. A 1-milliliter pump contains 17 milligrams of CBD when pumping out a serving. This product contains less than 0.3 percent THC.
Choosing the Best CBD Oil
When shopping for CBD, you have other options to consider. CBD comes in a variety of different concentrations. There are some different forms of CBD you can take as well. If you are a beginner and this is your first time taking CBD, you'll want to stick to a low-dose product.
It will give you an idea of how you will feel when you take CBD. You may be able to get the effects you're looking for with just that little bit of product.
You can work your dose up to a higher point if you feel that would help more, but give yourself a few weeks before making changes. CBD softgels are one form of CBD you can try. There are also tinctures that you take sublingually.
You can munch on an edible CBD product or take CBD drinks to try something different. Think about how often you'll take your CBD, where you'll take it, and how you'll store it. It will usually point you in the right direction regarding the product type you should select.
FAQ
How to Choose CBD Topicals?

Choosing a topical CBD product is similar to choosing ordinary CBD oil.

First, you'll want to look at the product's intended use. Various CBD topicals contain warming, cooling, or numbing properties that address specific types or recovery needs. Do your research to see which soothing method is best for what you're attempting to achieve.

The next thing to look at closely is potency. To determine the potency, you'll want to see how much CBD is contained per milliliter or ounce. CBD always determines potency per "serving" instead of CBD per container.

Lastly, you must make a "judgment call" regarding vegan-friendly products. You should also consider if factors like scents or essential oils that can enhance the sensation of a topical cream or lotion are important for you.

How to Use CBD Creams and Balms?

Generally, CBD creams and balms are applied "as needed." They are commonly used for general wellness and calming. However, athletes and people who train often find that topical CBD products are great for recovery. They can help to soothe sore muscles following workouts.

How Much CBD Cream Should You Use?

This is subjective. Generally, you'll defer to the instructions provided by the manufacturer for the best results. Most products are intended to be applied every five to six hours.
As the Result
Speaking with your doctor before trying CBD for any condition you're dealing with is always a good idea. This conversation aims to ensure that you're not putting yourself in danger by taking a supplement of this sort.
While CBD is natural and doesn't generally cause any dangerous side effects, you can create issues with your health if you're already taking prescription medication.
Your doctor can tell you if you can use a CBD supplement while completing a physical rehabilitation program or recovery process. Just be honest with what you're taking. It will help the professionals you are dealing with better understand your physical needs.
Sources
https://www.health.harvard.edu/blog/cannabidiol-cbd-what-we-know-and-what-we-dont-2018082414476
The statements above have not been evaluated via the Food and Drug Administration. The efficacy of these merchandise has not been tested by using FDA-approved research. These products are not intended to diagnose, treat, therapy or stop any disease.