Founded: 2017
Official site: phytoanimalhealth.com
Phone: + 1 (844) 869 30 90
Email: info@phytoanimalhealth.com
Address:
37341 Green Meadow Rd, Temecula, CA 92592, USA
| | |
| --- | --- |
| Price | ⭐️⭐️⭐️⭐️⭐️ |
| Quality | ⭐️⭐️⭐️⭐️⭐️ |
| Taste | ⭐️⭐️⭐️⭐️⭐️ |
| Effect | ⭐️⭐️⭐️⭐️⭐️ |
Overall Score: ⭐️ 4.7
If you are a pet owner, you know how important your pet's health is. That's why Phyto Animal Health has a line of CBD-based pet products that will keep your pet healthy and happy for many years to come. All products are completely natural, safe and non-GMO.
Supported by science and veterinary councils, Phyto Animal Health's line of CBD supplements and hemp products offer pet owners an all-natural alternative to harsh chemical-based products. Guided by the values of trust, love, and respect, we created sustainably sourced pet-specific hemp products that are safe and healthy for your furry family members.
Phyto Animal Health Story
The story of Phyto Animal Health begins with Dante the Service Pit and his best friend Ian Quinn, CEO of Phyto Animal Health. The two pals volunteer at their local VA housing program, supporting veterans and teaching them meditation. It was there that Ian learned first-hand about the natural wellness properties of CBD.
Looking to provide these same benefits to Dante, Ian consulted with leading veterinarians to create a line of CBD supplements specially formulated for pets. In 2017, Phyto Animal Health was established to encourage pet owners to take advantage of the benefits of CBD and hemp for their pet's wellbeing.
Phyto Animal Health Review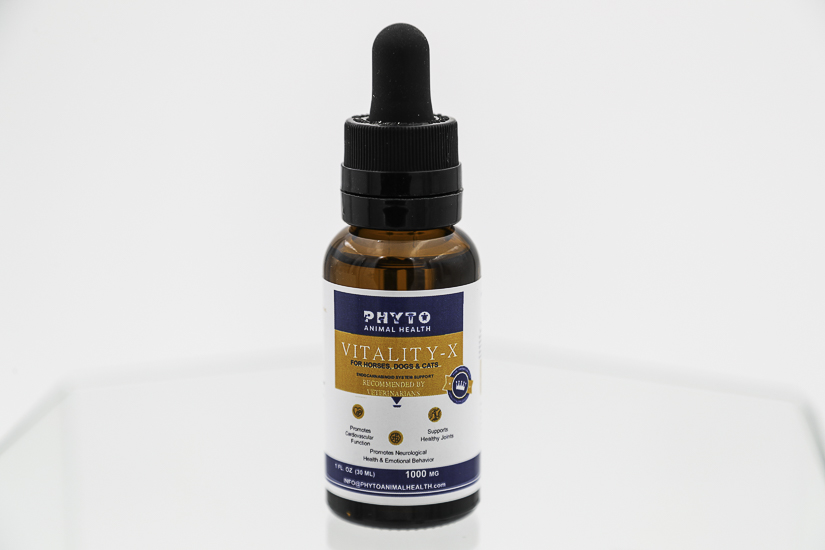 We all know how important our pets are to us. Phyto Animal Health recognizes that your pets are part of your family. That's why Phyto Animal Health wants to make sure that your pets are as healthy and happy as they can be. A variety of hemp-based CBD products are available. This includes treats, food, tinctures, bedding and litter.
Pure Spectrum has partnered up with Cannabis Research Foundation, Sievers Bio Tech and The Industrial Hemp Research Foundation to ensure the CBD products that are on the market can be trusted. This is a very tight-knit team that is working hard to revolutionize the market.
Phyto Animal Health CBD Oil Products
Phyto Animal Health creates CBD oil products formulated specifically for pets and livestock animals like horses, supplementing their endocannabinoid system in the same way as in humans. They created a line of safe, effective daily CBD products for animals of all sizes.
The Vitality CBD oil contains 100 mg of CBD in the 1 oz. bottle or 500 mg of CBD in the 2 oz size.
THC-free Vitality-X contains 1000 mg of CBD and can be used by pet and livestock owners looking to avoid concerns over THC.
All of these products are an all-natural alternative to chemical-based products that aren't safe for your pet. Your pet will thank you for the care that you are providing them by way of CBD-based supplemental products. CBD pet products that are infused with this rich-cannabinoid ingredient has sparked some big pet health developments. Cannabis has long been beneficial to humans. Now it is time for our pets to enjoy the same benefits that we have been experiencing for some time now.
Vitality and longevity is what Phyto Animal Health is striving to provide for all pet owners, all over the world. It is important to follow strict dosing guidelines when providing a supplement to your pet. Always follow the instructions based on the accurate size of your pet. You should seek veterinary assistance if you notice your pet is experiencing any kind of adverse affects from a CBD-based product.
Phyto Animal Health Pricing
Items range in price from $34 to $174 and include oral applicators, CBD oils.
Phyto Animal Health THC Content
Most people have heard a bit about the medical marijuana debate that is going on. Some people support the use of marijuana for a number of medical benefits. Other people recognize that there are beneficial ingredients in hemp, but the psychotropic effects aren't necessarily needed. CBD oil is a great alternative to medical marijuana. This is because CBD does not contain any THC in it.
The legal limit is 0.3 percent in any marketed CBD product. CBD is just part of the cannabis market. When CBD is consumed, the cannabinoids in the product will assist with a number of bodily functions. The endocannabinoid is a system that exists in the human body, as well as the animal body. This system is what controls our appetite, overall mood, memory abilities, pain receptors and much more.
Phyto Animal Health Overview
Many pet owners have started using CBD oil for their pets, in hopes of alleviating symptoms associated with a condition or disease. Phyto Animal Health is providing plant-based, non-GMO, CBD products for pet health and wellness purposes.
Phyto Animal Health Specs
Non-GMO hemp
No pesticides, herbicides and chemical fertilizers
Lab Testing
0% THC