Diamond CBD Oil Reviews 2023
Founded: 2014
Official site: diamondcbd.com
Phone: +1 305 615 11 94
Email: support@diamondcbd.com, wholesale@diamondcbd.com
Address:
USA Headquarters
3531 Griffin Road
Suite #100
Fort Lauderdale, FL 33312, USA

Diamond CBD has a specific focus on researching and developing innovative CBD from hemp products and making them accessible worldwide. Diamond CBD utilizes a team of doctors and scientists to ensure that only the purest and most beneficial CBD products are being produced and sold through this brand.
Quality is never compromised while creating a diverse selection of hemp extracts that contain an extensive profile of cannabinoids. These cannabinoid blends can be used potentially to help address a variety of conditions relating to sleep, brain health, immune function, and more. Diamond CBD carefully monitors every product from the beginning of production to the lab testing and sales process at the end.
Diamond CBD Reviews
Looking to increase the sale of CBD products all across the world, Diamond CBD grows its hemp using only organic processes. Cultivated in Scandinavia on fertile soil, each plant is thoroughly inspected by hand before cultivation. Supercritical CO2 extraction is then used to obtain the CBD. It is also tested with a great deal of detail to ensure high standards of quality.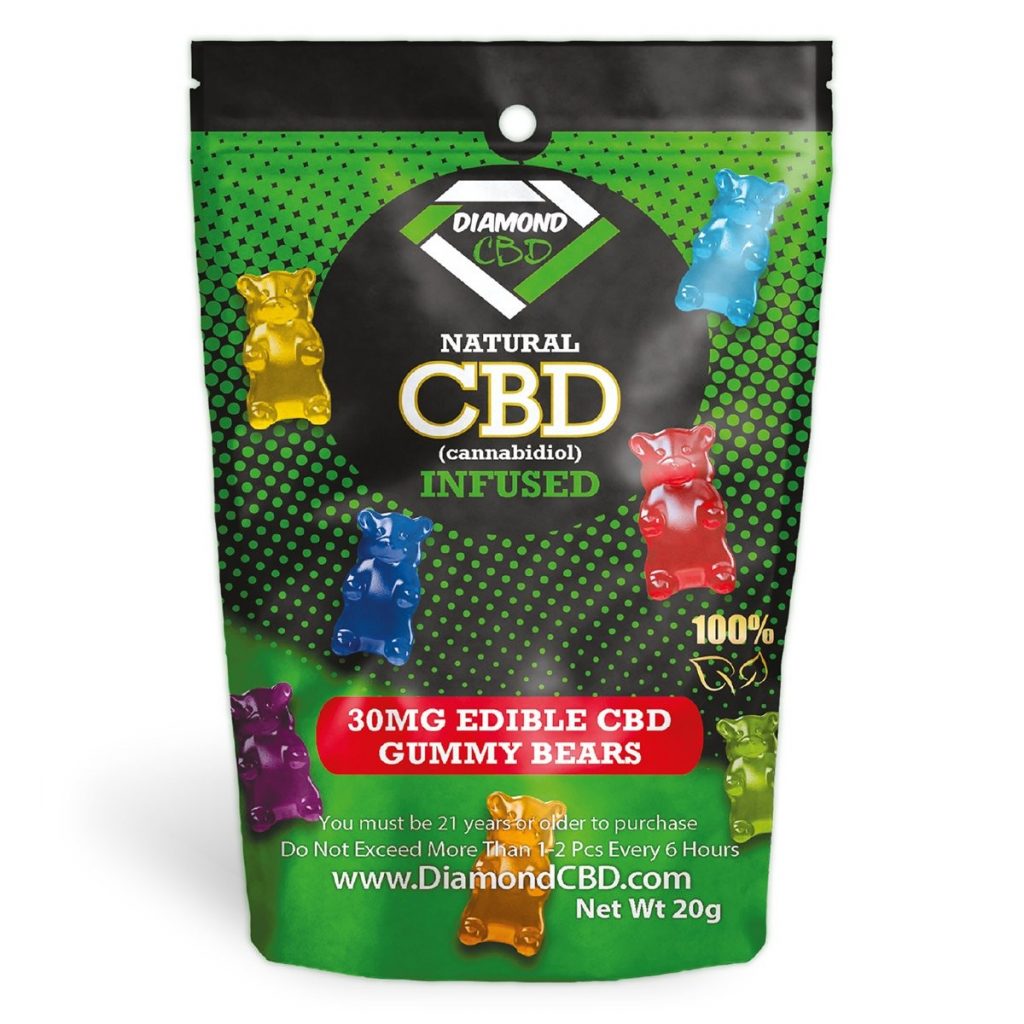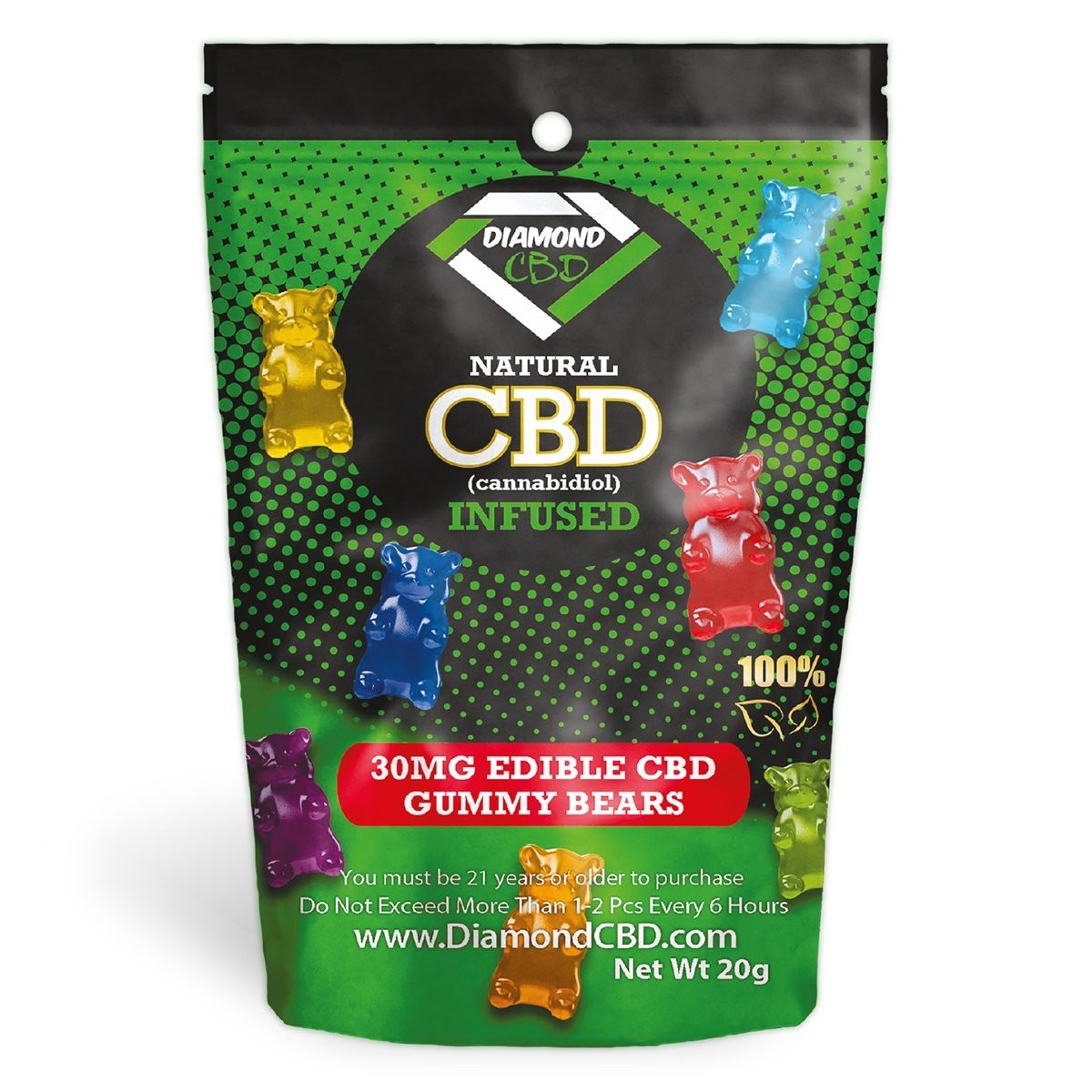 Testing methods used include High-Pressure Liquid Chromatography (HPLC) and Nuclear Magnetic Resonance (NMR), which tests oils for their complete nutrient profiles. This information is easily attainable through Diamond CBD.
An extensive selection makes up Diamond CBD's product line, each easy to consume and ensure that you are getting a specific dose every time. Diamond CBD is a great brand to consider purchasing.
Diamond CBD Products
Diamond CBD Oil
Diamond offers a variety of CBD oils that can be consumed in different ways, including being taken orally, added to foods, vaped, or applied topically. They have eight different varieties of CBD oil drops, including the standard hemp oil, a full-spectrum oil, a blue isolate oil, a flavored terpene oil, two varieties of extreme drops.
Diamond CBD Gummies
CBD-infused gummies are offered in a variety of flavors as well for quick on-the-go consumption. These include gummy worms, mini fruits, sour bears, sour faces, watermelon slices, gummy bears, and rainbow bites. They even offer a few CBD honey options.
Diamond CBD Vaping Products
High-end vapor liquids are available as part of Diamond CBD's product line. Infused with CBD-rich hemp oil, there is a large selection of flavors to choose from, including Strawberry Banana, Butterscotch, Lemon Lime, and Dragon Fruit. Size ranges vary from 25mg to 1500mg.
Demonstrating as beneficial for pain, inflammation, sleep, and many other conditions, Diamond CBD products are additionally endorsed by NFL Hall of Fame athlete, Lawrence Taylor.
Diamond CBD Pricing
A typical 25mg vape product from Diamond CBD costs approximately $19.99, though a higher strength product containing 1500mg will cost up to $219.99. Finally, isolates in the 750mg range cost about $119.99. Diamond CBD claims to have a 7-times higher concentration of CBD in its products compared to most competitors, making them a vendor of quality CBD.
A wide variety of other products and strengths are additionally available. Diamond CBD provides free shipping on all orders over $100 in the United States. Express shipping is also available for an additional charge.
Diamond THC Content
Diamond CBD is continuously testing its products to ensure that they are 100% free of THC and all other synthetic ingredients. Diamond CBD prides itself on producing the finest and purest CBD products on the market, while never including anything potentially harmful or otherwise compromising to the product's integrity. These products are non-intoxicating and will not negatively affect one's mental state.
Diamond Overview
Diamond CBD is a company that has taken full advantage of the rise in CBD popularity. Every CBD format imaginable is available and sold through Diamond CBD's extensive selections. When shopping for CBD, you should conduct as much research as possible to attain educational information on what kind of product is going to work for you and your specific condition.
Unlike most companies, Diamond CBD does not currently publish its third-party lab results online to provide ultimate transparency to consumers and potential customers.
Diamond CBD Specs
Innovative CBD-infused hemp products
Lab testing conducted on all products
THC-free
Wide selection of flavors
Free shipping on orders over $100