Joy Organics, CBD Energy Drink Mix with Caffeine, Berry, Broad Spectrum THC-Free, 5ct, 250mg CBD
Same Day Free US Shipping Over $60

Earn 5% Back with Every Purchase

Low Price Guarantee

30 Day Money-Back Guarantee
$.06/mg CBD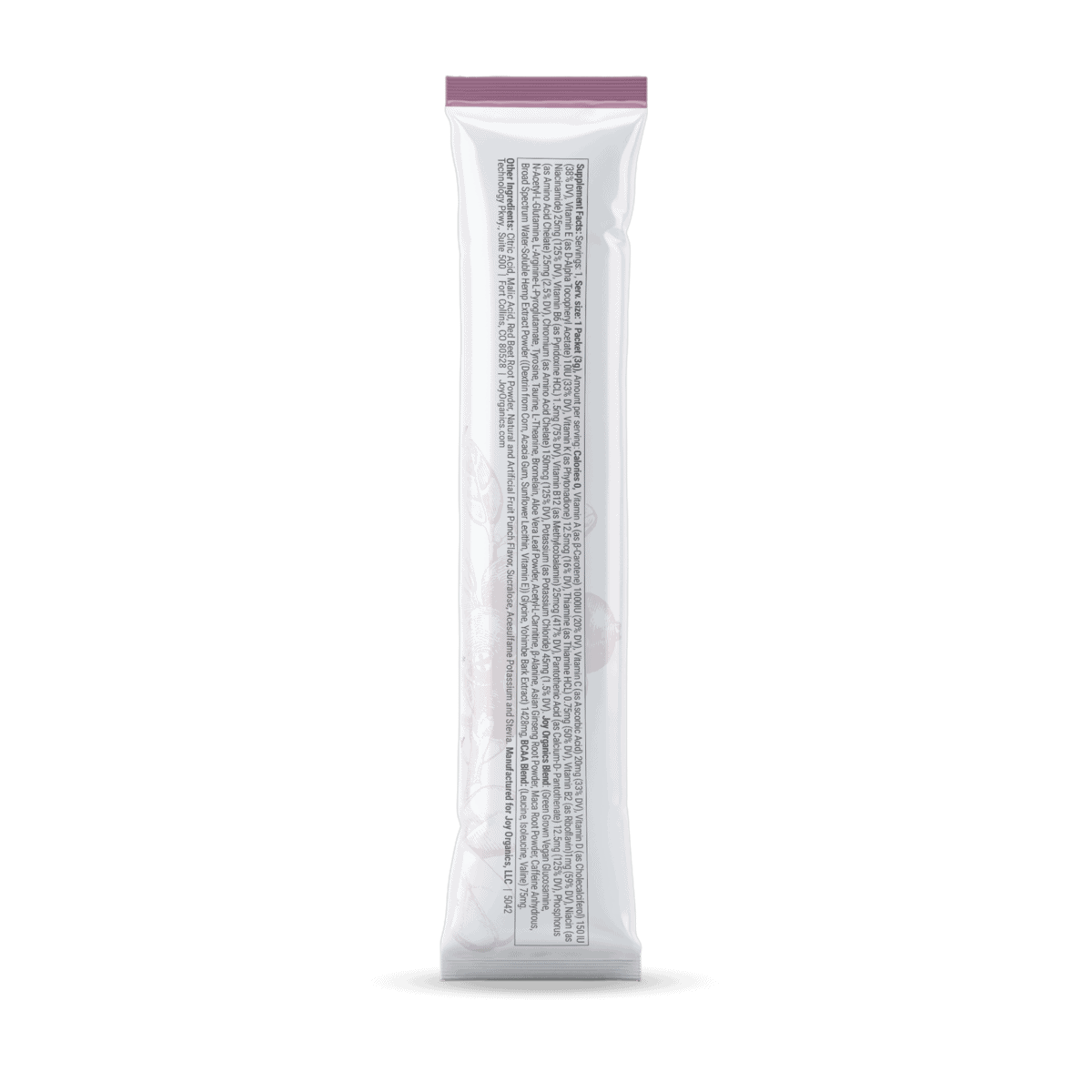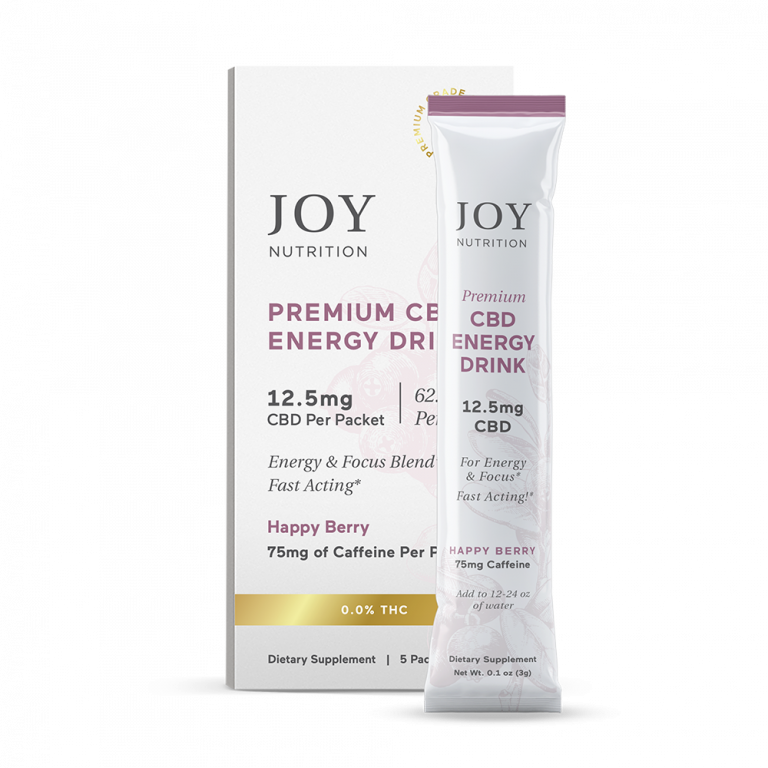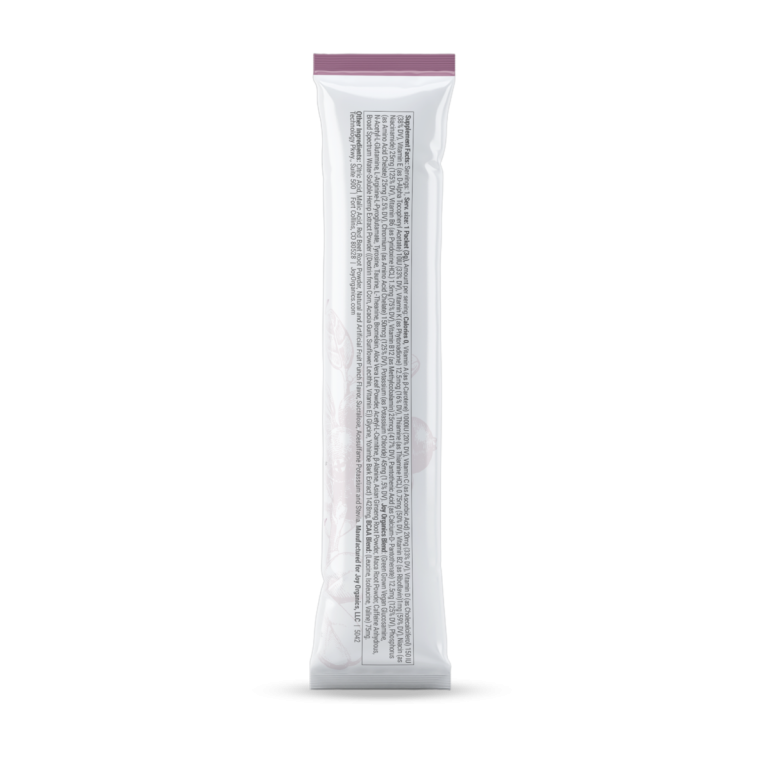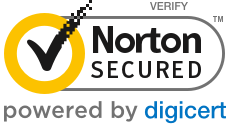 Same Day Free US Shipping Over $60

Earn 5% Back with Every Purchase

Low Price Guarantee

30 Day Money-Back Guarantee
WARNING: Reproductive Harm -
Product Data
| | |
| --- | --- |
| SKU | JOYDR01 |
| Size | 5 count |
| CBD Per Container | 250 mg |
| CBD Per 1 count | 50 mg |
| Price Per 1 mg CBD | $.06 |
If you listen to coaches and trainers, you'll find three letters popping up again and again: CBD. It's easy to see why. CBD products align perfectly with what athletes need. You don't have to be an athlete to enjoy Joy Organics' Energy + Focus Drink Mix, but those that are will undoubtedly feel its impact.
How can Joy's energy packs help you reach peak performance?
With 75mg of caffeine in each packet, you'll experience more available energy to help you get the most out of your workout, hike, studying, day in the office or anything else that requires some extra pep in your step.
Whether you're preparing for a physically demanding performance or are needing to concentrate on your work or studies, our energy drink will help you stay focused on the task at hand.
Joint or muscle discomfort can sideline even the most devoted athlete. Our CBD energy packs help support proper joint and muscle function so you can get back into the game.
Who enjoys post-workout soreness? Not us, which is why we love our energy packs for supporting recovery after a hard workout.
There's no need to take our word for it when it comes to the benefits of CBD for athletes! At the start of 2018, the World Anti-Doping Agency acknowledged CBD's benefits and removed it from its banned substances list.
Joy Organics sources our CBD from hemp plants grown in the USA. This means that our broad spectrum, premium grade CBD is of the highest quality. We source our CBD from hemp plants and extract even the trace amounts of THC, meaning that you don't have to worry about the intoxicating high associated with marijuana-based CBD. If you are ready to try an all-natural alternative to most of the other sugar-packed energy drinks on the market, our Joy Organics Energy Drink Mix is perfect for you.
Description
Vitamins
Vitamin A (as Beta Carotene) 1000IU 20%DV, Vitamin C (as Ascorbic Acid) 20mg 33%DV, Vitamin D (as Cholecalciferol) 150 IU 38%DV, Vitamin E (as D-Alpha Tocopheryl Acetate) 10IU 33%DV, Vitamin K (as Phytonadione) 12.5mcg 16%DV, Thiamine (as Thiamine HCL) 0.75mg 50%DV, Vitamin B2 (as Riboflavin)1mg 59%DV, Niacin (as Niacinamide) 25mg 125%DV, Vitamin B6 (as Pyridoxine HCL) 1.5mg 75%DV, Vitamin B12 (as Methylcobalamin) 25mcg 417%DV, Pantothenic Acid (as Calcium-D-Pantothenate) 12.5mg 125%DV, Phosphorus (as Amino Acid Chelate) 25mg 2.5%DV, Chromium (as Amino Acid Chelate) 150mcg 125%DV, Potassium (as Potassium Chloride) 45mg 1.5%DV
Joy Organics Blend
(Green Grown Vegan Glucosamine, N-Acetyl-L-Glutamine, L-Arginine-L-Pyroglutamate, Tyrosine, Taurine, L-Theanine, Bromelain, Aloe Vera Leaf Powder, Acetyl-L-Carnitine, Beta Alanine, Asian Ginseng Root Powder, Maca Root Powder, Caffeine Anhydrous, Broad Spectrum Water-Soluble Hemp Extract Powder ((Dextrin from Corn, Acacia Gum, Sunflower Lecithin, Vitamin E)) Glycine, Yohimbe Bark Extract) 1428mg, BCAA Blend: (Leucine, Isoleucine, Valine) 75mg.
Other Ingredients
Citric Acid, Malic Acid, Red Beet Root Powder, Natural and Artificial Fruit Punch Flavor, Sucralose, Acesulfame Potassium and Stevia
Servings
5 servings per box.
Product Life
18-month shelf stable.
Benefits
Manufactured in USA.
Premium grade.
Broad spectrum.
Water soluble.
How much CBD is in the Joy Organics CBD Energy Drink Mix?
There are 12.5mg of CBD in each packet of Joy Organics Energy Drink Mix.
Is there any sugar in the Joy Organics CBD Energy Drink Mix?
No, we do not add any sugar to our energy drink mix.
Do I have to be an athlete to use the energy mix?
No! Anyone who needs a boost of energy, from students to busy parents, can take advantage of the mix.
What does it mean that Joy Organics CBD is broad spectrum?
Broad spectrum means that our CBD also contains other powerful cannabinoids and terpenes from the hemp plant. This allows users to harness all the power of the hemp plant.
How much caffeine is in the mix?
For maximum energy without unwanted jitters, our mix contains 75mg of caffeine.
Is there any THC in the drink mix?
No, our mix contains 0.0% THC. We even use third-party labs to verify that THC has been removed from our drink mix.
How many packets are in each package of Joy Organics CBD Energy Drink Mix?
There are five packets per package.
I've never tried a CBD energy drink. How will this make me feel?
Our energy drink will give you a boost of energy to keep you going through your busy day. A typical cup of coffee contains about 95mg of caffeine; the Joy Organics CBD Energy Drink Mix provides 75mg, giving you an energy boost without the jitters.
Will this energy drink help me focus?
The Joy Organics CBD Energy Drink Mix is a great choice if you are looking to stay focused on a task. The nutrients in our CBD powder will help guide you through stressful work days and mental tasks.
Will the Joy Organics CBD Energy Drink Mix aid in post-workout recovery?
Yes, you can use this energy drink to keep you going after your workout with an easy hydration option. You won't feel the typical crash that you may experience with other sugar-laden energy drinks.
What does the energy drink taste like?
Our energy drink flavor is called Happy Berry. You'll enjoy a light flavor that reminds you of sweet and refreshing berries. We use Stevia as a sweetener, but you can adjust the sweetness to your preference by adding more or less water when you mix your drink.
What makes the Joy Organics CBD Energy Drink Mix special?
Unlike many sports drinks and other energy drink options on the market, our CBD Energy Drink gives you a boost of energy without any added sugar. You'll get all the energy without the sugary crash afterward. Our 0.0% THC powder will give you a boost of energy with a consistent 12.5mg of premium grade, broad spectrum CBD per serving.
Additional information
| | |
| --- | --- |
| Weight | 1.0 oz |
| Brand | |
| Spectrum | |
| THC | 0% THC |
| Flavor | Berry |
| Benefit | |
| CBD for | |
| Contains | |
Customer Reviews
2 reviews
5 out of 5 stars
×
Please Sign in to rate this comment