cbdMD, CBD Recover Pump, Broad Spectrum THC-Free, 3.4oz, 3000mg CBD
Same Day Free US Shipping Over $60

Earn 5% Back with Every Purchase

Low Price Guarantee

30 Day Money-Back Guarantee
$.03/mg CBD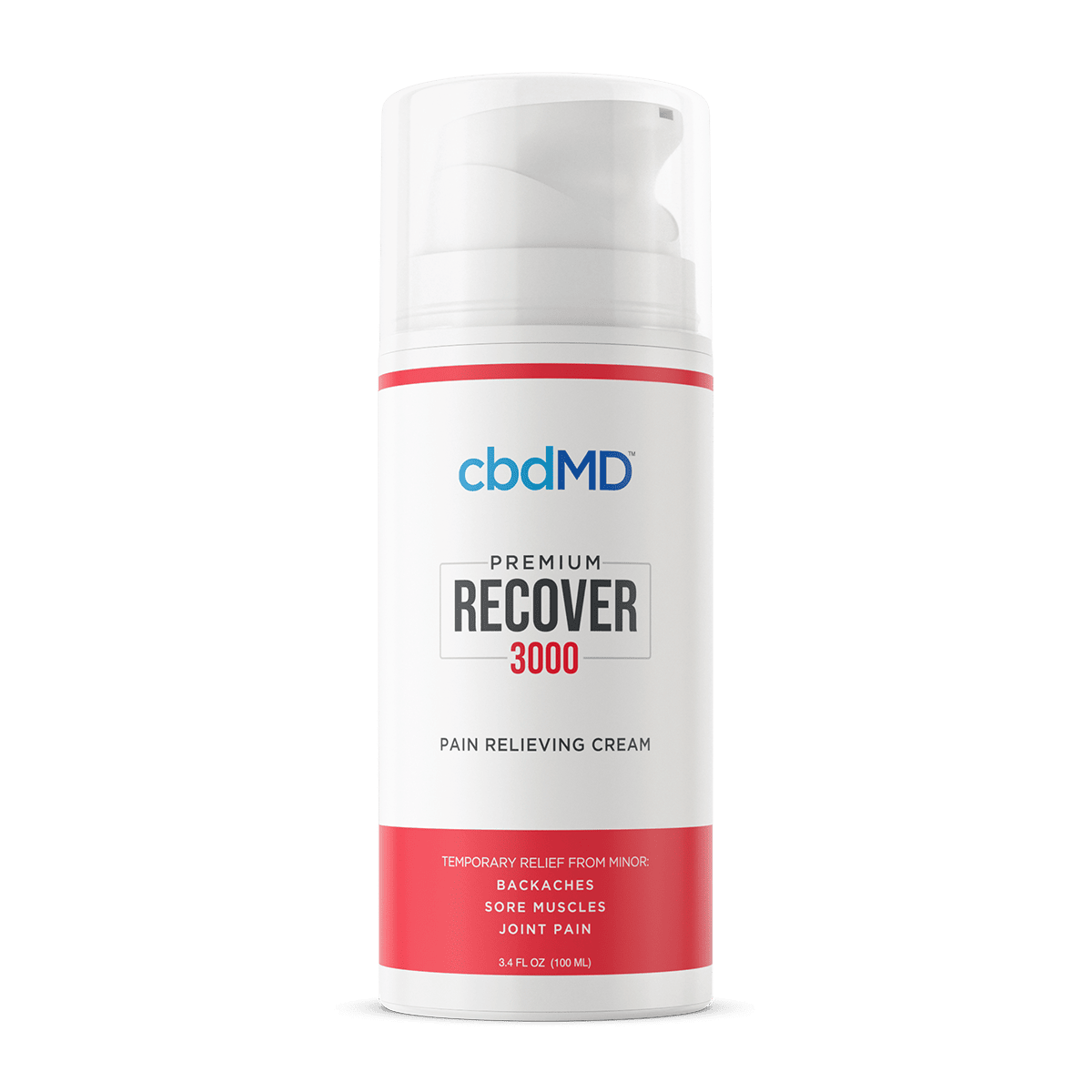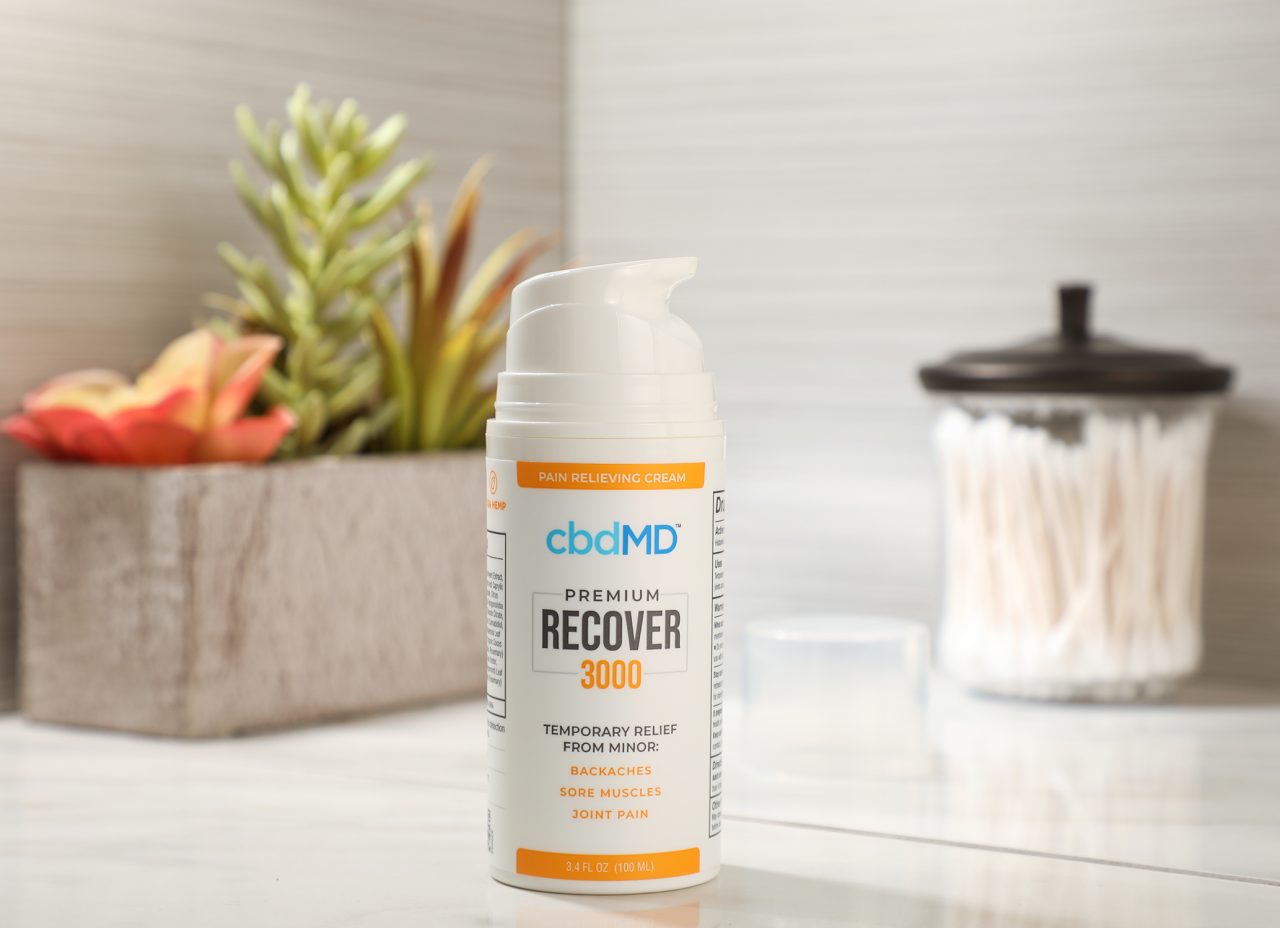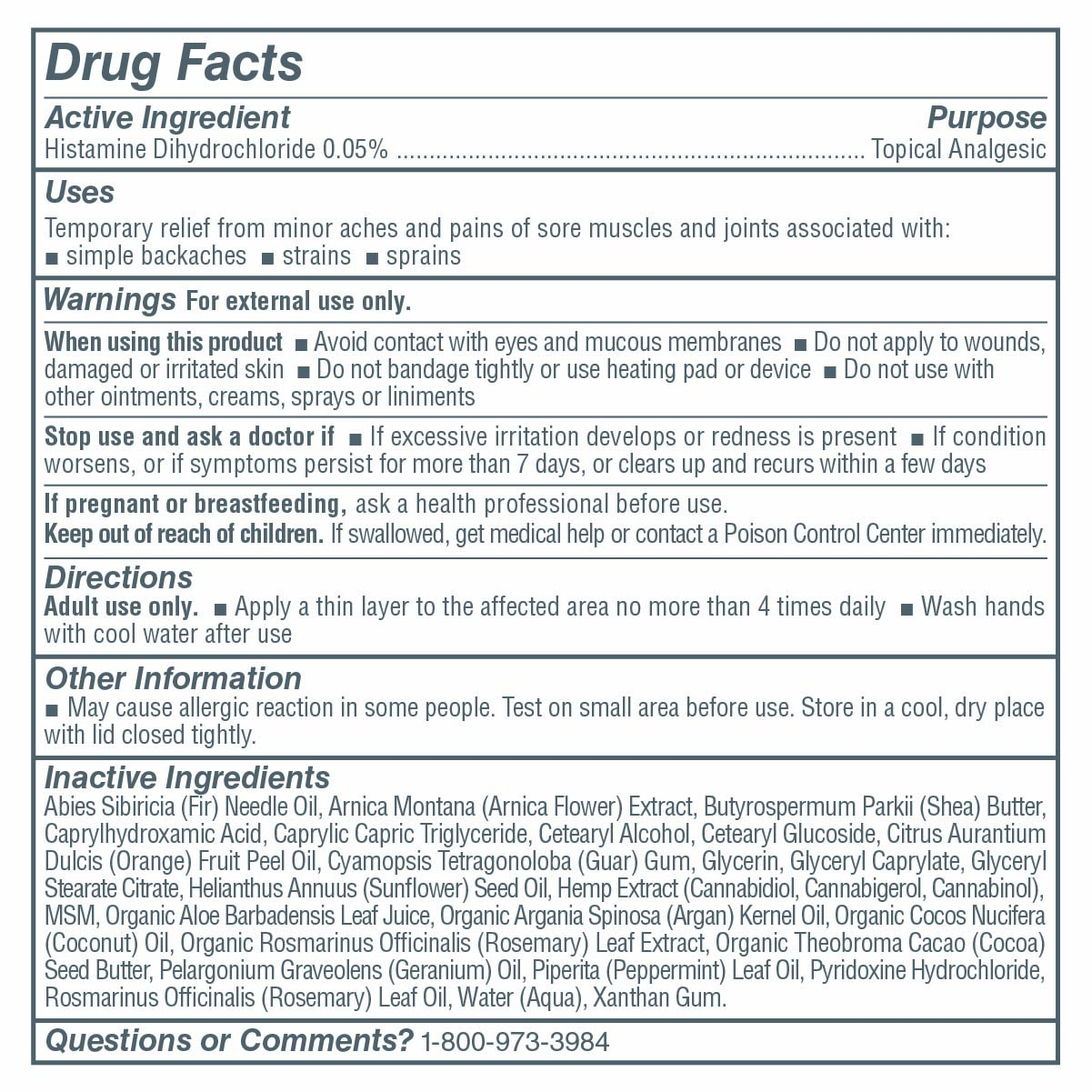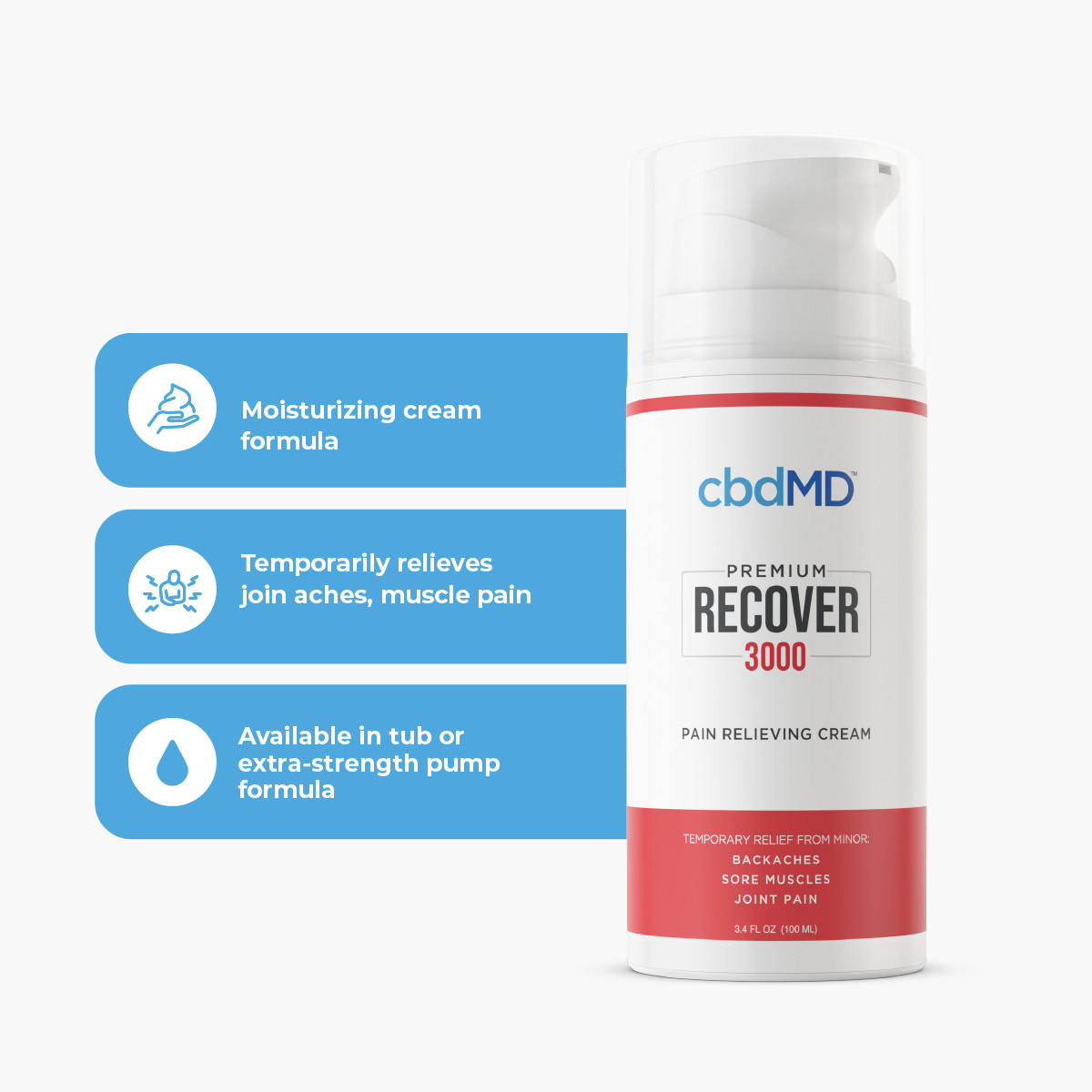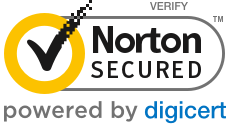 Same Day Free US Shipping Over $60

Earn 5% Back with Every Purchase

Low Price Guarantee

30 Day Money-Back Guarantee
WARNING: Reproductive Harm -
Product Data
| | |
| --- | --- |
| SKU | CMDCR05 |
| Size | 100 ml |
| CBD Per Container | 3000 mg |
| CBD Per 1 ml | 30 mg |
| Price Per 1 mg CBD | $.03 |
Soothe away joint and muscle aches with Recover, a CBD cream enriched with pain-killing medicine and a wealth of soothing herbal ingredients. Our Superior Broad Spectrum hemp extract provides the soothing wellness and CBD benefits of CBD topicals, while histamine dihydrochloride creates a pleasant warming sensation while providing temporary relief from minor aches and pains. Add to that arnica, aloe vera, MSM, and a full profile of essential oils in a creamy, moisturizing base, and you've got a fully loaded pain relief cream whenever – and wherever – you need it most!
Hemp extract contains CBD, CBN, CBG, and terpenes to create our Superior Broad Spectrum formula
Histamine Dihydrochloride provides temporary pain relief and increased blood flow
Arnica, Aloe Vera, and MSM soothe and support overall well-being
Coconut Oil, Shea Butter, and Argan Oil moisturize skin
Available in four strengths, including 3000 mg with pump applicator
Description
BENEFITS
Every CBD cream that we make at cbdMD is crafted with only the highest-quality ingredients and no artificial perfumes or dyes. We use vegan, gluten-free, paraben-free botanical oils and extracts to create a unique lineup of moisturizing lotions. We then infuse our Superior Broad Spectrum CBD extract, a patent-pending blend of cannabinoids and terpenes that's been carefully crafted to ensure exact consistency with every batch. We even test all products in-house prior to sending them to a third-party ISO accredited lab to provide greater peace of mind. For easy access, check out the lab results.
We also infused our Recover cream with histamine dihydrochloride, an FDA-approved active ingredient that provides temporary pain relief and creates a gentle warming sensation by expanding blood vessels to the area where it's applied. This makes Recover a great pain relief cream for stiff joints and backs – for both athletes and desk jockeys alike!
EASE AWAY DISCOMFORT
If you've got an achy Achilles tendon or a strained back from lifting a few too many boxes or reaching a new personal goal, histamine dihydrochloride can ease away the pain for a few hours while the CBD and other botanical ingredients nurture your body.
EVERYDAY STRESS MANAGEMENT
You know why something that stresses you out is "a pain in the neck"? Muscle tension is one of the leading signs of daily stress, which can lead to stiffness and pain. Recover dilates blood vessels and helps you relax while easing pain so you can unwind and restore your balance. Combine with any stress management routine for best results.
ENHANCE EXERCISE RECOVERY
A good workout can leave you a bit sore, so it's always good to have a pain relief cream on hand. Recover's moisturizing formula is especially good after outdoor sports like hiking, running, skiing, or surfing, all of which can be hard on your skin from hours spent in the sun.
SUPPORT A DAILY WELLNESS ROUTINE
Whatever activities you make part of your wellness routine, Recover CBD cream can help support them by reducing discomfort and easing recovery so you don't have to miss a day. Plus it helps keep your mental wellness in a good place if you're not thinking about pain!
NON-DETECTABLE LEVELS OF THC
At cbdMD, we know that not everyone who's a fan of cannabis is a fan of THC. That's why we source our extracts only from American-grown hemp with less than 0.3% THC by dry weight. It's then put through a rigorous process of purification and testing to ensure that whatever THC remains is lower than what standard equipment can detect.
DIRECTIONS
For best results, apply a thin layer of Recover CBD cream on the affected area up to four times a day. Do not apply it to broken or burned skin or to mucous membranes. Recover can be used as part of any pain management routine; if you like the moisturizing qualities of our CBD cream, Revive CBD lotion is a nearly identical formula without the histamine dihydrochloride, arnica, or MSM, so you can use it anytime and anywhere you want. For pain relief and skin support, try combining both!
You can also enhance CBD benefits with a daily regimen of internal or ingestible CBD, whether through CBD tinctures, capsules, or CBD gummies. Topically applied CBD doesn't enter the bloodstream, so it acts in a complementary way with ingested CBD, which supports whole-body wellness. Another way to support muscle recovery that's popular with our Team cbdMD athletes is to take a hot soak with CBD bath bombs. When it comes to your health and wellness journey, relief and recovery start right here.
Additional information
| | |
| --- | --- |
| Weight | 5.8 oz |
| Brand | |
| Spectrum | |
| THC | 0% THC |
| Benefit | |
| CBD for | |
Customer Reviews
5 reviews
4.6 out of 5 stars
×
Please Sign in to rate this comment