There are over 100 different cannabinoids that we know about. These cannabinoids come from the cannabis plant. With many various health benefits available through regular use of cannabinoids, CBD is inevitably going to continue to become a booming business.
CBD oil is being used as an isolated product, but you can also find it as part of a full-spectrum variety. What you choose to take depends on what you want to accomplish. CBD can provide you relief from chronic pain, it can reduce inflammation, and it can help you sleep better at night. 
CBD for sciatica is something that many people are embracing. Its global success is due primarily to undeniable results and lack of THC. You can use a CBD dose for sciatica or another condition, and you won't have to deal with any adverse mental effects. You'll still be able to drive, go to work, and focus on things at home. 
The structure of the article:
1. CBD for Sciatica Pain
2. CBD Oil for Sciatica Pain
3. Natural Alternatives for Pain
4. How Much CBD Oil for Sciatica Do I Need to Take?
5. At the Conclusion
CBD for Sciatica Pain
Problems with the sciatic nerve cause the pain that comes from sciatica issues. This nerve is the largest in our body, and it can become compressed or irritated. The intervertebral disc in the body can pinch this nerve, but there are illnesses, infections, and tumors that can cause problems.
Many pregnant women experience sciatic issues due to the increased pressure they have on their sciatica as the baby gets bigger. Being overweight or living a sedentary lifestyle can also increase your risk.
However, there are people that are prone to a sciatic flare-up, regardless of their lifestyle and fitness level. It is most common in people over the age of 40. Pain caused by sciatica issues can be felt in the backs of the legs, through the buttocks, in the calf, foot, and toes.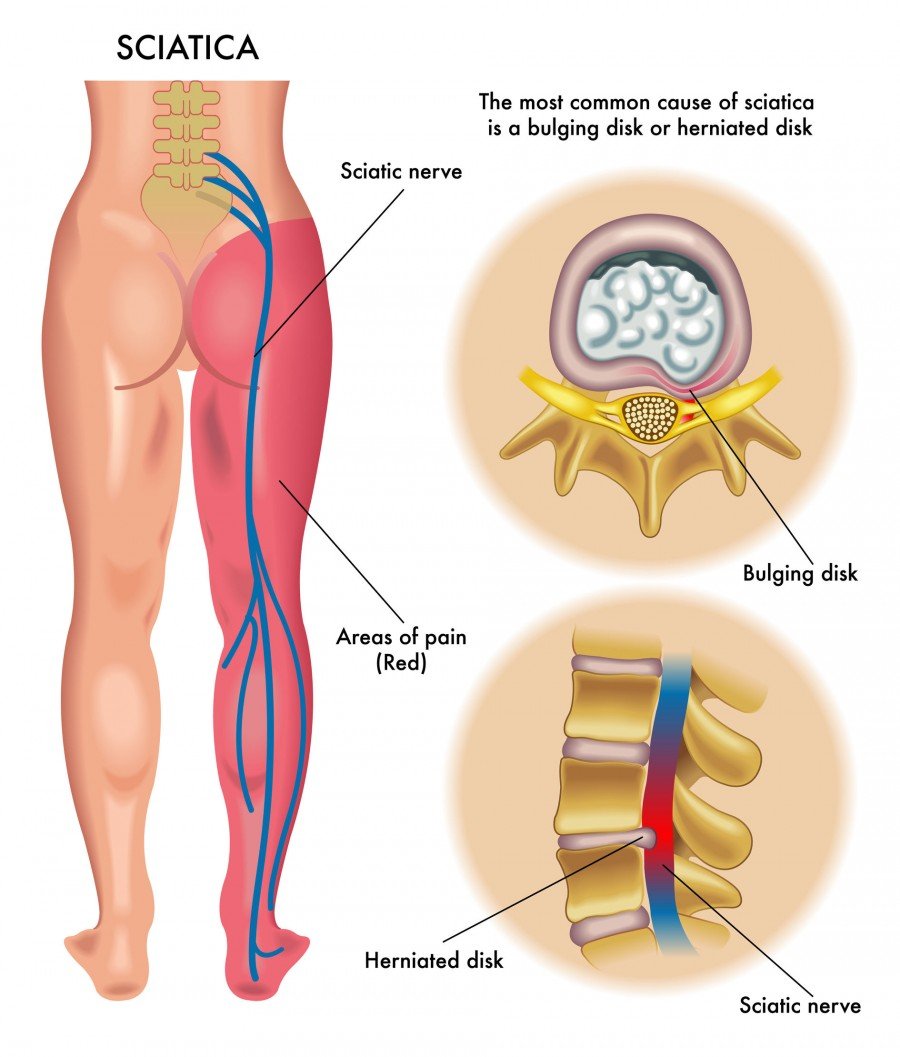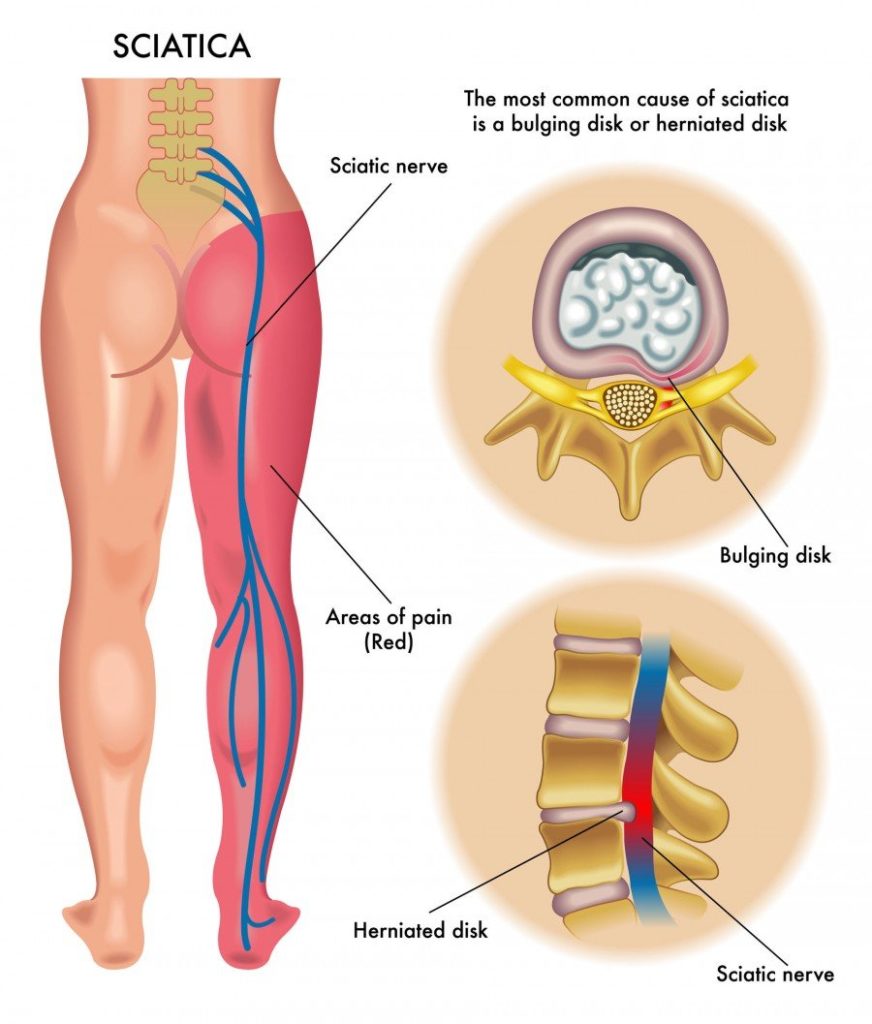 CBD Oil for Sciatica Pain
Approximately 40 percent of adults will experience sciatica pain at some point in their life. There are some exercises and medications that can be used to treat these issues, but a lot of people can't find the relief that they're looking for.
CBD oil for sciatica is something that can be taken orally, but there is CBD cream for sciatica that can be applied right to the area that is experiencing the most pain. Applied topically, relief can usually be achieved pretty quickly.
For ongoing sciatica issues, an oral dose administered sublingually or by capsule form can decrease the inflammation that may be preventing the problem from going away. CBD also has the ability to affect the pain receptors in the brain. It can help relieve the constant stinging of sciatica pain. 
Natural Alternatives for Pain
Many people who experience extreme sciatica pain will be pushed to try a prescription pain reliever after over-the-counter remedies don't work. Unfortunately, several risks come with these treatments. Pain medications that fall into the opioid category of medications are extremely addictive. It doesn't take more than a few doses to have a person hooked. What started as a minor sciatica problem can turn into a fight for one's life. Many of these medications can cause stomach upset and ulcers.
Many people end up having emotional and mental health issues because of the drugs that they're taking and the pain they are feeling. It's beneficial to find a natural remedy that will work much more safely, but you want to mention CBD to your doctor before you try it. If you're taking any other kind of medication for your pain, you want to make sure there won't be an interaction or issue with CBD and that drug. 
How Much CBD Oil for Sciatica Do I Need to Take?
The amount of CBD for sciatica that is needed will vary from person to person. Some people will benefit from a tiny dose of CBD once per day. Other people may not notice any change until they have been taken CBD each day, three times per day, for many weeks.
Even if you don't experience any change in your sciatica pain after a few doses, it' a good idea to keep up with your regimen. It may just take your body a little longer to respond.
If you've been dealing with your sciatica issues for a number of years now, you may very well have a lot of inflammation that needs to be healed before you will start to feel your best again. Give your body time to heal and give CBD a chance that it needs to start working. If you don't notice any results in approximately two weeks or so, you can increase your dose a bit. Give your body a couple of weeks to adjust to the new treatment before you alter it again.
At the Conclusion
There are people in the world who are in constant pain because of their sciatica. The use of CBD oil is a great way to deal with this pain and inflammation, but it can also help you achieve a new level of health and wellness that you haven't felt since you were much younger.
Providing supplementation to the endocannabinoid system can make a big difference in how you feel overall. In just a short amount of time, you'll have more energy, you'll be healthier, and you can be ultimately pain-free if you use CBD for sciatica pain.
The statements above have not been evaluated via the Food and Drug Administration. The efficacy of these merchandise has not been tested by using FDA-approved research. These products are not intended to diagnose, treat, therapy or stop any disease.