Functional Remedies (Synchronicity) CBD Oil Reviews 2023
Founded: 2015
Official site: synchronicityhempoil.com
Phone:+1 (833) 600-0732
Address: 1000 S. McCaslin Blvd. Suite 301, Superior, CO
| | |
| --- | --- |
| Price | ⭐️⭐️⭐️⭐️⭐️ |
| Quality | ⭐️⭐️⭐️⭐️⭐️ |
| Taste | ⭐️⭐️⭐️⭐️⭐️ |
| Effect | ⭐️⭐️⭐️⭐️⭐️ |
Overall Score: ⭐️ 4.2
Synchronicity CBD is a product line of Functional Remedies. Instead of producing Functional Remedies CBD, the company has pursued the development of a superior line of full spectrum hemp oil products. The manufacturing process uses a unique gentle hand-pressed LipidTrans infusion process involving the whole hemp plant. This process ensures all the plant nutrients are retained in the Synchronicity CBD products – CBD, CBN, CBC, CBDA, CBDV, and CBG.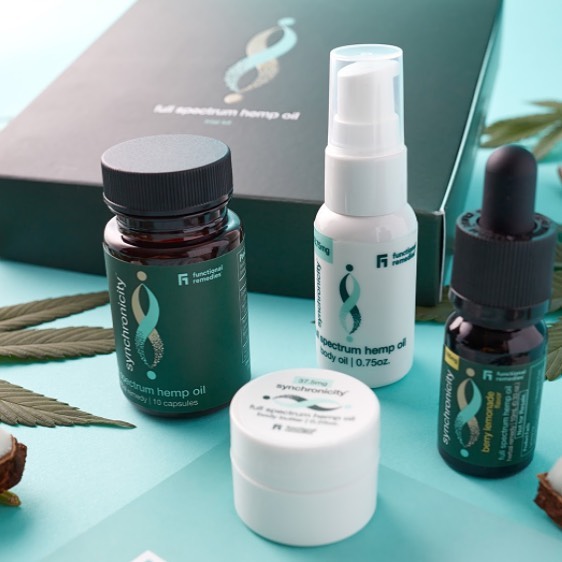 Functional Remedies Synchronicity Review
Here are the guidelines on how the company is different from other CBD manufacturers:
The proprietary CBRX-18 plant
Sustainably farmed and naturally bred, the CBRX-18 plant represents two decades of research. The manufacturer uses the entire plant to create its full-spectrum hemp oil packed with phytonutrient compounds.
LipidTrans™ Infusion Process
Functional Remedies Synchronicity uses a gentle hand-pressed infusion process to create the most efficacious and highest quality full-spectrum hemp oil. They spend the time and effort to utilize all the nutrients of the plant to bring the shared consumers the full entourage effect.
Functional Remedies Synchronicity Products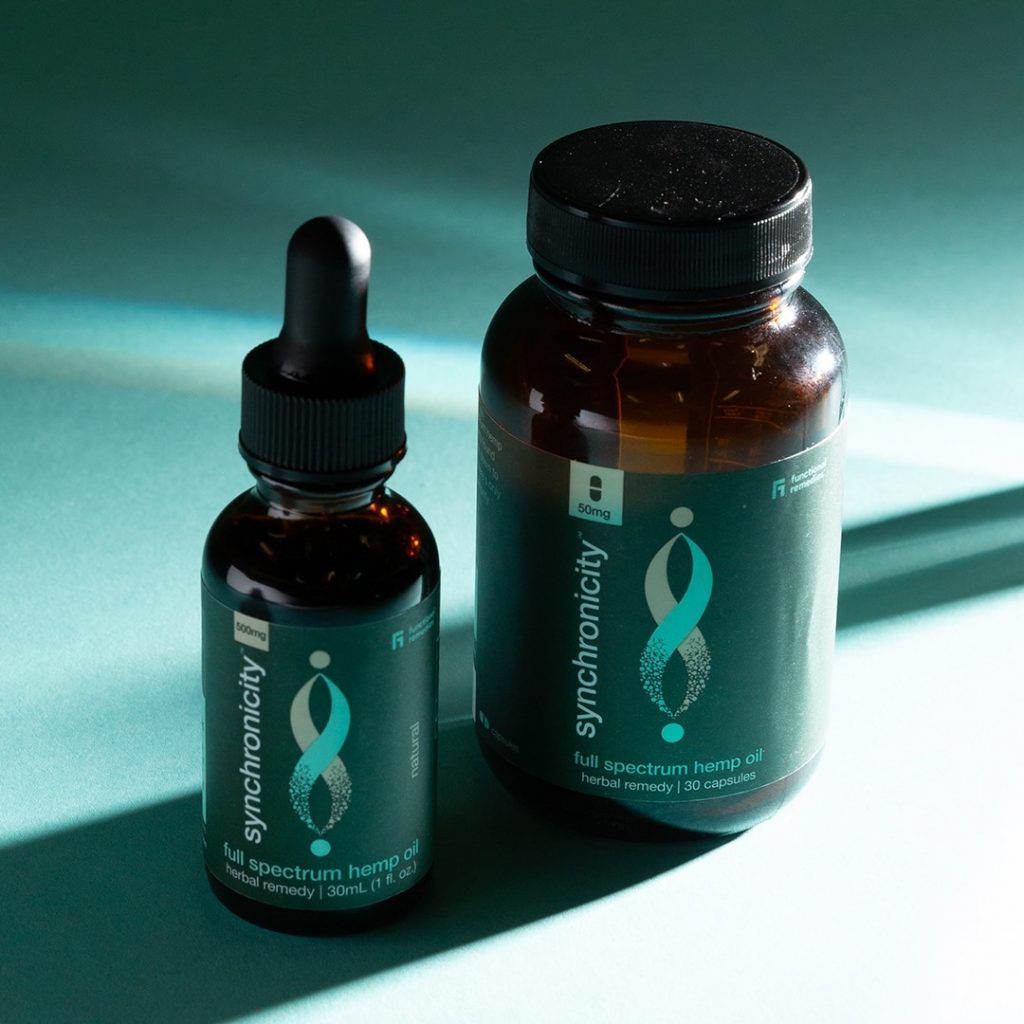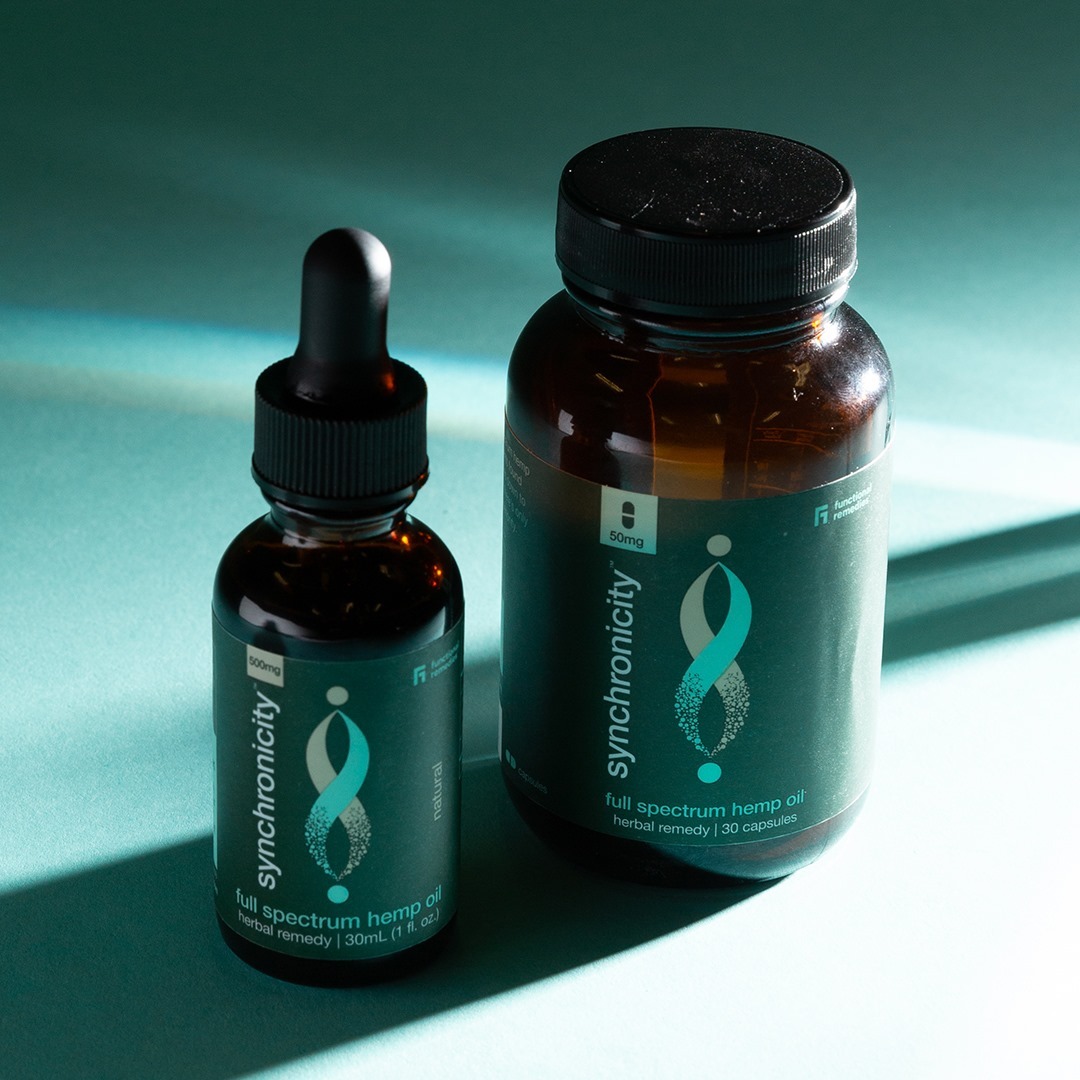 The company manufactures the following CBD products:
• Tinctures
• Capsules
• Body oil
• Aromatherapy
• Body lotion
• Body butter
• Facial cream
• Sports Balm
• Youth serum
Functional Remedies Synchronicity CBD Tinctures
Full-Spectrum Hemp Oil 500 mg and 1000 MG tinctures are carefully crafted from phytonutrient dense plants and hand pressed to preserve all of the beneficial compounds.
Functional Remedies Synchronicity CBD Capsules
The manufacturer produces the same full spectrum hemp oil in a convenient on-the-go option. Paired with a proprietary blend of oil for easy absorption, this ultra-potent formula engages the True Entourage Effect™ of hemp's naturally occurring compounds. CBD capsules are available in 25 MG and 50 MG strengths, and they come in 30-count and 60-count bottles.
Functional Remedies Synchronicity CBD Topicals
Functional Remedies Synchronicity CBD topicals include body butter, body lotions and oils, facial creams, sport balms, and anti-aging serums.
One of the flagship products is a 2500 mg Sports balm designed to apply to sore muscles and joints after engaging in extensive activities.
Functional Remedies Synchronicity Pricing
Synchronicity CBD offers high-quality products at very reasonable prices. For example, a bottle of tincture can cost between $49.99 per 500-mg CBD tincture bottle and $78.99 per 100-mg bottle. The price for CBD capsules varies from $55.99 to $95.99.
Functional Remedies Synchronicity THC Content
Instead of isolating CBD from the rest of the plant's powerful elements, Synchronicity makes full spectrum hemp oil. It contains either no THC or small traces of THC (0.3% THC) that don't violate any laws.
Functional Remedies Synchronicity Overview
At Synchronicity, they are passionate about customers' health. That's why they have a hand in every aspect of production. They have spent more than two decades cultivating their patent-pending hemp plants, and are committed to sustainable and transparent farming practices. Now the company is the leader in purity and safety and consistently tests its hemp oil tinctures through third-party labs.
Functional Remedies Synchronicity Specs
cGMP Certified
Non-GMO
Hemp is grown, produced, and bottled in Colorado
Hand-pressed and lipid Infused
Rich in Naturally-Occurring Phytonutrients
Gluten-Free
Whole Plant-Based Oil