Real Scientific Hemp Oil Reviews 2023
Founded: 2012
Official site: realscientifichempoil.com
Phone: +1 866 273 8502
Email: info@realscientifichempoil.com
Address:
12255 CROSTHWAITE CIRCLE
POWAY, CA 92064 USA
Real Scientific was created in hopes of providing CBD to the masses. At the time, medical marijuana and CBD oil products were very difficult to get ahold of. It was very difficult to find a place in the United States to produce these products.
You also had trouble finding a way to buy CBD. Real Scientific found a farm in Northern Europe that met all of the requirements. A 750 family farm would soon be growing and harvesting the hemp that is used for Real Scientific's products. Even the search for the perfect seed took some time.
Real Scientific Hemp Oil Review
Real Scientific cares about what their clients put into their bodies. Their belief stems from living a healthy lifestyle that focuses on things like a healthy diet, nutrient consumption, avoiding chemicals, etc. Real Scientific products are all-natural. Pure extracted hemp oil is used with confidence that it is a well-balanced product.
Many hemp plants are so mass-produced that they lack nutrients. This is purposely avoided with RSHO when you buy CBD. Their goal is to safely grow, extract and produce a high-quality product. This product is then sold to clientele all across the United States, free of additives, chemicals, pesticides, fertilizers and flavors.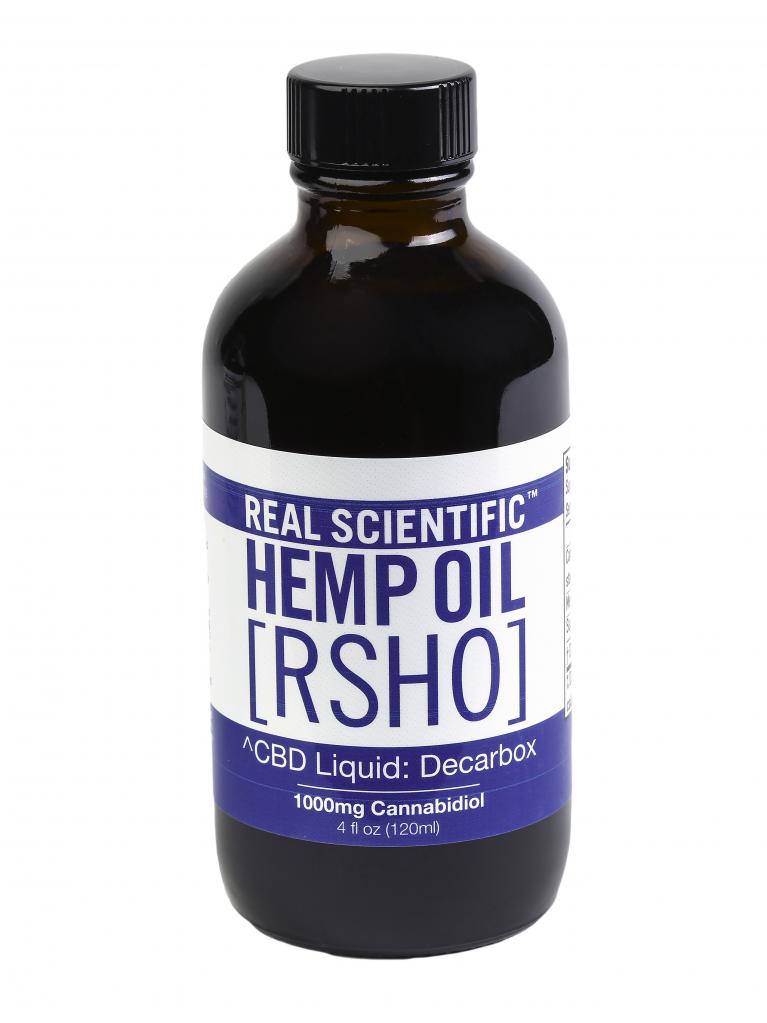 Real Scientific Hemp Oil Products
RSHO produces four varieties of CBD hemp oil: green label, blue label, gold label, and special blend.
The green label is a raw form of CBD extract and contains cannabidiolic acid (CBDa), essential vitamins, minerals, fatty acids, and other trace cannabinoids.
The blue label products have a higher concentration of cannabidiol.
The gold label is put through an extra filtration process to remove the hemp plant's excess waxes, chlorophyll, and other plant material.
The RSHO special blend combines the blue label and gold label formulas to create the most concentrated CBD oil.
RSHO maximum strength is an oral applicator with the highest concentration full spectrum CBD oil, containing 45% CBD per weight. Each 10-gram tube of the product contains a total of 4 500mg of CBD.
The most well-known RSHO products on the CBD market today are:
CBD Tinctures with CBD concentrations: 100mg, 500mg, 1 000mg, or 5 000mg.
CBD Oil Capsules make it easy to support the body's endocannabinoid system and naturally promote balance in the body.
CBD Isolate is the purest CBD product in the form of a crystalline powder. It can be mixed with other CBD Oils, may be added to food/drink or taken by itself.
CBD Salve can be applied topically to help with irritated or dry skin, fine lines, and even muscle discomfort.
Real Scientific Hemp Oil Pricing
Prices for Real Scientific Hemp Oil depend on the type of the product. Green label has the lowest price point of all RSHO because of its minimal processing. Blue Label is a mid-priced product, maximizing CBD content while retaining the hemp plant's natural composition.
RSHO offers a number of RSHO products with varying price points, giving you the chance to ship our site for the best price for your needs.
Real Scientific Hemp Oil THC Content
Real Scientific Hemp Oil CBD products are produced without the psychoactive effects of tetrahydrocannabinol (THC).
Real Scientific Hemp Oil Overview
If you are in search of a trustworthy product that you can buy CBD oil from, the products that we sell from Real Scientific and HempMeds are top-of-the-line options. They supply you with the best products that we can find. If you have any questions you can contact our customer service. You can also touch base with the wonderful staff at either of these brands.
Real Scientific Hemp Oil Specs
Isolate and full-spectrum products
Triple lab tested
High potency options
Non-GMO products
Delivery to all US 50 states and 40 international countries