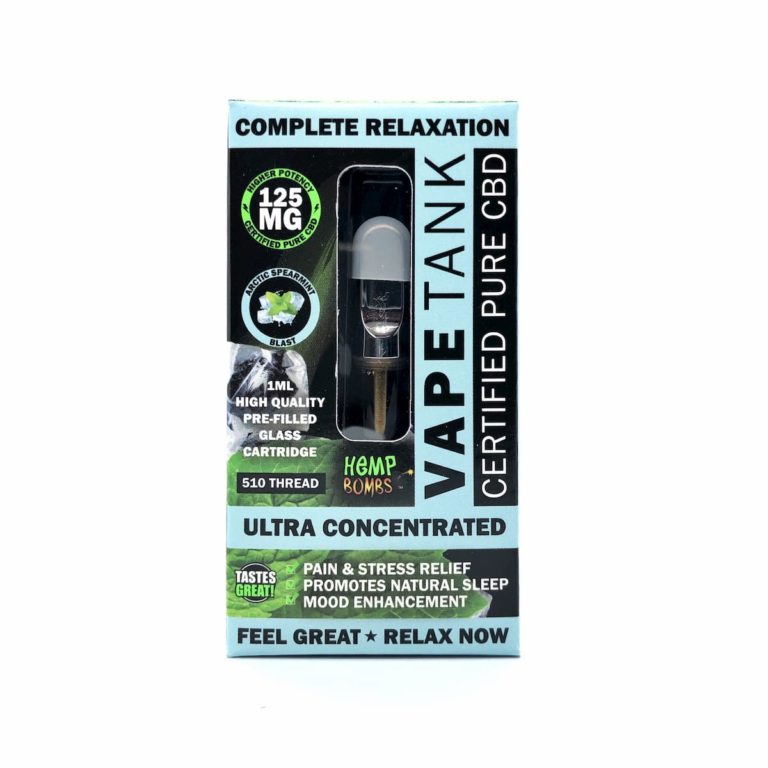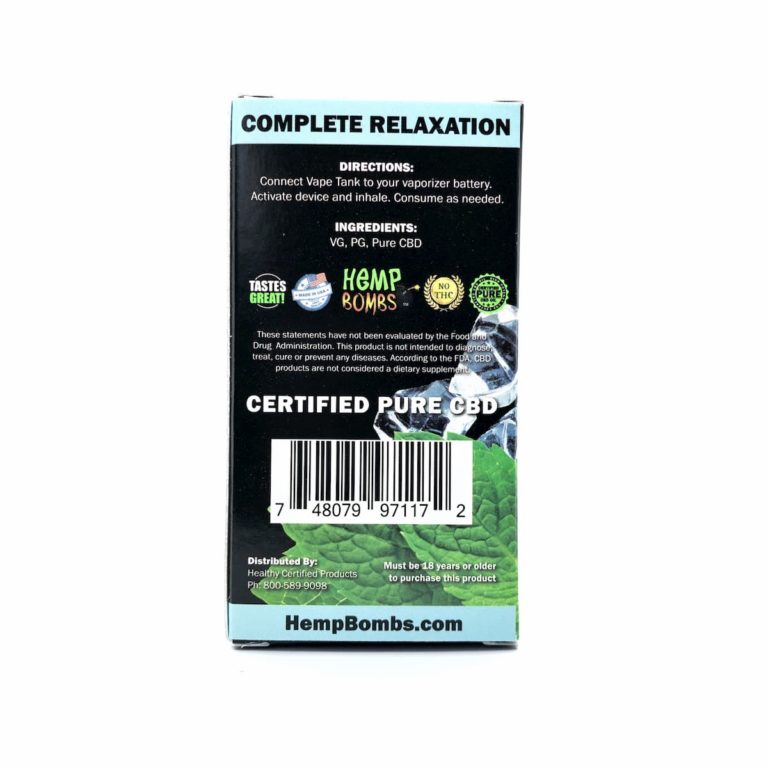 ¢13/mg CBD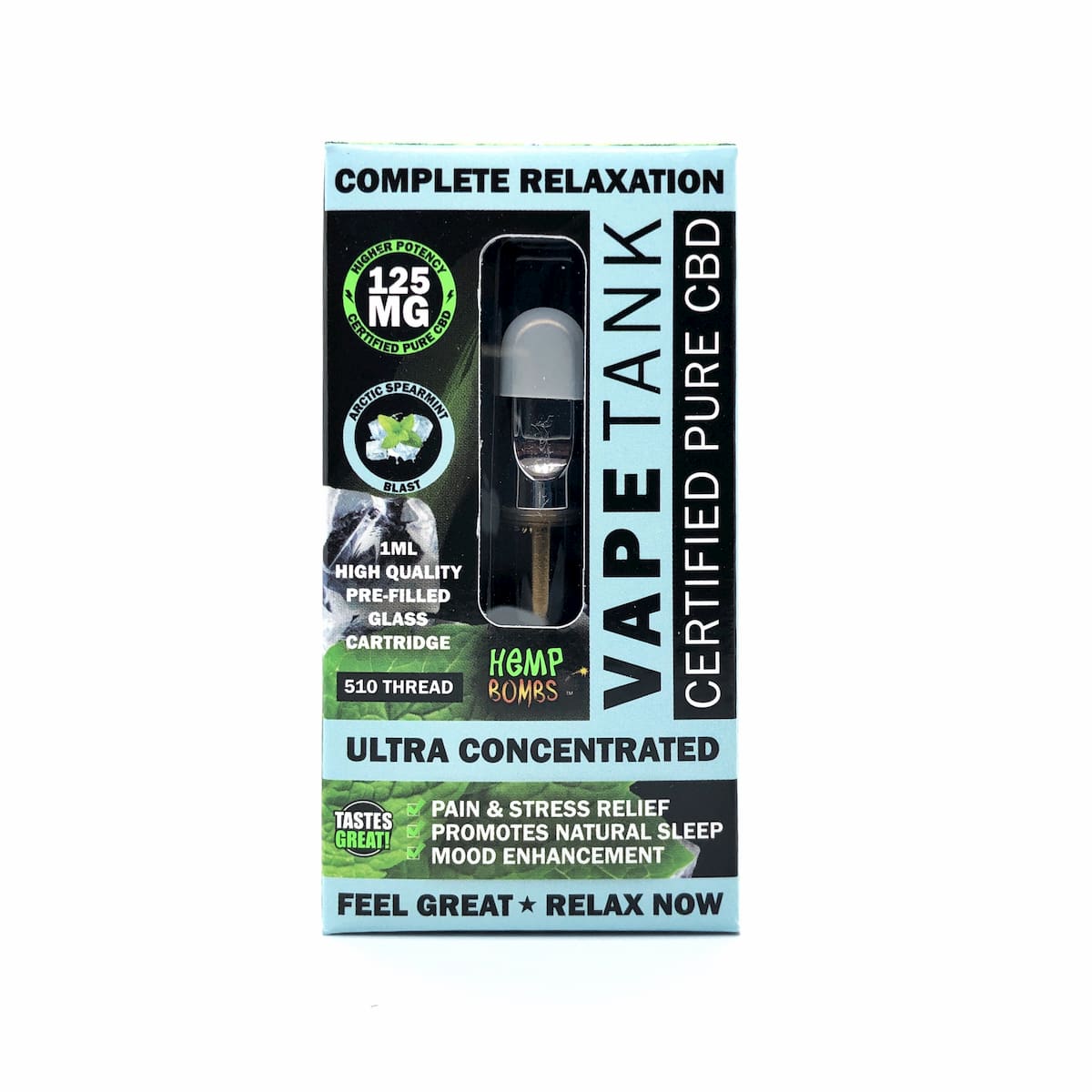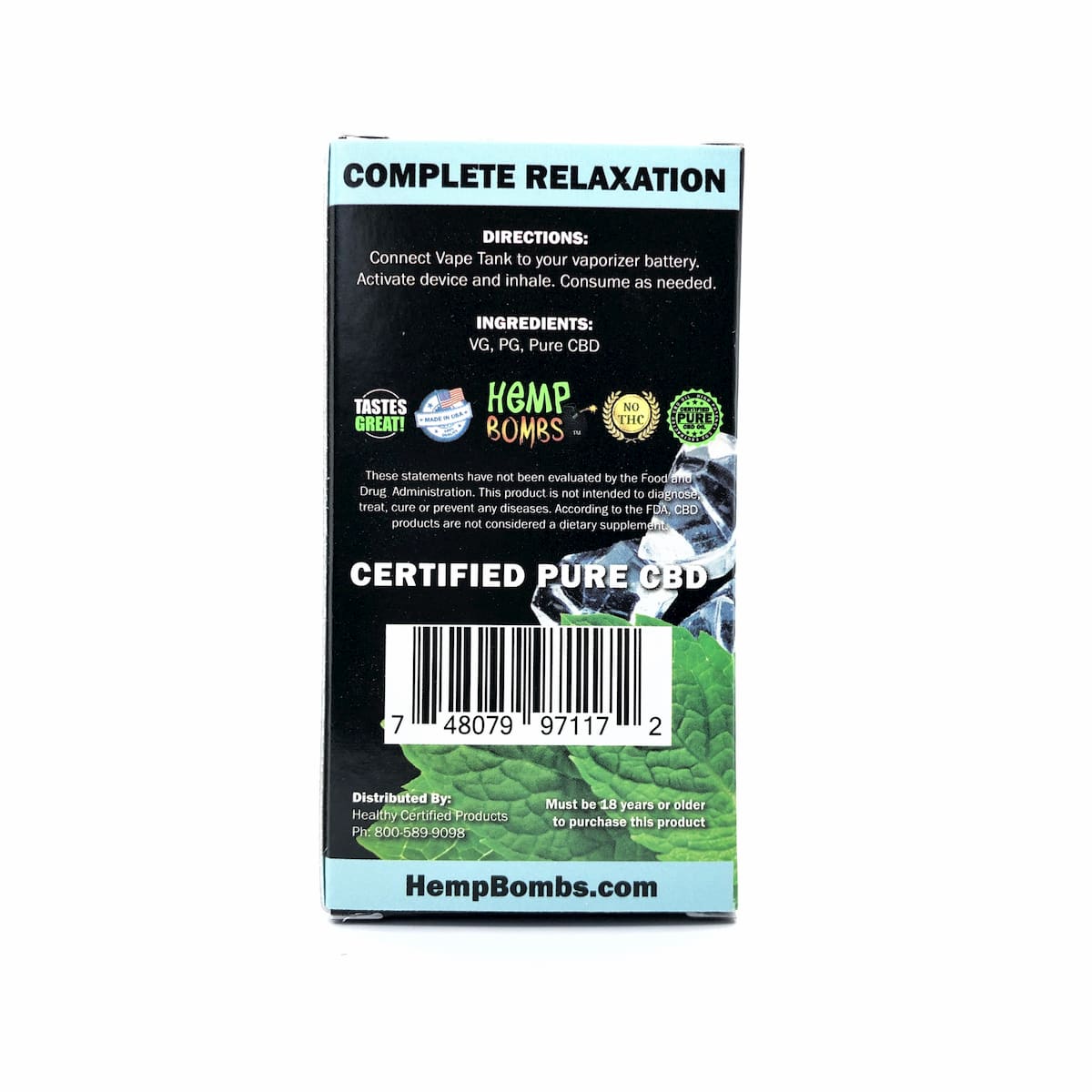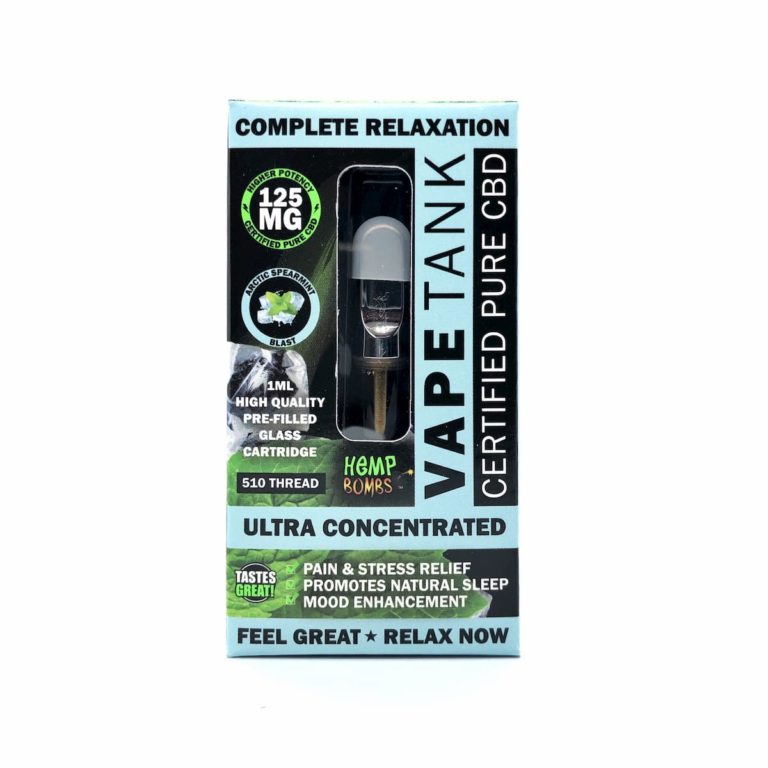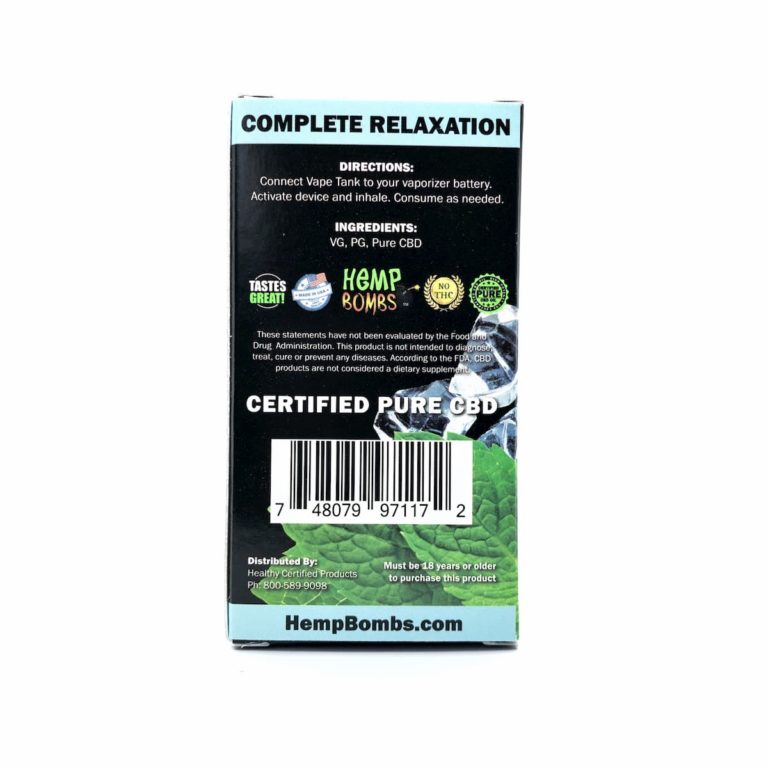 Hemp Bombs, Vape Tank, Broad Spectrum THC-free, Arctic Spearmint, 1ml, 125mg of CBD
¢13/mg CBD
Same Day Free Shipping Over $60
Earn 5% Back with Every Purchase
30 Day Money-Back Guarantee
Product Data
| | |
| --- | --- |
| Size | 1 ml |
| Serving Size | 0.05 ml |
| Servings Per Container | 20 |
| Price Per Serving | $0.80 |
| CBD Per Serving | 6.25 mg |
| CBD Per Container | 125 mg |
| CBD Per 1 ml | 125mg |
| Price Per 1 mg CBD | ¢13 |
| GTIN | 748079971172 |
Hemp Bombs is extending its reach in the vaping market with the introduction of Hemp Bombs CBD Vape Tank Cartridges. These cartridges are pre-loaded with our bold e-liquid flavors and enriched with CBD. Vape Tanks come in concentrations of 125mg, 300mg, and 1000mg offerings, with different strengths for users of all experience levels.
DOES NOT INCLUDE A BATTERY
Product Info 
● 1 ml of CBD E-Liquid
● 125 mg of CBD per cartridge
● Does not include battery
● 70/30 VG/PG Split
● Tested by Independent Labs
● Non-THC, Non-Nicotine
Hemp Bombs Vape Tank Cartridges are the pre-configured solution for vapers looking to incorporate CBD into their routine. Vape Tanks are user-friendly and don't require the maintenance of other vape devices. Simply attach the universal 510 thread to a vape device to begin use. Order yours and start enjoying Vape Tank Cartridges right out of the package. Cartridges are made of quality durable glass, not plastic.
As always, Hemp Bombs uses premium ingredients for sourcing and production. Our products are manufactured with CBD Isolate and do not produce the psychoactive effects associated with THC. Our product quality and expertise is unrivaled in the CBD industry.
Supplement Facts
Cannabidiol (CBD) extracted from Industrial Hemp 125 mg
Vegetable Glycerine
Propylene Glycol
Can I refill a Hemp Bombs CBD Vape Tank?
Hemp Bombs CBD Vape Tanks are intended for one-time use. We recommend our E-Liquid for any vaper looking for a product that can be used repeatedly.
What are VG and PG?
VG and PG stand for Vegetable Glycerine and Propylene Glycol, and they are considered essential components for vaping juice.  Hemp Bombs Vape Tanks contain a 70/30 VG/PG split, which is formulated for maximum cloud production.
What wattage should I use for my CBD Vape Tank?
While our Vape Tanks are universal, there is a wide variety of factors between batteries and vape mods that can affect performance. Therefore, there is no exact answer on what wattage setting you should use. We recommend starting with low wattage and working your way up until you find a level that is most comfortable for you. If your device feels physically hot, your wattage is too high. If you notice some cracking or popping from your device when you vape, this is often normal and completely fine.
What's the difference between a Vape Tank and CBD E-Liquid?
While our vape tanks are intended for one-time use and contain one milliliter of CBD E-Liquid, Hemp Bombs CBD E-Liquid comes in a 16.5-milliliter container and can be used in any compatible vape device.
Do Hemp Bombs vape products contain nicotine or harmful additives?
No. Hemp Bombs products do not contain nicotine or ingredients known to cause bronchiolitis obliterans ("popcorn lung").
| | |
| --- | --- |
| Weight | 1 oz |
| Dimensions | 2 × 1 × 3.7 in |
| Brand | |
| Benefit | |
| Derived from | Industrial Hemp |
| Flavor | Spearmint |
| Source of the Hemp | USA |
| Spectrum | |
| THC | 0% THC |
| Specifications | Nicotine-Free |