¢6/mg CBD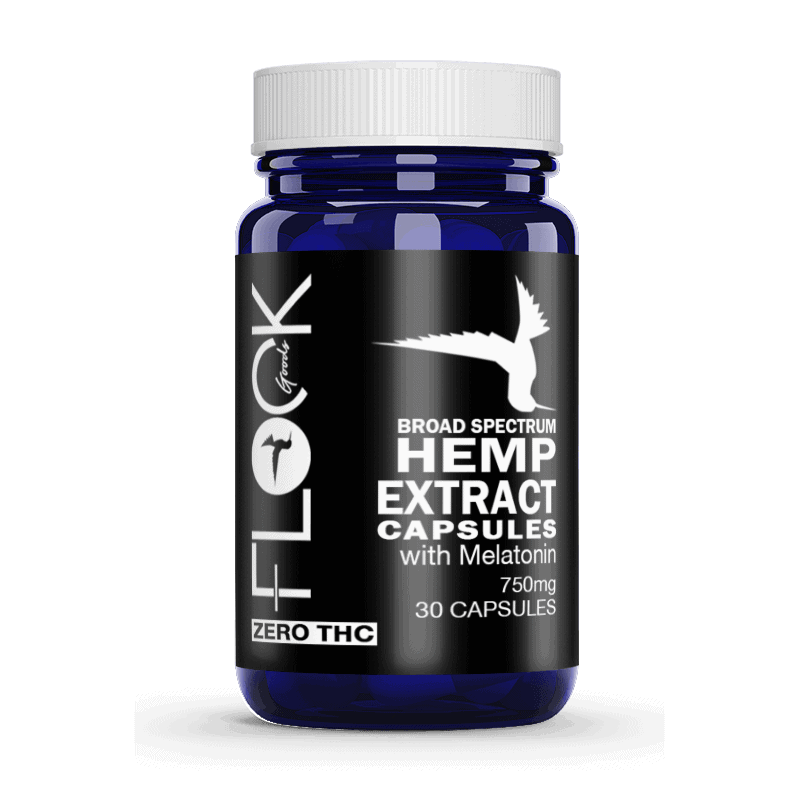 Flock Goods, Hemp Extract Capsules with Melatonin, Broad Spectrum THC-free, 30 Count, 750mg of CBD
¢6/mg CBD
30 Day Money-Back Guarantee
Earn Rewards with Every Purchase
AVAILABLE ON BACKORDER: delivery within 4-10 days
Product Data
| | |
| --- | --- |
| Size | 30 count |
| Serving Size | 1 count |
| Servings Per Container | 30 |
| Price Per Serving | $1.58 |
| CBD Per Serving | 25 mg |
| CBD Per Container | 750 mg |
| CBD Per 1 count | 25 mg |
| Price Per 1 mg CBD | ¢6 |
CBD Enhanced Melatonin Capsules
Flock Good's CBD-Enhanced Capsules with Melatonin are your body's number one defense against pain and inflammation while you sleep! Our vegetarian capsules combine the healing properties of CBD with powerful bioactive compounds for the ultimate nutritive blend. 
When you need a recuperative night's sleep, have a night cap with Flock Good's CBD-Enhanced Melatonin Capsules! Formulated with a therapeutic blend of Melatonin and Cannabinoid-rich oil, our capsules combat pain and inflammation while you sleep. Fall asleep easier and experience healing, rejuvenating rest with this complete nutritive blend.
CBD oil, a powerful nutraceutical that works with the body's own cannabinoid receptors to boost immunity, nervous system function, and organ health.
Melatonin, promotes deep rest and helps to regulate the sleep cycle.
Beta-caryophyllene, a gastroprotectant and anticarcinogenic that promotes maximum absorption of CBD.
750mg CBD – 30 servings at 25mg CBD and 3mg Melatonin per serving
HOW TO USE FLOCK GOODS CAPSULES
Take 1-2 capsule(s) an hour before bed, as needed. Do not exceed 2 capsules per day.
INGREDIENTS
Each Flock Goods CBD Enhanced Melatonin Capsule contains:
– Refined Coconut Oil
– Organic Beeswax
– Rich Hemp Extract
– Melatonin
– Beta-Caryophyllene
– Fermented Tapioca Starch
– Purified Water
– Locust Bean Gum
Do not take Melatonin while operating a motor vehicle or machinery.
Consult a medical doctor before taking this or any other nutritional supplement if you are pregnant, nursing, have or suspect a medical condition, or are taking any medications.
KEEP OUT OF REACH OF CHILDREN
| | |
| --- | --- |
| Weight | 3.5 oz |
| Brand | Flock Goods |
| Product Type | CBD Pills |
| Strength | 750mg |