cbdMD, CBD Immune Boost Gummies with Vitamin C, Broad Spectrum THC-Free, 60ct, 750mg CBD
Same Day Free US Shipping Over $60

Earn 5% Back with Every Purchase

Low Price Guarantee

30 Day Money-Back Guarantee
$.05/mg CBD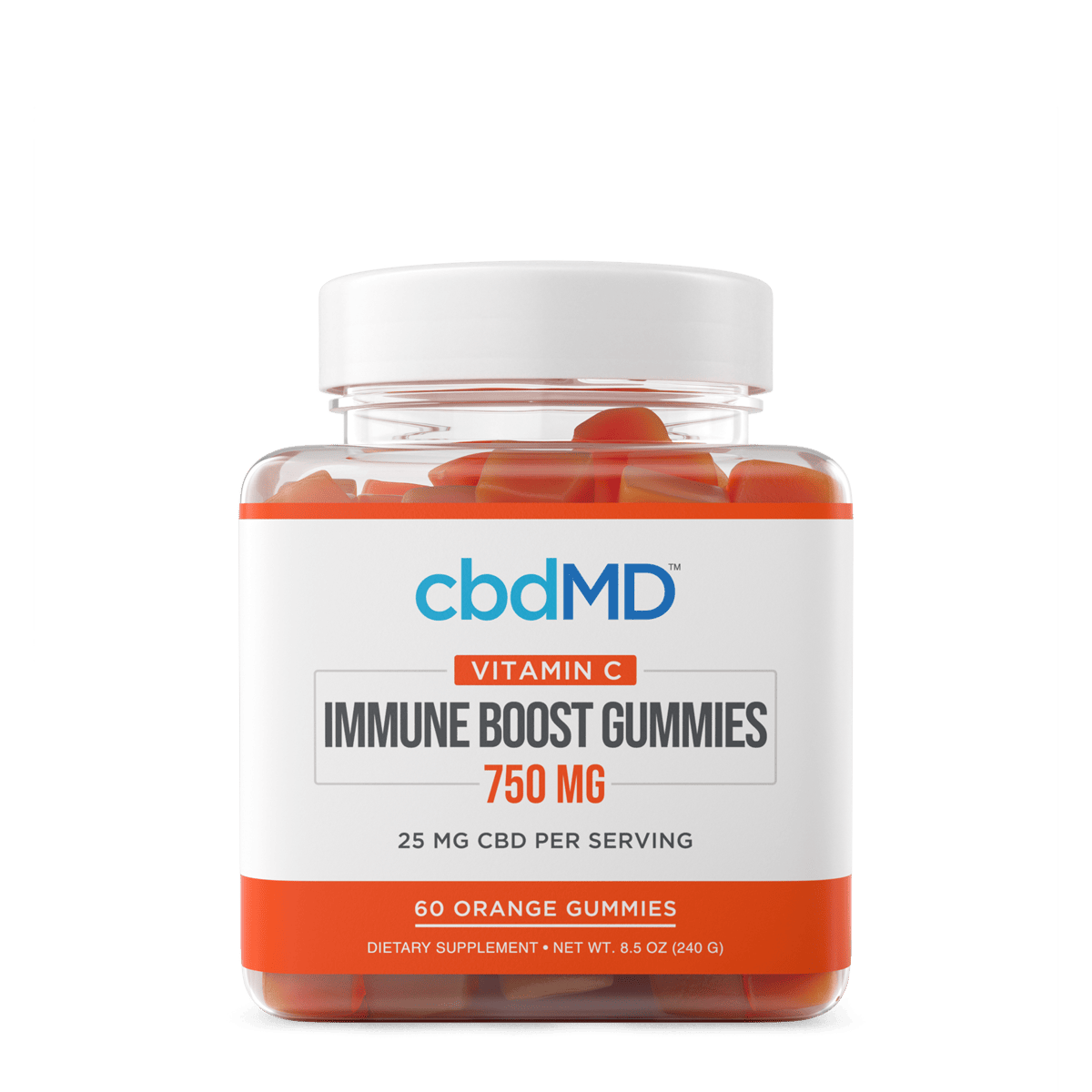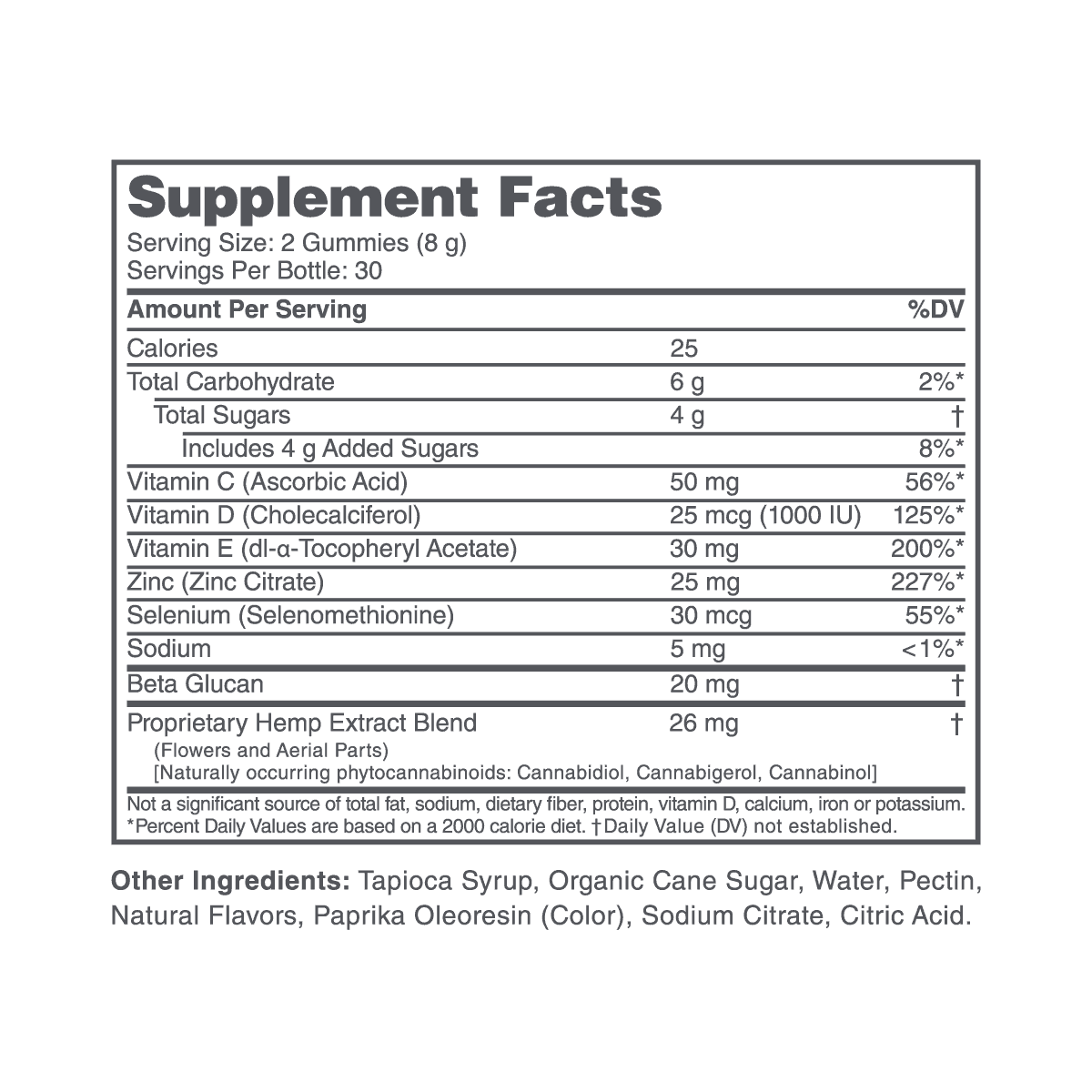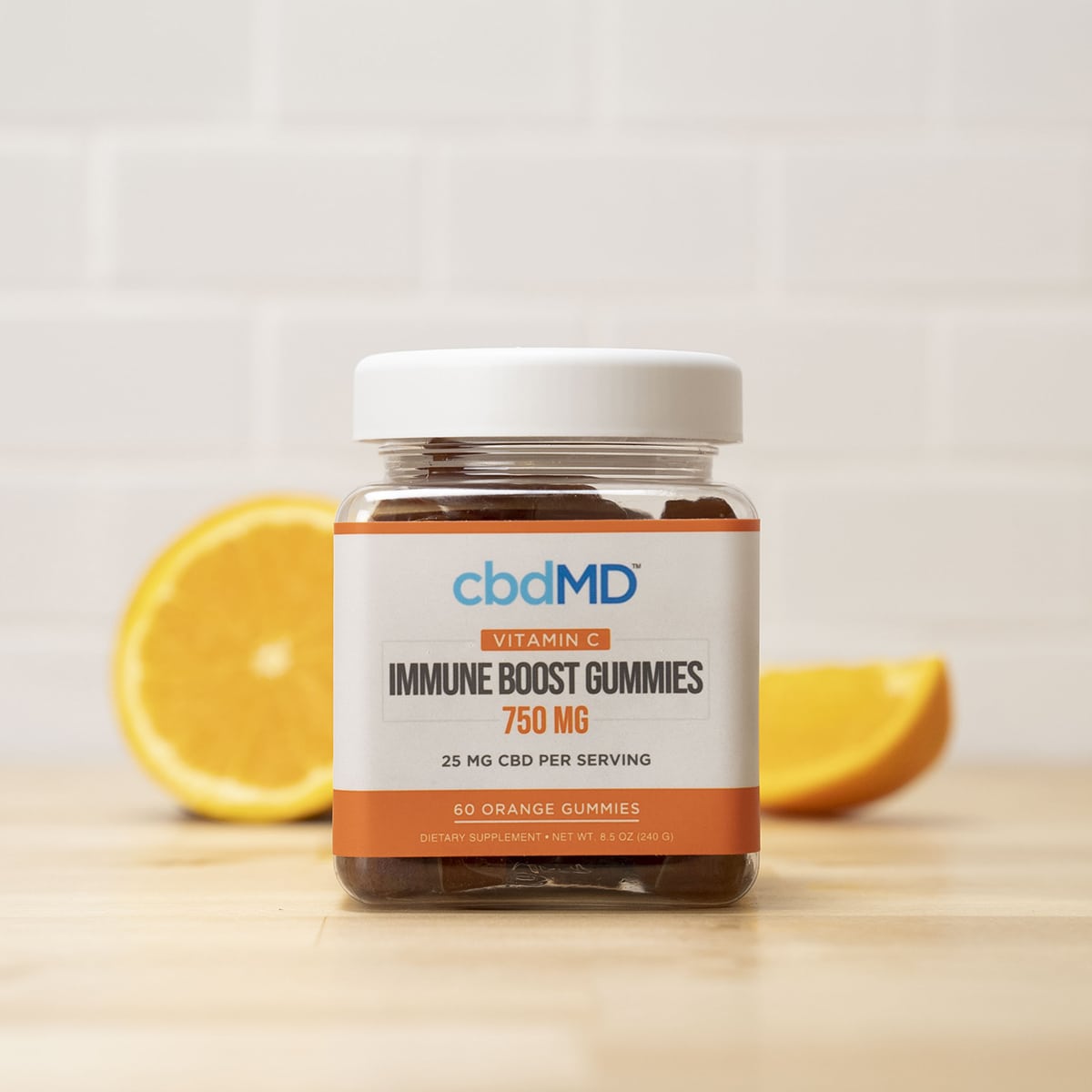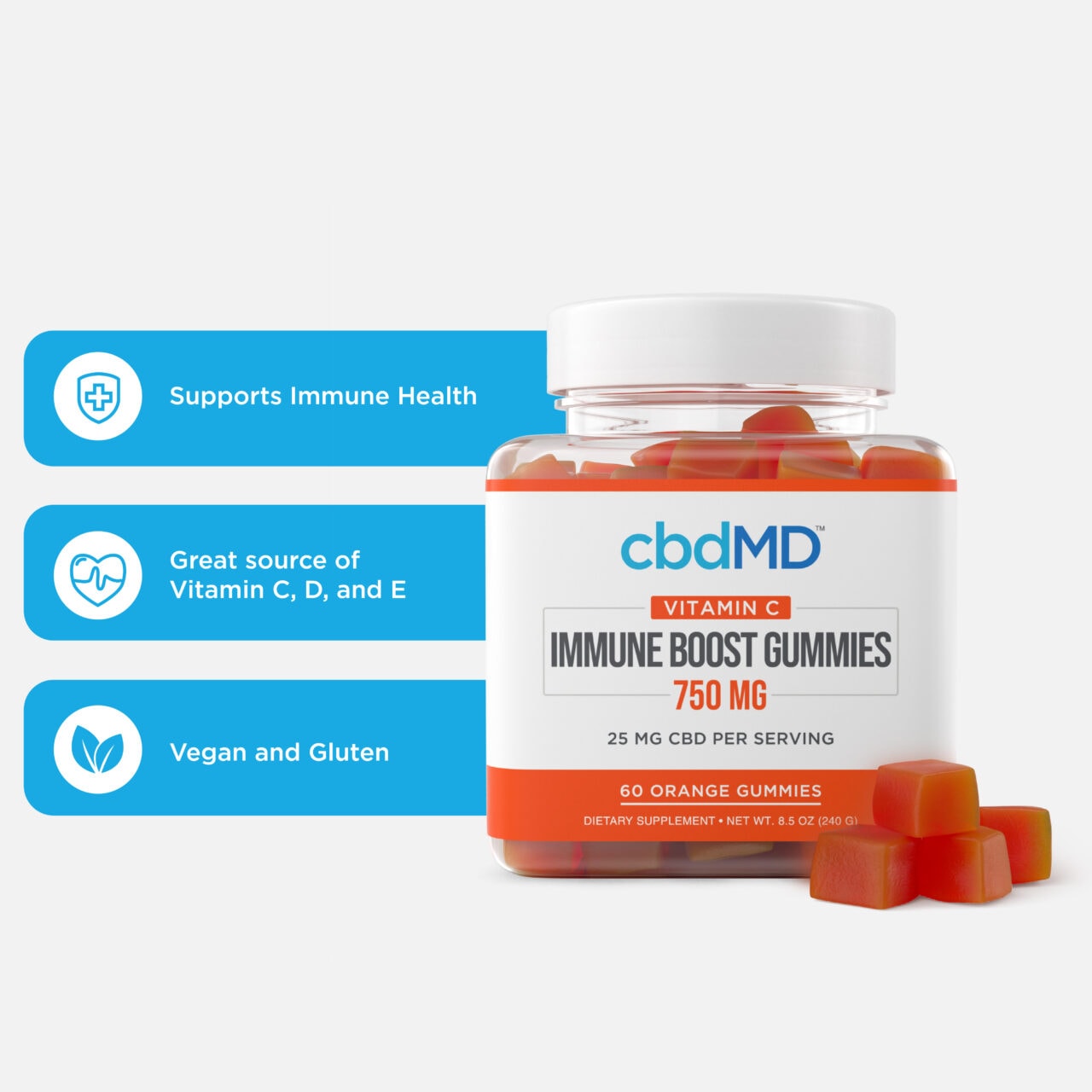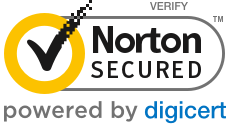 Same Day Free US Shipping Over $60

Earn 5% Back with Every Purchase

Low Price Guarantee

30 Day Money-Back Guarantee
WARNING: Reproductive Harm -
Product Data
| | |
| --- | --- |
| SKU | CMDGM04 |
| Size | 60 count |
| CBD Per Container | 750 mg |
| CBD Per 1 count | 12.5 mg |
| Price Per 1 mg CBD | $.05 |
| GTIN | 810271035164 |
Everyone hates that under-the-weather feeling. Give your body the natural boost it craves by focusing on your immune system. Our immune gummies are great tasting and help support your body with vitamin C and zinc, while also giving you the benefits you already love from our Superior Broad Spectrum formula. These CBD gummies are exactly what you need to focus on your immune health so that you can take on the day without being slowed down.
Formulated with our high quality Superior Broad Spectrum CBD oil with various cannabinoids and terpenes
Infused with Vitamins C, D, E, Zinc, and Selenium to help support immune health
Orange flavor for a tasty treat with all the benefits
Great source of Vitamin C, D, and E
Vegan and Gluten Free
Description
BENEFITS
Our immune gummies are great for focusing on your immune health – and they're also a great source of vitamins C, D, and E. We topped that off with zinc and selenium, which are known to support immune health. We also formulated these gummies with beta glucan, which has been known to have a positive effect on a variety of bodily functions. Focusing on wellness has never been easier with these gummies.
Not only do we love our immune boosting gummies, but we also love the quality and effort that goes into making these hemp derived CBD gummies. We made sure that when these gummies were formulated that they would be vegan and gluten free.
We use natural ingredients like tapioca syrup and organic cane sugar to give it that sweet taste and plant-based pectin instead of gelatin as a thickening agent. We want to make sure that when you are enjoying our CBD gummies, you are getting CBD the way Mother Nature would have wanted it.
EVERYDAY STRESS MANAGEMENT
Not only are our immune gummies a great way to support your immune system, but they are also great for helping the stress that comes with day-to-day life. Thanks to our endocannabinoid system (ECS), CBD provides a sense of calm while also delivering immune boosting benefits using vitamins C, D, E, zinc, selenium, and beta glucan.
SUPPORTS A DAILY WELLNESS ROUTINE
Our CBD gummies are the perfect companion on your wellness journey. They are made with a full profile of wholesome ingredients so you don't have to worry about what you are putting into your body. Not only that, but with all the extra added vitamins you're getting so many more wellness benefits all in one gummy.
ENHANCE EXERCISE RECOVERY
The professional athletes of Team cbdMD have been using CBD for years to help in their exercise recovery routine. Many use CBD to help them relax after a workout, while others use our topicals to provide relief in muscle soreness. With these gummies, we've included additional ingredients to help support your body while aiding in everyday recovery!
SUPPORTS IMMUNE HEALTH
These CBD gummies are infused with vitamins that help support your immune health. Vitamin C is an antioxidant that is great for immune support. Vitamin D helps to regulate the amount of calcium and phosphate in your body, which is needed to keep bones, teeth, and muscles happy and healthy. These gummies are also a great source of vitamin E, zinc, and selenium, so they're a great way to start focusing on your immune health.
CONTAINS NON-DETECTABLE LEVELS OF THC
Our Super Broad Spectrum is carefully extracted and every batch is thoroughly tested to ensure that every bottle contains the same levels of CBD and less than 0.3% THC. With such a tiny amount, you don't have to worry about the "high" associated with THC. We source our CBD from the best premium hemp that is domestically grown. If you want to see the test results from the batch of CBD you purchase, simply click on the "test results" button.
DIRECTIONS
CBD immune gummies are an easy pre-portioned way to get all the benefits of our CBD formula and also all the amazing vitamins packed into the great tasting treat. All you have to do is take a gummy from the bottle and eat it – it's that easy! It might actually be harder for you to stop yourself from grabbing another gummy.
You don't have to stop here when trying to get all the benefits of CBD, though. We always recommend people to try out other products too to get the most out of what cbdMD has to offer. We have our award-winning topicals used to help relieve discomfort, and we have targeted sleep aids as well. In order to be your best self you need to make sure you are well rested, comfortable, and getting all your vitamins and minerals in.
That being said, it is important to note that everyone is different and therefore everyones body will react differently to the CBD immune gummies. We recommend that you start slow when incorporating a new CBD product into your routine. Try taking one or two gummies per day and monitor yourself over the course of 30 days. From there you can adjust the amount you ingest in order to get your desired results.
FAQS
DO CBDMD IMMUNE GUMMIES PROVIDE AN IMMUNE BOOST?
When we formulated the Immune Gummies we added in a bunch of ingredients that we knew were great for the immune system. Vitamins C, D, and E, zinc, selenium, and beta glucan have all been known to help support our immune systems. While Vitamin C and E are great antioxidants helping to repair tissues, Vitamin D helps regulate the amount of calcium and phosphate in your body, which supports healthy bones.
Zinc literally helps your immune system and metabolism function. Selenium has a lot of functions, but one of them is to help protect the body from environmental stress. With all these ingredients packed into our CBD gummy, it does give a boost to your immune system. It is important to note that these gummies are meant to "boost" the immune system and are not intended to treat any conditions.
CAN I BUY IMMUNE BOOST CBD GUMMIES LEGALLY?
Cannabidol (CBD) is a cannabinoid that is found in the plant Cannabis sativa, which is federally legal in the US so long as it's less than 0.3% tetrahydrocannabinol (THC) by dry weight. Our CBD oil is extracted and refined in a way to ensure that it's THC-free* so it will not give you the "high" feeling.
This is the reason why the US legalized the use of CBD oil and CBD products. Each of our gummies are crafted with our Superior Broad Spectrum CBD that contains less than 0.3% of THC which is within the legal limit.
WILL IMMUNE BOOST GUMMIES GET ME HIGH?
THC is the psychoactive compound within cannabis that gives the "high" feeling. When we formulate any of our CBD products, we test each batch to make sure that our CBD formula is 0.3% or less THC. That amount of THC is not nearly enough to make anyone feel any sort of effect, so you will not get high from the Immune Gummies.
DO IMMUNE GUMMIES CONTAIN CBD?
The Immune Gummies are formulated with CBD so that you can get the wonderful calm effect that CBD has been known to provide, while also containing amazing immune supporting ingredients. We want you to feel the benefits of CBD while also supporting your immune system.
HOW DO IMMUNE GUMMIES HELP THE IMMUNE SYSTEM?
These Immune Gummies are packed with immune system supporting ingredients like vitamins C, D, and E, zinc, selenium, and beta glucan. Here is what each of those ingredients does for your immune system:
Vitamin C – An antioxidant that helps support your cells against the effects of free radicals. Free radicals are molecules that are produced when your body breaks down food, is exposed to the sun, is exposed to X-rays, and other sources.
Vitamin D – A much needed vitamin to help your body function well. Vitamin D helps to keep your bones strong, and research has even shown that it can help to keep your mood up.
Vitamin E – A fat soluble nutrient that is found in a lot of foods but has a very similar function as vitamin C.
Zinc – This is a nutrient that is found naturally in your body and helps your immune system and metabolism function.
Selenium – This is an important nutrient that your body needs to stay healthy. This vitamin is important for reproduction, thyroid gland function, DNA production, and also protection from free radicals (just like vitamins C and E).
Beta Glucan – Mostly found in bacteria, yeast, fungi, algae, and plants such as oats and barley. This nutrient is a source of soluble fiber and research suggests that it can also be good for your cardiovascular system.
Additional information
| | |
| --- | --- |
| Weight | 6.0 oz |
| Dimensions | 2.4 × 2.4 × 4.5 in |
| Benefit | |
| CBD for | |
| Derived from | Industrial Hemp |
| Source of the Hemp | USA |
| Contains | |
| Spectrum | |
| THC | 0% THC |
| Carrier | MCT Oil |
| Extraction Method | CO2 Extraction |
| Certification | Good manufacturing practice |
| Diet | Vegan |
| Specifications | GMO-Free |
| Brand | |
| Flavor | Fruit Mix |
Customer Reviews
4 reviews
5 out of 5 stars
×
Please Sign in to rate this comment