Tips to Choose the Best CBD Balm Sticks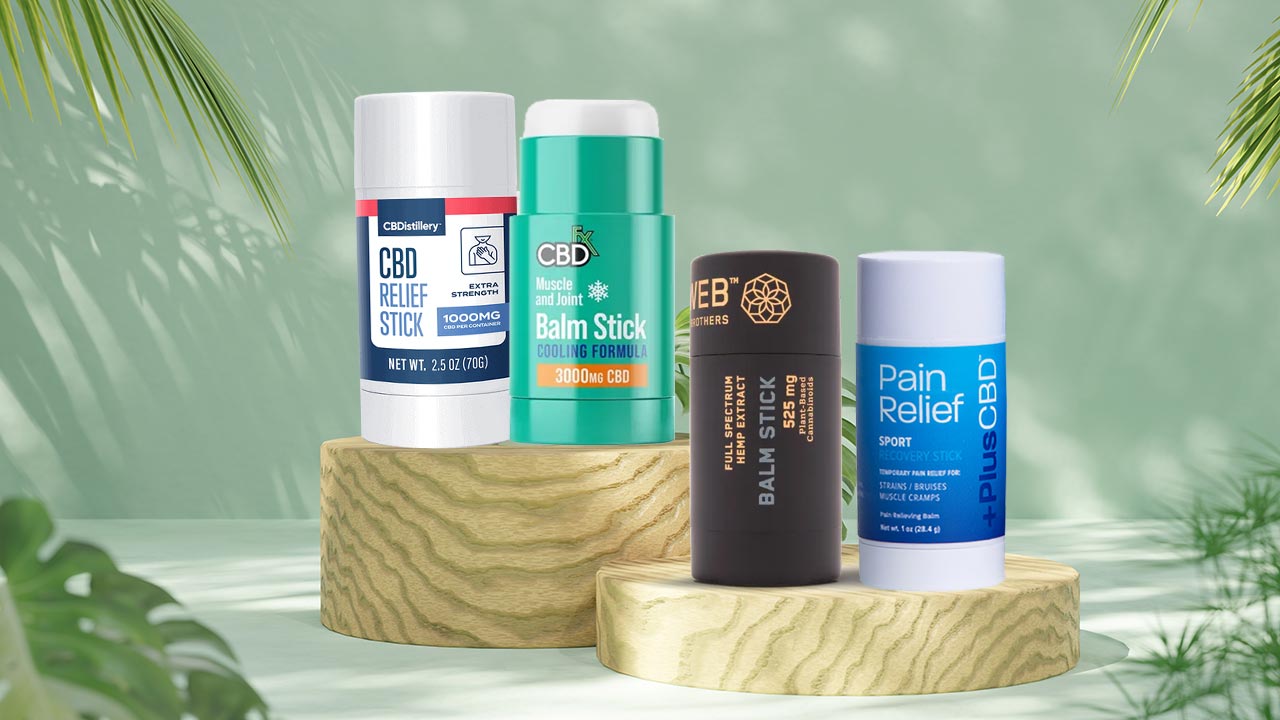 Choosing the best CBD balm stick is based on a combination of selecting a stick with ingredients that meet your particular needs and one that is high quality. Product quality is determined by checking for independent third-party lab testing, independent lab testing results that state results for pesticides, heavy metals and mold and the type and amount of cannabinoids. The company's reputation in the marketplace is also an important consideration. For your personal needs, consider the product's CBD potency, and review the ingredients before purchasing a product.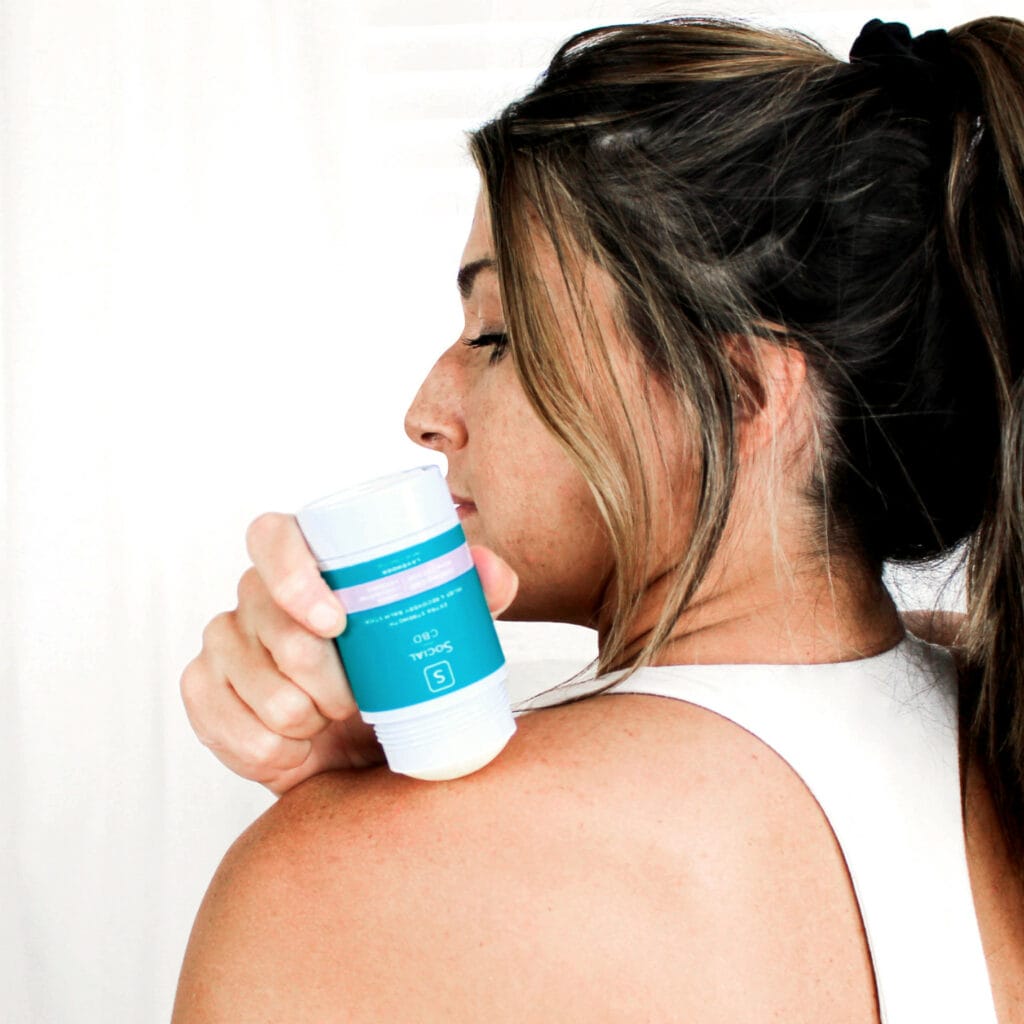 TLDR: A CBD balm stick is a favorite CBD topical product of athletes, people who do regular workouts at the gym and those who perform vigorous activities at work or home. The CBD muscle balm stick is convenient to carry and easy to apply. The CBD stick is made with CBD, botanicals, vitamins and a mixture of oils, and all hardened to a paste-like consistency with the addition of wax. When choosing a CBD pain relief stick, check customer reviews, the Certificate of Analysis (COA) and the company's reputation for product quality.
What is a CBD Stick?
A balm is a concentrated, oily substance made from gum resin from certain plants and trees. Manufacturers often mix various oils and add other ingredients, like botanicals and vitamins.
The CBD stick is a CBD topical. It is a moisturizer or balm into which a concentration of CBD is infused. The moisturizer is used to soothe skin and provide benefits like aching muscle relief.
Some balms are manufactured as a CBD salve stick because it makes them easier, neater and faster to apply and carry places. A CBD stick is a balm to which wax, like beeswax, is added to harden the moisturizer.
How safe is the CBD oil stick? Since the CBD balm stick is topical, it is safe for most people. People with allergies should carefully review the ingredients though to ensure there is nothing in the product that may cause a skin reaction.
When and How to Use a CBD Stick?
It is easy to learn how to use a CBD stick. Applying the CBD stick's balm is identical to applying a stick deodorant. Once applied, you should massage the balm into your skin. Some application options include the following.
Apply CBD balm before and after exercising or vigorous activity
Take a warm shower or soak in a warm water tub before applying the CBD balm for enhanced absorption
Use a hot compress for the skin before applying the CBD balm stick
Apply 3-4 times each day or as needed for muscle relief
Apply once in the morning and at night
The product description usually suggests an application schedule. Before applying a product for the first time, test it on a small skin area to ensure it does not irritate.
CBD Sticks, Gels and Roll-Ons: What is the Difference?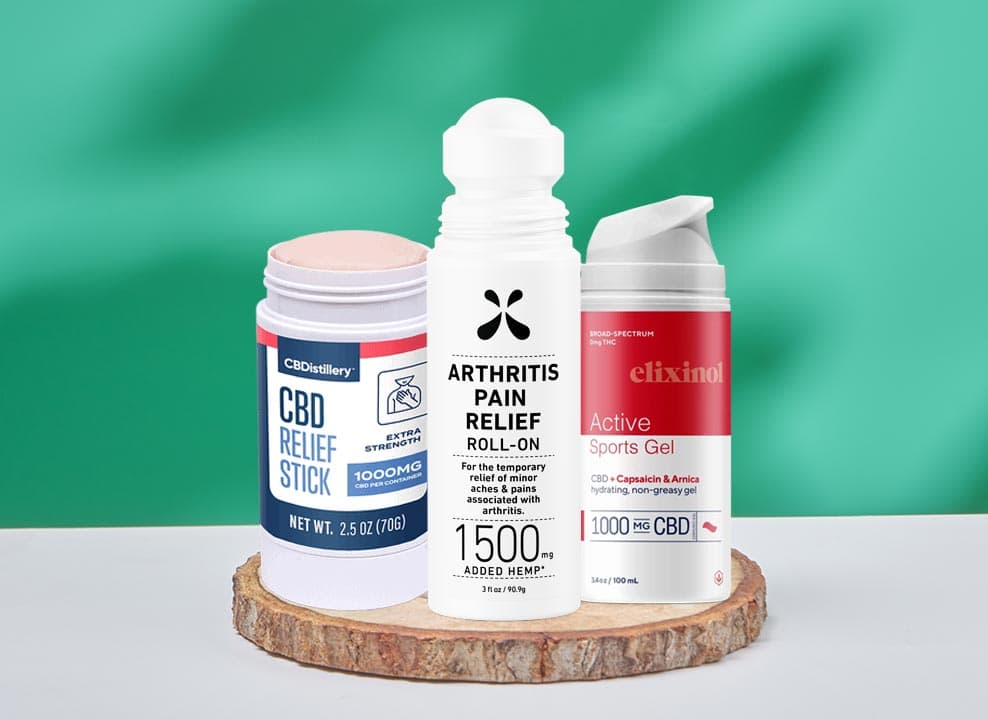 CBD products are available in many forms, including sticks, gels and roll-ons. They each contain CBD and other ingredients but have different consistencies.
CBD Sticks
The CBD stick contents are paste-like, or a soft solid and are made with ingredients like beeswax and cocoa butter plus a variety of oils and other ingredients that include vitamins, in addition to the CBD extract. The semi-hard balm is added to a rigid container that enables sliding the product back and forth, like a deodorant stick. CBD sticks apply a thin layer of balm with a smooth feel.
CBD Gels
A CBD gel is made with water, CBD oil, alcohol and other ingredients. It is sold as CBD gel in a jar or pump or as a roll-on gel. Some CBD gels can be used as a roll-on because a gel is water-based and thinner than an oil-based lotion.
CBD Roll-Ons
The CBD roll-on is another CBD topical skin treatment. The product has a ball applicator at the top of a tube that allows the spreading of a thin layer of blended oils or lightweight gel. When applied, a roll-on leaves a wet area, but the area dries within seconds.
The ingredients in the different products are similar, with the main difference being consistency. The consistency is created primarily with wax or a certain amount of water. The CBD sticks, CBD gels and CBD roll-ons make it easy to apply product to contoured areas of the body.
CBD Stick Reviews
Following are reviews of five popular CBD balm sticks sold by different brands.
1. CBDistillery CBD Relief Stick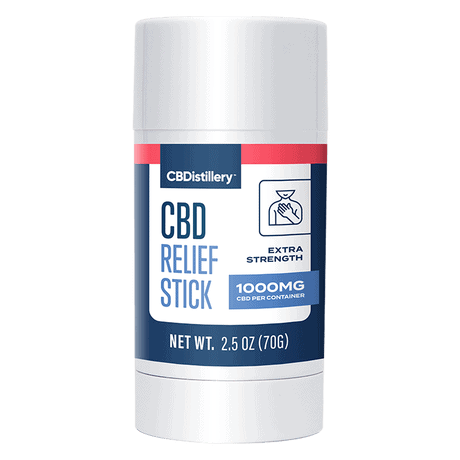 This CBDistillery CBD Relief Stick is an extra-strength CBD isolate product. The CBD pain relief stick contains various oils, including coconut oil, sunflower oil, sweet almond oil, avocado oil and more. The CBD stick has a base of beeswax with ingredients that include shea butter, vitamin E and ginger and peppermint oils and menthol. The product description focuses on the benefits for people doing vigorous workouts, like athletes.
Pros
Total of 1000 mg of CBD isolate so THC free
16.13 mg of CBD per application
GMO-free
High moisturizing ability due to a blend of multiple oils from botanicals and Vitamin E
Certified for ISO 9001:2015, Natural Farming Practices and US Hemp Authority
Cons
Distinctively smells of the menthol and mint odor
Does not go on as smoothly as some competitor CBD sticks
Contains beeswax, which some people are allergic to
Less expensive competitive products available
2. CBDfx CBD Balm Stick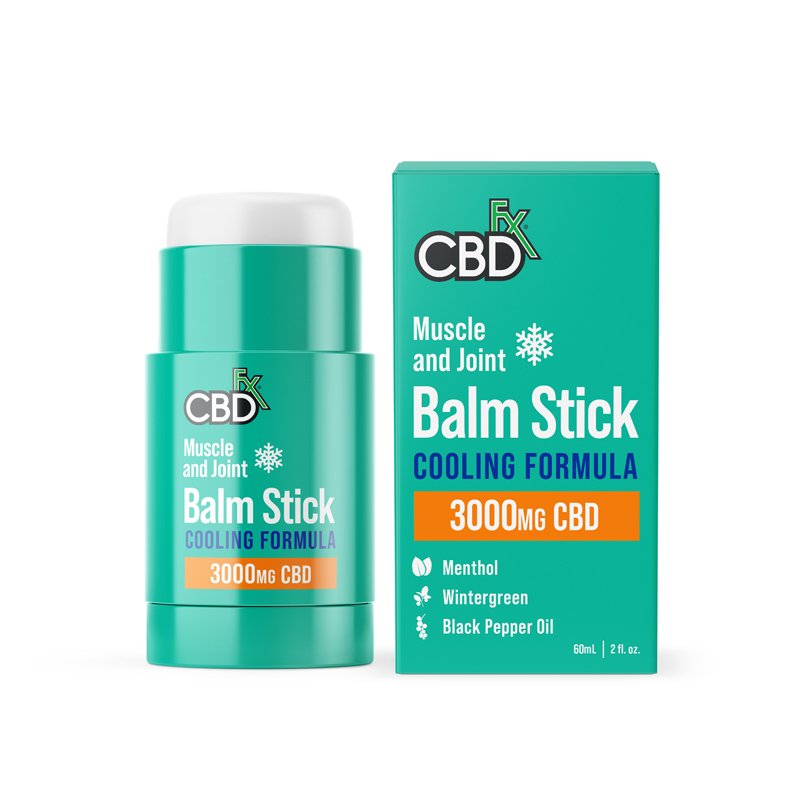 The CBD muscle balm stick CBDfx CBD Balm Stick Muscle + Joint product delivers a cooling feeling to muscles and joints when applied due to the menthol ingredient and a warming feeling resulting from the wintergreen oil and camphor oils. The cooling/warming effect is the recommended home treatment for muscle aches. The balm stick has Candelilla wax and a mix of coconut oil and hemp seed oil in addition to peppermint and wintergreen oils. The scent is quite pleasant.
Pros
Total of 3000 mg of CBD broad spectrum
THC free
It provides intense moisturizing relief
The cooling effect from menthol, wintergreen and black pepper oil
People with allergies may note that the product does not contain beeswax
Organically-grown hemp
Cruelty-free and vegan
Non-detectable amounts of pesticides, solvents and heavy metals per the COA
Cons
Some reviews mention that the relief delivered is temporary or too mild
Price is higher than some competitor products
Very small package size of two ounces
3. Charlotte's Web Hemp-Infused Balm Stick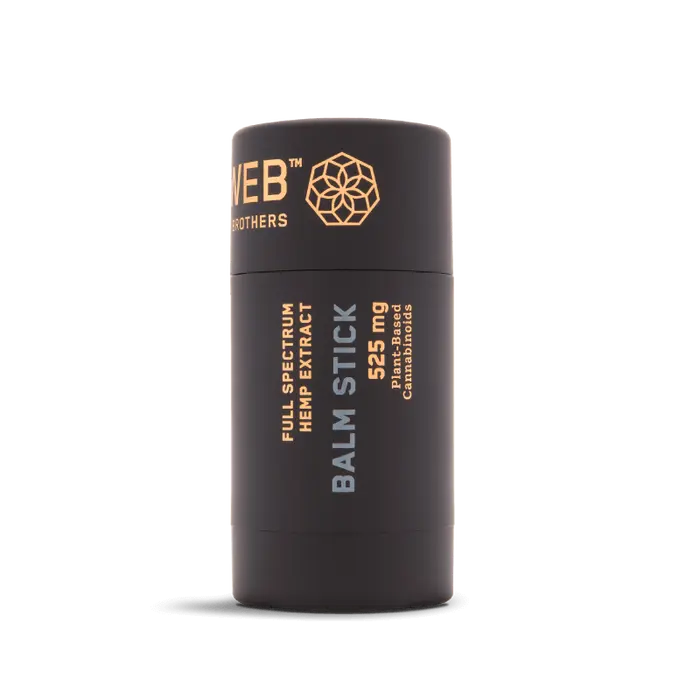 Charlotte's Web Hemp-Infused Balm Stick is a good choice for applying to larger body areas, like thighs, because of the wider circumference of the packaging. It is formulated with menthol, turmeric oil and peppermint oil and has a pleasant, calming fragrance. The hemp-infused balm stick supports wellness by reducing feelings of pain and can be used any time of the day as needed.
Pros
Total of 525 mg of CBD full spectrum
Supports wellness by using morning and evening and after intense activity
Free of 8 allergens
Gluten-free and vegan
No parabens, artificial dyes or colors, sulfates or synthetic fragrances, sodium acrylates copolymer, carbomer, shark-derived squalene and betaine
No detectable mycotoxins, residual solvents, microbial, heavy metals and pesticides
Member of the Hemp Industries Association, National Hemp Association and U.S. Hemp Roundtable
Cons
Information as to where hemp is grown is unavailable
Certificate of Analysis only provides detailed results for cannabinoids with other results indicating pass or fail
It contains beeswax, which some people are allergic to
More expensive than most other products
4. PlusCBD CBD Pain Relief Sports Recovery Stick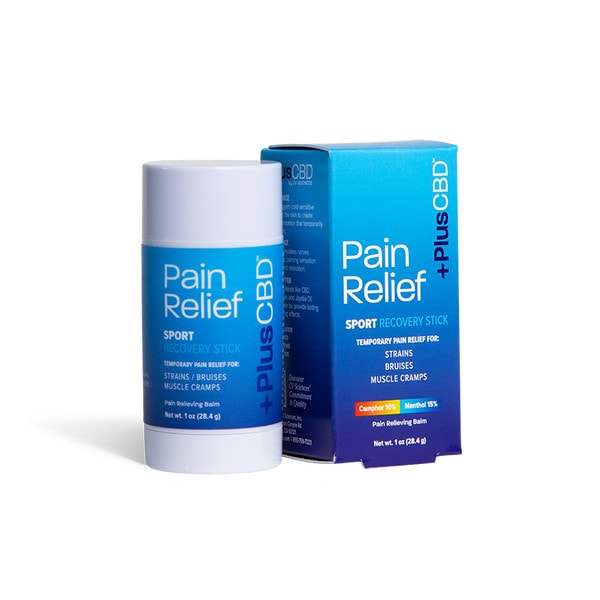 PlusCBD CBD Pain Relief Sport Recovery Stick is formulated to address muscle fatigue, targeting active people and athletes. The formulation contains 10 percent camphor topical analgesic and 15 percent menthol topical analgesic. Many other top-quality ingredients, like coconut oil, jojoba oil and kokum butter, are well-researched for their ability to address muscle fatigue and skin health.
Pros
Total of 750 mg of CBD full spectrum
Jojoba oil contains vitamins B and E to lock in skin moisture
Kokum butter has moisturizing properties and contains omega-3 and 6 fatty acids
Non-GMO, vegan and gluten-free
No fragrances, sulfates, dyes, PEGS, phthalates or parabens
No pesticides, heavy metals, microbiol, residual solvents
Cons
Product reviews indicate the 1000 mg product lasts longer compared to the 750 mg
The customer experienced a jammed dispenser
It contains beeswax, which some people are allergic to
The very small size of one ounce
5. Social CBD Muscle Balm Stick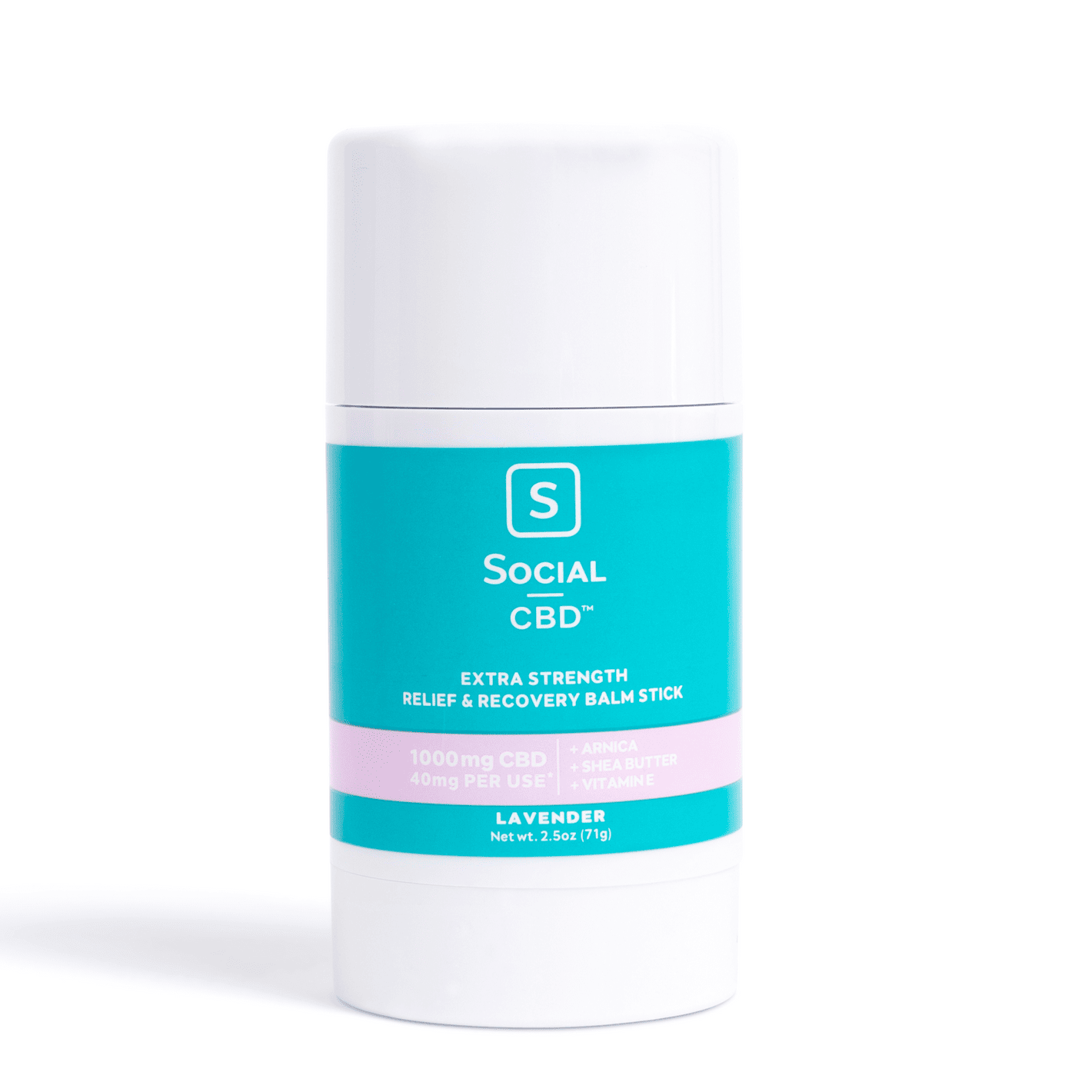 Social CBD Lavender Extra Strength CBD Muscle Balm Stick contains cocoa and shea butter, making a rich moisturizing combination. It also contains a complex mixture of oils that include grape seed oil, coconut oil, sunflower seed oil and Roman Chamomile oil and more. The balm has vitamin E for skin health. The product is creamy and goes on smoothly. Note that Social CBD was previously known as Select CBD.
Pros
Total of 1000 mg of CBD isolate
THC free
USA-grown hemp
Lightly scented
Compact size for easy carrying
Cons
It contains beeswax, which some people are allergic to
Reviewers found the stick melts too quickly during application
Reviewing a Certificate of Analysis is more complicated because you must know a product's specific lot number to access the right report
Summary
A CBD relief stick is a convenient and non-messy product form. When shopping for a CBD balm stick, it is essential to thoroughly review the product ingredients on the label and the Certificate of Analysis. This will help you determine any ingredients you are allergic to or want to avoid. Customer reviews are helpful because people are willing to describe their experience – the good and the bad.
In addition, be sure to research a CBD brand of interest by checking the Food and Drug Administration (FDA) website. You can also do an internet search for independent reviews of the company or a particular product to identify how the marketplace feels about the company's transparency, honesty and product quality.