cbdMD, CBD Oil Capsules + Curcumin, Broad Spectrum THC-Free, 30ct, 750mg CBD
Same Day Free US Shipping Over $60

Earn 5% Back with Every Purchase

Low Price Guarantee

30 Day Money-Back Guarantee
$.05/mg CBD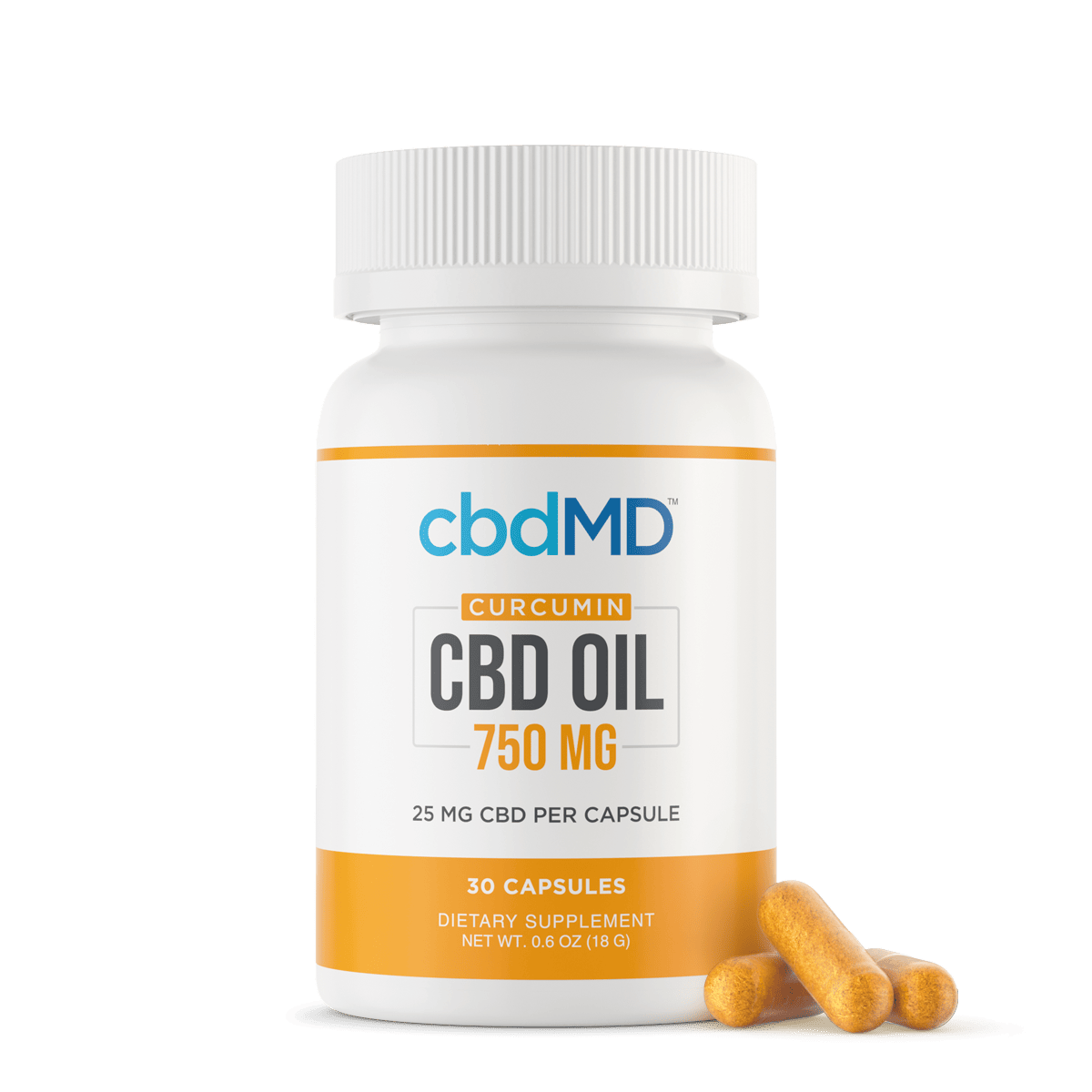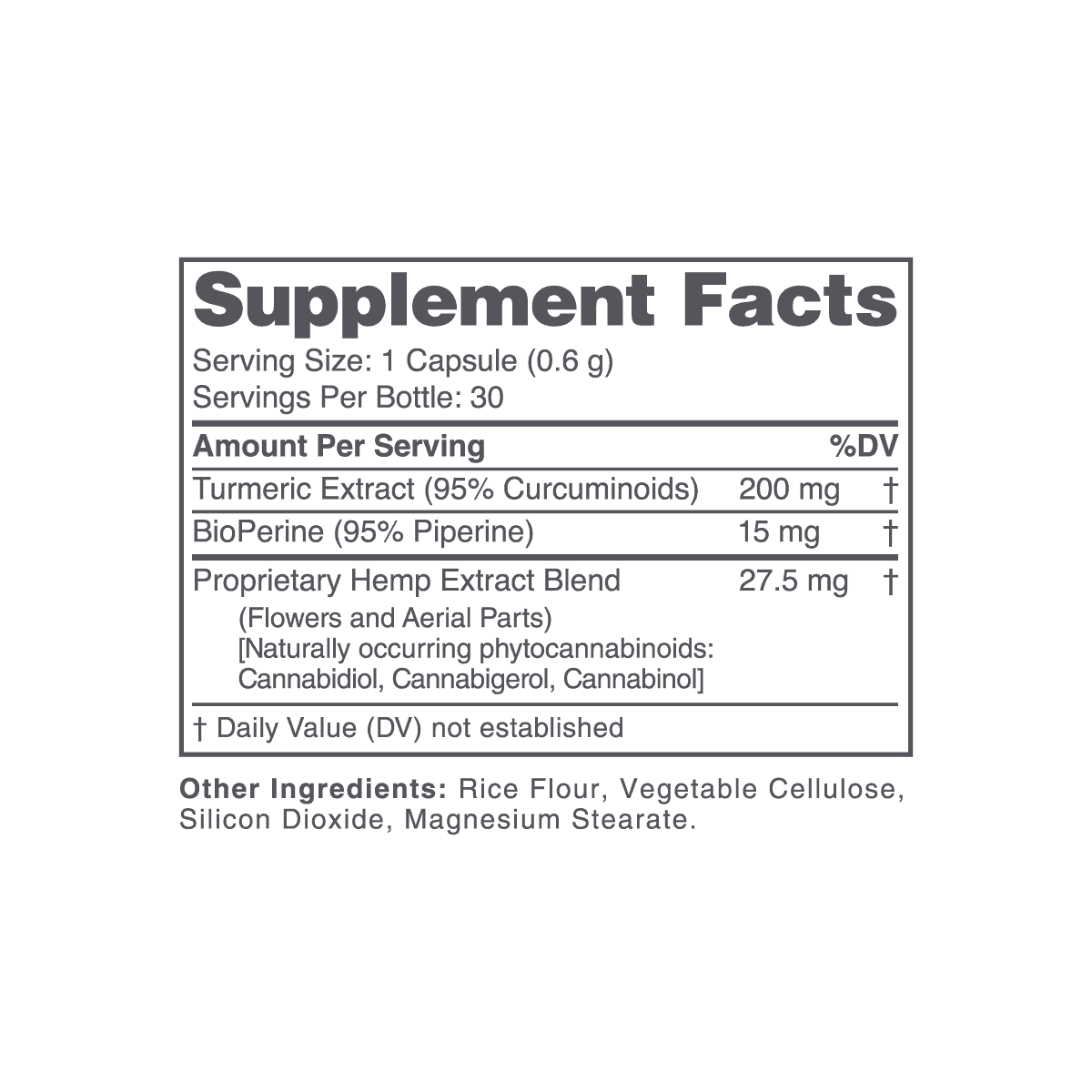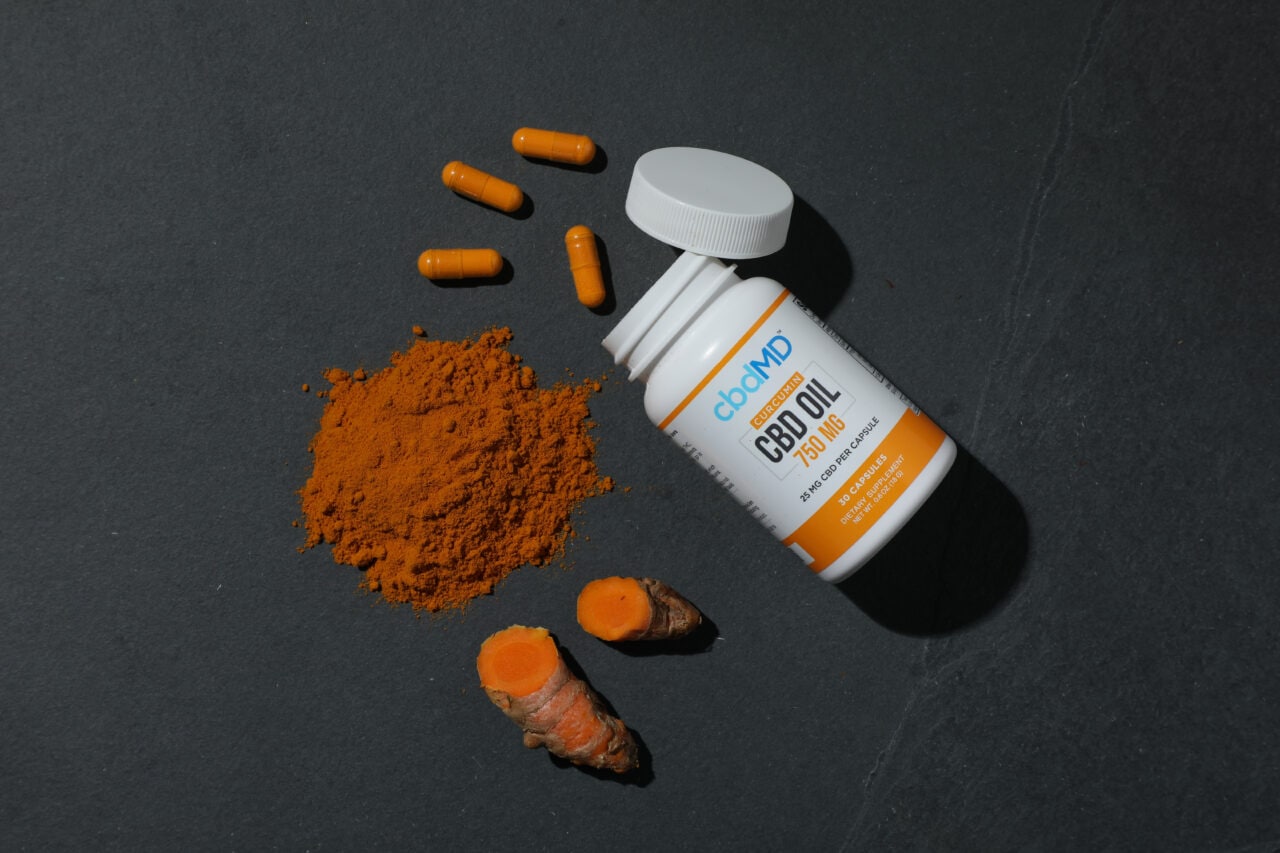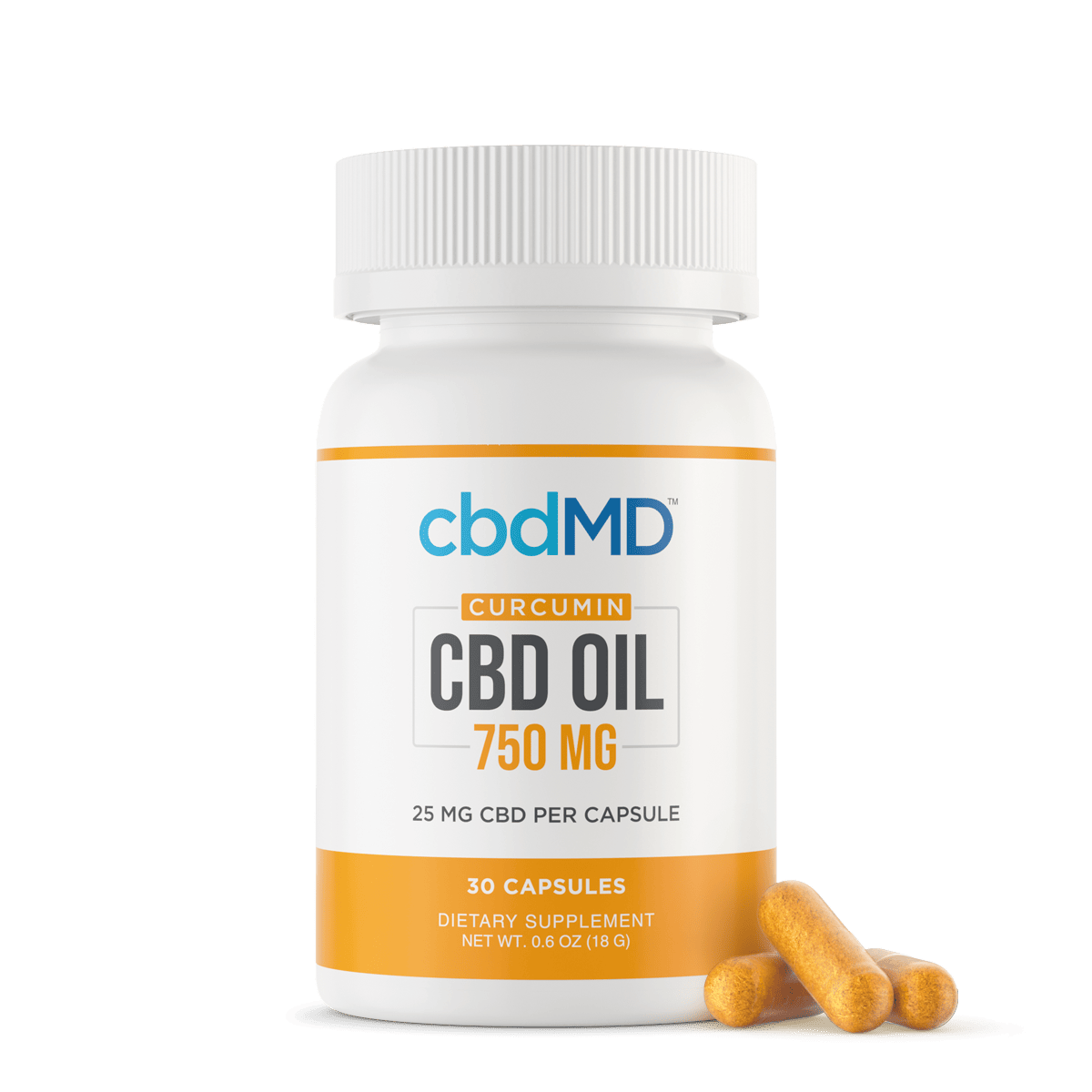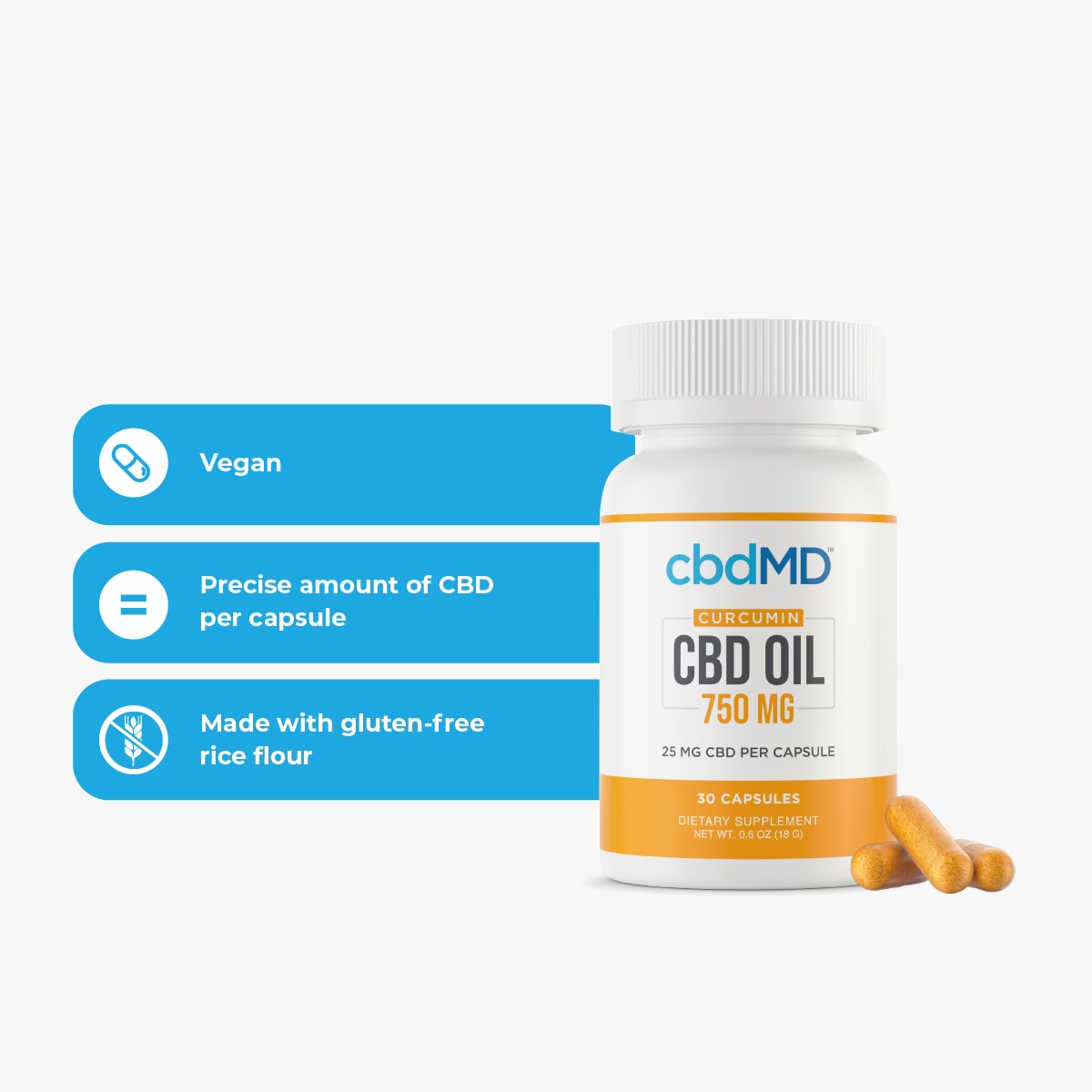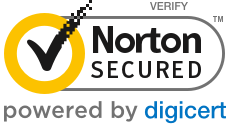 Same Day Free US Shipping Over $60

Earn 5% Back with Every Purchase

Low Price Guarantee

30 Day Money-Back Guarantee
WARNING: Reproductive Harm -
Product Data
| | |
| --- | --- |
| SKU | CMDCP12 |
| Size | 30 count |
| Serving Size | 1 count |
| Servings Per Container | 30 |
| Price Per Serving | $1.20 |
| CBD Per Serving | 25 mg |
| CBD Per Container | 750 mg |
| CBD Per 1 count | 25 mg |
| Price Per 1 mg CBD | $.05 |
Enjoy two natural wellness boosters in one convenient capsule! We've made our best-selling 750 mg CBD oil capsules in a special formula enhanced with turmeric extract, loaded with antioxidant curcuminoids, and piperine (derived from black pepper) to boost absorption. These plant-based nutrients go perfectly with our hemp-based Superior Broad Spectrum CBD formula, manufactured and tested to our exacting standards to ensure that you get all the best herbal ingredients with no additives or unwanted chemicals. And it's all in one convenient daily capsule!
Superior Broad Spectrum hemp extract includes CBD, CBG, and CBN
Turmeric Extract is 95% curcuminoids for concentrated benefits
BioPerine is 90% piperine to improve absorption of other ingredients
Made with gluten-free rice flour
No animal-based ingredients
Description
BENEFITS
Like so many other cbdMD products, our CBD curcumin capsules bring together the best that nature has to offer with the latest in scientific knowledge and technical precision. Our Superior Broad Spectrum hemp extract is drawn strictly from non-GMO hemp grown in the USA, and carefully tested to ensure consistent levels of cannabinoids and no dangerous levels of pesticides or heavy metals.
We've applied those same standards to our other ingredients. Each capsule has 200 mg of turmeric extract which is 95% curcuminoids, bringing you curcumin and other compounds with similar properties for whole-body wellness benefits. And we've included 15 mg of BioPerine, made from piperine derived from black pepper, to improve the bioavailability of the product so you can enjoy the greatest benefits from all the ingredients.
MAINTAIN A SENSE OF CALM
Taking a daily CBD oil regimen supports your endocannabinoid system's ability to keep your body in balance and your mind stay in a calm mood. For even more calming benefits in the nighttime, check out our CBD for sleep options with other relaxing herbs.
EVERYDAY STRESS MANAGEMENT
Both CBD and turmeric can help you manage daily stress. CBD helps you stay calm and focused throughout the day, while the antioxidant properties of curcumin helps your body's cells fend off the physical stresses coming from the environment.
ENHANCE EXERCISE RECOVERY
CBD curcumin capsules can boost muscle recovery when taken before or after a workout by supporting your body's ability to repair itself. For more targeted relief in trouble spots, browse through our relief & recovery products that are enhanced with topical painkillers.
SUPPORT A DAILY WELLNESS ROUTINE
Capsules are one of the most convenient ways to add CBD to your wellness routine, and in the two-in-one combo with turmeric extract, they keep things even simpler. Just swallow a CBD curcumin capsule along with your daily supplements, and you're good to go!
NON-DETECTABLE LEVELS OF THC
You can rest assured that every product with our Superior Broad Spectrum CBD formula has been tested by an ISO-certified third-party lab to ensure consistent levels of CBD, CBN, and CBG with undetectable levels of THC. Enter your batch number here to see for yourself!
All Ingredients:
Turmeric Extract (95% Curcuminoids), BioPerine (90% Piperine), Hemp Extract (Cannabidiol, Cannabigerol, Cannabinol), Rice Flour, Vegetable Cellulose, Silicon Dioxide, and Magnesium Stearate.
FAQs
WHAT IS CBD AND CURCUMIN GOOD FOR?
CBD and curcumin pair well because they promote wellness in complementary ways. CBD supports your body's endocannabinoid system, which helps maintain the overall balance of bodily processes governing mood, digestion, immune function, and more. Curcumin brings antioxidant properties, which help your body fight off environmental stresses at the cellular level.
IS BIOPERINE DANGEROUS?
BioPerine is generally recognized as safe, but you should talk to your doctor before using it because it can interact with certain medications. You should actually also talk to your doctor before taking CBD for the same reason! Also, though you can feel free to adjust your daily serving size, taking large quantities of piperine can upset some people's digestion.
IS TURMERIC THE SAME AS CURCUMIN?
Curcumin is one of a group of substances within turmeric called curcuminoids. These substances are what provide most of turmeric's antioxidant properties and other wellness benefits. Our turmeric extract is 95% curcuminoids for maximum potency.
IS IT SAFE TO TAKE CURCUMIN DAILY?
It's fine for most people to take a few hundred milligrams of curcumin daily; in fact, given how common turmeric is in South Asian cooking, people in that region typically consume that much just from their everyday diet. However, you should talk to your doctor before taking curcumin if you have chronic diseases including kidney stones, gallbladder disease, diabetes, and anemia.
WHAT ARE THE SIDE EFFECTS OF CURCUMIN?
Apart from the health conditions mentioned above, people have sometimes experienced gastric distress when taking large amounts of curcumin. So if you get an upset stomach or intestinal problems when taking curcumin, try reducing the amount.
WHY USE PIPERINE?
Piperine helps to increase the bioavailability of other substances taken with it. Bioavailability is the portion of the substance that reaches your bloodstream after the process of digestion breaks it down, so this is very important for nutritional benefits. The natural bioavailability of curcumin in turmeric is quite low, so piperine is key to making a curcumin capsule beneficial.
IS THERE ANY THC IN YOUR CURCUMIN CBD CAPSULES?
Our curcumin CBD oil capsules are THC-free*, which means whatever THC is in there is too tiny to be detected using normal scientific methods. If you prefer a bit of THC in your CBD capsules, you can try our full spectrum softgels, though those don't currently come combined with curcuminoids.
HOW MANY CAPSULES DO I TAKE PER DAY?
We recommend taking one every morning and evening, but the exact amount that works best for you depends on your unique physiology. Be sure to talk with your doctor before starting any CBD regimen, because they will know best what's right for your body.
HOW MUCH CBD IS IN THE CAPSULES?
Each capsule contains 25 mg of Superior Broad Spectrum formula, which is mostly CBD but also contains cannabinol, cannabigerol, and select terpenes to create the entourage effect without the use of THC. You can see the precise composition of your batch by looking up the product's test results.
HOW MUCH CURCUMIN IS IN THE CAPSULES?
Each capsule has 200 mg of turmeric extract, which is 95% curcuminoids. Curcuminoids are naturally occurring compounds in the plant that include curcumin and similar substances that bring antioxidant benefits.
WHEN IS THE BEST TIME TO TAKE THE CURCUMIN CAPSULES?
You can take our CBD curcumin capsules whenever it works best for you. There is some evidence that taking curcumin with a meal improves absorption, though the BioPerine in the capsules achieves that by itself. Ingested CBD usually stays in the body for at least six hours, so you can set your intake at one every morning and evening or even just one per day.
Additional information
| | |
| --- | --- |
| Weight | 1.3 oz |
| Brand | |
| Spectrum | |
| THC | 0% THC |
| Contains | |
| Benefit | |
Customer Reviews
4 reviews
5 out of 5 stars
×
Please Sign in to rate this comment