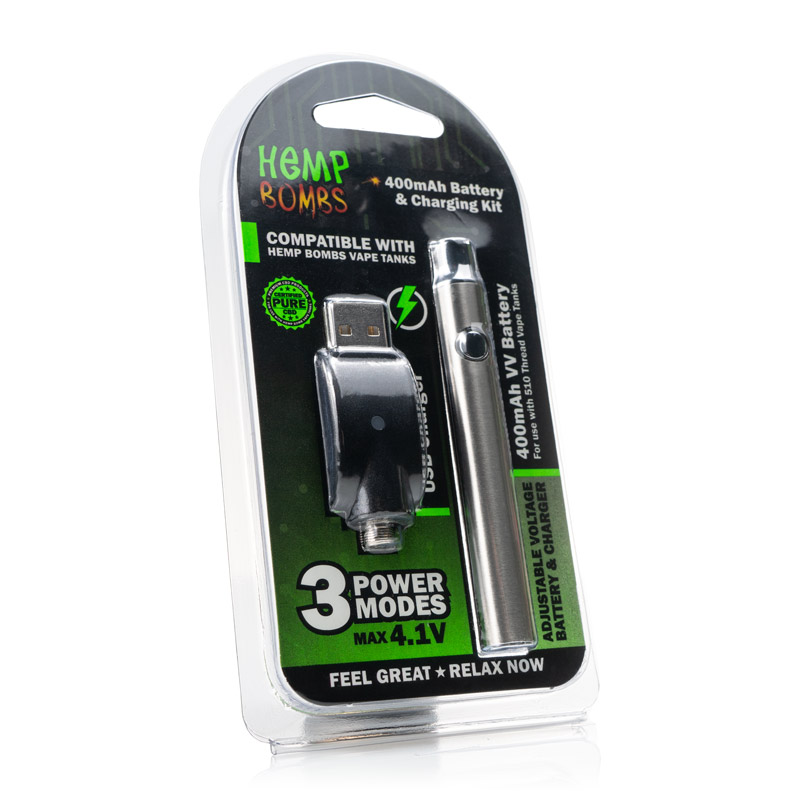 Hemp Bombs, Vape Tank Battery Kit
Same Day Free Shipping Over $60
Earn 5% Back with Every Purchase
30 Day Money-Back Guarantee
1-count Battery & USB Kit
Compatible with Hemp Bombs Vape Tanks
3.7-4.1 Volts
*CBD VAPE TANK CARTRIDGE NOT INCLUDED*
What Is A Vape Tank?
Hemp Bombs Vape Tank cartridges are pre-filled with ultra-concentrated CBD E-Liquid for the vaper who wants to try Hemp Bombs vape flavors but doesn't have their own vape device. Our Vape Tank Cartridges do not come with batteries – which is why Vape Tank Batteries are an ideal purchase to help you fully enjoy our Vape Tanks.
What is A Vape Tank Battery?
Designed as the perfect complement to Hemp Bombs Vape Tanks, our battery kits are perfect for the vaper on the go. Our detachable batteries are formulated for vape tanks and can be charged in any USB port. With voltages ranging from 3.7 to 4.1 volts, you have complete control over taste and cloud production.
Why Are There Different Voltages?
If you're new to vaping, you may wonder the purpose of varying voltages. Voltage can affect flavor and how long your battery stays charged – and it also influences cloud production. If you're unsure where to start, we recommend setting the battery to 3.7 volts and working your way up.
How Often Will It Need To Be Charged?
It all depends on how often you use your Vape Tank. Many of our customers enjoy CBD Vape Oil multiple times a day – and in that case, a battery would likely need to be recharged every two to three days. If you use your Vape Tank less frequently, you may be able to go a week or more without charging. Once it is time to charge, you simply plug the battery into a compatible USB port.